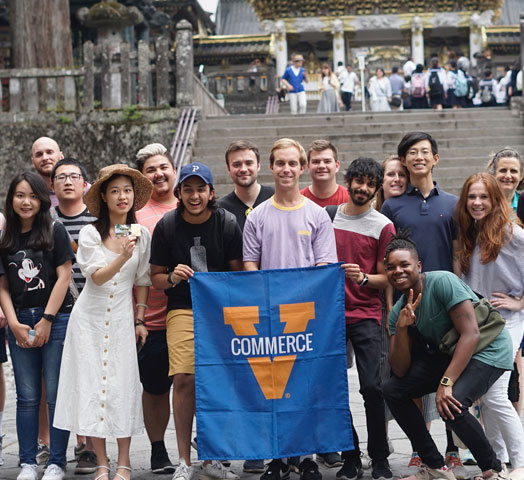 2019
The Economist ranks M.S. in Commerce as the top U.S.-based program, #6 worldwide
The Economist ranked the McIntire School's M.S. in Commerce as the top U.S.-based master's in management (MiM) program and sixth worldwide in 2019.
"The Economist Ranks UVA McIntire's M.S. in Commerce the #1 U.S.-Based Program," from the McIntire News blog, June 27, 2019
The Economist today ranked the McIntire School of Commerce at the University of Virginia's M.S. in Commerce as the top U.S.-based master's in management (MiM) program and sixth worldwide. The Program achieved the #1 rating for range of and access to overseas study programs among all 40 programs evaluated. Other high marks include worldwide ratings of #2 for education experience, #2 for career services, and #4 for salary.
"Maintaining the highest ranking among U.S.-based programs is a testament to our vision for an innovative one-year curriculum for recent liberal arts, sciences, and engineering graduates who want to develop real, relevant, and focused business expertise," says McIntire Dean Carl Zeithaml. "As employers are hiring an increasing number of MiM graduates, our goal is to create an unmatched student experience that delivers an immediate and significant ROI."
Entering its 12th year, the M.S. in Commerce Program is designed to give students an integrated, enterprise-wide view of business while they develop in-depth skills in a functional specialty. The foundation of the Program is McIntire's renowned Integrated Core Experience, an intense curriculum that helps students develop their analytic, strategic, and behavioral business skills. Blending curriculum innovation and insights from teams of faculty and corporate leaders, the coursework is carefully constructed to give students real-world exposure to the complexities of business.
After the Integrated Core Experience is complete, students select and develop a specialty in one of three areas: business analytics, finance, or marketing and management. To complete their course of study, a Global Immersion Experience (GIE) is required of all students. The GIE is a faculty-led sequence of courses that allows students to explore business in a global context, culminating with an immersion experience. In 2019, McIntire offered six GIE course locations, including Europe, Latin America, Southeast Asia, Greater China, Oceania and Japan, and the Persian Gulf and Indian Subcontinent.
McIntire reports favorable career outcomes for the past five graduating classes of the M.S. in Commerce, with 94-98% of students reporting being employed or seeking further study within three months after graduation. The average total compensation reported for 2018 graduates of the program was $88,327. Recently, the Program received a STEM designation from the U.S. Department of Homeland Security.
Find complete rankings at The Economist website.
View In Timeline