1904
Commerce is the catalyst
During UVA's early years, there was a focus on preparation for professional schools such as law and medicine, but at the turn of the 20th century, the idea of business education at UVA gained steam, with the University administration recognizing the importance of commerce for any broad improvement in region's standards of living.
1919
War efforts drive precursory Commerce course offerings
While there was no formal business education in the form of a degree or school at the University in 1919, business-related courses such as Statistics and Accounting, Business Organization, and Commercial Law were being offered, as such skills were thought to be useful to the war effort.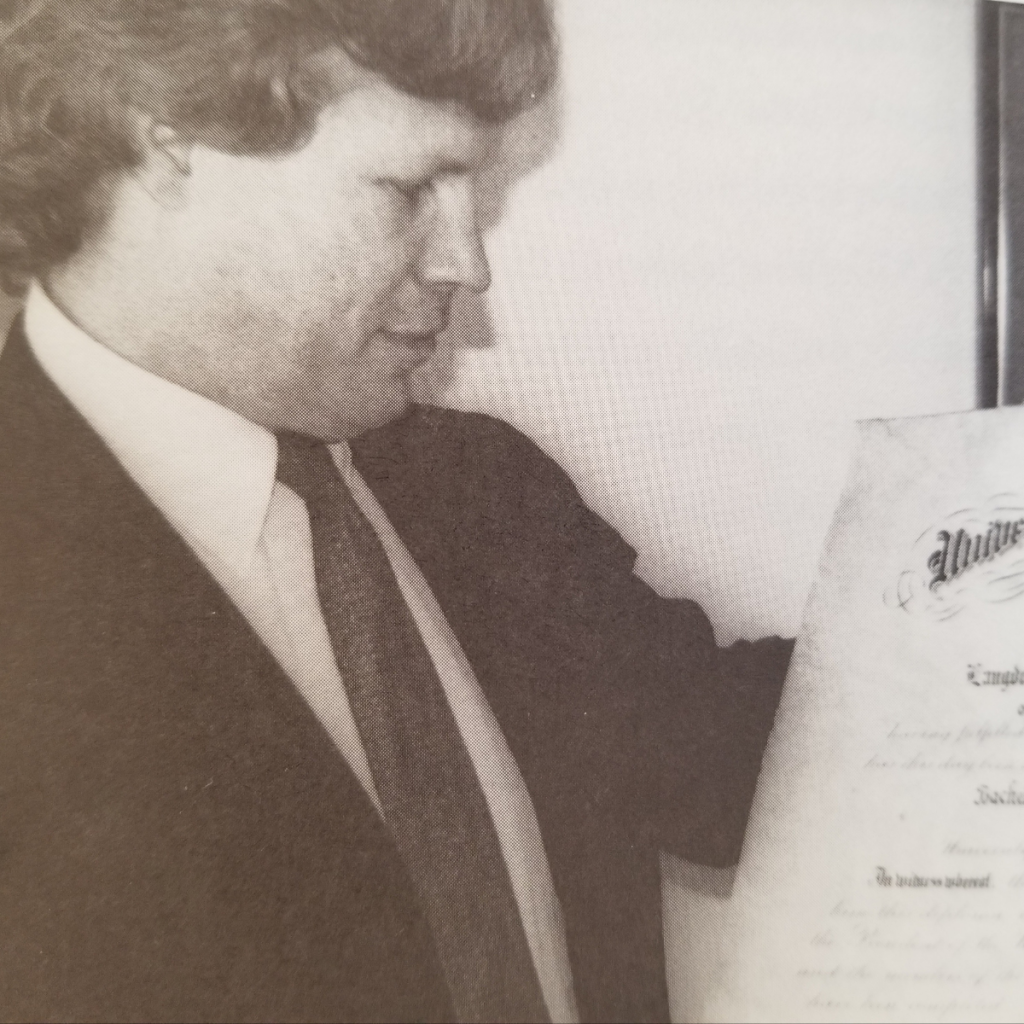 1921
First B.S. in Commerce graduates
The first B.S. in Commerce was awarded to David Bloom Jr. (from Memphis, TN) in 1921. Shown here is Flip Bowry (McIntire 1991), who is holding the diploma of his grandfather Langdon Hankins (McIntire 1921). Hankins was the second UVA student to graduate with a B.S. in Commerce.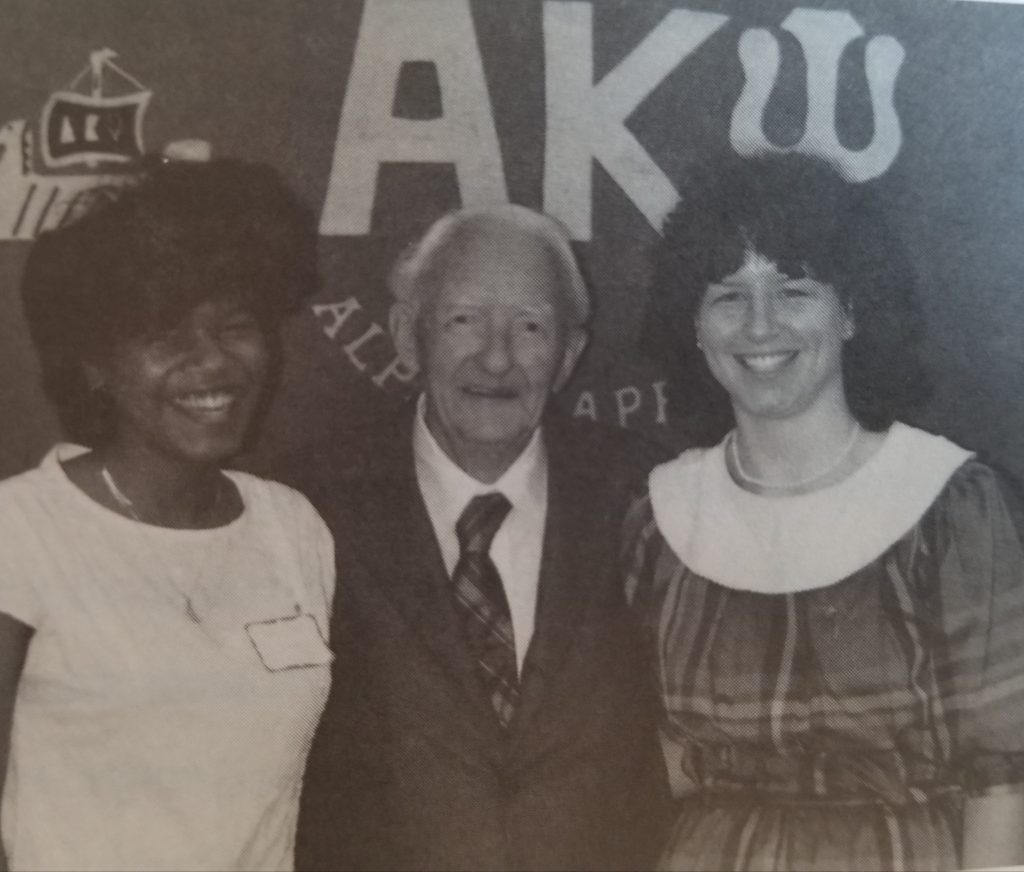 1921
Alpha Kappa Psi (Alpha Chapter) created
Alpha Kappa Psi (AKPsi) is a student organization that seeks to foster scientific research in the fields of commerce, accounting, and finance; to educate the public to appreciate and demand higher ideals therein; and to promote and advance courses leading to degrees in Business Administration.
Photo: Former Chair of the McIntire School Tipton R. Snavely with Alpha Kappa Psi President Marion Bell (McIntire 1987) (left) and outgoing President Polly Pickering (McIntire 1986)
1921
First long-term faculty hired
Maximilian Barlow, who taught Accounting, was hired as the first long-term faculty in core business disciplines at McIntire.
1922
Kincaid joins McIntire faculty, establishes continued relationship with banks
Elbert Kincaid joined the University of Virginia faculty in 1922. He traveled from California, having been recommended to President Alderman. Born in Palouse, WA, Kincaid earned his bachelor's degree from Washington State College in 1910, and then headed east to earn a master's degree from Harvard in 1911.
After completing his master's degree, Kincaid returned to Washington and served as the Deputy Auditor of Whitman City until 1912. He returned to academia as an Assistant Professor of Economics and History at Washington State College in 1913, and remained there until 1916, when he decided to pursue his Ph.D. in Economics at the University of California. He was an Instructor at California, earned his degree in 1922, and then began what was to be a lifelong tenure at the University of Virginia.
After joining McIntire as an Associate Professor of Finance, Kincaid was quickly promoted to Professor in 1926. He was greatly admired by the students he taught in money and banking and in corporate finance. Kincaid had a strenuous grading policy and a habit of giving below-average grades and long assignments, which forced students to do enormous amounts of work for his classes. This policy occasionally bothered his colleagues at the McIntire School and the Wilson School of Economics, as they would find these same students unprepared for their own classes.
While at the University, Kincaid served in a number of important positions for both the state and the University. For many years, he managed the University Commons, a dining hall for students who chose not to eat in fraternities or boarding houses, and was an important member of the Virginia Bankers Association. The relationship between McIntire and the Bankers Association is an important one that continues to thrive to this day. Kincaid also served as an Economist to the Federal Board in Richmond, and was a member of a number of professional organizations, including the Social Economics Association and the American Economics Association. After his long service to the University, Kincaid retired in 1954. He died in January of 1958.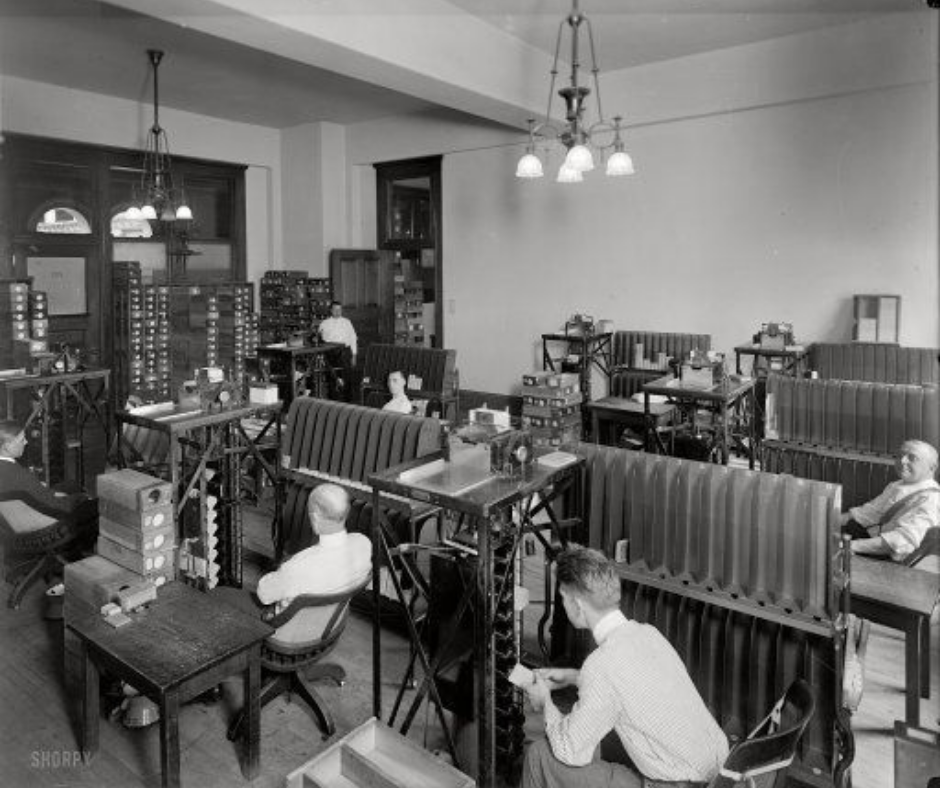 1923
First official space for Commerce
Early on, business classes were scattered across Grounds, but in 1923, space at Old Cabell Hall was requested due to the need for permanent facilities for "computing and tabulating machines," like the ones pictured below from the Old Post Office on Pennsylvania Avenue. To say our "computing and tabulating machines" have evolved may be the understatement of the century! Space at Old Cabell was also used for periodicals and a reading room; however, faculty offices remained scattered in several locations, making the development of School spirit and identity more difficult.
1925
McIntire fully accredited
The American Assembly of Collegiate Schools of Business (now the Association to Advance Collegiate Schools of Business) was founded as an accrediting body in 1916 by a group of 17 American universities and colleges, with the first accreditations taking place in 1919. In May of 1925, McIntire received full accreditation from the American Association of Collegiate Schools of Business, as the accrediting body was then known.
1929
UVA chapter of Beta Gamma Sigma established
In 1929, the Alpha of Virginia Chapter of Beta Gamma Sigma was established at McIntire. Still in existence at McIntire today, this national honorary society encourages and rewards scholarship and accomplishment among students of Commerce and Business Administration. The top 10% of third- and fourth-year Commerce students are eligible, and the top 20% of graduate students are invited to the society.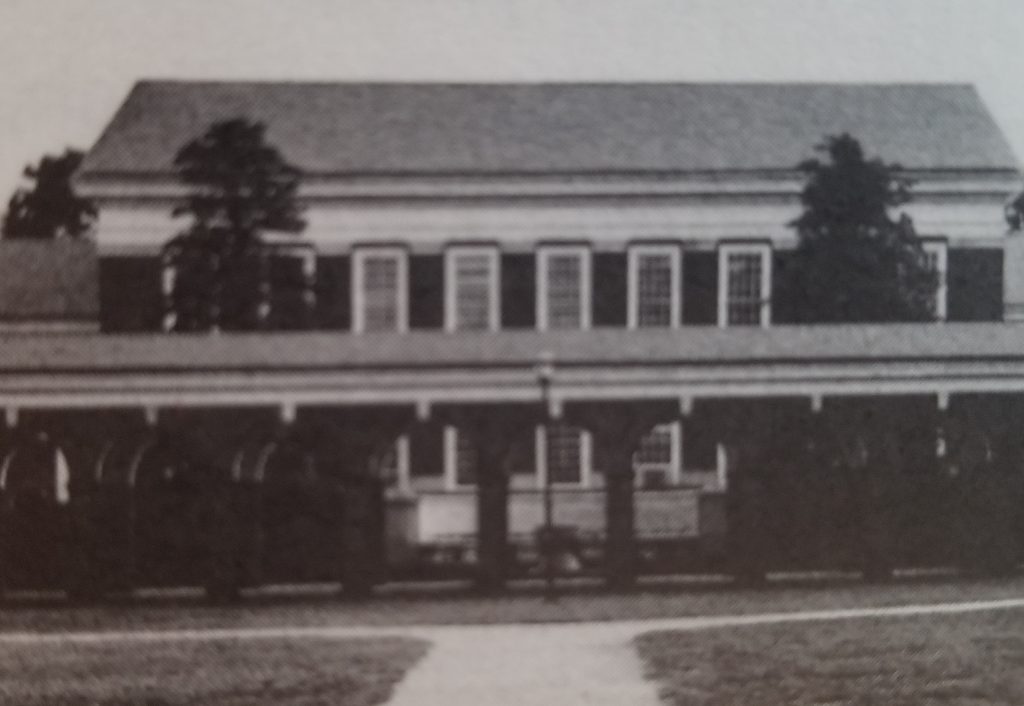 1930
McIntire moves to Monroe Hall
The McIntire School moved to Monroe Hall, a 67,000-square-foot building located on UVA's Central Grounds, in 1930. The building consists of an original core built in 1929 and a larger addition built in 1988.
1930
Commerce is the catalyst
"The most comforting aspect of [the Great Depression] period was the commonality of experience and the lesson of humility and gratitude which was learned as a consequence. Students coming to the University came from families which were making sacrifices for education, and the seriousness of students about and for their studies increased. There was in McIntire and its faculty a growing appreciation for the students and the camaraderie of working on shared projects."
1932
Great Depression forces salary cuts
In 1932, leadership, faculty, and staff saw a 10% cut in salaries due to the Great Depression, with an additional 20% cut in 1933. The average income during this period (prior to cuts) was $1,368.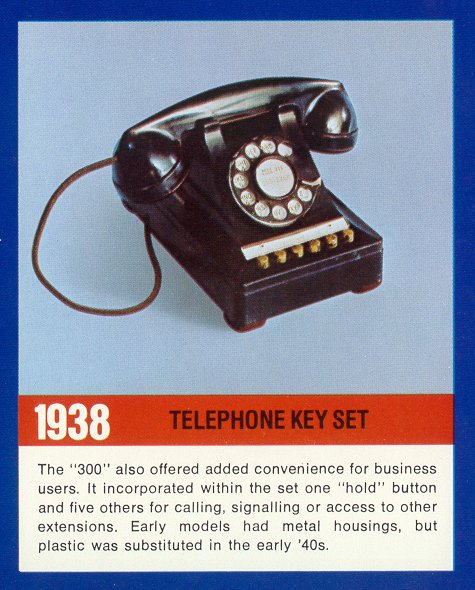 1938
The arrival of a telephone
In 1938, a second telephone was approved for the School and placed in Maximilian Barlow's office. Barlow was hired to teach Accounting at the University during the 1921-1922 academic year.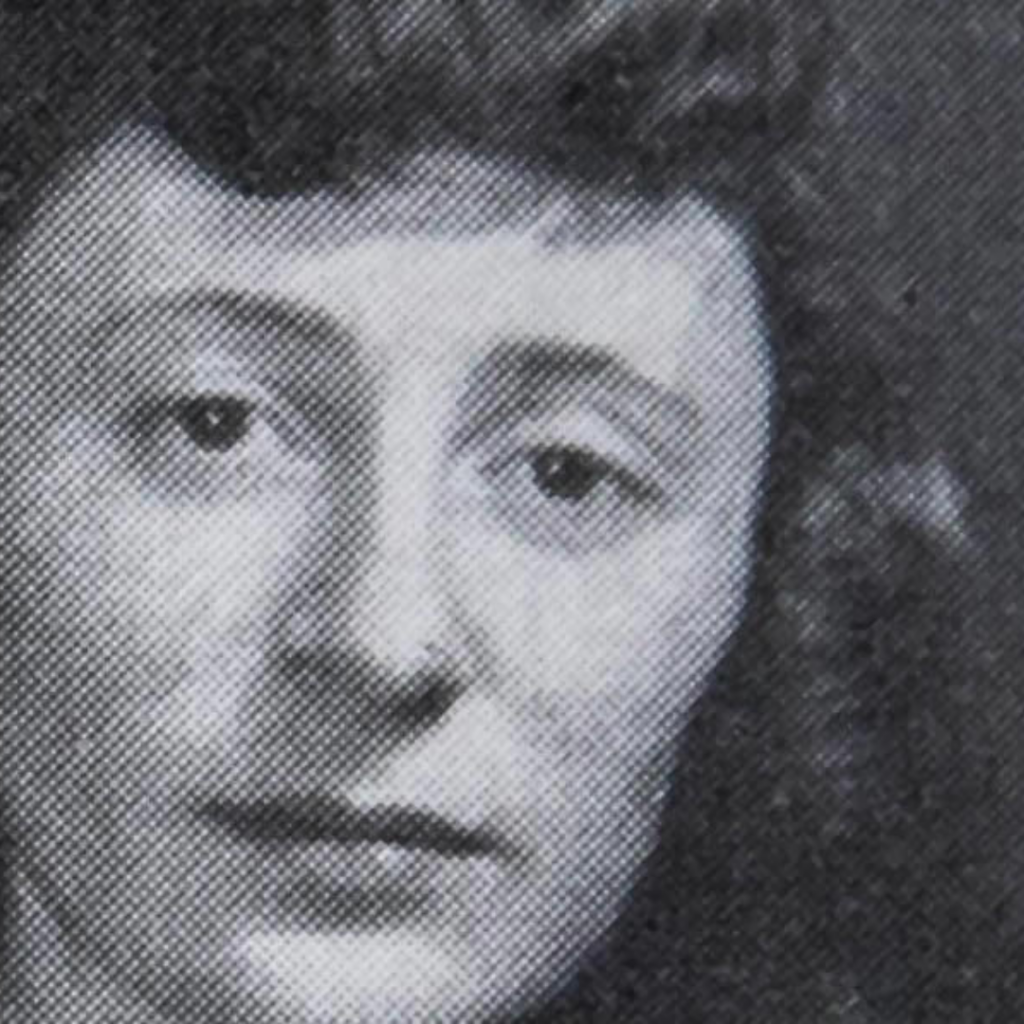 1946
Patricia Earle, the only female student in McIntire's Class of 1946
When Patricia Earle (McIntire 1946) came to UVA, the Curry School of Education was the only school that admitted women. The problem was that Patricia had no interest in being a teacher, so a friend prompted her to talk to Tipton R. Snavely, who headed McIntire at the time, and he assured her there was a place for her at McIntire and in business.
"Paving the Way," from UVA Today, June 4, 2018
As World War II drew to a bloody close just over 70 years ago, a young woman from Charlottesville transferred into the University of Virginia's McIntire School of Commerce–the only woman in the school's Class of 1946.
Patricia Earle had never intended to go to the University. Though her father graduated from the School of Law, Earle never really believed UVA had a place for her. She mostly associated the University with the crowds of often-rowdy men who roamed through her town; besides, there were few openings for women there.
"The University had a sort of dual personality in my young mind," Earle recalled, sitting in the Commerce School's library on a sunny morning this spring. "It was so revered, as you can feel when you see the Rotunda. But I also knew and respected the fact that it was only a place for men."
To her own surprise, Earle found herself breaking that stereotype when she graduated as the only female member of her school's class. Now, more than 70 years later, she found herself sitting next to 2017 graduate Gloria Felicia in the library. When Felicia graduated from the Commerce School last year, 48% of her class was female.
"I really need to thank you," Felicia said, meeting Earle's eyes as the 92-year-old smiled. "You paved the way for the rest of us."
Felicia wanted to give back to the Commerce School and decided to honor some of the first women to graduate from the Commerce School with a Dean's Society leadership-level gift. Her research led her to Earle, the School's oldest living alumna. To Felicia, the timing was perfect, and the financial sacrifice well worth it.
"Now is the time for a lot of women to rise up in their fields, whether they are in commerce, in STEM or something else," she said. "What Mrs. Earle did gave a lot of confidence to later generations of women."
She and the others gathered around the table–including three of Earle's five children and several of her extended family (many of them also 'Hoos)–were eager to hear the alumna's stories of life at UVA in the 1940s.
In the Shadow of War
The teenage Earle, then Patricia Walker, was interested in studying foreign affairs. There was a war on, after all.
She wanted to go to college out of state, but her father would not permit her to do so unless there was a relative living nearby. So after graduating from high school in 1943, she enrolled at Cumberland College, a small private school in southern Kentucky, where a relative lived. However, the worsening war made her father nervous, and he asked his daughter to return home to Charlottesville after just one year. She recalls having to stand up or sit on her suitcase the entire train ride home from Knoxville, TN; all of the cars were overcrowded with men in uniform, many of whom were also forced to stand the entire trip, and the mood was somber.
"The war news was bad; everyone was nervous about what was going to happen," Earle said.
Earle came back to an altered University. Most of UVA's regular students had suspended their education to fight in the war. Instead, the Grounds were teeming with U.S. Navy recruits. UVA, along with 130 other colleges and universities in the country, participated in the V-12 Navy College Training Program, which offered expedited bachelor's degrees for naval officers in training.
The wartime program was designed to maintain academic rigor while producing college-educated officers–sorely needed overseas–at a quick clip. The academic year was divided into three semesters of four months each, with classes continuing all year. Another program, The Allied Military Government School, trained Army recruits on Grounds.
Despite the ongoing war, Earle did not want to give up her education. When she came home, her father encouraged her to enroll in UVA's Curry School of Education, the only school that welcomed women at the time.
There was just one problem: Earle had no desire to be a teacher.
"I had some high school friends who were there, so I decided to try it," she said. "After one semester, I realized it was just not for me. I was wasting my time and they were wasting theirs on me."
She shared her concerns with a friend, who suggested that she talk to Tipton R. Snavely, who headed the McIntire School of Commerce, then under the umbrella of the College of Arts & Sciences. The friend's sister was engaged to Snavely's son, and she felt confident he would listen to Earle.
"That's how small this place was," Earle said, laughing. The administrator, she said, was very gracious.
"He assured me that I would be welcome, that there was a place for me and that he would accept my transfer into the Commerce School," she said.
Earle was delighted. She was intrigued by the world of business and felt confident the degree would help her support herself down the road.
"I wanted to have some way to be independent, to take care of myself," she said.
Still, the young woman was nervous about walking into a classroom full of men. There was one other female student taking a few classes in the School, but Earle knew she would mostly be the only woman among her male classmates.
"It was intimidating," Earle said. She had heard rumors that UVA students would stomp their feet–loudly, in unison and in clear protest–when a female student walked in the classroom.
The Dean of Women at the time, Roberta Hollingsworth, knew of that particular custom and advised Earle to lay low.
"The advice given to me was not to call attention to myself," she said. "Otherwise, they might stamp the floor when I tried to come in."
Fortunately, Earle encountered few problems. She speculates that was because her classmates were mostly U.S. Navy recruits and did not know as much about UVA traditions–even unscrupulous traditions, like stomping at female students.
"They did not come here because it was a men-only school," she said. They simply came for the Navy. "I think it made a big difference in the way I was accepted."
By her last year on Grounds, more and more 'Hoos were returning from the front and resuming their education. Again, Earle was nervous about how the returning students would react to a lone woman in their midst. However, she found that age and the war had changed their perspective.
"When the war was over, there was a new wave of returning students in 1945," she said. "And there was a difference in their attitude. Many were now married and brought their wives with them."
Indeed, the war changed much at the University. The "Corks and Curls" yearbook for 1946 poignantly chronicles the transition from war to peace the University that year.
"This past year at the University of Virginia has been one of sweeping changes," the editors wrote in the front of the book. "Along the hallowed lawns and ranges there has been a rapid exchange of Navy blue for civilian clothes again. This 1946 'Corks and Curls' emphasizes the changeover from war to peace. With no apologies, we emphasize the peace. Four years of war, however, have inevitably left their mark."
The book is dedicated to UVA students killed in the war, their names filling four columns in tiny print on the second page.
"Those years were so unique in comparison to anything before or after," Earle said. "The lessons I learned here, I carried with me forever."
Among them, she said, was to focus on doing the right thing and staying true to herself, without worrying what others thought. She credits the University's Honor Code with instilling that lesson in her.
"I was so afraid to call attention to myself at first, and I realized that might make me reluctant to try to report an honor violation if I saw one," she said. "I was so afraid of what people would think of me, but I finally realized it was more important what I thought of myself. Whether I had done the right thing was so much more important than how others might receive me."
Wahoo(s) for Life
Earle said that her Commerce degree served her well throughout her life. She and her husband–the late U.S. Army Col. Frank H. Earle, also a University alumnus–traveled the world for his military career.
Although Earle's college degree qualified her for several different jobs, it was rare at the time for military dependents to be employed on bases and overseas installations. However, during the Korean War, when her husband was deployed to Korea and she remained in Japan, Earle worked in the Office of Military Special Services. She had the rather unique experience of helping set up and maintain a canteen to greet military personnel in transit from the states to the war in Korea, just a few hours away. With the battlefield only four hours away by plane, a community of American wives and children had not lived so close to an active battlefield since the Civil War.
Several years later, while stationed in Fort Bliss, TX, during the Vietnam War, Earle was commended by the Red Cross for helping establish one of the first lending "tideover" closets in the country, where newly arrived families could borrow, without charge, essential goods they needed while waiting for their possessions to arrive on the base.
Even more importantly, however, her skills and her experiences in UVA's classroom gave her the confidence to embrace the constant changes and challenges that come with an international military career.
"It helped me do a lot of things that I would not have felt confident doing," she said. "That is really the main thing that I got out of graduating from the school. It gave me the confidence to try things that I would not have tried otherwise, and I thank Dr. Snavely for that."
After living abroad for much of her life, Earle has returned to Charlottesville, where she worked as a Realtor and continued volunteering with civic organizations, work that did not go unnoticed.
After her retirement, she was honored by the Charlottesville Area Association of Realtors and inducted into their Hall of Fame for her years serving as their treasurer. She was also the first recipient of the lifetime achievement award from the Albemarle County Republican Committee.
Throughout her adult life, Earle has remained involved with the McIntire School of Commerce and the University community. She is a big fan of UVA sports, particularly football and basketball. She has held season tickets and supported UVA athletics for more than 40 years and still loves attending games today.
She has also raised generations of Wahoo fans, by taking her many grandchildren, nieces, and nephews to UVA athletic events, teaching them the Good 'Ole Song and the "Wahoowa" chant. Two of her sons are UVA graduates, and granddaughter Cameron Boland graduated from the Commerce School in 2015 and currently works for an executive search firm, Henkel Search Partners, in New York City. She loves sharing UVA with her "Grammy Pat" and so many other members of her family.
"It's been a huge part of our entire family," Boland said. "There is also a Virginia Tech contingent, of course, but my family will always be a very devoted group of Wahoos."
With Boland and other family members gathered around her in the library that day, Earle said it had been a pleasure to visit the School again and talk to students and young alumni–particularly women like Felicia.
"A lot has changed, and for the better," she said.
She turned to Felicia, smiling at the young woman.
"I am so proud of the way things have turned out," she said. "The School is much richer for having all of you here."
1952
Commerce becomes an independent School of Business Administration
Commerce was removed from the College of Arts & Sciences in 1952 to become an independent School of Business Administration.
At the time, the curriculum, which the University's Faculty Senate approved on Dec. 22, 1952, was as follows:
English (12 semester hours)
Mathematics (6 semester hours)
Natural Sciences (10-12 semester hours)
U.S. History (6 semester hours)
Introduction to Business (4 semester hours)
Principles of Economics (6 semester hours)
Calculus, Philosophy, or second year of Foreign Language (6 semester hours)
Accounting (6 semester hours)
Statistics (6 semester hours)
Money and Banking (6 semester hours)
Commercial Law (6 semester hours)
Quantitative Methods (6 semester hours)
Concentration electives (21 semester hours)
Free electives (17-19 semester hours)
Total of 120 semester hours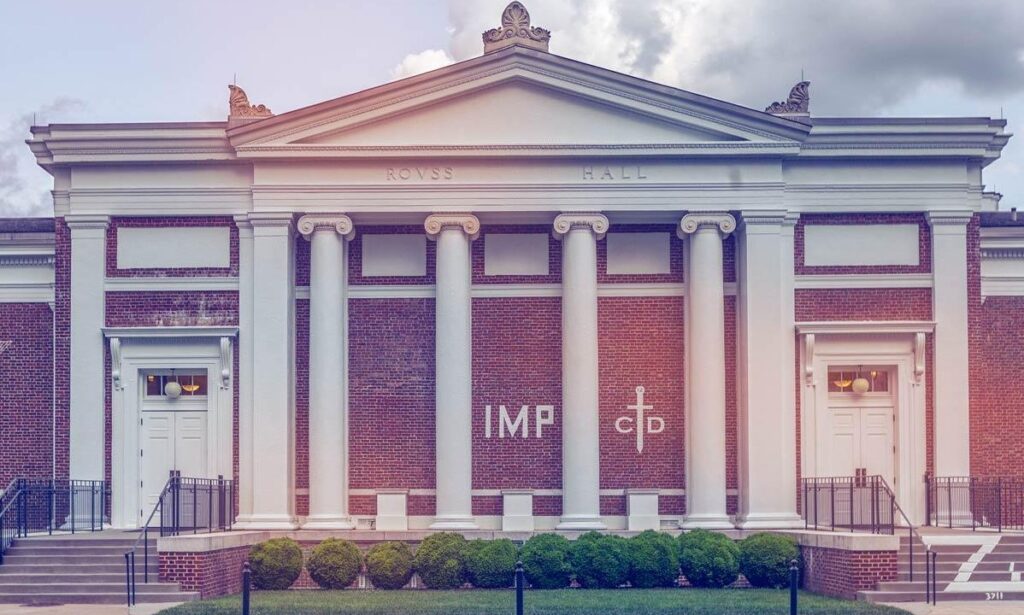 1955
McIntire moves to Rouss Hall
From 1955 to 1975, Rouss Hall served as home to the McIntire School of Commerce.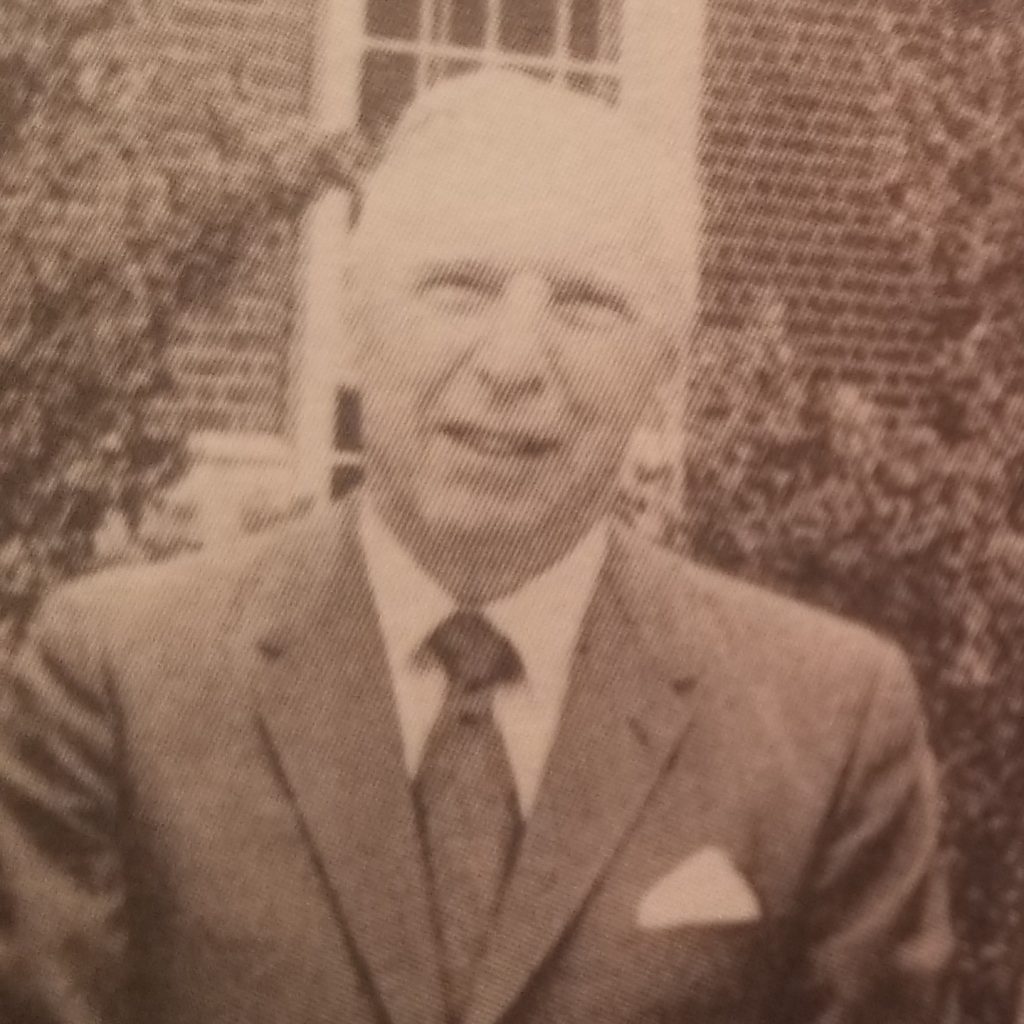 1956
Frank S. Kaulback Jr. appointed Dean
During his 21-year tenure as Dean of the Commerce School, Frank S. Kaulback Jr. had a profound impact on the School's development. His association with the University began in 1930, when he came to Charlottesville as an undergraduate. He earned his master's from UVA in 1942 and Ph.D. in 1945. He joined McIntire's Accounting faculty in 1946. Kaulback taught introductory and upper-level Accounting, and was one of the faculty members who petitioned then UVA President Colgate Darden regarding the separation of the Accounting department from the School of Economics.
He remained with the Accounting faculty after McIntire left the College of Arts & Sciences. After Lorin Thompson stepped down as Commerce School Director, Darden appointed Kaulback in 1955. In 1956, the title of Director was changed to Dean, and Kaulback held the post until 1977.
Active in the School's admissions procedures and influential in hiring faculty to complement the School's academic areas, Kaulback served as Dean during a critical time in the School's history. In the mid-1960s, he spearheaded efforts to renew the School's accreditation with the American Assembly of Collegiate Schools of Business, preparing the School to continue its reputation for excellence in business education for the second half of the century.
Kaulback served as President of the American Accounting Association and the Southern Business Administration Association. He remained a member of the faculty after stepping down as Dean, and in 1985, at the request of then Dean William Shenkir, wrote the history of the McIntire School's first 60 years.
Kaulback passed away in October 1999.
1964
Commerce Council created
The Commerce Council represents and supports undergraduate students in the McIntire School of Commerce by hosting and coordinating service and social events, outreach activities, and other various programs.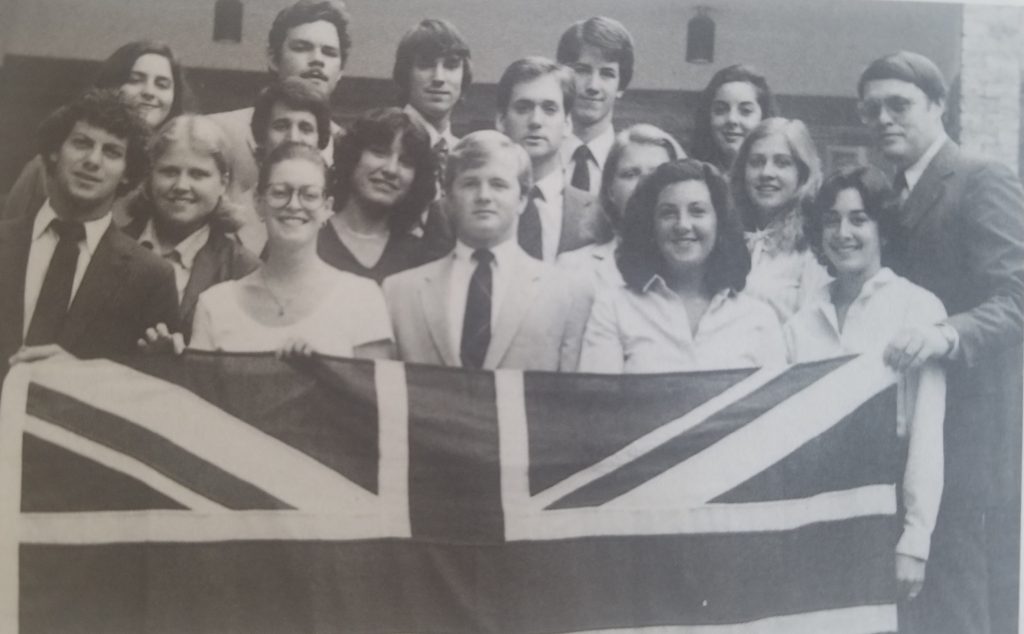 1967
Commerce goes global
As businesses became global, business schools were confronted with how to provide students with a global business perspective. The initial strategy of the McIntire faculty was to offer some international courses and provide the faculty with international development opportunities so that they could redesign their courses to include such considerations. That approach was followed until 1994, when a new core course—Foundations of International Business—and an international concentration were offered.
The School began offering a course in International Marketing during the 1967-1968 academic session. In summer 1981, the School offered an International Finance and Banking course in London, developed by Finance Professor Larry Pettit. Students attended three days of classes in Charlottesville before departing for four weeks in London, where they met in seminars taught by executives from a number of different international financial institutions. Since the inaugural offerings, stops in several countries across the globe were added.
Pictured: London study group with Larry Pettit (right) in 1981.
1968
Birth of graduate education
Dean Frank Kaulback called on faculty be "educational entrepreneurs" and welcomed proposals of any kind to help grow business education at McIntire. The success of any proposal depended upon how strongly the idea was pushed by its champion.
1970
McIntire Alumni Association formed
In 1970, an effort began to encourage McIntire alumni to contribute annually to the School. McIntire alumni had not previously been solicited directly by the School for annual gifts; typically, gifts from McIntire alumni were sent directly to the UVA Fund (the UVA Alumni Association). Unless those gifts were specifically designated for the School, they were used for general University purposes. Two members of the 1970-1971 Commerce Council, John Petty (1971) and Dan West (1971), were involved in organizing the McIntire Alumni Association to strengthen the ties between the School and its alumni. On Oct. 17, 1970, the organizational meeting of the association was held, with about 35 McIntire alumni in attendance. In the fall 1971, the McIntire Alumni Association had 95 dues-paying members, and the inaugural issue of the Commerce newsletter was published to keep the School's alumni and friends better informed about McIntire's programs and achievements.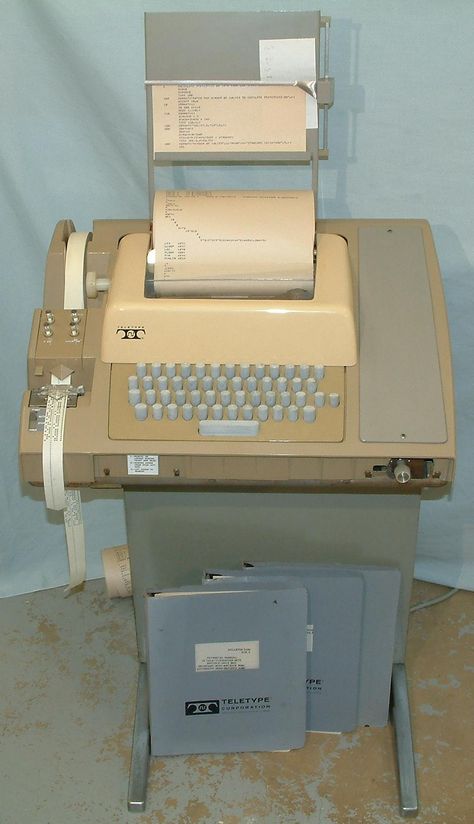 1971
Computer technology arrives at McIntire
McIntire began investing in computing technology during 1971-1972, when a janitor's broom closet in the Rouss Hall basement was equipped with five teletype terminals with access to the University's mainframe computer. The terminals necessitated that the School use $500 of private funds, which were from the recently formed McIntire School of Commerce Alumni Association. This was the beginning of many private gifts to support the School's computer facilities.
1972
M.S. in Accounting launches
After approval was secured from the School's faculty and the University's administration for an M.S. in Accounting Program, the State Council of Higher Education for Virginia approved the graduate program, proposed by a committee assembled by Dean Kaulback and chaired by future Dean Bill Shenkir, in 1971. Five students entered the program, with Shenkir as the first Director, in the fall of 1972, after a national marketing initiative. The first M.S. in Accounting degree was awarded in 1974.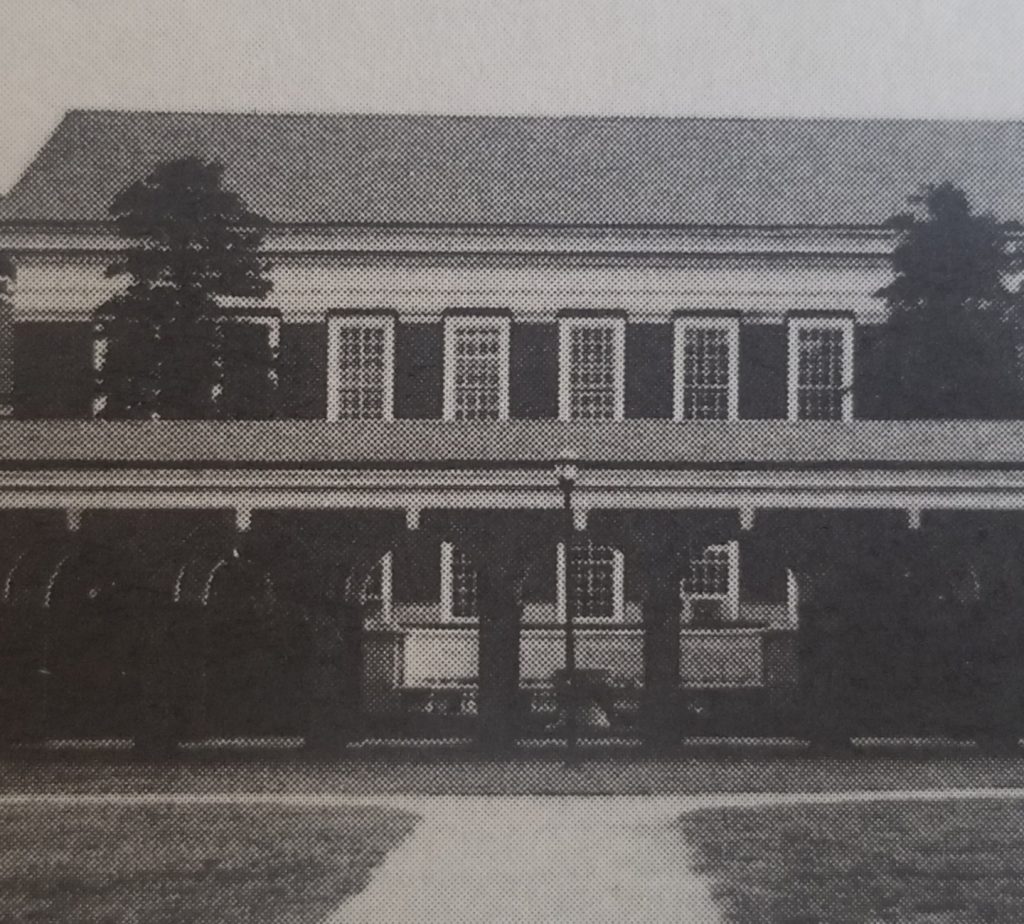 1975
McIntire returns to Monroe Hall
After a 20-year run in Rouss Hall, McIntire returned to Monroe Hall in 1975. During this same period, however, McIntire also experienced phenomenal growth. Before McIntire's return to Monroe Hall, approximately 320 students used the building. McIntire brought with it 620 students. In addition, classes and faculty offices were once again spread around Grounds. In 1978, Dean Shenkir submitted plans for a facilities expansion to the University's central administration. Thus was the inception of the Balfour Addition to Monroe Hall.
Pictured: Monroe Hall before the Balfour Addition
1976
American Marketing Association student chapter established
Today, the Advertising and Marketing Association at UVA provides students with the opportunity to learn about the advertising and marketing industries, as well as career paths in various areas of marketing, through speakers, panels, and other events throughout the year. AMA exposes its members to top careers in consumer market research, social media management, entertainment marketing, account management, creative art design, brand management, strategic planning, sports marketing, public relations, media buying, copywriting, consulting, and other major advertising and marketing careers. All students interested are welcome to join.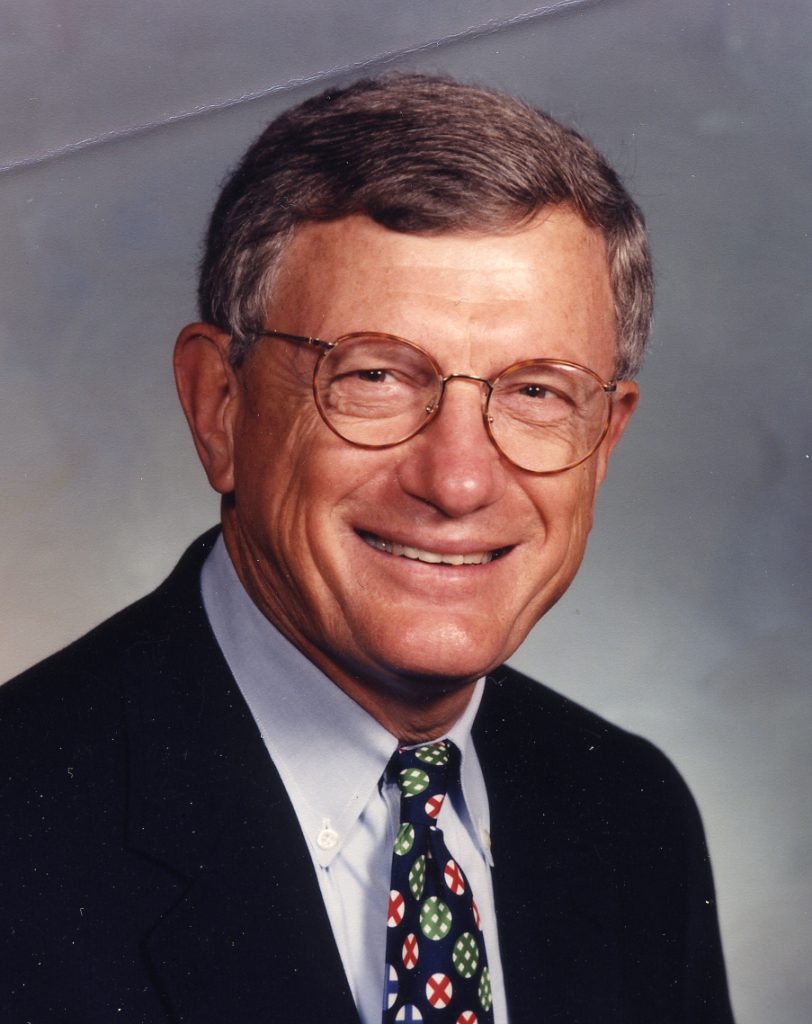 1977
William G. Shenkir appointed second Dean
William G. Shenkir was appointed the second Dean of the McIntire School in 1977. During his term, McIntire was recognized nationally as a leader among business schools, expanded its faculty and physical resources, established an IT platform, and greatly broadened its financial base.
The Texas native was educated at Texas A&M University, receiving a bachelor's in Business Administration (1960), and at The University of Texas, earning master's (1962) and doctoral degrees (1964). He is also a CPA.
After service in the Air Force, Shenkir joined McIntire as an Assistant Professor in 1967. He was promoted to Associate Professor in 1969 and to Professor in 1972. From 1973 to 1976, he served as a Technical Adviser and Project Director at the Financial Accounting Standards Board. In 1977, he returned to McIntire as Dean and Paul G. McIntire Professor of Commerce.
Shenkir continued his involvement with the accounting profession, serving on numerous committees at the national level, and was particularly involved with improving accounting and business education. He served on the Board of Directors and as President of the American Assembly of Collegiate Schools of Business and as a Vice President of the American Accounting Association. He was also a member of the Accounting Education Change Commission and the Board of Directors of Dominion Bankshares.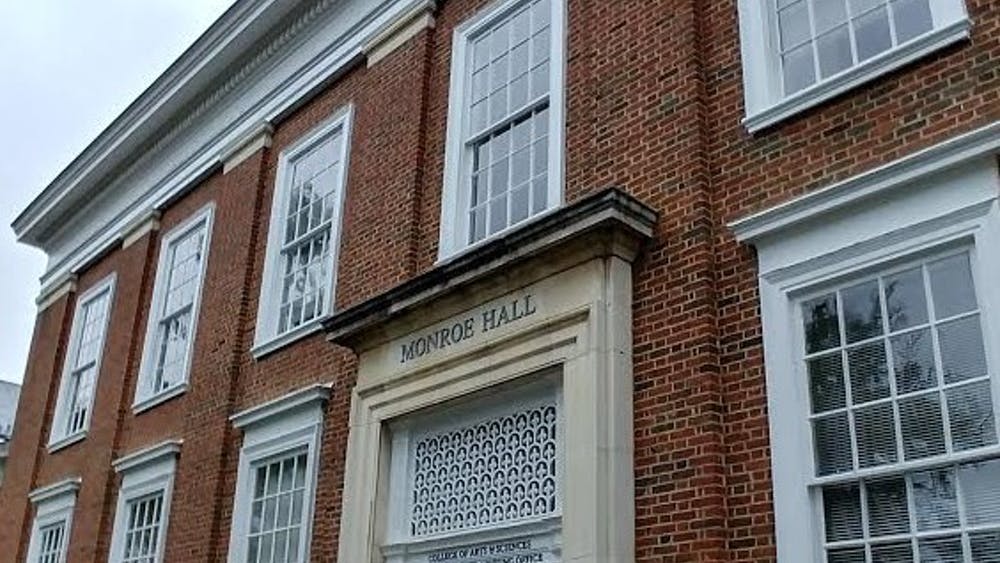 1978
McIntire earns one of nation's earliest rankings
McIntire first appeared in a national ranking in 1978, when two faculty members, Tom Wheelen and David Hunger, undertook a study of deans of 200 accredited undergraduate business programs to learn what educational philosophies and goals shaped those programs, along with their relative importance, and what programs were seen as among the best. McIntire earned a top 10 ranking. In 1979, McIntire earned a #3 ranking among the top 10 undergraduate schools in a survey of personnel directors in Fortune's top 200 industrial firms and 250 non-industrial firms.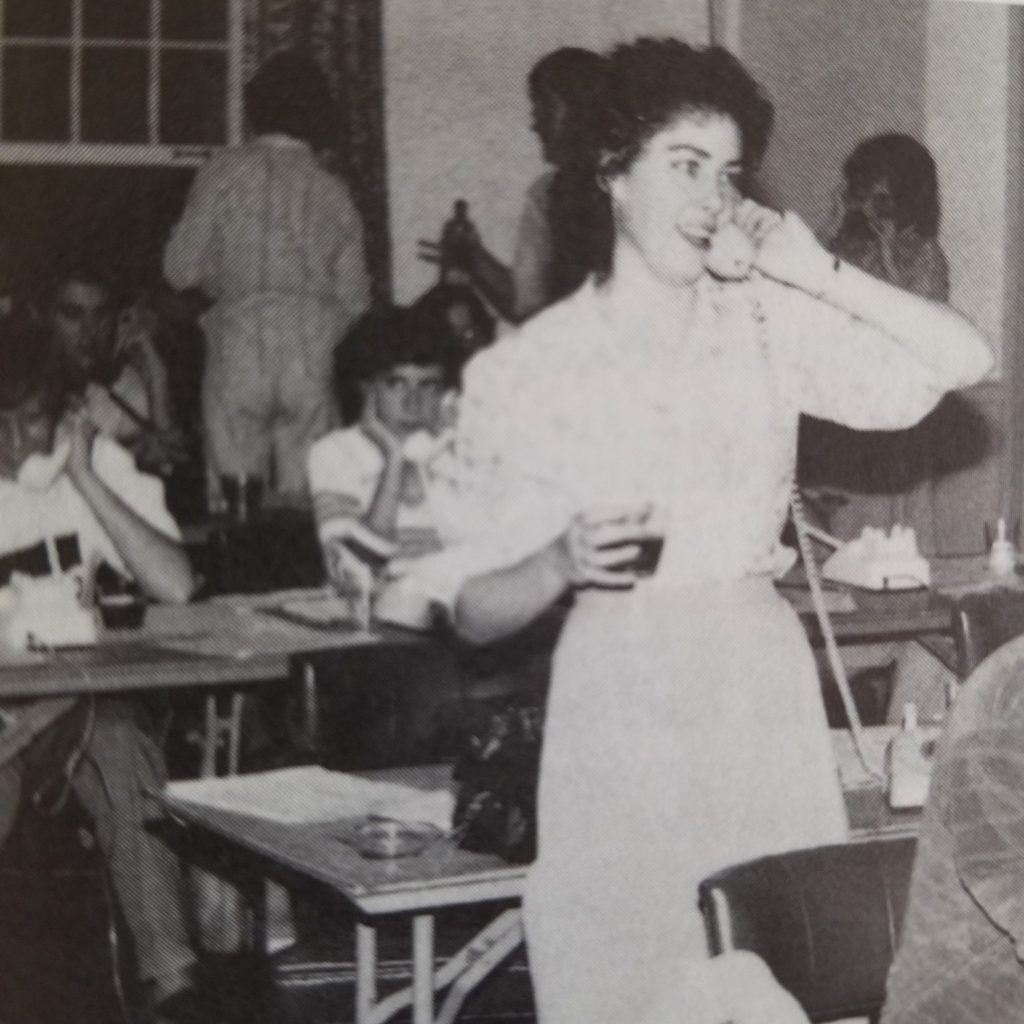 1979
"Update 79," the first student-led fundraiser
In the fall of 1979, the McIntire School took a bold step in fundraising, with "Update 79," the first phonathon conducted by one of the University's undergraduate units. The effort was the sole responsibility of an eight-student committee chaired by Meredith Tucker (McIntire 1980). Their work culminated with five nights of calling by 250 student volunteers reaching out to 2,400 of the 3,678 McIntire alumni and raising $40,000.
Photo: Meredith Tucker, Chair of the first phonathon, in 1979.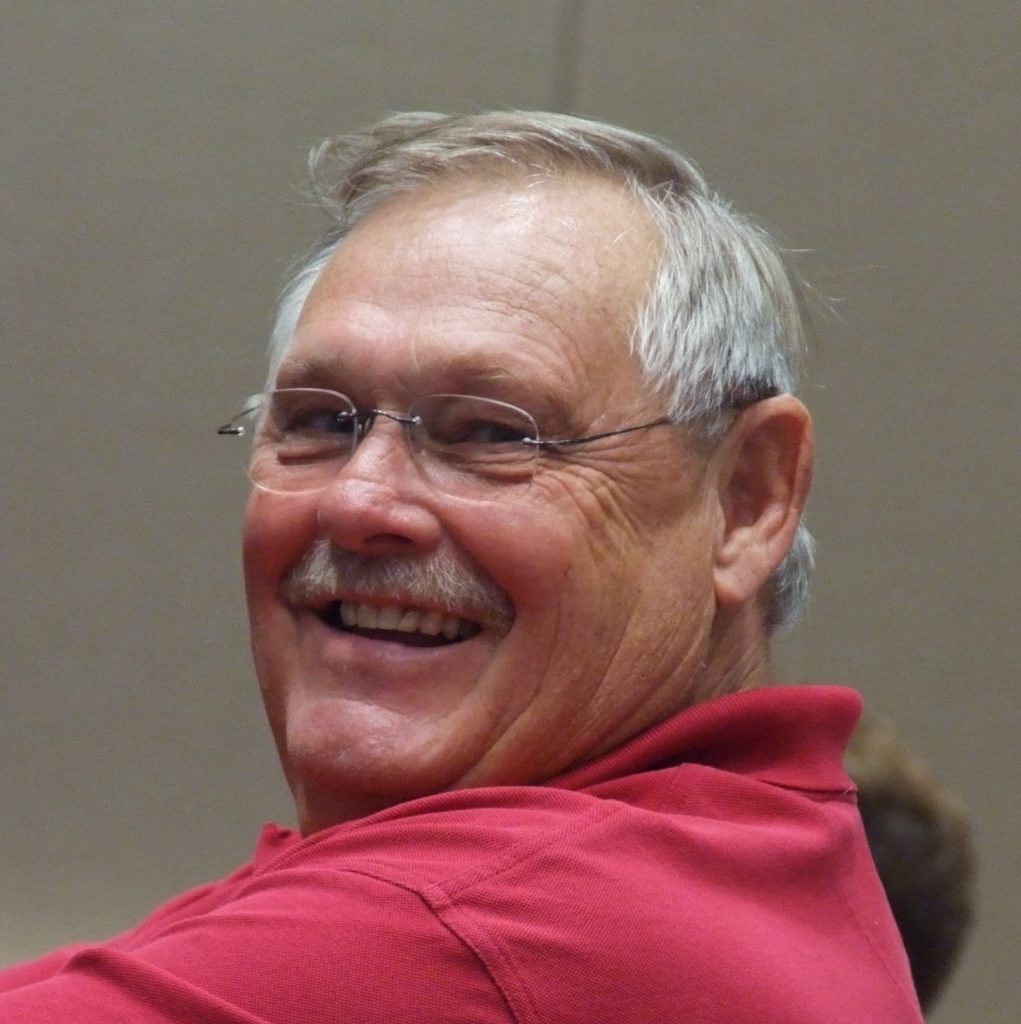 1979
McIntire establishes first center
A former leader in Virginia banking made the comment to Dean Shenkir early in his tenure that the McIntire School had done more for banking in Virginia than any other business school. The Virginia Bankers Association had shown its appreciation by endowing a chair at the McIntire School in 1970. Another banking chair was established in 1974 by Arthur J. Morris. Also during the 1970s, Finance faculty, under the leadership of Professor Larry Pettit, forged close relationships with executives from numerous banks in order to provide career opportunities for McIntire students. It seemed appropriate for the School to have a center to link faculty interests to this important external constituency. Thus, the Center for Financial Services Studies was established in 1979, with Professor Jack Lindgren as its first Director.
1980
Faculty and students moved to trailers; AACSB cites need for new facility
In 1980, some faculty offices and student study rooms were moved to two large trailers outside of Monroe Hall in order to accommodate for the lack of space inside the building. In 1981, the AACSB conducted a report as part of a regular 10-year self-study and visitation, stating that McIntire's physical facilities "do not fully support the elevated standards of excellence that characterize other aspects of the school." Dean Shenkir then requested an External Evaluation Committee review the School through the University's Center for Advanced Studies. The School had never undergone such a review, which was funded by the center. In their report, the committee stated, "The loyalty of the student body has been put to trial by the outdated physical facilities...Proper physical plant and facilities should be a top priority item for the University and relief should be immediate."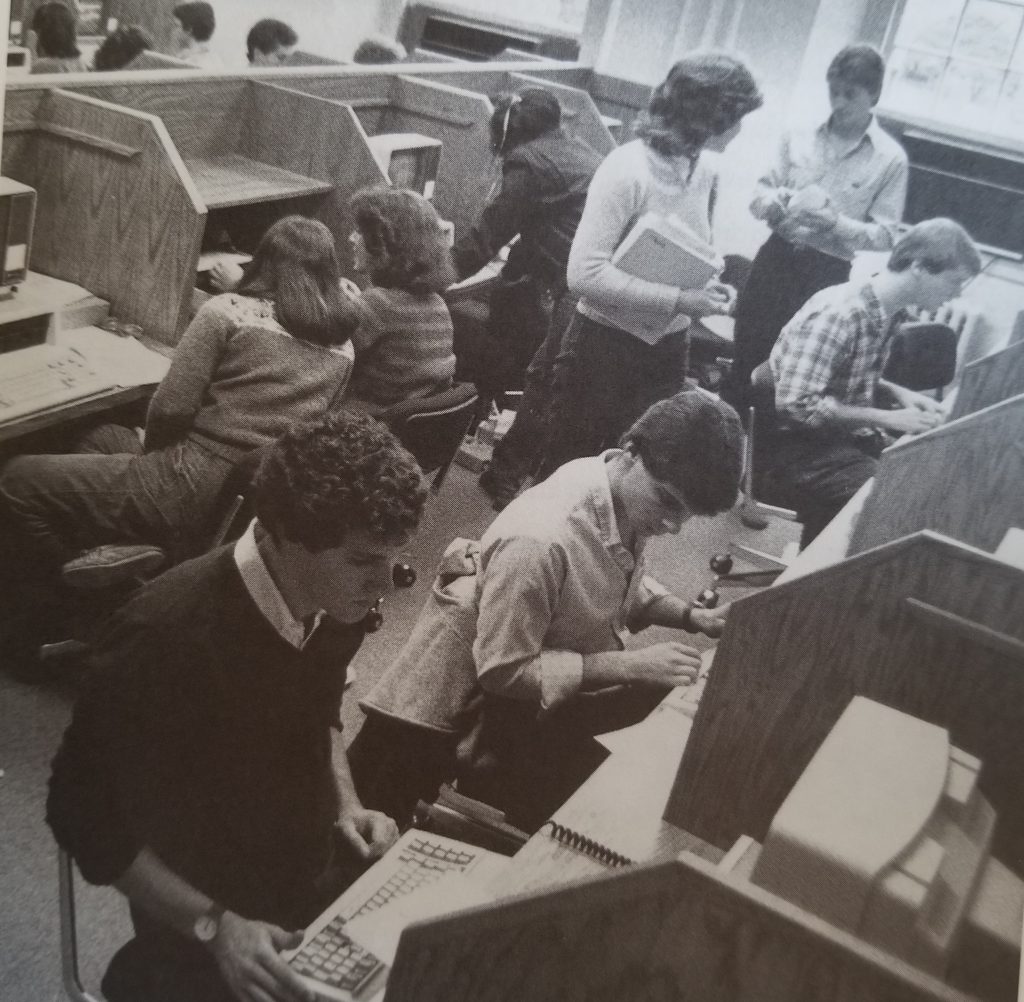 1981
First computer lab
In the fall of 1981, a room was renovated in Monroe Hall to house 14 Apple microcomputers, financed with matching state and private funds and an $8,500 gift from Apple Computer. The computers arrived late in the fall semester, and some of the faculty were so eager for students to use them during the spring semester that they took them home over the holiday break to familiarize themselves with the new technology. McIntire's "Apple Orchard," as it was called, was the next step in the development of the School's information technology platform.
Photo: "McIntire's "Apple Orchard"
1981
M.S. in Accounting Program accredited
McIntire, which had been accredited to offer an undergraduate program by the AACSB in 1925, was accredited by the same body to offer graduate accounting business programs in 1981. At the time, McIntire was one of only 13 schools in the nation, and the first in the state of Virginia, to receive accounting accreditation.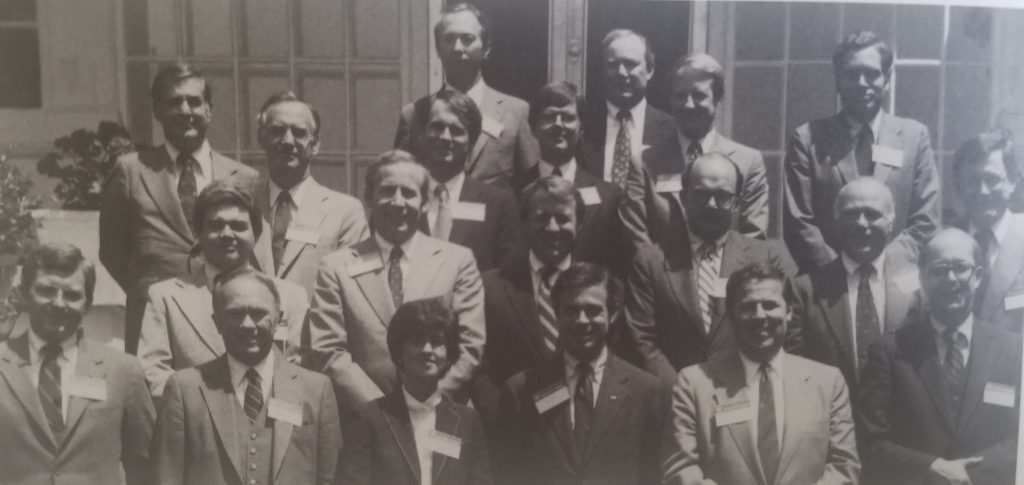 1981
Inaugural McIntire Advisory Board meeting
After roughly four years of groundwork, Dean Bill Shenkir invited a group of alumni to serve on the McIntire Advisory Board, which held its inaugural meeting May 14, 1981.
At the meeting, the University's President addressed the board, and it has been customary at each of the board's semiannual meetings to have a member of the University administration meet with them and give a "State of the University" message.
The objectives of the board as stated at the initial meeting were:
1. To provide a formal link between the School and the business and public communities that it serves
2. To advise the faculty and administration on current and future teaching and research programs
3. To counsel the faculty and administration on ways to serve the dynamic needs of management and organizations
4. To assist the Dean in the development of financial resources and direction of the School
Pictured are the charter members of the Board at the first meeting in 1981. Left to right, front row: John Cragoe, Jim Nay, Anne Stone, Warner Dalhouse, Martin Mand, Thomas Payne. Second row: James Blanks, Robert Freeman, Jack Rader, Richard Fogg, Beirne Carter, Bill Shenkir. Third row: Bernie Morin, Pierce Walmsley, Alan Botsford, William McCarten, Glenn Gettier, Alex Holmes. Back row: Bill Crutchfield, Caleb Stowe. Not pictured: Rufus Barkley, James Baylor, Samuel Derieux, Peter Rawlings, William Leggett.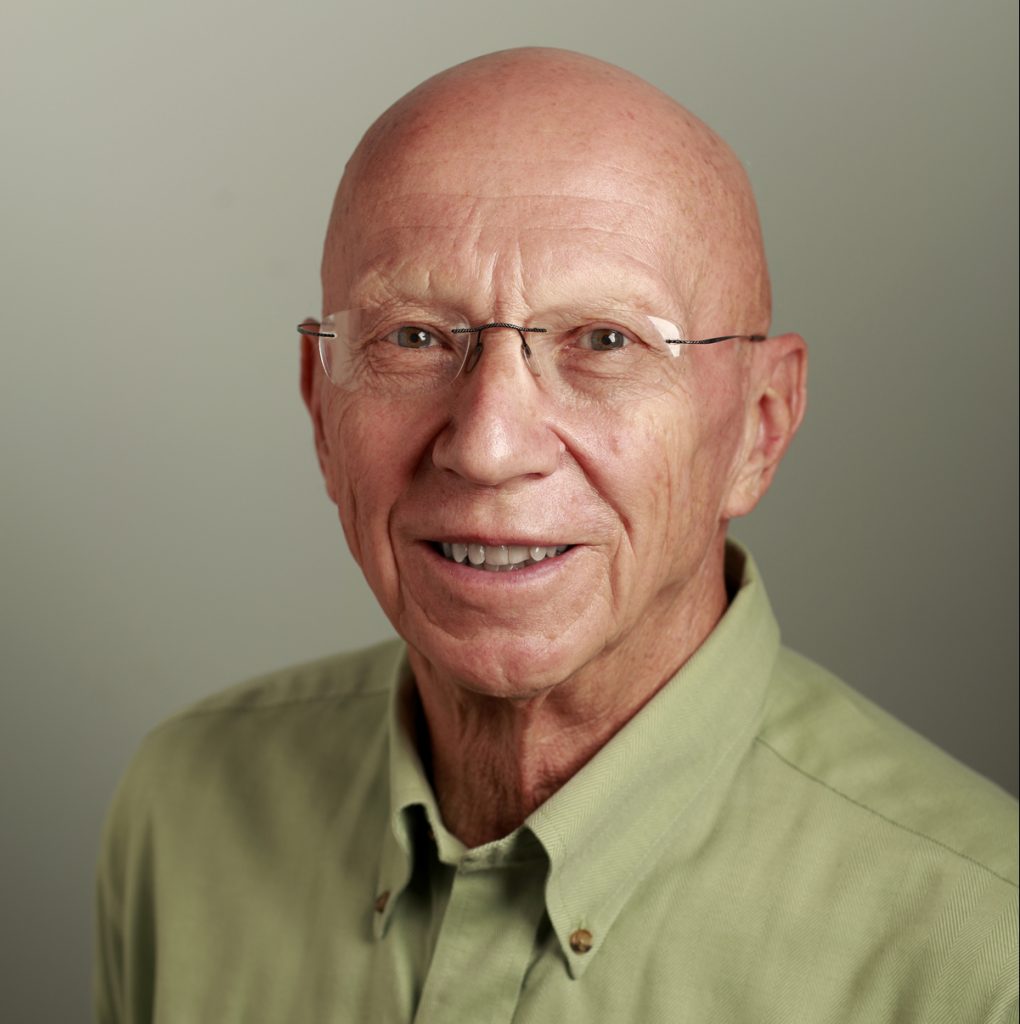 1981
Commerce is the catalyst
Commenting that "business should be viewed as an art as well as a science," the McIntire Advisory Board's first chairperson, Bill Crutchfield, noted that board members would help balance the more analytical, "scientific" aspects of business education with the art of their own personal business expertise. His words served as a consistent reminder for academia to be practical, realistic, and relevant.
1981
McIntire launches first major capital campaign
In December of 1981, the School announced its first major capital campaign. As part of a $90 million campaign, McIntire set a fundraising goal of $5 million, of which $2 million was for the construction of a $5 million addition to Monroe Hall. When the campaign ended in December of 1984, McIntire had exceeded its construction fund goal, with $3.2 million raised from more than 400 individual donors. The effort was capped with the announcement in May 1985 of a $1 million gift from the L.G. Balfour Foundation of Massachusetts, which allowed for the completion of the building addition's third floor and basement. The trustees of this foundation indicated that they selected McIntire to receive the grant because they saw the School as a strong proponent of the free enterprise system.
1982
Undergraduate Accounting program receives national ranking
In 1982, the Public Accounting Report ranked McIntire's undergraduate Accounting program the #8 undergrad program in the nation.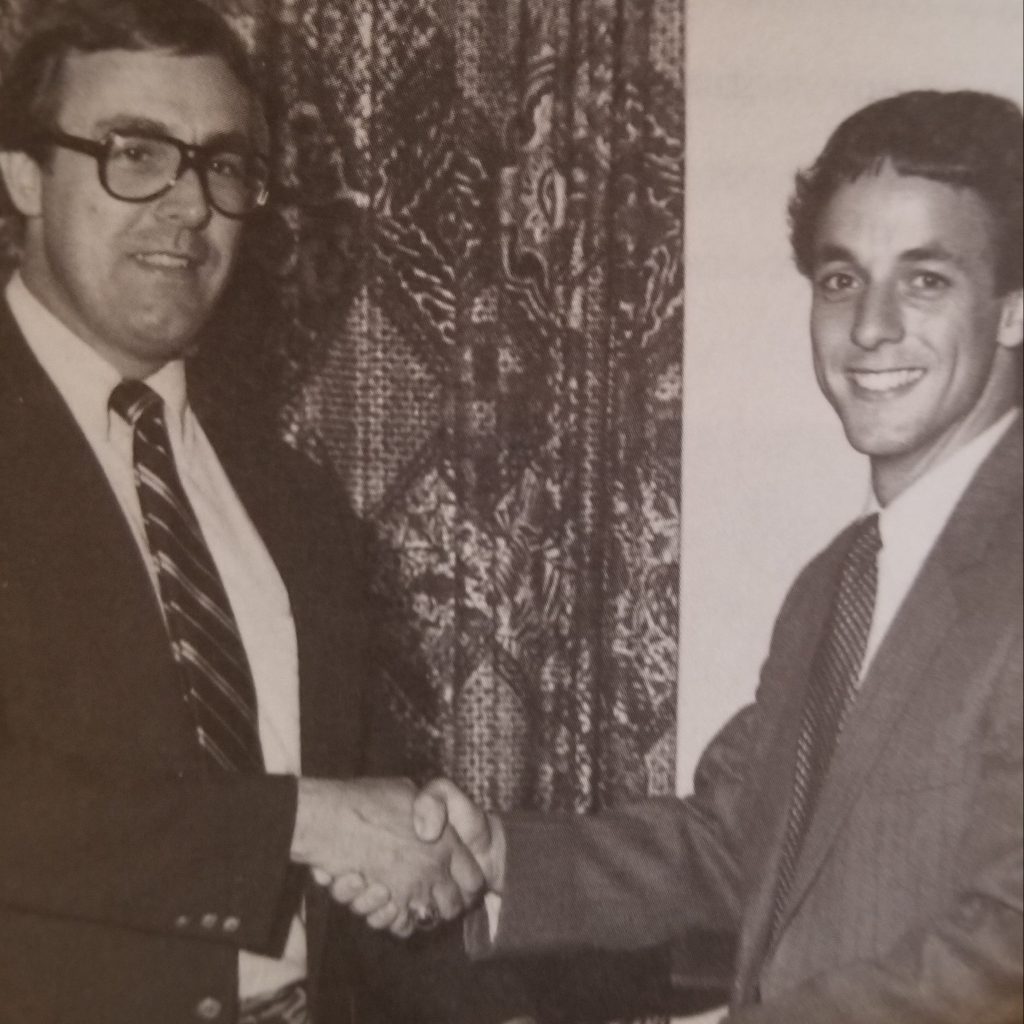 1982
McIntire student earns nation's highest CPA exam score
Sells Award Winner Michael Wildish (McIntire 1982) is seen here being congratulated by Accounting Area Coordinator Bill Boynton for earning the highest score in the nation on the CPA examination.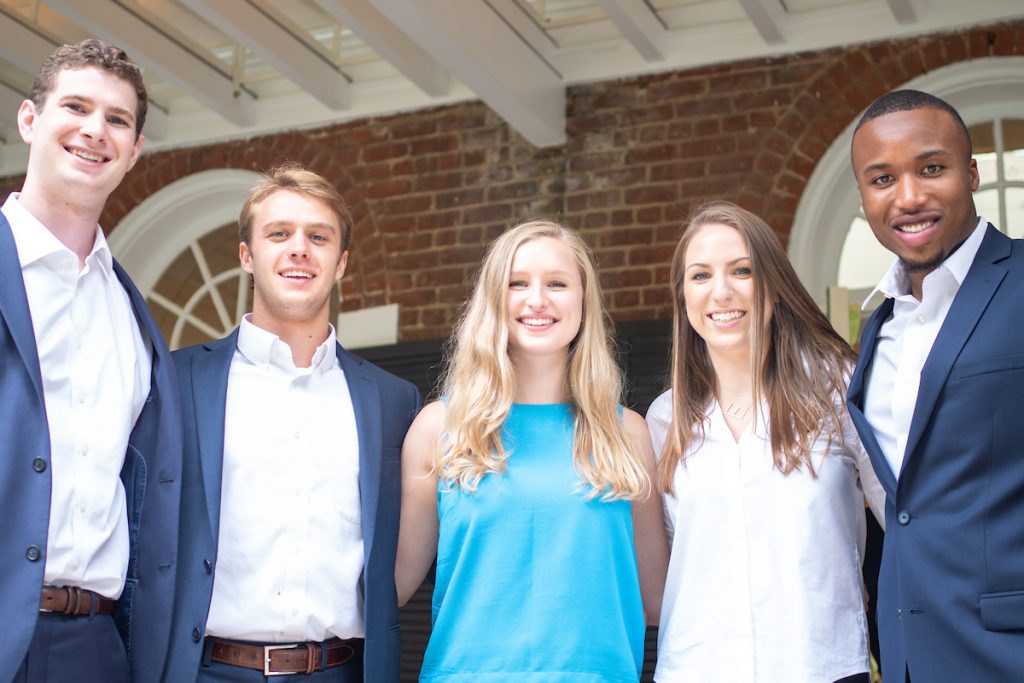 1982
McIntire Business Institute launched
Drawing upon the success of various outreach programs, including the Ph.D. Institute, the School began offering the McIntire Business Institute in 1982. Beginning as a six-week intensive program to provide liberal arts students with the fundamental business skills vital to expanding their career horizons, MBI is still going strong, with the addition of an online version.
Photo: Students in the 2018 MBI cohort.
1985
Undergraduate Accounting program earns top 10 ranking
In 1985, the Public Accounting Report ranked McIntire's undergraduate Accounting program #6 in the nation.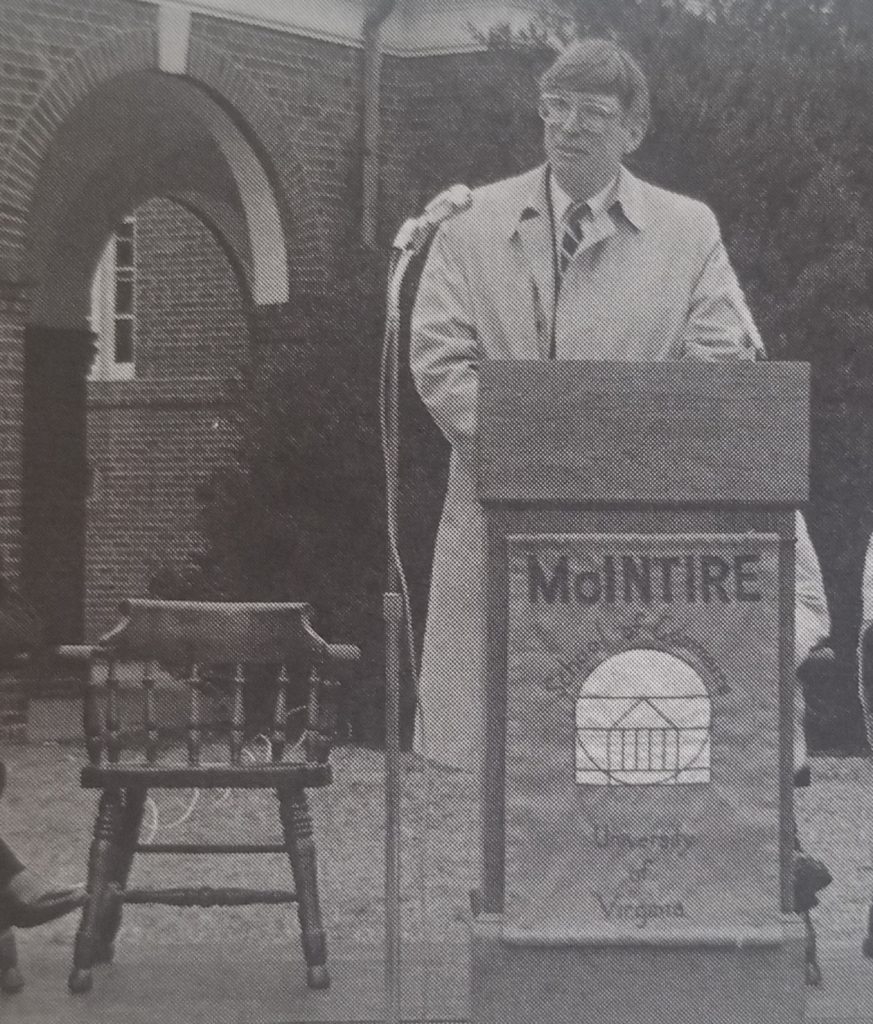 1986
Balfour Addition groundbreaking
Construction of the Balfour Addition to Monroe Hall began with a groundbreaking ceremony in February 1986. Construction was completed in 18 months.
Pictured: University President Robert O'Neil delivering welcoming remarks at the Feb. 24, 1986, groundbreaking ceremony.
1989
M.S. in MIS (now M.S. in MIT) welcomes first class
As the McIntire faculty increased in number during the late 1970s and 1980s, interest in offering other graduate programs developed. While several possibilities were discussed, including graduate opportunities in finance and marketing, the area that seemed to have a special niche in which to offer a master's degree was management information systems. Spearheaded by faculty member Elias Awad, the program passed the Faculty Senate and the Board of Visitors in 1988 and by the State Council of Higher Education the same year. With Awad serving as Coordinator of M.S. in MIS programming, the program began to welcome students in 1989.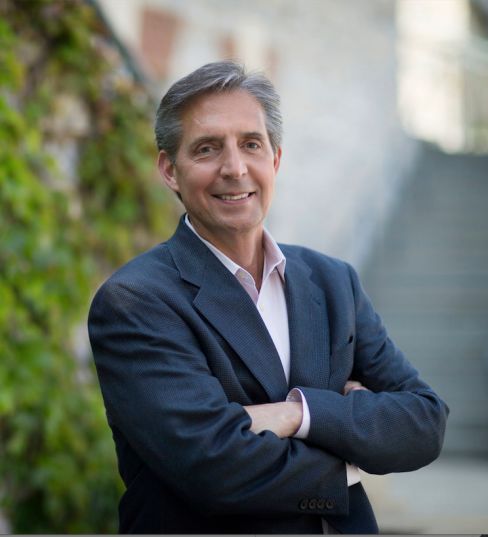 1991
Center for the Management of Information Technology (CMIT) established
Launched in 1991, the Center for the Management of Information Technology (CMIT) is the third center established by the Commerce School. Professors Ryan Nelson and Dave Smith served as CMIT's original Co-Directors, and today the Center remains under the leadership of Nelson.
Having developed well over 100 programs that have impacted thousands of participants from a multitude of private and public sector organizations, CMIT has also facilitated an active network of practitioners, faculty, and alumni, with the latter group representing a large number of engaged alumni from the M.S. in MIT Program. The Knowledge Continuum, CMIT's flagship program and one of the School's most popular events, is attended by industry executives, alumni, and students from across the country.
Photo: Ryan Nelson
1992
Price Waterhouse Center for Innovation in Business Learning created
In 1992, the faculty approved the establishment of the Center for Innovation in Business Learning, known today as the Center for Innovation in Professional Services (CIPS). Professor Jack Lindgren served as the first Director, and was succeeded by Professor Gib Akin. In 1994, Lindgren returned to the Director's position, focusing on offering a series of seminars on using multimedia technology in the classroom to the McIntire faculty. In 1995, Price Waterhouse Foundation contributed $500,000 to support the center, and their name was added to the center's title.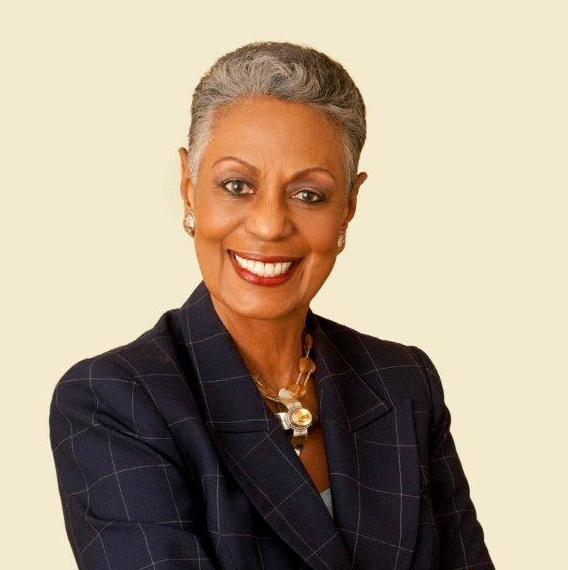 1992
Bonnie Guiton Hill appointed Dean
In 1992, Bonnie Guiton Hill became the third Dean of the McIntire School and the first Black academic Dean at the University. During her tenure, Hill continued efforts to increase the national visibility of the School, develop its international programs, and grow its financial resources.
Hill earned her bachelor's in Psychology at Mills College in Oakland, CA; a master's in Educational Psychology at California State University, Hayward; and her doctorate in Higher Education, Administration, and Policy Analysis at the University of California, Berkeley.
In addition to holding an administrative and faculty position at Mills College, Hill was a Vice President and General Manager of Kaiser Center Inc. and President of the Merritt Park Corporation, wholly owned subsidiaries of Kaiser Aluminum & Chemical Corporation. She served as Vice Chair of the Postal Rate Commission and Assistant Secretary at the U.S. Department of Education under President Ronald Reagan. For President George H. W. Bush, Hill served as Special Adviser for Consumer Affairs and Director of the U.S. Office of Consumer Affairs, where she was referred to as the "Privacy Czar," advocating for consumer privacy and accuracy in credit reporting. Hill also led the U.S. Delegation to the Organization on Economic Cooperation & Development on Consumer Policy.
After leaving the administration, she served as President and CEO of the Earth Conservation Corps, before moving to California to serve in the cabinet of Gov. Peter Wilson.
1994
McIntire Investment Institute created
In 1993, McIntire alum John Griffin (1985), President of Blue Ridge Capital, designated $100,000 from a $600,000 gift he gave to the School to the creation of a student-run investment organization.
1995
Computerworld ranks M.S. in MIS (now M.S. in MIT) #1 in the nation
In 1995, McIntire's M.S. in MIS (now M.S. in MIT) Program earned a #1 national ranking by Computerworld.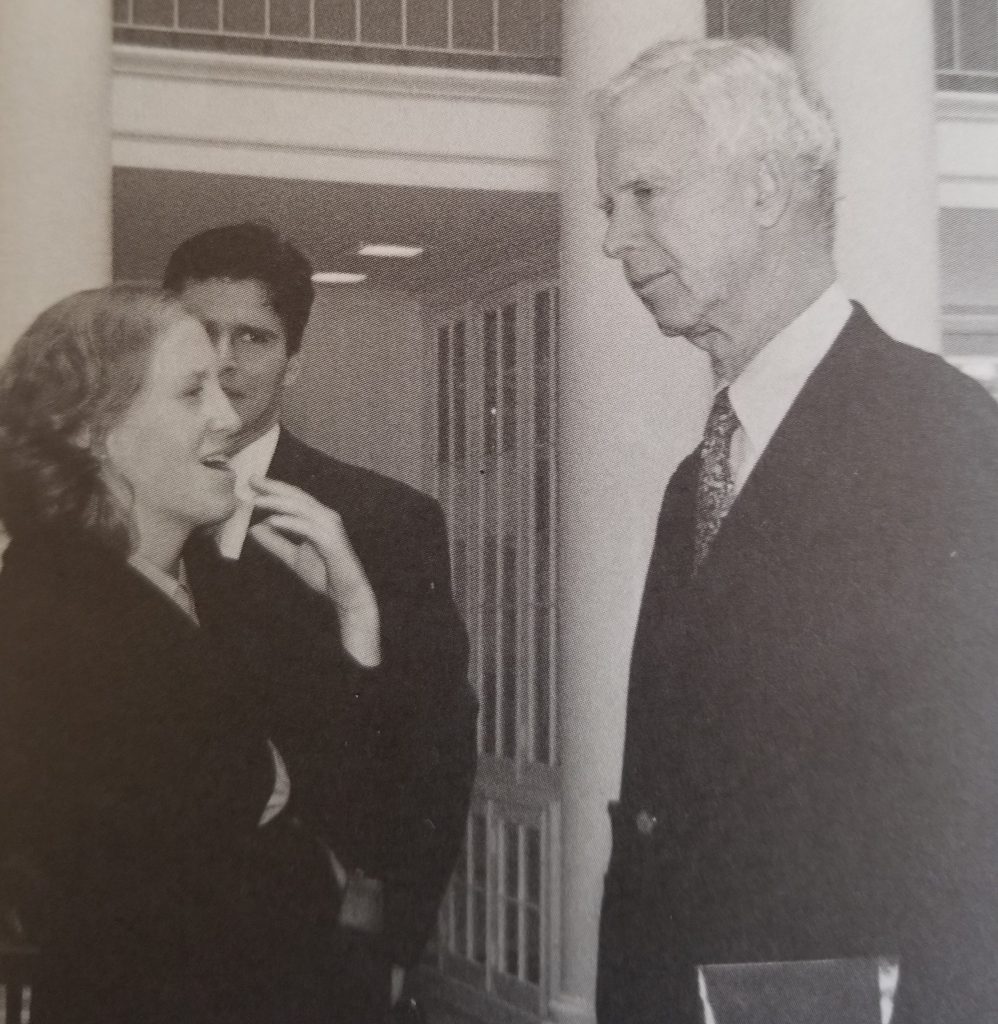 1995
Securities and Exchange Commission Chairman speaks at McIntire
Securities and Exchange Commission Chairman Arthur Levitt Jr. talks with Commerce students after his address in the Dome Room of the Rotunda.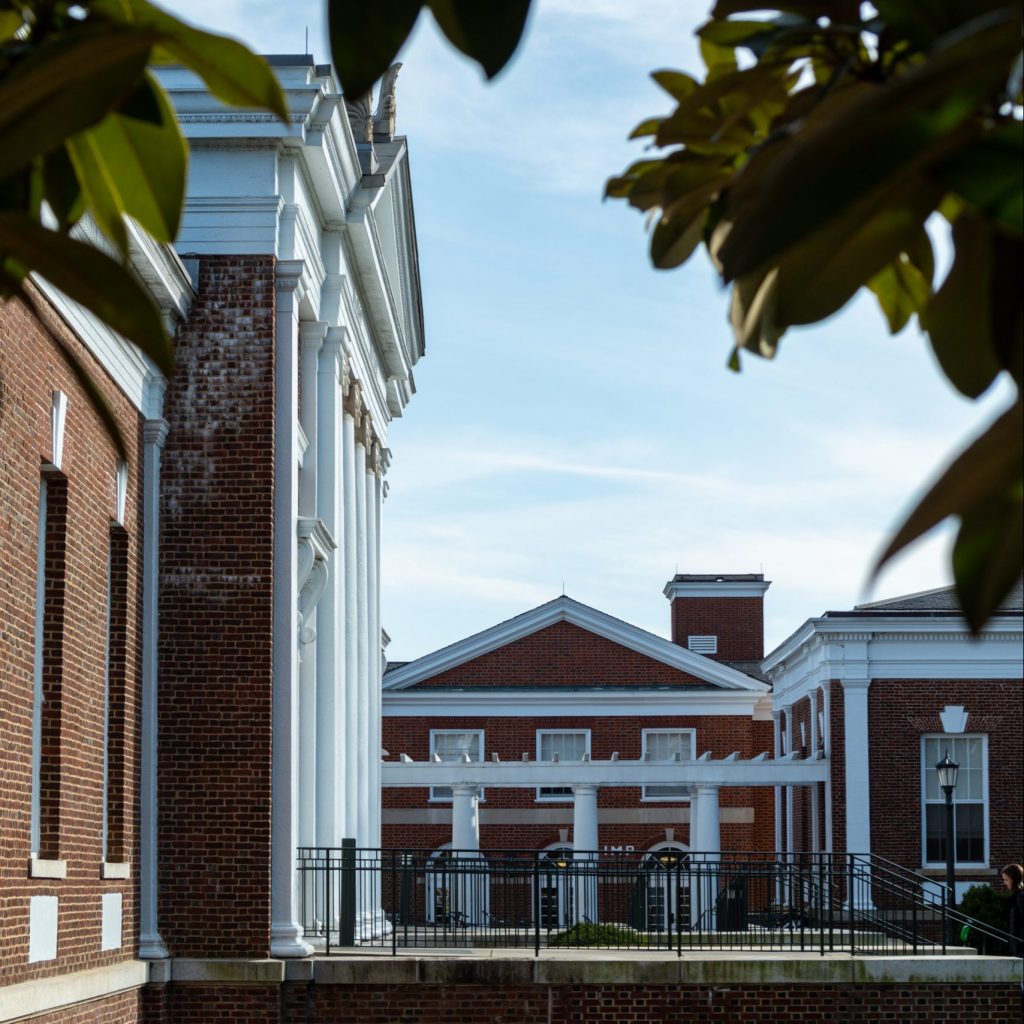 1996
McIntire earns national ranking by U.S. News & World Report
In 1996, McIntire received a top 10 national school ranking by U.S. News & World Report's guidebook, America's Best Colleges.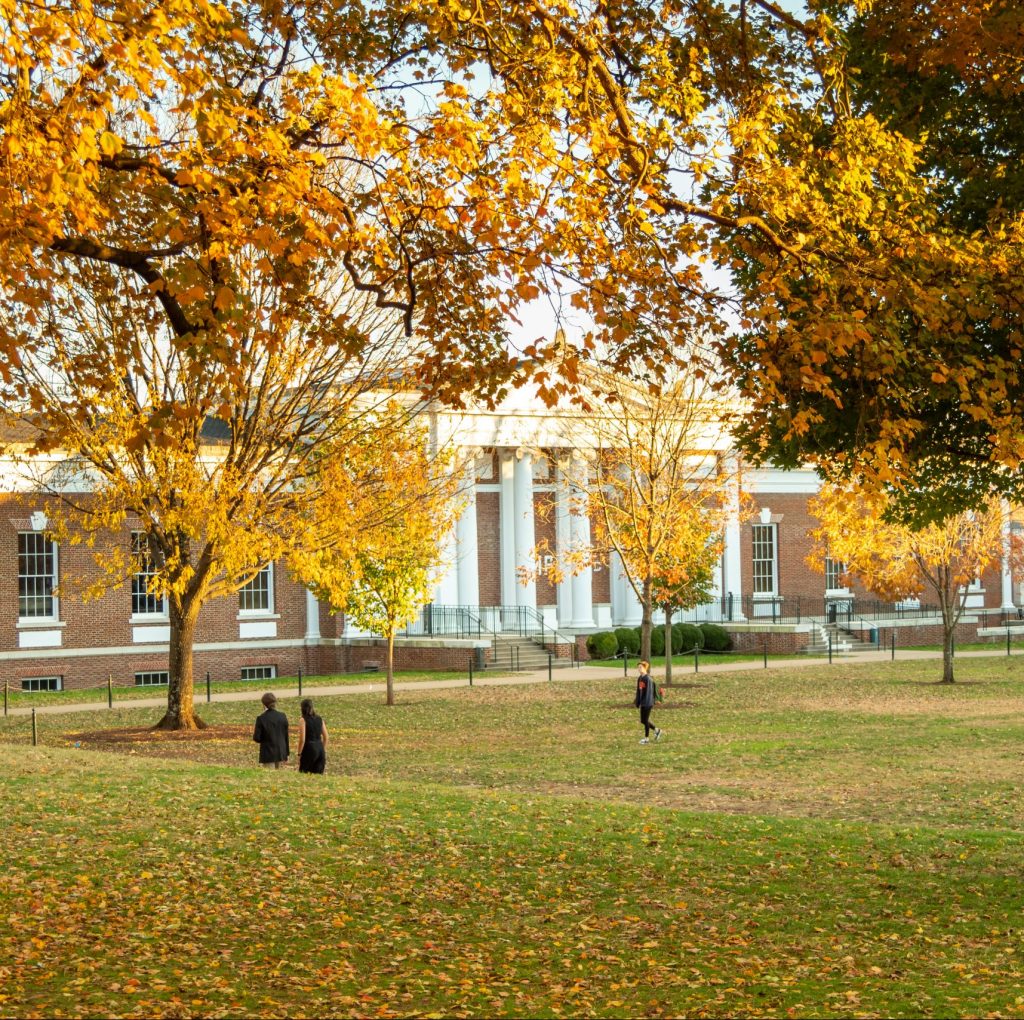 1996
Money magazine ranks McIntire a top 10 undergraduate business program
In 1996, Money magazine designated McIntire as a top "Big 10" undergraduate business program, one of the 10 "best places in the nation to study business," and the "most elite" program.
1997
Carl Zeithaml appointed Dean
Carl Zeithaml served as Dean of the McIntire School for 23 years, joining the School in 1997 after spending more than a decade at the Kenan-Flagler Business School of The University of North Carolina at Chapel Hill. Prior to UNC, he served on the faculties of Texas A&M University and the University of Maryland. During his five terms as Dean of the Commerce School, Zeithaml led the implementation of McIntire's strategy to achieve a position of global preeminence in business education.
Zeithaml specializes in the field of strategic management, with an emphasis on global and competitive strategy. He conducts research on international expansion strategies, knowledge-based sources of competitive advantage, corporate political activity, strategic decision making, the strategic role of the board of directors, the implementation of acquisition and diversification strategies, and organizational transformation. He focuses much of his research agenda on global firms, high-technology industries, the energy industry, and the healthcare industry.
Previously, he served on editorial boards and was active in professional associations. He received two teaching awards and several awards at the University, including the Raven Society Award. Zeithaml was a regular participant in executive education programs, particularly for global firms and healthcare organizations, and he serves as a Director of Dollar Tree Inc.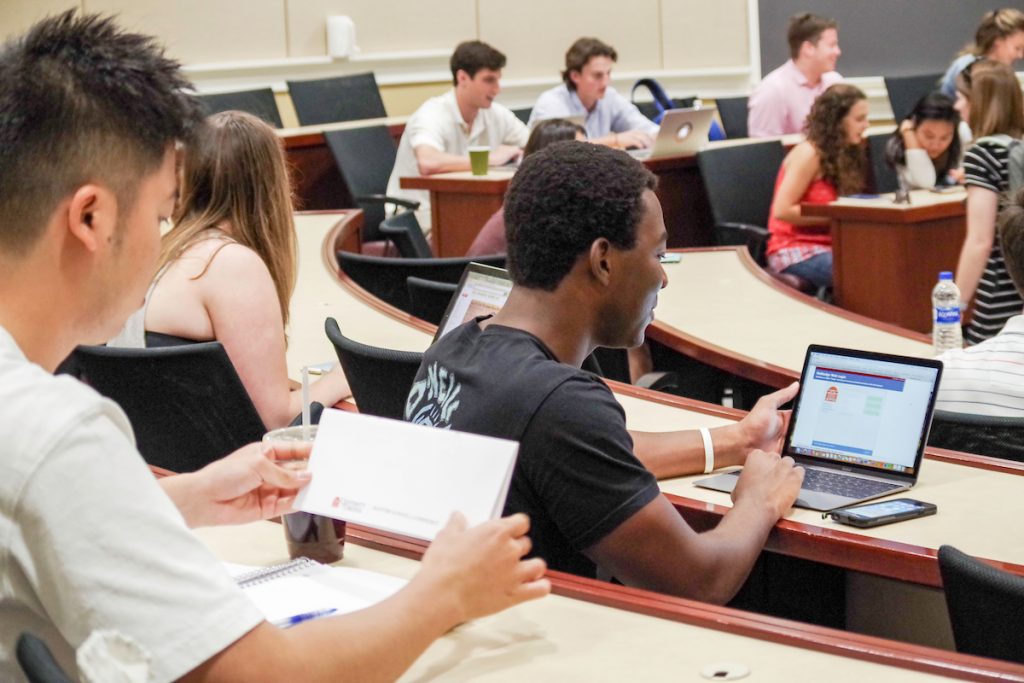 1999
Integrated Core Experience, a revolutionary model for McIntire's third-year undergraduate program, introduced
In the spring of 1999, the School received a competitive $450,000 grant from the GE Fund to underwrite the development and introduction of a revolutionary new model for the third-year undergraduate program known as the Integrated Core Experience. Dean Carl Zeithaml, Associate Dean Mike Atchison, and the McIntire faculty spent much of the year planning the hallmark program that is legendary for developing third-year students' technical, analytical, strategic-thinking, and behavioral skills—all while providing real-world experience.
"Conversation: Dean Carl Zeithaml and Associate Dean for the Undergraduate Program Mike Atchison discuss the multidisciplinary ICE approach that is transforming the core curriculum of the McIntire School," from McIntire.now magazine, spring 2000
What is ICE and how does it work?
Zeithaml: ICE is a revolutionary model for our third-year undergraduate program that integrates the core functional topics usually included in a business curriculum to focus on real business problems and projects. Students will learn, integrate, and apply analytical, strategic, and behavioral skills.
In the fall of 1999, we introduced ICE in two of the eight third-year sections. I was fortunate to team-teach with eight other faculty members in the first, intense month-long session, "Strategy and Systems."
I've been teaching for 25 years, and I can say without hesitation that it was one of the best teaching experiences of my life. The content I covered in this portion of ICE was very similar to some things I've done with MBA students and executives over the years. Our students handled the material just as well—if not better.
Atchison: I'm part of the faculty team-teaching the "Market and Financial Analysis I" session. Altogether, ICE consists of six month-long sessions. Over two semesters, the sessions will comprehensively cover all third-year course material. The big change is in the delivery of that content.
Zeithaml: Students and recent graduates understand that you need to be prepared to work in a world where change affects you on a regular basis. You can't compartmentalize problems the way you once did. You will confront business problems, not just a marketing problem or a finance problem. That's exactly what we're doing in ICE.
Please discuss the match between ICE and the GE Fund.
Atchison: We were well into the redesign of the third-year curriculum last spring when the GE Fund asked us to submit a proposal for its new initiative, Learning Excellence. When we read the request, the objectives described almost word for word what we were planning. It seemed like a perfect fit. The objective of Learning Excellence is to enhance the effectiveness of faculty as they teach in multidisciplinary teams, helping students use new technologies and learning methods. That sounds like ICE.
Zeithaml: When we wrote our proposal, GE's response was a valuable sounding board for some of our ideas. The fact that GE endorsed ICE enthusiastically was an encouraging short-term stamp of approval on our thinking. GE is one of the truly preeminent companies in the world, and we are honored to have this company's support and approval.
ICE represents a transformational curriculum change. GE provided us with the resources that allowed us to invest in our faculty and in new materials. We got the necessary support to do it correctly and to do it much more quickly.
What have been the benefits of ICE so far?
Atchison: The team-teaching approach has enhanced the group experiences that we require of students. They see us working as a team, adding to what each other is presenting, arguing points, just helping each other. It makes for a much more informal classroom situation. I think that this approach encourages a high level of student participation.
Zeithaml: Faculty team members are learning from one another as they teach. I taught with Ryan Nelson, MIS Professor and Director of the Center for the Management of Information Technology, and I learned so much about MIS, organizational processes, information technology, and the great impact of technology and process thinking on business. We worked together to combine these perspectives and knowledge with my strategy material, enriching the students' learning experience and the quality and impact of our teaching.
Other faculty members report they're learning from one another, too. Team-teaching is going to be good for the students, for the faculty, and for our development of intellectual capital. It's an important part of the new curriculum.
Atchison: Another benefit of ICE is that it has eliminated the rigid constraints of the compartmentalized curriculum. For example, we wanted to move the strategy course from the fourth-year to the third-year curriculum, but there wasn't room for another three-credit-hour course. ICE's flexible format allowed us to integrate the course in the first session, making it the foundation for subsequent material.
Zeithaml: We've also integrated business communication into each session, rather than having a stand-alone course. During the first session, students researched CNET, a worldwide leader in Web technology news and information. They corresponded by e-mail with Shelby Bonnie (McIntire '86), CNET Co-Founder and COO. Lynn Hamilton, who teaches business communication, evaluated the student messages and gave the students feedback. Shelby then participated in a videoconference with the two ICE sections, asking questions; answering questions; and discussing the Internet revolution, entrepreneurship, and career issues. Students integrated a company analysis with a valuable lesson in effective communication, and they were exposed to a very successful, entrepreneurial McIntire grad through a new communication technology.
What is the next step for ICE?
Atchison: ICE received a unanimous vote from faculty to continue for at least two years and to expand it to all eight third-year sections. Almost all of the faculty will participate next year. Our ICE learning from this year will be applied to next year's program. New faculty will be actively involved developing effective team-teaching skills.
Zeithaml: Faculty members now have to look at themselves as a team, working together to design and deliver a much more coherent curriculum. We're no longer offering a series of classes that may fit together in some vague way. Now, it really does need to fit together.
We've already seen that it can work. During the "Strategy and Systems" session, Professors Ellen Whitener, Bill Wilkerson, Lynn Hamilton, Mike, and I were all in the classroom on some days. Our individual contributions had to work as a whole. It's one important way curriculum design will evolve.
We're starting to realize that curriculum design, redesign, and development are a constant process. We have to continue to innovate and to take advantage of the tools and technologies that are available to have a first-class curriculum.
CNET's Shelby Bonnie participated in ICE this year. How will corporate involvement fit in the ICE curriculum next year?
Zeithaml: We will have direct involvement of four to eight corporate sponsors, which will give our students access to the most current business issues and practices. As students develop a business plan—a comprehensive, year-long project—corporate sponsors will provide them with information and input. Students will get feedback about their ideas from the corporate sponsors.
Obviously, the benefit goes both ways. It's a great opportunity for the companies to get to know the students and have a great deal of visibility. Students will benefit tremendously from developing a tangible business plan. They'll have the experience of integrating and innovating in an exciting industry.
How are students responding to ICE so far?
Zeithaml: Students brought their parents to a special ICE meeting during Parents' Weekend. It was packed. We had to bring in more chairs. Students were excited about what they were learning. Parents were very enthusiastic about a great ICE experience.
Of course, the measure of ICE success is not just student satisfaction. We'll be evaluating the curriculum and the teaching at multiple points with students, recruiters, faculty, and alumni. The Curry School of Education is working with us on focus group interviews with students. We will also give students exams that are given under other curriculum structures and compare the results.
Atchison: When I present the ICE concept and execution to business professionals, academics, and people in other parts of the University, I get a very enthusiastic response. I've had more fun working on this curriculum over the past two years than anything in the 19 years that I've been at McIntire.
Speaking of ICE...
Carol Sawdye (McIntire '85) Partner, PricewaterhouseCoopers
"ICE is a much more challenging approach for students and one that will ultimately be more rewarding. It will better prepare students for their future careers. ICE teaches all of the skills that are essential to PricewaterhouseCoopers."
Stephen Tucker Program Manager, Higher Education, GE Fund
"One of the aspects of ICE we felt was a good fit with our Learning Excellence program was its emphasis on a multidisciplinary approach and how it affects the student, how the student's learning will improve as a result."
Michael D. Bills (A&S '78) Former COO, Tiger Management • McIntire Faculty, Spring 2000 • McIntire School of Commerce Advisory Board
"Without sacrificing the depth or breadth of the McIntire School's core curriculum, we're delivering to students in less time and with greater effectiveness the outstanding education for which the School has always been known."
Jonathan M. Bishop McIntire Student, Third-Year
"As a student in the ICE program, I believe it to be a tremendous success.
The format allows students to synthesize their core business skills to gain a better understanding of the environmental and internal factors affecting commerce."
Anne Ashley Roehrenbeck McIntire Student, Third-Year
"The ICE experience takes traditional classroom learning to a real-world level. We have realized that the areas of strategy, systems, management, marketing, international business, quantitative analysis, finance, and accounting cannot exist as separate entities. ICE is, then, a more effective and an efficient approach to learning."
1999
Center for Investors and Financial Markets created
The McIntire School of Commerce's Center for Investors and Financial Markets (CIFM) supports the exchange of ideas about finance through faculty research, curriculum innovation, and outreach.
Established in 1999, the Center strives to promote understanding about the investor community and the performance and structure of financial markets through collaborative relationships among faculty, students, finance professionals, and policymakers.
2000
McIntire Cornerstone Society Board established
McIntire welcomed the members of the new McIntire Cornerstone Society Board at its first official meeting in November 2000. Promoting McIntire's planned giving efforts, the board assists in educational programs, identifies prospects, and advises the McIntire staff regarding marketing and gift stewardship.
Inaugural Cornerstone Society Board Members:
A. Scott Andrews, A&S '80
Michael Aronoff
Gordon J. Bernhardt '85
Robert S. Bersch '57, Law '60
William F. Blue '56, Law '60
Milton S. Bolton '52
O.Whitfield Broome Jr.
Elissa Buie '82
Clarence T. Callahan '41
Stuart F. Carwile '64, Law '67
Judy Campbell Cash
Charles P. Cocke '65
Richard L. Cooper '58
Maj. Calvin C. Crum '41
Deborah Briggs Donnelly, A&S '78
Cmdr. William K. Dove '42, A&S '52
Robert C. Duval '57
Kenneth B. Fulp '78
Bruce G. Gabler '68
Roy B. Harrill '63,
John B. Hemmings '49, Law '54
H. Alexander Holmes '64, Law '67
Ray C. Hunt Jr., A&S '58
David M. Maloney
Ronald D. Roberts '63
Patrick J. Vaughan '65, Law '68
Keith A. Walder '79
Diana Walker
Earl E. Webb '78
Georgia M. Willis '83
Richard W. Young '64, Law '67
Carl P. Zeithaml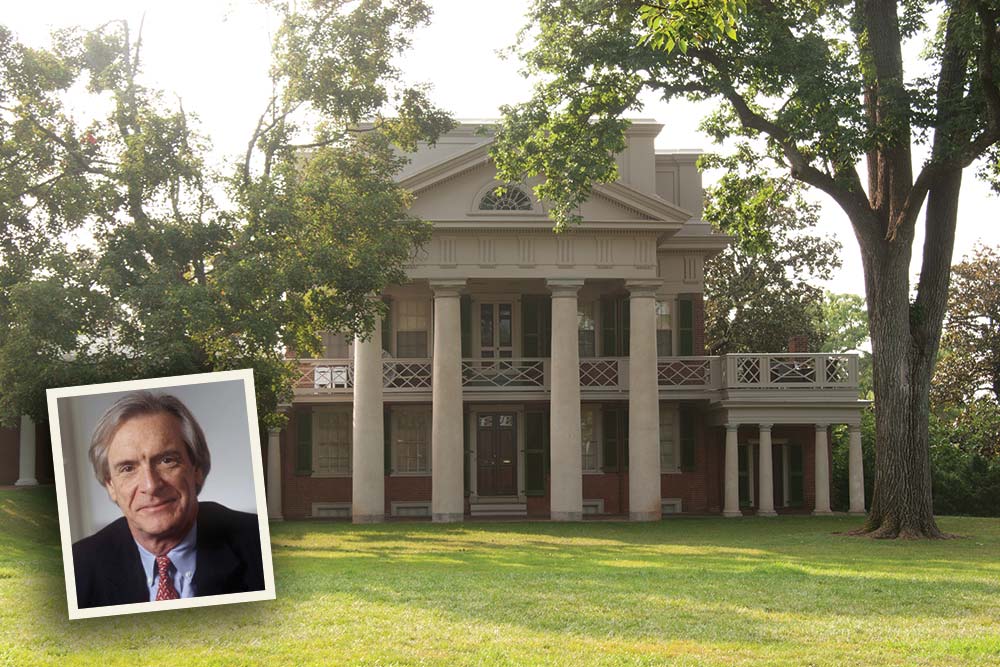 2001
First McIntire dean to live on the Lawn
Carl Zeithaml became the McIntire School's first dean to reside in the University's famous Lawn buildings, designed by Thomas Jefferson. "I'm thrilled with the honor and opportunity that it presents for the School and my family," Zeithaml said. "The Lawn is the center of the University, and it symbolizes the values that are great about UVA. We will maintain the tradition of an open pavilion by inviting students and alumni to visit us often." The Zeithamls emphasized the traditional 19th century decor in the public areas of Pavilion X, and alumni were invited to participate in creating the pavilion's historic atmosphere.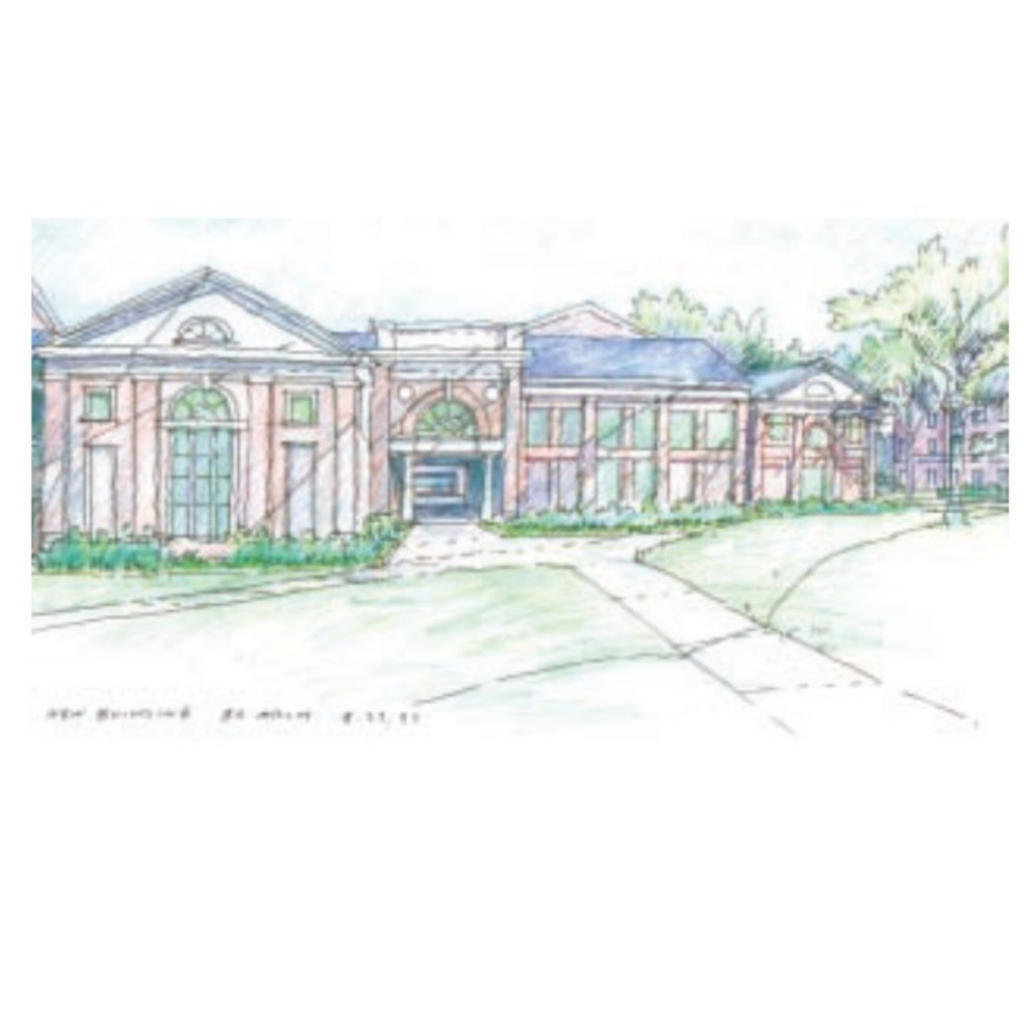 2001
McIntire kicks off building campaign
A 1999 building feasibility study initially demonstrated that the needs of students, faculty, and staff could be met by judicious space planning at the School's Monroe Hall location. A $2 million gift from McIntire alumni Shelby Bonnie (McIntire 1986), John Griffin (McIntire 1985), and Jeffrey C. Walker (McIntire 1977) kicked off the ambitious building initiative.
"Kickoff for Expansion at Monroe Hall Site; $2 Million Gift Kicks off Campaign," from McIntire Exchange, spring 2001
Spring signals the first signs of an ambitious building initiative for the McIntire School of Commerce. Three McIntire alumni—Shelby Bonnie (McIntire '86), John Griffin (McIntire '85), and Jeffrey Walker (McIntire '77)—have each initially contributed a third of the necessary $2 million needed to begin the planning and design process.
"Each of them used this gift as an initial commitment," said Dean Carl Zeithaml. "They intend to support the building further when we get to the construction phase. We are now in the process of retaining the architects, and we will begin the actual design of the building."
Preliminary plans exist for a new building to the west of Monroe Hall, as well as an expansion and renovation of Monroe Hall. Drawings were done as part of a 1999 feasibility study done to demonstrate that the School's future needs could be met by expanding at the current location.
"It will take some creativity in design to get everything we need here," Zeithaml said, "but it is most important that we remain connected to Central Grounds, the Rotunda, the Lawn, and to the other schools located here."
Zeithaml will officially announce the start of the building campaign in April 2001 to coincide with meetings of both the McIntire Advisory and Foundation boards. Many alumni will return to Grounds for those meetings as well as for the Center for Growth Enterprises and the University of Virginia Center for Real Estate symposium and Foxfield festivities.
"Building a first-rate physical plant also represents an opportunity to raise a significant endowment that will support the School for many years," said Zeithaml. "We hope that the combination of public and private support will build the building. Through naming opportunities and the excitement the building campaign generates, I think we can grow the endowment significantly and put the School on a much more solid financial footing."
Pictured: Preliminary sketches from Bushman Dreyfus Architects PLC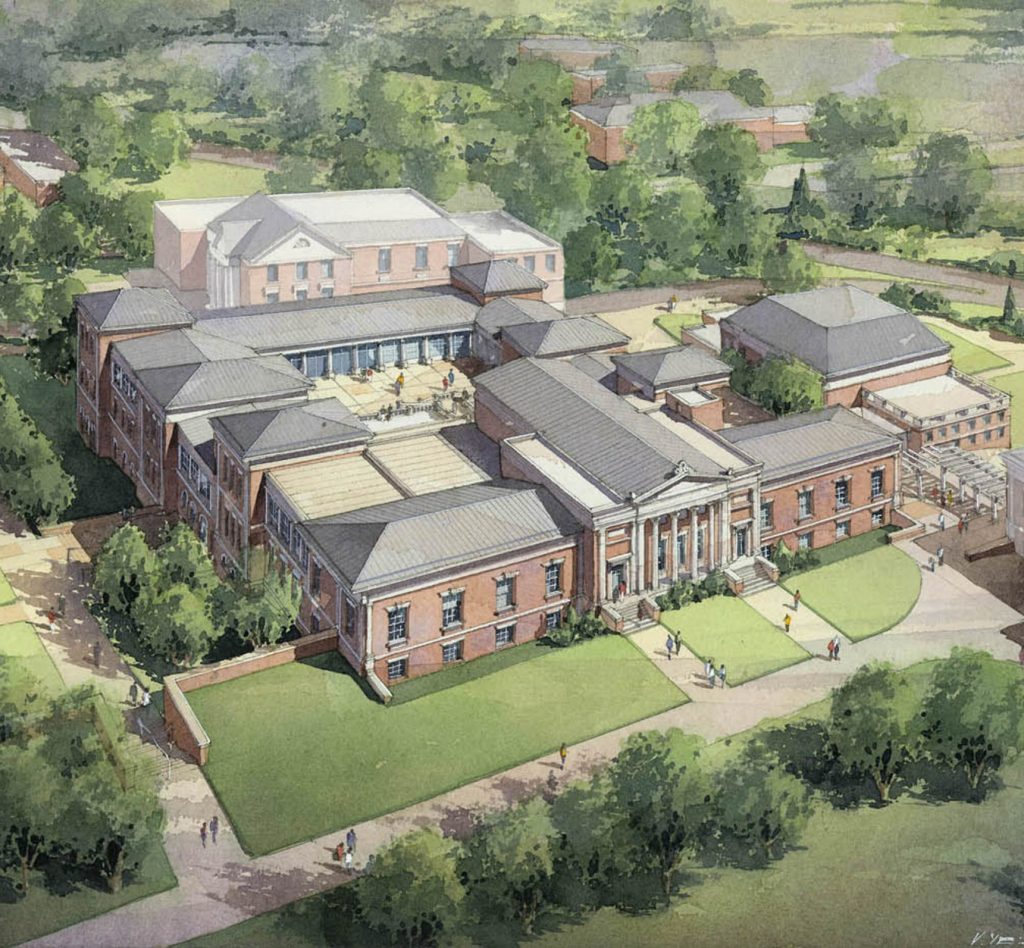 2002
Commerce School announces plans to move Back to the Lawn
The Commerce School announced its plan to return to the Lawn in 2002. McIntire initially hoped to expand Monroe Hall, but the site proved inadequate to support the School's programs. Then UVA President John Casteen lauded the initiative, saying the plan would "allow the College and the Commerce School to strengthen the academic and programmatic links between them and to better serve their undergraduate and graduate students." Calling it an "exciting new model of education," Casteen added that the joint venture by Dean Zeithaml and College Dean Ed Ayers "reflects ongoing University-wide discussions that encourage interdisciplinary initiatives and forward thinking."
"McIntire Returns to the Lawn," from McIntire Exchange, spring 2002
University President John T. Casteen III announced April 4 what he called an unprecedented collaborative venture between the College of Arts & Sciences and the McIntire School of Commerce that will result in 100,000 square feet of additional academic space and the creation of interdisciplinary courses and programs.
For the past six months, Edward L. Ayers, Dean of the College, and Carl P. Zeithaml, Dean of the McIntire School, have been hammering out the details of a plan that will include trading spaces, sharing spaces, and building new ones. In the end, each school benefits from an increased physical plant.
"More important," Casteen said, "the plan will allow the College and the Commerce School to strengthen the academic and programmatic links between them and to better serve their undergraduate and graduate students.
"I applaud the vision of our deans, Carl Zeithaml and Ed Ayers, to create this exciting new model of education," he added. "Their joint venture reflects ongoing University-wide discussions that encourage interdisciplinary initiatives and forward thinking. Their work—and their spirit of cooperation—may well become a leading example for the rest of the University to follow."
McIntire intends to construct a 100,000-square-foot building at the far southeast end of the Lawn. It will front on Hospital Drive and be bordered by Randall and Wilson halls. It will connect to Rouss Hall—McIntire's earlier home—which will be shared with the College as the primary location of their collaborative programs. McIntire will integrate Rouss into its new complex and assume its renovation and maintenance responsibilities. The College will expand into Monroe Hall, McIntire's home for the past 27 years.
"Over the long term, this collaboration promises to transform the experience of students and faculty in both the McIntire School and the College of Arts & Sciences," Zeithaml said. "We intend to create an inspirational physical presence and to facilitate innovation and collaboration among the faculty and students of McIntire and the College. Both the building and the programs will provide students with the best education possible and support the faculty's outstanding teaching and research activities."
He added that it is essential that McIntire maintains its sense of place on Central Grounds and that the School continues to incorporate state-of-the art technologies into any new buildings.
"We also must make it easy for students to take classes across departments within the University," Zeithaml said. "This exciting new series of initiatives ensures that McIntire and the University will continue to build on a foundation of excellence and innovation."
Zeithaml added that he was pleased to announce a $500,000 gift from alum John Griffin (McIntire '85), Founder and President of Blue Ridge Capital, to fund development of several interdisciplinary initiatives. Griffin's support reinforces his initial investment in a fund designed to support faculty efforts to create collaborative ventures.
"The increased integration of the McIntire School into the University community is a win-win proposition," Griffin said. "Only good things can come from College and Commerce students and faculty learning from each other."
The College and Commerce School faculty are exploring several collaborative initiatives including:
• An introduction to business course. This course will center on a multipart business case study about the development of a growth enterprise. It will be open to College students interested in a broad introduction to and understanding of business concepts and functions and may serve as a prerequisite for admission to the McIntire School.
• Interdisciplinary courses. Interdisciplinary projects already under development include courses in advertising and promotions offered by the McIntire School's Marketing Area and the College's Media Studies Department. The Math Department also is working with the McIntire School's Finance Area to share and create courses.
• Expanded enrollment in the McIntire Business Institute and the Summer Finance Institute. This year, the McIntire School's summer certificate programs will be open to rising fourth-year students. If successful, admission may expand to include rising third-year students. Winter break sessions also are under consideration.
• An interdisciplinary minor in the College. Depending on the availability of long-term faculty and other resources, the schools will work together to develop a minor in liberal arts and business management. This minor, to be offered by the College, would draw on a combination of McIntire School courses and such College disciplines as psychology, international relations, media studies, and economics.
These course offerings and programs will create more opportunities for College students to take business-oriented courses, Ayers said. The arrangement is expected to lift some of the enrollment burden in the College's Department of Economics, which has one of the highest levels of undergraduate student demand in the College.
"As undergraduates have come to believe that business courses are key to landing good jobs in recent years, interest in Commerce and Economics has surged," he said. "We believe that students who seek some practical business training to round out their liberal arts education will find the addition of these interdisciplinary courses particularly attractive."
The additional and shared space will facilitate these programs. The new McIntire School building will enable the School to expand its offices, state-of-the-art classrooms, and already-popular capital markets and financial trading center. Although the School initially hoped to expand Monroe Hall, the site proved inadequate to support its current and new programs. With the new site, McIntire will meet its 125,000-square-foot space requirement, and the College will gain 21,000 more square feet than expected.
The Economics Department, now split between Rouss and Wilson Halls, will occupy space in the new South Lawn complex or another suitable building.
To serve those working in the new South Lawn and Commerce buildings, the College and Commerce will contribute to the construction of a parking structure in the vicinity of Jefferson Park and Brandon avenues. Both schools also are interested in the creation of a student commons area.
McIntire has begun to raise funds for its new building. The College's South Lawn Project is being funded by a joint effort of the Board of Visitors and the College Foundation.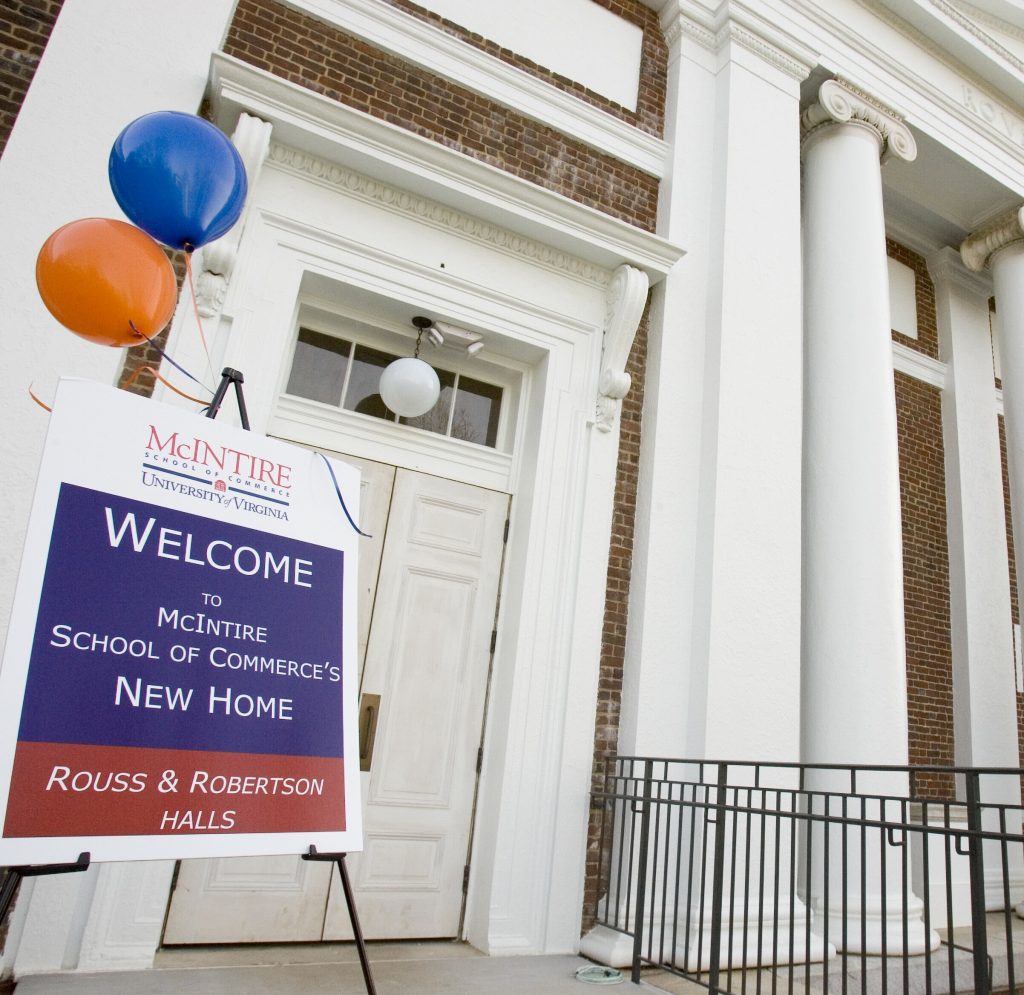 2008
McIntire moves back to the Lawn
On Jan. 17, 2008, McIntire officially took up residence in its state-of-the-art new home on the Lawn, moving out of Monroe Hall, its home for the previous 33 years. The 156,000-square-foot facility is composed of historic Rouss Hall—which appears unchanged from the outside but was thoroughly renovated inside—and 132,000-square-foot Robertson Hall.
2008
M.S. in Commerce launched
The McIntire School launched the M.S. in Commerce Program in September 2008. This unique pre-experience master's program was designed to help recent graduates of liberal arts, science, and engineering programs turn their intellectual and academic skill sets into focused business expertise. Students complete an Integrated Curriculum Program as well as McIntire's unique Global Immersion Experience.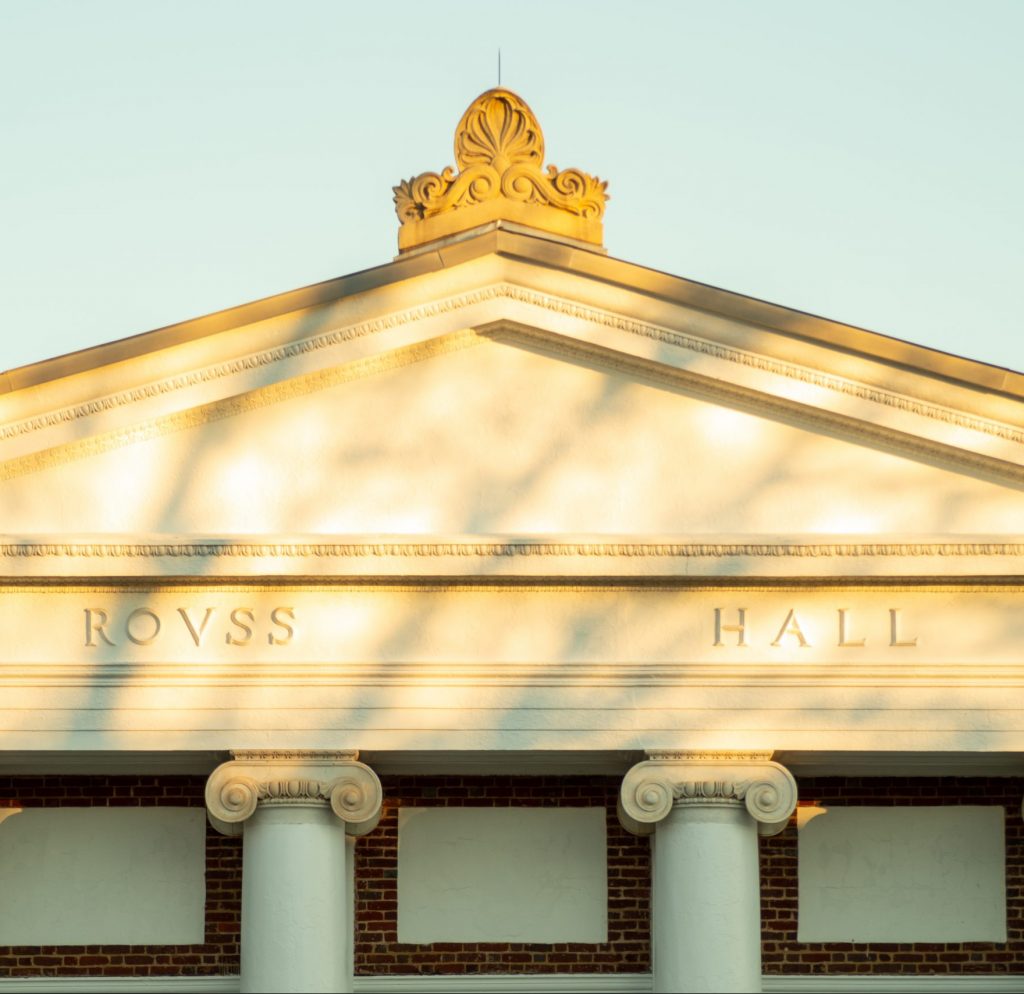 2009
BusinessWeek ranks McIntire School #1 among nation's undergraduate business programs
The McIntire School of Commerce claimed the top spot among the nation's best undergraduate business programs, according to BusinessWeek's annual rankings.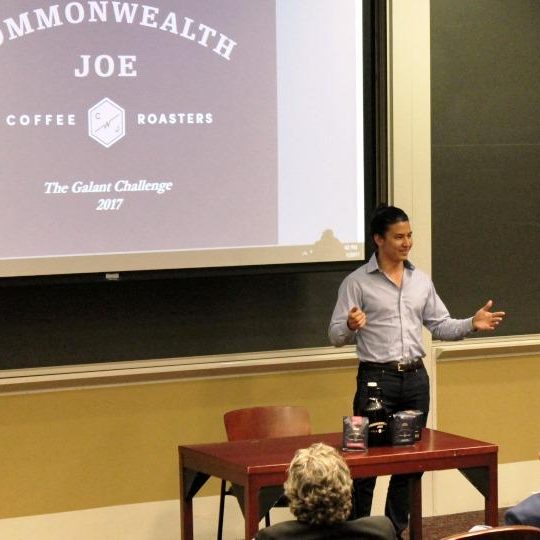 2010
Galant Center for Innovation and Entrepreneurship launched
Launched in 2010 with an endowment from alum Mark E. Galant (1980), the Galant Center develops and supports programming and curriculum, a pitch competition (the Galant Challenge, which has funded ventures millions of dollars in capital), educational events, and student groups in an effort to catalyze entrepreneurial activity within the McIntire School, across Grounds, and beyond the University of Virginia.
"Essential Opportunities: A Brief History of the Galant Center for Innovation and Entrepreneurship," from the McIntire news blog, May 7, 2021:
In recent years, UVA and the greater Charlottesville area have been energized with a buzz around entrepreneurial activity. One reason: the establishment of the Commerce School's Galant Center for Innovation and Entrepreneurship, which has been providing positive input for the advancement of both the local and global venture communities in many ways.
Director and McIntire Professor Eric Martin says that since launching in 2010 with a multimillion dollar endowment from Mark E. Galant (McIntire '80), the Center has served as a nexus for innovative exploration that connects alumni, industry, and scholars with hundreds of students from across the University through a combination of education, mentorship, and real-world entrepreneurial experiences.
Concepts Converge
Months before the Galant Center came to be, Martin had begun preliminary work for establishing a specialized entrepreneurship study track for the B.S. in Commerce Program in hopes of growing McIntire's commitment to education in the venture and innovation spheres. As serendipity would have it, Galant, a deeply committed philanthropist at the School, had independently approached then McIntire Dean Carl Zeithaml about his idea for creating a center to explore and promote the subject.
Martin flew to Vero Beach, FL, to meet with Galant and his wife, Cindy, who, Martin explains, had already long been active and engaged participants together with the School.
"We had this long conversation about vision, what we were thinking, and what was going to happen with the Center," he says, conceding that while a small group at the School was motivated by an intellectual interest to build it, Galant's intense drive to see it established served as a game changer, both in terms of making the initiative a top priority for McIntire and the unprecedented quickness with which it was completed.
"It was February, and we actually got everything in place and approved for it to be launched the next fall, which is light speed," recalls Martin.
Impelled by a desire to put the Commerce School on the map as a destination for cultivating the skills of future generations of aspiring entrepreneurs, Galant wanted to infuse his expertise and funding to help expand opportunities both within the McIntire curriculum and outside of the classroom.
In Martin's experience, Galant is unusual for his approach to his own work as a 35-year Wall Street veteran and finance industry entrepreneur. The result of that perspective ultimately led to his commitment to advancing his Center concept for the betterment of the entire University.
"All I ever wanted to do was be an entrepreneur," says Galant, former member of the McIntire Advisory Board and current member of the McIntire Foundation Board of Trustees. "When I was fortunate enough to be in a place where I could truly make an impact through philanthropy, I knew I wanted to direct it to McIntire to launch an entrepreneurship center to serve all of UVA."
Challenge Accepted
One early differentiator for the Center and its mission took shape with the introduction of the Galant Challenge. The high-profile pitch competition in the vein of TV's "Shark Tank" connects seed- and early-stage ventures with potential investors. Since 2012, the annual event has funded ventures millions of dollars in capital. Its successful participants have included alumni innovating in many fields, ranging from Alvaro Anspach (McIntire '15) and Alberto Namnum's (McIntire '13) health-minded, fast-casual restaurant group Roots Natural Kitchen, to the real-time geolocation platform X-Mode, created by Josh Anton (McIntire '14).
"What we want to do with the Challenge is look for opportunities where we can provide service to the community and bring people in who are not currently on Grounds," explains Martin. "Many schools don't have the resources we do to host that kind of event, which is really more like a demo day. It's not a competition where people get a $25,000 check. It's equity and real backers."
While originally focused solely on the greater UVA community, the Galant Challenge has already hosted a few other schools from the Commonwealth, and is now poised to grow beyond the University. Looking ahead, Galant and Martin are aiming to reorient it to embody a type of national collegiate demo day, inviting universities from across the country to participate.
"If you look at the amount of funding that gets provided on an equity basis from this one event and compare it to single events at other schools, it would be among the top in the country every year. It's hundreds of thousands to a million dollars—sometimes more," Martin says, explaining that the interest and impact generated by the event have the potential to elevate the image of UVA and Charlottesville as a national center for entrepreneurship.
Though the 2021 edition of the Galant Challenge was virtual, necessitated by previously established COVID restrictions, Martin hosted an esteemed panel of judges and partners who pledged upwards of $1.8 million, subject to due diligence and final negotiation. The judges, which included Galant and 2019 E&Y Entrepreneur of the Year for the Mid-Atlantic region and former UVA football defensive back Doug Duenkel (McIntire '92), welcomed Broadway Angels and Project Glimmer founder, Sonja Hoel Perkins (McIntire '88), as well as Jim Cheng (Darden '87) of non-UVA-affiliated affinity group Cav Angels and Darden School of Business's own Damon DeVito.
Future plans for the Center's hallmark event will potentially welcome back live audiences back to Grounds—along with a more extensive group of hopeful entrepreneurs.
Shaping Comm School Curriculum
The excitement generated by the high-profile pitch event is only one avenue by which the Center has brought innovation and entrepreneurship to the foreground of important subjects taught, researched, and put into real-world practice at the Commerce School.
"This is the part that's really a little bit unusual. Centers and academics are not always aligned. They're not one and the same. But for us, they have always been integrated," says Martin.
One of the first classes developed, Martin's Capstone course, taught students to work through the commercialization of business concepts and explore avenues into launching legitimate ventures. He also says the groundbreaking class paved the way for offering a full 12-credit Entrepreneurship Track within the School's five specialized undergraduate concentrations.
"We started bringing together electives like a Project Management course and others within McIntire that would apply to the track. The Center provided a nexus," Martin says, noting that Professor Brendan Richardson began teaching the Venture Capital class around that time as well, a course he still teaches today. Martin says that Richardson ultimately became part of the Center, co-teaching several classes with him and helping to expand the School's practitioner talent in the field, advancing the Center's academic efforts.
"We started including entrepreneurial and innovative learning into the Integrated Core Experience roughly three years ago," he says, pointing out how tools like the strategic management chart Business Model Canvas, which is drawn from Entrepreneurship coursework, now shows up in the curriculum that undergraduate Commerce students learn.
Yet for all of their successes, Martin insists that the Center has never had the intention of locking up innovation and entrepreneurship for itself.
"We think it should be something that's baked into a lot of what the Comm School provides students—and that can come in any class," he says, noting that principle extends to lending his expertise, along with that of colleague Professor Chip Ransler, to sessions and lectures in introductory courses such as Understanding the World of Business for non-Commerce majors, the prerequisite undergraduate course Foundations of Commerce, and classes in the M.S. in Commerce Program.
Professor Bevin Etienne who teaches the new venture Startup Class, an introductory course on the subject geared toward a first- and second-years, has also generated great interest and impact for all University students with Social Entrepreneurship in Small Island States. Focusing on Dominica and the challenges entrepreneurs face, his on-location class highlights the crucial role of social ventures to advance sustainable growth and development on the Caribbean island nation, mixing site visits to enterprises with guest lectures by Dominican social entrepreneurs and government officials.
Yet perhaps the best example of that open-minded, wide-ranging point of view positively impacting UVA students is the Entrepreneurship Minor. Launched in 2015, and hosted at McIntire, the program of study connects coursework from a diverse selection to offer concentrations in Innovation in Business, Social Entrepreneurship, and Technology Entrepreneurship. The 15-credit program provides innovation studies in courses as diverse as Persuasion and Influence, Applied Real Estate, and Special Topics in Systems and Information Engineering.
And indicative of the program's ability to foster strong connections with alumni and elicit their continued participation, Duenkel has been teaching Capstone with Martin since the fall of 2019. Duenkel's interest in teaching was sparked when he was asked to speak in class about a case in his area of expertise. "From day one I was in favor of bringing back as many entrepreneurs as possible to speak with the students about their successes and struggles. The ability of entrepreneurially minded students to see and interact with people of similar vision and drive, but have more experience in the real world is invaluable," says Galant.
Martin says that, all told, about 1,500 students each year are reaping the benefits of an integrated Entrepreneurship curriculum.
In addition to generating increased interest in its main subjects on Grounds, launching the Center became a vehicle for reinvigorating McIntire's Silicon Valley connections after a decade of dormancy. The initiative added immediate credibility to the School and served as a bridge to reconnect with West Coast alumni at inventive tech-related firms. Led by Richardson and Assistant Dean for Development and Alumni Engagement Nola Miller, students visited the fertile startup ground of the Bay Area, being hosted at Facebook, YouTube, and other major players in Silicon Valley.
Popular Programming
Beyond curriculum, the Galant Center has also served as a catalyst for programming outside of the University, for both extracurricular interests and alumni engagement.
Forge (formerly HackCville) is one such example. The Center had an instrumental role as a founding partner for the nonprofit, project-based, stand-alone school, with the Galant Center providing initial funding and, early on, working directly with students to provide expertise. As Forge grew, Martin says a symbiotic relationship allowed many UVA students to apply their classroom work to the projects they undertook off Grounds.
The Center has also been engaging both alumni and the greater Charlottesville community. One of its first forays into community-wide programming was the co-sponsorship of McIntire's 2014 Spring Symposium, "Beyond the Big Idea: From Garage Startups to Global Empires." With a keynote delivered by Under Armour Founder, Chairman, and CEO Kevin Plank, followed by panel discussions featuring Galant, along with Nancy Twine (McIntire '07), Founder of Briogio, Andy Forch, Co-Founder of Huckberry (McIntire '07), and others, the event delved into the risks and rewards of ventures as well as the intricacies of generating innovation within established corporations.
The Symposium served as one of the Center's initial explorations on the topic geared toward alumni and the community at large. Over the last five years, it has hosted topical events ranging from an entrepreneurship dinner in Chicago, IL, and conversations on "The Business of Healthcare," to impact panels on innovation and various regional startup scenes in San Francisco, CA, Tysons, VA, Cambridge MA, Charleston, SC, and New York, NY.
Since May of 2020, the Center has also had a hand in a slew of virtual events that have included happy hour-style sessions with entrepreneurs who are currently innovating in the food, finance, tech, and sports fields.
The Mark of an Innovative Mindset
Martin says that, though the Galant Center is only one player among many interested in entrepreneurship at UVA, its mission is somewhat different: to provide students with the skills and experience to operate at the intersection of critical thinking and creativity.
"We have a lot of students who are focused innovation going into corporate roles developing new products, services, and business models—as opposed to becoming founders," Martin says, noting the center's renaming to the Galant Center for Innovation and Entrepreneurship to incorporate the type of innovative mindset that has been applied to positions with other organizations. "We are very proud of our founders, but we don't only focus on their number; we care equally about the enduring impact we have with students broadly."
He mentions that he's continually made aware of the lifelong impact of the Center's work. "I still keep up with so many of our graduates. I hear regularly—on a monthly basis—from students we taught in 2010. Many of them have continued to work in entrepreneurial, venture-related, and innovation-related jobs." For Martin, he is gratified by the fact that the Center has helped to foster that action-oriented view that his former students, now alumni innovators and entrepreneurs, rely on to bring change to their ventures, the firms they work for, and society.
"My hope was that the Center would be a catalyst for undergraduate entrepreneurship education, both classroom and experiential," Galant says. "I envisioned a place that would prepare students to found and run their own companies, as well as equip them to be innovative leaders within existing organizations. I am extremely proud of the progress we have made throughout the last 13 years and look forward to all that we will accomplish together in the future."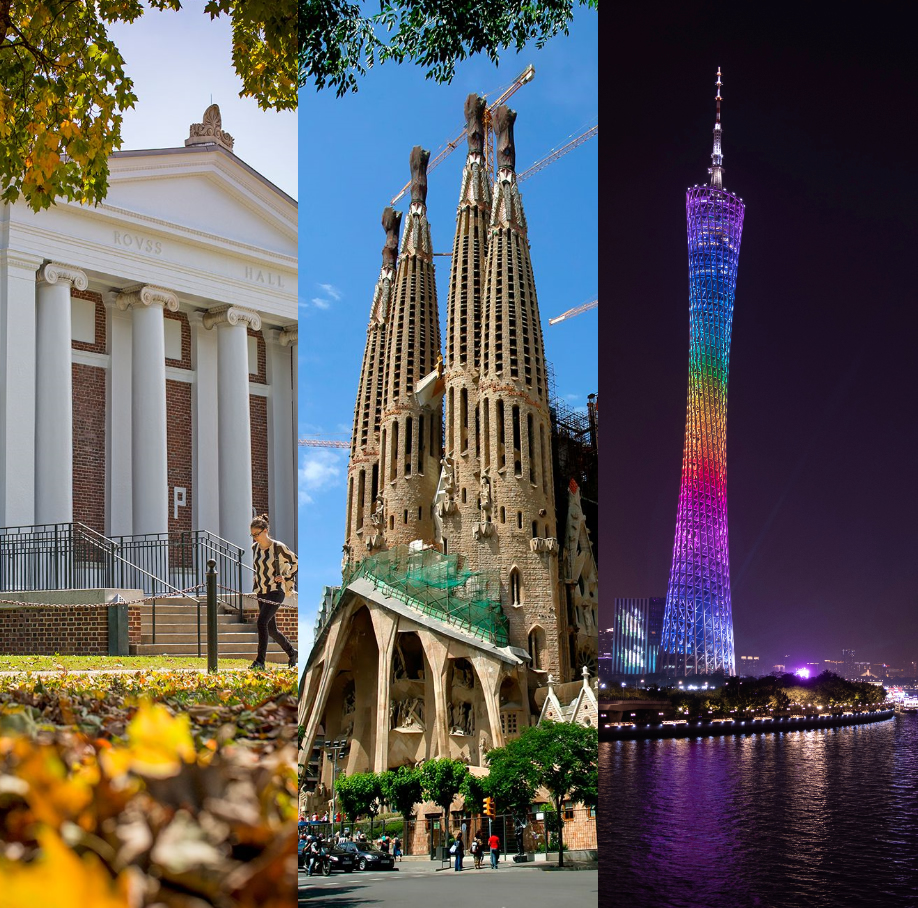 2016
M.S. in Global Commerce approved
In early 2016, SCHEV formally approved McIntire's innovative new graduate program, the M.S. in Global Commerce (now known as Global 3), with the first class matriculating in fall 2016.
"SCHEV Gives Green Light to Innovative New M.S. In Global Commerce Program at the University of Virginia's Mcintire School of Commerce," from Newswise, Jan. 26, 2016
The State Council of Higher Education for Virginia (SCHEV) has formally approved the McIntire School of Commerce's newest graduate-level business program: the innovative, internationally immersive M.S. in Global Commerce Program. Offered in partnership with two renowned business schools—Esade Business School in Barcelona, Spain, and Lingnan (University) College at Sun Yat-sen University in Guangzhou, China—the one-year program will allow students to earn an M.S. in Global Commerce from the McIntire School of Commerce at the University of Virginia; an M.S. in Global Strategic Management from Esade; and a certificate in International Business from Lingnan. The first class of approximately 60 students—20 each from the Americas, Europe, and Asia—will matriculate in fall 2016 and will study as a cohort at the three schools.
"McIntire's new M.S. in Global Commerce Program allows students to study together on three continents and receive two master's degrees and a certificate from three leading business schools in one integrated educational experience," says McIntire Dean Carl Zeithaml. "It marks a critically important step forward in providing a new generation of business leaders with the skills, perspectives, and experiences they need to meet the challenges of today's demanding global business environment."
From Business to Global Business
The new program is designed for recent graduates with an undergraduate degree in business, but little or no professional work experience. Students will spend the first 15 weeks of the program at the University of Virginia in Charlottesville, where coursework will focus on developing skills in global strategic management. They will then spend nine weeks at Lingnan College in Guangzhou, China, studying global financing and operations. The program concludes with 15 weeks at Esade in Barcelona, Spain, where the emphasis of study will be global innovation and alliances. In addition, by working in teams on an integrative yearlong project, students will explore the complexities of doing business from the North American, European, and Asian perspectives while immersed in a highly diverse, multicultural environment.
"McIntire's unique new M.S. in Global Commerce Program offers students the opportunity to develop perhaps the most critical assets in business today: the outlook and competencies critical to getting work done globally and leading in today's interconnected business world," says Zeithaml. "We look forward to welcoming our first class of outstanding young businesspeople to this groundbreaking program, as well as to working in close collaboration with our superb partners at Esade and Lingnan. Together, we will provide our students with a truly world-class educational experience."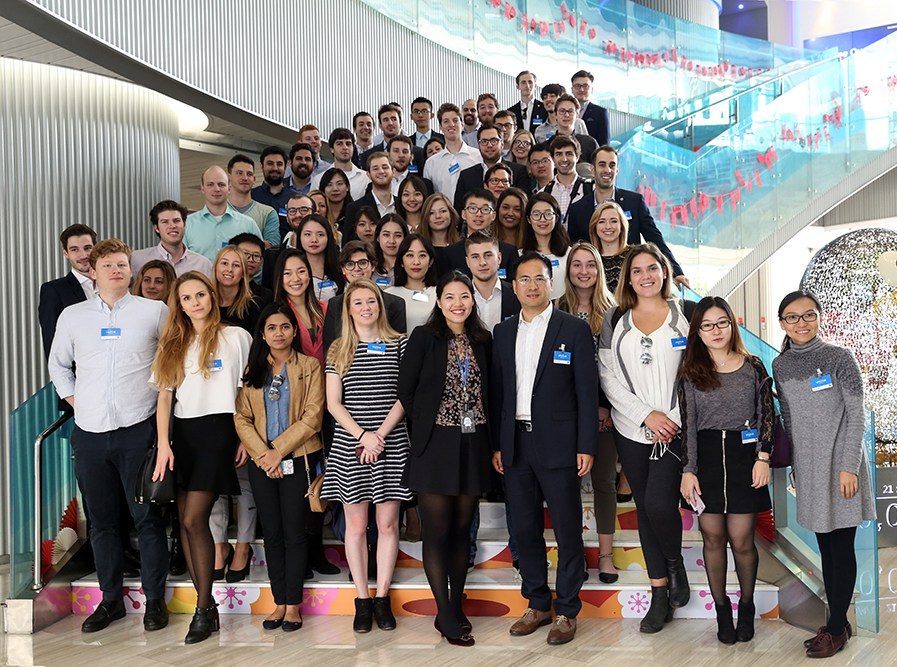 2016
M.S. in Global Commerce welcomes first class
Offered by the McIntire School in partnership with two renowned business schools—Esade Business School in Barcelona, Spain, and Lingnan (University) College at Sun Yat-sen University in Guangzhou, China—the program allows students to earn an M.S. in Global Commerce from McIntire, an M.S. in Global Strategic Management from Esade, and a certificate in International Business from Lingnan over the course of a year, as well as develop the skills needed to thrive in an increasingly globalized business environment.
"Q&A: Global Master's Program Crucial for Future Business Leaders, Zeithaml Says," from UVA Today, Feb. 5, 2016
McIntire Dean Carl Zeithaml recently answered a few questions about what this program means for students and for the Commerce School.
Q. Can you tell me about this new program and how it will work?
A. McIntire's new M.S. in Global Commerce Program is a one-year professional master's degree offered in partnership with two renowned business schools: Esade Business School in Barcelona, Spain, and Lingnan (University) College, Sun Yat-sen University, in Guangzhou, China. Graduates of the program earn master's degrees in Global Commerce and Global Strategic Management from McIntire and Esade, respectively, and a certificate in International Business from Lingnan.
The program will admit 60 students—20 each from the Americas, Europe and Asia, all recent college graduates with business degrees—who will live, study and work together, as a cohort, for the duration of the program. Students will spend the first 15 weeks of the program at UVA, where coursework will focus on developing skills in global strategic management. They then will spend nine weeks at Lingnan College in Guangzhou, China, studying global project financing and operations. The program concludes with 15 weeks at ESADE in Barcelona, Spain, where the emphasis of study will be on global innovation and alliances.
By working in diverse multicultural teams—throughout the program's curriculum, as well as on a yearlong thesis project—students will explore the complexities of doing business from the North American, European and Asian perspectives, all while immersed in a perspective-shifting international environment. Our aim is to provide students with a high-impact educational experience that will help them develop the critical global competencies they need to get work done in today's complex, dynamic global economy.
Q. Are there any other programs like this?
A. I believe that our program is unique. Although some interesting collaborative programs exist for international study and travel, at both the undergraduate and M.B.A. level, our new M.S. in Global Commerce Program is really groundbreaking in the degree to which the curriculum is contiguous, progressive and integrated across the three schools, and the way that the global element is very consciously woven into the entire curriculum and experience. Compared with other global programs, the MSGC is far broader in scope; it's a far more ambitious effort to provide students with the particular set of skills they need to be effective and successful in the highly diverse and international workplace that is rapidly becoming the norm.
Q. What kinds of skills will students gain from the program?
A. First, this program is far from simply an extended travel opportunity. The MSGC Program promises to be intense and challenging, and it is very much oriented toward the acquisition of critically important real-world business skills and competencies. So-called "soft skills" are fully integrated into a curriculum that simultaneously builds students' analytical and technical business skills as the program unfolds. To be really effective in a global business context, outstanding cross-cultural communication and teamwork skills are every bit as critical as expertise in international finance, marketing and supply chain management.
Once again, students in this program will learn to effectively address business challenges within a multicountry, multicultural, high-technology business environment—because that's the world in which they will work.
Q. Let's say I'm a graduate of a top business school. I've gotten a great foundational business education and have spent a semester studying overseas. What additional value would this program offer me?
A. When we talk to recruiters, global competencies are absolutely at the top of their list of critical skills for new hires. Increasingly, they send young people to work in international settings and assign them roles on virtual international teams, both of which involve a specific skill set that many young people don't have when they enter the working world.
A 2015 research report conducted by the American Management Association and the Institute for Corporate Productivity noted that if workers don't get "global mindedness" at a young age, they probably will never get it; by the time someone is 10 or even five years into their career, they've already developed habitual ways of approaching problems and situations. Developing global skills early builds an incredibly strong foundation both for a successful business career and for global business leadership.
In addition, when students graduate from this program, they will have two fantastic degrees and a certificate from three top-ranked business schools, and they will have amazing international networks—of classmates, business leaders, professors and alumni—from the three regions. They'll be able to go to Europe and say, "Not only do I have a degree from the McIntire School, but I also have a degree from Esade." They'll be able to go to China and say, "I have a certificate from Sun Yat-sen, one of the best universities in China, and I also studied in the United States and Europe." These certifications and networks will be very powerful in the future. They give you access, fluency and a connection—and so much of business is about building relationships and connections.
Q. Let's say I'm finishing up my senior year at a top business school, and I'm trying to decide between accepting a promising job offer and enrolling in the MSGC Program. Why should I enroll in the program?
A. A student in this position can always ask their new employer if it's possible to defer acceptance of the job for a year. The student is not taking a year off just to go hiking—she's choosing to undertake an intensive year of study to enhance her business skills and build critical and highly valuable global business competencies. To the student who's weighing taking a job or enrolling in this program, an experience like this one can help put you on a leadership track; people aren't getting to the executive suite without the skills that the MSGC Program offers.
Q. Why did McIntire choose to partner with Esade and Lingnan? Specifically, what are the strengths or merits of each institution?
A. McIntire has a decades-long record of tremendous success with cohort- and team-based education; our top-ranked undergraduate program and three highly regarded graduate programs are exemplars of both approaches. We're also known for our unique ability to create flexible, modular curriculum platforms that allow for integration between the disciplines, ongoing innovation and a high-relevance, real-world educational experience.
With the new MSGC Program, we build on all of that expertise—and take it to the next level by incorporating the global, multicultural components.
Our partner schools for this program are like-minded in many ways. They are distinguished leaders in global business education, and they have the experience, interest and capability to build an integrative, truly global curriculum. Currently, Esade recruits in more than 50 countries and has alumni living and working in more than 114 countries; Lingnan draws outstanding students from throughout Asia and the Pacific Rim. Both schools are known for their commitment to excellence and innovation in education.
Creating the new program was a fascinating and exciting process. Although the three schools take somewhat different approaches, we all have the same goals. In a way, we speak the same language, and it's been incredibly interesting to see our different ideas and perspectives come together to create really interesting, positive and productive outcomes.
Q. Launching a new graduate program is a major undertaking and an enormous commitment on the part of the McIntire School. Why is this new program important?
A. McIntire has long recognized the importance of a global education; no significant business operates on a strictly domestic basis. Our curriculum is thoroughly "globalized," and students have a number of opportunities to study abroad and engage in deep global studies. We also have a highly international student body – more than 20 percent of our students hold a foreign passport – and the presence of those students, with their diverse perspectives and fresh approaches to business and life, is tremendously positive and enriching. We have 43 partner schools around the world, with whom we enjoy extremely productive relationships. Our corporate partners—which include AB InBev, Alcoa, Hilton Worldwide, and Rolls-Royce—could hardly be more international.
In addition, we have a fantastic network of global alumni, friends, and parents who are amazing contributors to the school. So "global" is something with which we have a lot of experience.
Still, the MSGC is a very important step for the McIntire School. It's a bold testament to our ongoing ability to generate innovative and important curricula. It's also a clear statement that this institution is committed to producing both outstanding businesspeople and a new generation of global business leaders.
As educators, we have a responsibility—particularly in today's world—to help students understand and work with people throughout the world; my hope is that the new MSGC Program will serve as a model for the University of Virginia, as well as for other business schools. The business sector is often criticized, but the fact is that business can be a tremendous catalyst for bringing people together in positive, productive ways. I truly believe that through real, thoughtful, meaningful engagement with other people, we can build not only better businesses, but a better world.
2017
M.S. in Accounting ranked #2 by Public Accounting Report
In 2017, McIntire's M.S. in Accounting Program earned the #2 spot in the Top 25 Master's in Accounting Schools with Fewer Than 17 Full-Time Accounting Faculty by the Public Accounting Report.
2017
Centennial Fund for Faculty Excellence
As McIntire prepared for its Centennial, the School launched a special fund for faculty excellence.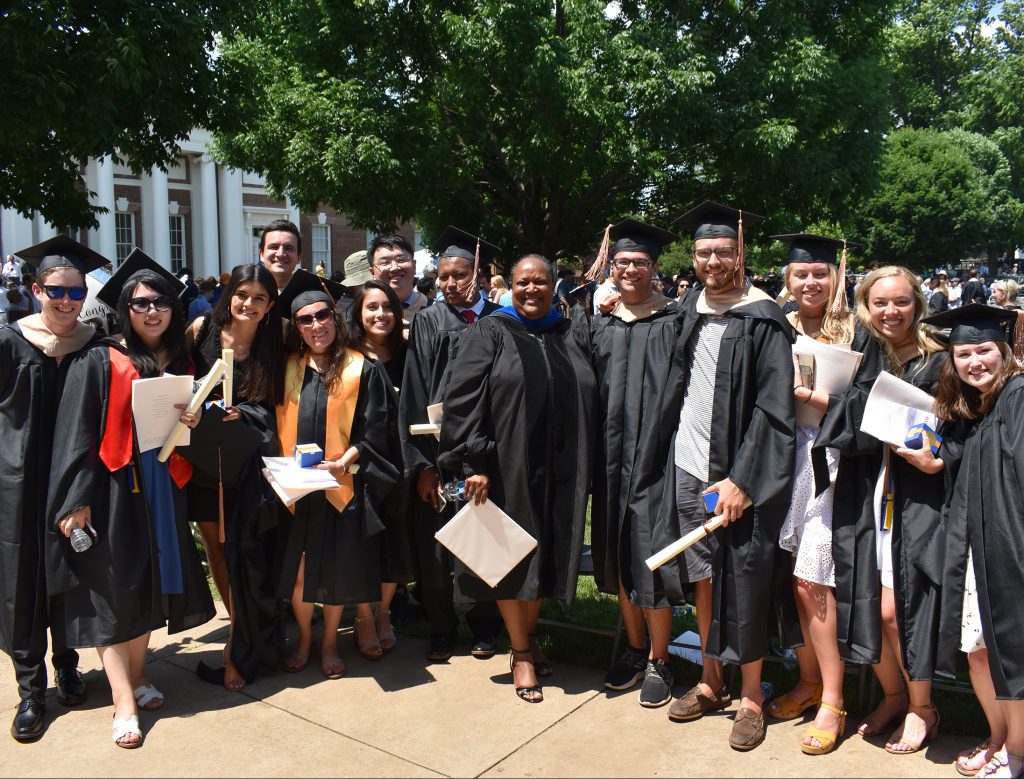 2018
McIntire earns top five ranking for CPA exam pass rate
In 2018, the NASBA Report ranked McIntire #5, out of 769 institutions, for first-time CPA exam pass rate.
2018
Commerce School announces formation of McIntire Global Advisory Board
To support the McIntire School in its mission to maintain a leadership position in global business education and research, the School created the McIntire Global Advisory Board.
"Commerce School Announces Formation of McIntire Global Advisory Board," From McIntire news blog, Oct. 11, 2018
As all business is a worldwide endeavor, success requires a strong yet nuanced international perspective. To support the McIntire School of Commerce in its mission to maintain a leadership position in global business education and research, the School has created the McIntire Global Advisory Board (MGAB). Board members will impact current and future business leaders from around the world, and engage with scholars and researchers in business education on Grounds and abroad.
The MGAB's wide-ranging plans for supporting the global activities of the School span global positioning, program development, thought leadership, and philanthropy.
"At McIntire, we are more convinced than ever of the need for our students to appreciate the complex global context in which they will build their careers," says McIntire's Associate Dean for Global Affairs and Professor in Global Strategy and Finance Peter Maillet. "With our significant international student population and alumni, as well as recent expansion of our global programs, the time is right to add a global advisory board to our board structure."
To increase McIntire's global visibility, the Board aims to grow the School's reputation for its world-class business education, while assisting with international events and highlighting groundbreaking faculty and student work to regional media. Offering many opportunities for alumni, parents, friends, and partner organizations to stay closely involved with McIntire, the Board will promote admission opportunities and mentorship of students interested in working internationally while supporting the cross-curricular research of the Global Commerce Scholars program on Grounds. In addition, members will help cultivate relationships among alumni and reach out to organizations for engagement with McIntire students.
Board member Ed Deng (McIntire '00), Co-Founder and CEO of digital health platform Health2Sync, has already been instrumental in facilitating company visits in Taiwan for the Global Immersion Experience (GIE) component of the M.S. in Commerce Program. "My activities in Japan, Taiwan, and Southeast Asia have allowed me to witness how the digital economy has become an integral part of business and offers strong growth, especially for Asian nations. I will continue to assist McIntire in its execution of global programs such as the GIE and shape thinking around important trends."
Other significant MGAB goals include providing thought leadership by serving as a faculty resource for global curricula development, identifying guest speakers, and offering input on symposia that discuss innovative ideas concerning global business topics. Philanthropy support and stewardship on behalf of the School round out a robust set of initiatives set for the Board, which holds its inaugural meeting in October 2018 at Rouss & Robertson Halls.
London-based board member Meg Horvath (McIntire '81) feels that it is fitting that the launch of the MGAB coincides with the beginning of UVA's third century. "As rich inheritors of Mr. Jefferson's vision to provide a world-class education to future leaders, it is our duty to carry that vision forward beyond these shores. All business is global, so McIntire must be global."
To further that aim, Horvath also expects the Board to strengthen some of the Commerce School's already established initiatives, including "the considerable programs developed under Dean Zeithaml's leadership to ensure that all McIntire students spend time abroad and develop a global perspective." She also notes that for students unable to study abroad, the board has a commitment to bring what the world has to offer back to Grounds: "We need to recruit the best and brightest from around the globe to expand the diversity of our community and to enrich the culture of the Academical Village. Finally, I hope that the MGAB will play a role in advancing the global recognition of McIntire's academic excellence in order to open doors for our graduates and faculty. I am excited about the tasks ahead and honored to be a part of building McIntire's global presence."
Maillet is similarly optimistic about the Board's future, thanks to the invaluable participation of the Commerce School's international community: "I am delighted that 16 highly accomplished and enthusiastic McIntire alumni and parents have agreed to serve as inaugural members, representing Asia-Pacific, the UK, Europe, the Middle East, and Latin America. I look forward to MGAB's help in strengthening the School's presence abroad; supporting our global programs; and advising us on the direction of our globally focused courses, research, and case writing."
The McIntire Global Advisory Board meets twice each year: at McIntire in October, during the School's fall board meetings, and outside the United States in the spring, hosted by regional board members on a rotating basis.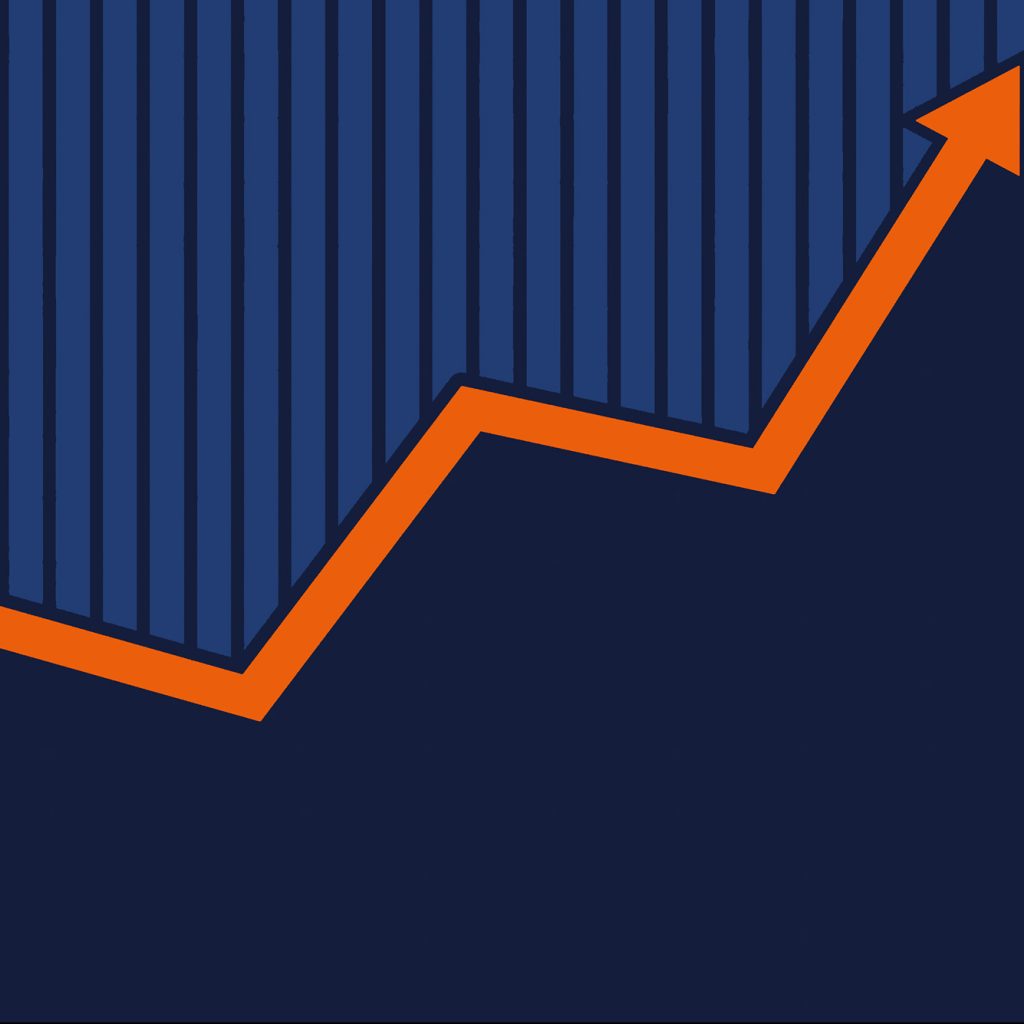 2018
McIntire Investment Institute hits $1 million in assets
Established in 1994 with a $100,000 gift from alumnus, Board of Visitors member, and Visiting Scholar John A. Griffin, who founded the hedge fund Blue Ridge Capital, the McIntire Investment Institute has steadily grown that initial investment over the past 25+ years, with members working together to research and pitch companies, purchase and sell stocks, and carefully manage their investments.
"Commerce Student Investors Hit $1 Million in Assets, Immediately Give Back," from UVA Today, Feb. 14, 2019
Last fall, the students in the McIntire Investment Institute–a student-run investing group at the University of Virginia's McIntire School of Commerce–hit a pretty significant milestone: $1 million in assets, all under their own management.
The institute was established in 1994 with a $100,000 gift from alumnus, Board of Visitors member and visiting scholar John A. Griffin, who founded the hedge fund Blue Ridge Capital. Over the past 25 years, students have steadily grown that initial investment, working together to research and pitch companies, purchase and sell stocks and carefully manage their investments.
Now, they are giving back to the school in honor of the alumnus who started it all.
Student leaders announced this week they would use $500,000 from their investments to support a new faculty fellowship in Griffin's honor, called the John A. Griffin Faculty Fellowship in Finance, and to sponsor a series of research seminars bringing guest faculty to Grounds to share their work in finance and economics. It's not the first time the institute has given back: previous contributions total around $250,000, all supporting various initiatives and resources at McIntire.
"We thought it was a great way to celebrate this milestone, and to show how a student organization can have such a tangible impact on the community," fourth-year student and McIntire Investment Institute President Nathan Lin said. "Ultimately, we see it as our mission to advance and promote the culture of investing at UVA, and to support McIntire and the University."
The fellowship, supported by $350,000 of the $500,000 contribution, will sponsor McIntire faculty pursuing finance-related research and scholarship. The remaining funds will go to the seminar series, run through the school's Center for Investors and Financial Markets.
Griffin said he was surprised and thrilled by the students' idea.
"I am humbled by this great surprise," he said. "My original premise for the McIntire Investment Institute was to give students responsibility and accountability for managing real money. I had no idea it would become so successful and make such a profound contribution to the University community. I look forward to seeing what the next 25 years brings."
Lin said the institute, which is open to all students, helped him learn more about the Commerce School and decide to apply. He completed an internship in finance this summer, and after graduation will start his career in New York City at the hedge fund Point72 Asset Management.
"MII has been a great place to get a bearing on my career. It taught me technical skills I need, in quantitative valuation and research, and I met older students who have become great mentors, giving me valuable advice," he said. "You learn concrete life skills – hard work, teamwork, accountability, leadership."
Some students work as analysts, researching companies and investments. Others are associates, leading teams of analysts to compile and present investment opportunities. The management team is responsible for evaluating those opportunities, developing investment strategies and voting on long and short investments. The students also run workshops and bring in guest speakers to their weekly meetings, which reach about 100 student members each semester.
"You really learn through community – the ideas are not top-down, but often come up from analysts and associates," Lin said.
One successful investment focused on artificial intelligence. In 2016, the students invested in computer chip company Nvidia, banking on increased demand for artificial intelligence and machine learning. It paid off.
"We entered around $35 per share, and it's now about $160 per share," Lin said.
Students have also learned a lot about how current events, such as ongoing trade tensions between the U.S. and China, can affect both short- and long-term investing.
"We invested in a semiconductor equipment manufacturer that was reliant on the growth of computer chip manufacturing in China. Currently, that is getting hit hard by the tariff environment," Lin said. "It's been helpful to think about what is impacting those investments now, and how they might fare in 10 years, when trade with China will hopefully be stable."
Each investment has taught Lin and his classmates much they can use in their own lives and careers.
"I learn something new every time we meet," Lin said. "We can give students perspectives on their career, and give them hands-on, active experience managing a portfolio. I think it's a really unique, one-of-a-kind experience."
Resources like the faculty fellowship and the research seminars that Lin and his classmates are supporting will help future students have similarly impactful experiences.
"Our contribution represents MII's net gains of nearly 100 percent over the last four years," Lin and the group's chief investment officer, Abhijith Chaganti, noted in a letter to the McIntire community. "We hope that it can be used to aid students and faculty at McIntire in pursuing passions, interests and academic advancements within business, finance and investing."
"The tremendous success of these young investors is a testament to the self-governance, experiential learning and generosity that we strive to infuse into every McIntire experience," said Carl Zeithaml, dean of the McIntire School. "John's generosity and foresight in establishing MII twenty-five years ago left an indelible mark on McIntire that will have a lasting impact on our people and programs."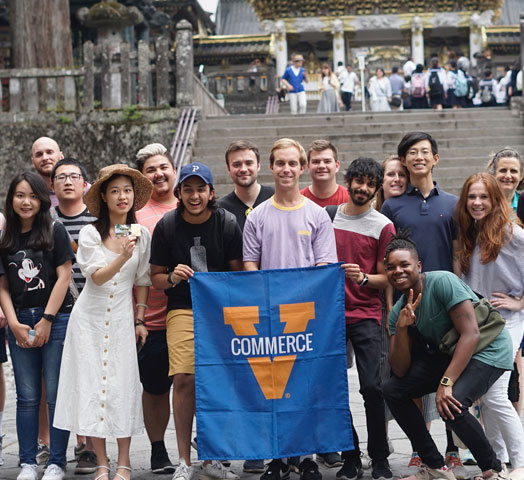 2019
The Economist ranks M.S. in Commerce as the top U.S.-based program, #6 worldwide
The Economist ranked the McIntire School's M.S. in Commerce as the top U.S.-based master's in management (MiM) program and sixth worldwide in 2019.
"The Economist Ranks UVA McIntire's M.S. in Commerce the #1 U.S.-Based Program," from the McIntire News blog, June 27, 2019
The Economist today ranked the McIntire School of Commerce at the University of Virginia's M.S. in Commerce as the top U.S.-based master's in management (MiM) program and sixth worldwide. The Program achieved the #1 rating for range of and access to overseas study programs among all 40 programs evaluated. Other high marks include worldwide ratings of #2 for education experience, #2 for career services, and #4 for salary.
"Maintaining the highest ranking among U.S.-based programs is a testament to our vision for an innovative one-year curriculum for recent liberal arts, sciences, and engineering graduates who want to develop real, relevant, and focused business expertise," says McIntire Dean Carl Zeithaml. "As employers are hiring an increasing number of MiM graduates, our goal is to create an unmatched student experience that delivers an immediate and significant ROI."
Entering its 12th year, the M.S. in Commerce Program is designed to give students an integrated, enterprise-wide view of business while they develop in-depth skills in a functional specialty. The foundation of the Program is McIntire's renowned Integrated Core Experience, an intense curriculum that helps students develop their analytic, strategic, and behavioral business skills. Blending curriculum innovation and insights from teams of faculty and corporate leaders, the coursework is carefully constructed to give students real-world exposure to the complexities of business.
After the Integrated Core Experience is complete, students select and develop a specialty in one of three areas: business analytics, finance, or marketing and management. To complete their course of study, a Global Immersion Experience (GIE) is required of all students. The GIE is a faculty-led sequence of courses that allows students to explore business in a global context, culminating with an immersion experience. In 2019, McIntire offered six GIE course locations, including Europe, Latin America, Southeast Asia, Greater China, Oceania and Japan, and the Persian Gulf and Indian Subcontinent.
McIntire reports favorable career outcomes for the past five graduating classes of the M.S. in Commerce, with 94-98% of students reporting being employed or seeking further study within three months after graduation. The average total compensation reported for 2018 graduates of the program was $88,327. Recently, the Program received a STEM designation from the U.S. Department of Homeland Security.
Find complete rankings at The Economist website.
2020
Global pandemic sends students, faculty, and staff home; School quickly pivots to online learning
Since January 2020, a UVA team met regularly to prepare for the potential impacts of COVID-19 on the University, with Dean of Students Allen W. Groves offering travel guidance and reminding students of spring break health and safety in a Feb. 26 message. On March 11, with the number of cases increasing in the U.S., UVA President Jim Ryan announced that all classes would move online starting March 19 and urged students away on spring break to return or remain home. In May 2020, UVA offered its first ever online-only graduation ceremony.
The following message was distributed to UVA students by Dean of Students Allen Groves March 13, 2021:
Dear Students:
Much has occurred in the past week since your Spring Break began. I realize you have been receiving a great many messages from the University this week, so I am going to highlight my most important points up front. First, if you can return to your home, we need you to do so as soon as possible. Second, if you are away from Grounds and only need a few essential belongings, we can help.
Now, the details:
If you live on Grounds: With your permission, we can arrange for a staff person to go to your room, retrieve essential items you need, and ship them to you. You also are welcome to have a friend do this. To make arrangements for either, please contact housing@virginia.edu.
If you live off Grounds: We have enlisted the help of primary landlords in the area. If you need items from your home or apartment, please call your landlord for help with this or other critical matters. We also hope those of you residing in fraternity and sorority houses will return home. We have been in contact with alumni house corporation officers to seek their (and your) cooperation. If you have friends still in town, please consider asking for their help in collecting your belongings before they leave.
Remember, too, some leases require that you let your landlord know, in writing, if you will be gone for a week or more. Please check your lease and make sure you follow these and other instructions. If you don't have a copy of your lease, ask your landlord to email it to you.
It is very important that you return home and be ready to start virtual classes on Thursday, March 19. We know some of you will need to stay due to unavoidable circumstances, but otherwise, you should be returning home right away. If you need to return to collect your belongings from your apartment or residence hall, please make every effort to make your trip as brief as possible. We are facing a global pandemic previously unseen by any of us. You are risking not only your own health if you continue to gather in groups and circulate in the area, but also – of critical importance – you are risking the health of others in our community who are likely to be more affected by this disease.
International students and those living a great distance from Grounds: If we resume in-person classes before the end of the semester, we will make sure any student who has gone home and cannot return to Grounds is able to complete the term.
Student Workers: Students who are part of the Federal Work Study program will continue to be paid even if they are not able to work. This flexibility applies to students who started classes this spring and earned FWS wages prior to the University moving to virtual instruction. It will remain in effect as long as virtual instruction remains in place. The employment of other student workers is under discussion by University leadership, but nothing has been determined at this point.
Financial concerns: The University is committed to assisting students in need during this unprecedented time. If you are currently receiving financial aid and have questions about resources for leaving Grounds and returning home, please contact UVA Student Financial Services through a special website for Emergency Travel Assistance.
Online resources: We recognize what an abrupt and challenging transition it will be to shift to virtual classes. Faculty and staff across the University are working hard to make the shift as smooth as possible, and you will have support from the University. You will be able to link to resources through the coronavirus website.
Thank you for all the steps you are taking to help us respond to this health crisis. This is an unprecedented situation in our lifetimes, and I respectfully ask each of you to do the responsible thing as citizens in a larger community. Your willingness to comply with what is being asked of you will help the broader community – including many at-risk individuals – minimize the impact of this crisis as much as possible. Unlike some crises we witness from afar, this is one where we can each take action that has a tangible result. Individual actions will make a huge difference in how we face and eventually spring back from this difficult challenge. In this case, a selfless decision on your part may save a life.
Sincerely,
Allen W. Groves
University Dean of Students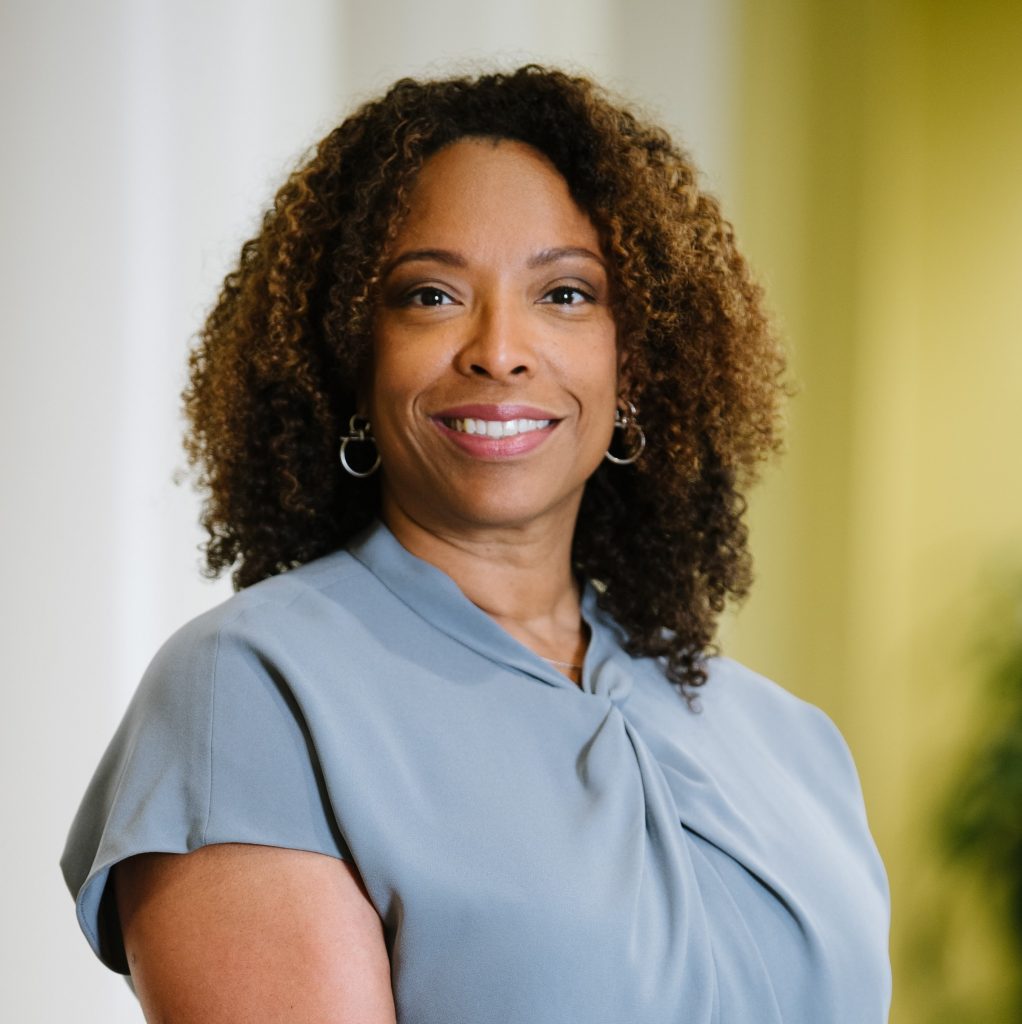 2020
Nicole Thorne Jenkins appointed Dean
Nicole Thorne Jenkins became the John A. Griffin Dean of the McIntire School of Commerce at the University of Virginia on July 1, 2020. Prior to arriving at McIntire, Dean Jenkins was the Von Allmen Endowed Chair of Accountancy and Vice Dean in the Gatton College of Business and Economics at the University of Kentucky. Prior to Kentucky, she served on the faculty at Vanderbilt University and Washington University in St. Louis. Dean Jenkins received her Ph.D. in Accounting from the University of Iowa and completed her undergraduate work in Accounting and Finance at Drexel University.
Her research interests include the investigation of financial reporting failures, share repurchase, and the effect of social networks on performance outcomes. Her teaching experience has focused on financial reporting topics in both executive education, graduate, and undergraduate programs. Dean Jenkins is a Certified Public Accountant and is the immediate past president of the Financial Accounting & Reporting Section of the American Accounting Association. Prior to becoming an academic, she was an Auditor and Consultant at PriceWaterhouse and Coopers & Lybrand. Additionally, she consults and serves as an expert witness in matters related to financial reporting, valuation, and estimation of damages.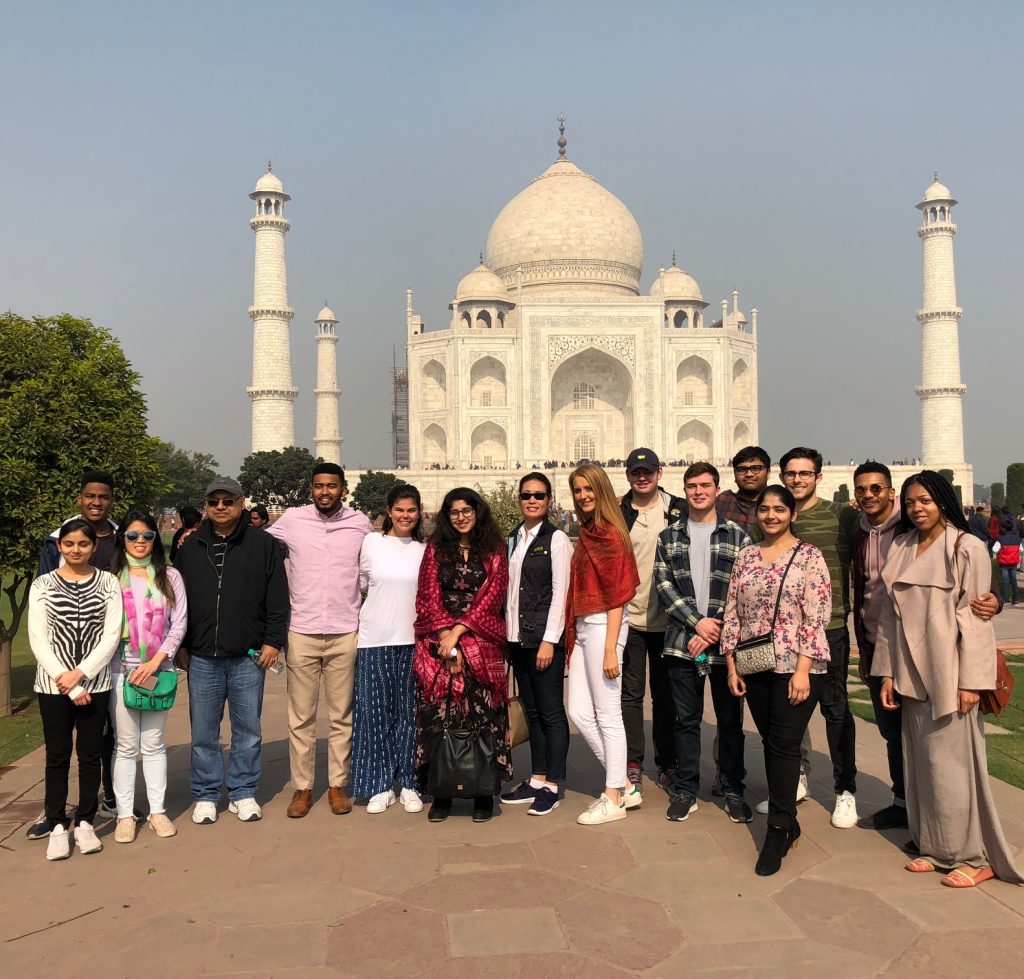 2020
M.S. in Commerce earns #2 national ranking
In 2020, McIntire's M.S. in Commerce Program earned a #2 ranking in Value Colleges' Top 25 Best Value Master's in Management Programs.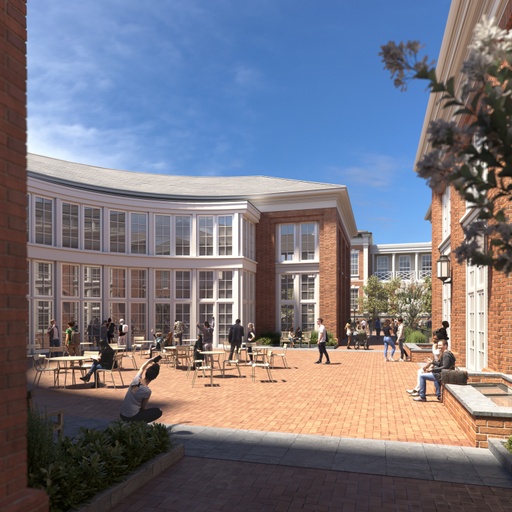 2020
$30 million donation kicks off new building project, creating a "Gateway to Grounds"
A $30 million gift from The Chris & Carrie Shumway Foundation serves as initial funding for McIntire's next building project, which is underscored by the School's commitment to inclusivity. Areas have been intentionally designed to provide hospitable, comfortable learning spaces. Among other considerations such as primary entrances, traffic patterns, and connectivity between buildings, Ruppel Drive will be transformed into a green, pedestrian-friendly, ADA-compliant entrance to the University at Brandon Avenue and Jefferson Park Avenue.
"An Investment in McIntire's Next Century: New Commerce School Building Creates Opportunity and Impact," from McIntire news blog, Nov. 20, 2020
Since 1921, the McIntire School of Commerce has educated and inspired generations of students to become visionary leaders who shape global business with integrity, purpose, and a fundamental understanding of how commerce can contribute to the common good. As McIntire prepares to embark on its next century, the Commerce School has undertaken visionary plans for a new academic complex designed to foster student success and strengthen community connections.
The construction of the new facility will take place directly across from McIntire's Rouss & Robertson Halls, on the northeast corner of Ruppel Drive and Jefferson Park Avenue; the project also incorporates the renovation of adjacent Cobb Hall, as well as numerous outdoor courtyard and garden spaces close to the structures. The buildings and their surroundings honor UVA's past and embrace the future of the School by creating a "Gateway to Grounds," a unique point linking the location to the Lawn from the revitalized Brandon Avenue district.
The initial funding for the building originated with a $30 million gift from The Chris & Carrie Shumway Foundation, $5 million of which supports the creation of a Bicentennial Professorship in bioscience/business. The entirety of the $105 million building project will be supported solely through the dedicated generosity of private philanthropy. Specifically designed as a hub for Commerce students and University-wide initiatives, the new academic building design features are highlighted by flexible classrooms, unique event spaces, meeting areas, labs for entrepreneurship, technology, and versatile student study areas that mirror design and amenities that define contemporary business spaces.
"I'm excited by the new building, in which we've focused on developing new kinds of spaces that we believe will encourage innovation and create a different paradigm for how we educate our students," said Chris Shumway (McIntire '88). "The design will allow us to offer different kinds of classrooms that promote creativity as well as new workspaces that support cross-school collaborations, like the new business bioscience program between McIntire and the Medical School."
With unpredictable geopolitical forces and emerging technologies causing rapid shifts across commerce, the McIntire School is working to ensure that innovative teaching methodologies and facilities keep pace. Highlights of the design include a two-story, multi-functional atrium featuring an all-glass façade capable of holding more than 350 people; an elegant crescent-shaped outdoor courtyard and event space; divisible classrooms to provide flexible areas for different teaching methodologies, innovation, and data analytics labs; "cluster" classrooms that facilitate student-centric learning; a media and design center with upgraded facilities for producing and delivering online instruction; a revolutionary student success center; an expanded area for Diversity, Equity, and Inclusion initiatives; a student wellness suite; a solarium for quiet study; and an in-house café.
The project is underscored by McIntire's commitment to inclusivity, and areas have been intentionally designed to provide hospitable, comfortable learning spaces. Among other considerations such as primary entrances, traffic patterns, and connectivity between buildings, Ruppel Drive will be transformed into a green, pedestrian-friendly, ADA-compliant entrance to the University at Brandon Avenue and Jefferson Park Avenue.
As the School continues to prepare for its Centennial in 2021 and further advances its Inspire the Next Century campaign, Dean Nicole Thorne Jenkins expressed enthusiasm and optimism for the building's role as a pivotal space that will greatly benefit both McIntire and UVA.
"As we look ahead to the next century for McIntire, we see how far we've come—and how much we aspire to accomplish. We are committed to promoting responsible, strategic growth in order to increase our impact, broaden our reach, and continue evolving modern business education," said Jenkins. "We envision a welcoming and accessible space that will inspire all members of the University community to convene, connect, and collaborate in the exploration of commerce for the common good."
Shumway echoed Jenkins's excitement. "This additional space will allow us to improve what we're doing right now, focus on innovation, and make a better future for the University of Virginia."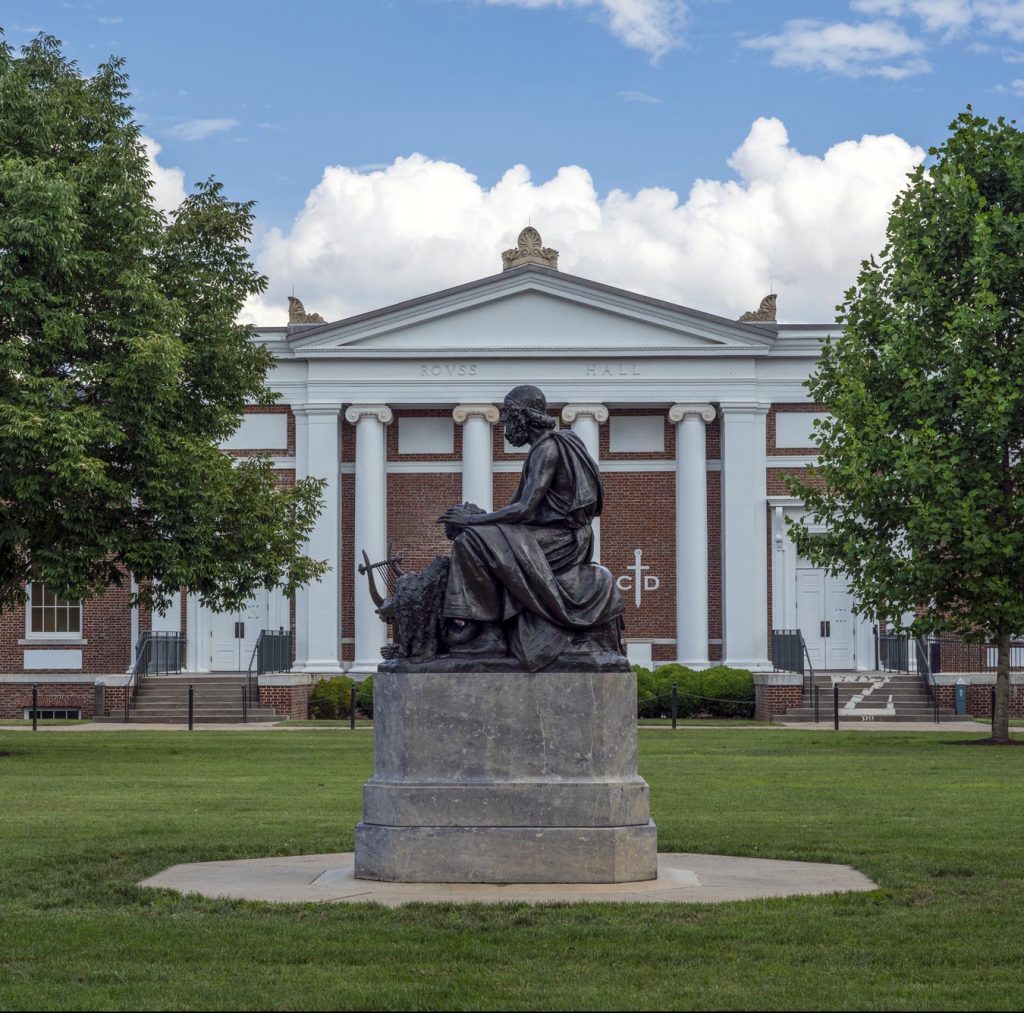 2021
Undergraduate program receives #2 ranking
Poets&Quants for Undergrads ranked the B.S. in Commerce Program #2 among the nation's best undergraduate business programs.
"Poets&Quants Ranks McIntire Second Among U.S. Undergraduate Business Programs," from UVA Today, Jan. 12, 2021
The University of Virginia's McIntire School of Commerce earned a second-place ranking among the nation's best undergraduate business programs, according to annual rankings released today by business education website Poets&Quants for Undergrads, up from third place a year ago.
Edged out only by the University of Pennsylvania's Wharton School, McIntire achieved the runner-up spot on the strength of various factors that include faculty availability and accessibility of the alumni network. In addition to garnering a consistently strong ranking overall, the school earned the highest marks of any U.S. business school for academic experience, which calculated alumni survey responses to questions about acquiring a "first job in a desired industry/company" and the availability of "signature learning opportunities and international experiences."
The Commerce School also ranked in the top 10 of the 93-school list of business programs for admissions standards and employment outcomes, which measured factors such as attaining business-specific internships, securing employment within three months of graduation, and graduates' average salary and signing bonus amounts.
"The Poets&Quants data is reflective of what this community works to achieve every day: an unparalleled and transformative academic experience rich with faculty interaction, and lifelong access to our exemplary global alumni network," McIntire Dean Nicole Thorne Jenkins said. "Once in the workforce, our graduates become keenly aware that their educational experience here at McIntire has set them up for both immediate and long-term success."
Professor David Lehman, associate dean for the undergraduate program, was similarly enthusiastic.
"This ranking is another testament to the unique and dynamic learning environment provided by our faculty and staff, as well as the exceptional students who fill our classrooms," he said.
McIntire's 57-credit-hour, upper-divisional B.S. in Commerce program – designed to give third-year and fourth-year UVA students a comprehensive skill set, global learning opportunities and experiences that empower them to meet the demands of the global business marketplace – is centered on the Integrated Core Experience. An intense and demanding third-year curriculum, the program teaches students to work collaboratively and develop their analytic, strategic and behavioral business skills. Blending instruction and insights from faculty teams and corporate leaders, the Integrated Core Experience is carefully constructed to provide exposure to the complexities of business.
McIntire's corporate partners also play a critical role, challenging students to develop comprehensive solutions to pressing business problems and to effectively communicate their findings during presentations to executives. All aspects of the program emphasize the development of critical professional skills related to business (e.g., communication, teamwork, design thinking, creativity, self-learning and interpersonal skills) and the application of acumen to address societal issues such as affordable housing, food insecurity and more.
Beyond the Integrated Core Experience, McIntire students complete up to two specialized concentrations in accounting, finance, information technology, management and marketing. In recent years, McIntire has added a portfolio of interdisciplinary tracks that augment students' concentration coursework: business analytics, entrepreneurship, global commerce, quantitative finance, real estate, and strategic brand consulting and communications.
Poets&Quants for Undergrads compiled the 2021 ranking based on a representative survey of 6,100 alumni and school-reported data from 93 schools. The ranking comprises three main, equally weighted categories: admissions standards, academic experience and employment outcomes.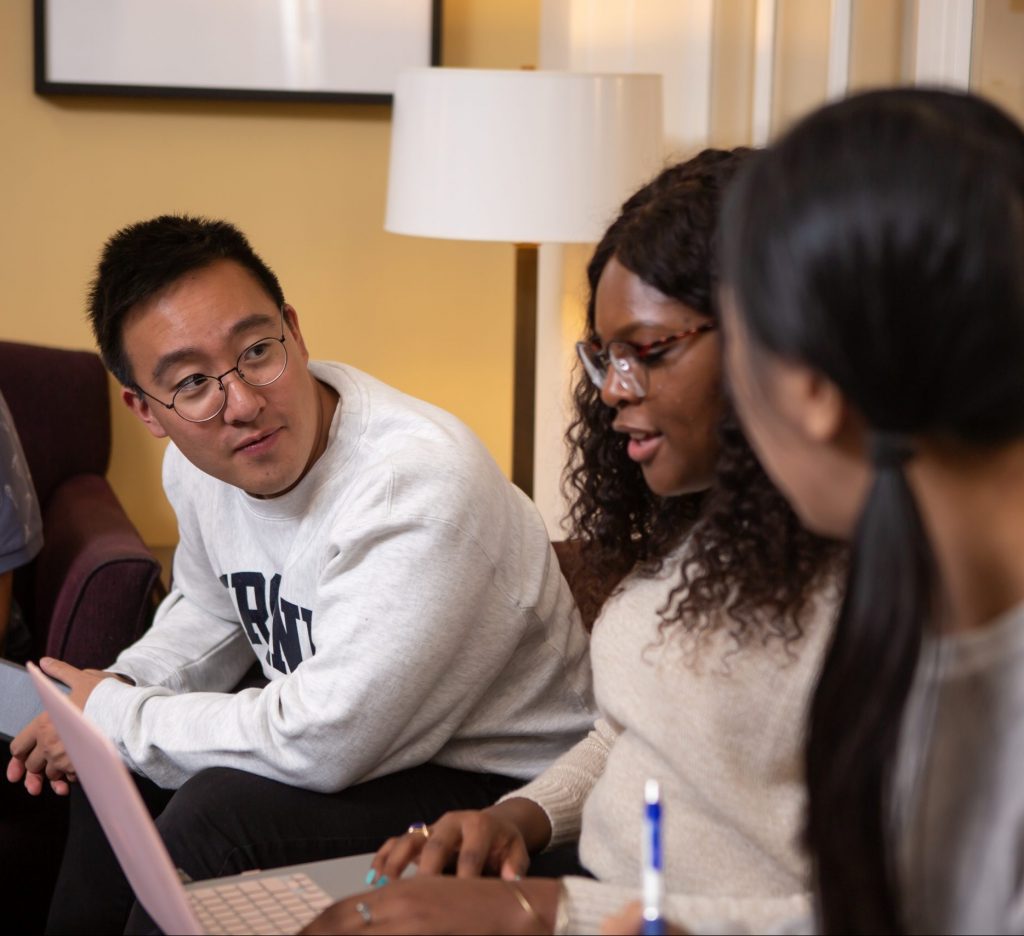 2021
M.S in Accounting ranked in the top 10
In 2021, the TFE Times ranked McIntire's M.S. in Accounting Program #7 among the best master's in Accounting programs.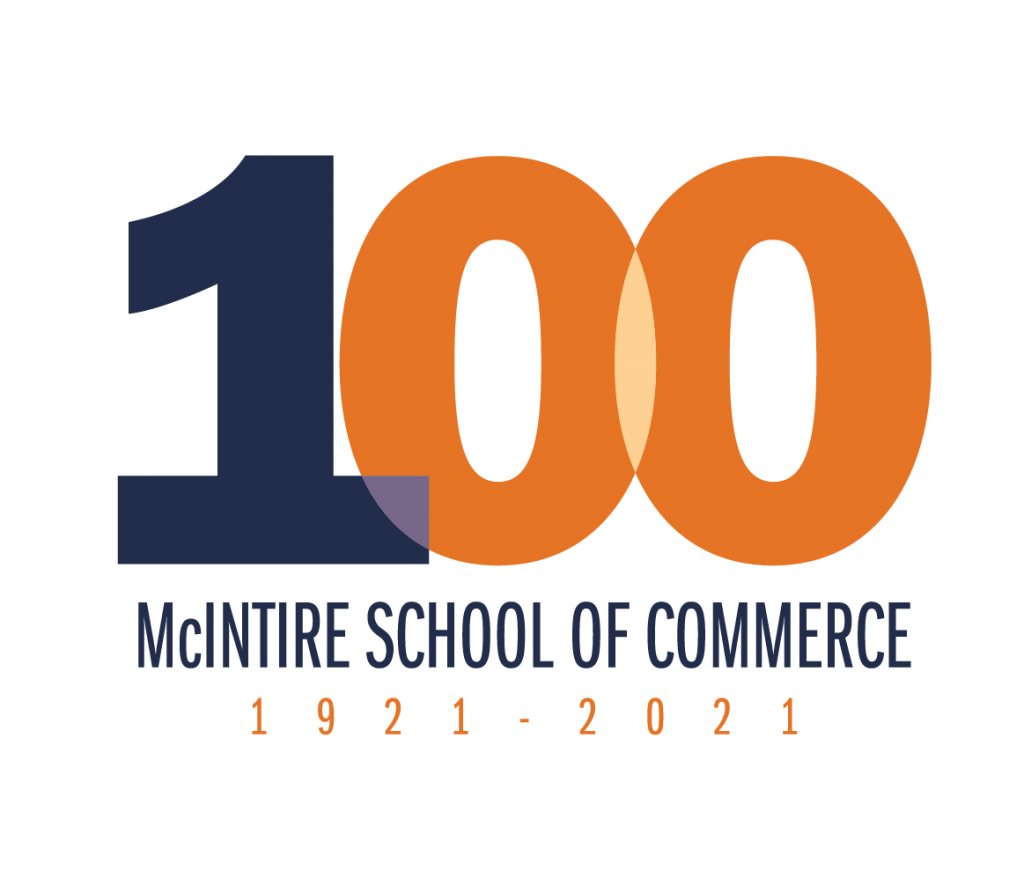 2021
McIntire kicks off Centennial celebration
After the COVID-19 pandemic forced a nearly yearlong delay in kicking off the Centennial, McIntire is finally able to celebrate. Look for special events, Centennial swag giveaways, and new building renderings; participate in our virtual mosaic; and more!
Do you have something to add to the timeline? A recommendation for a Centennial story or social post? Let us know!