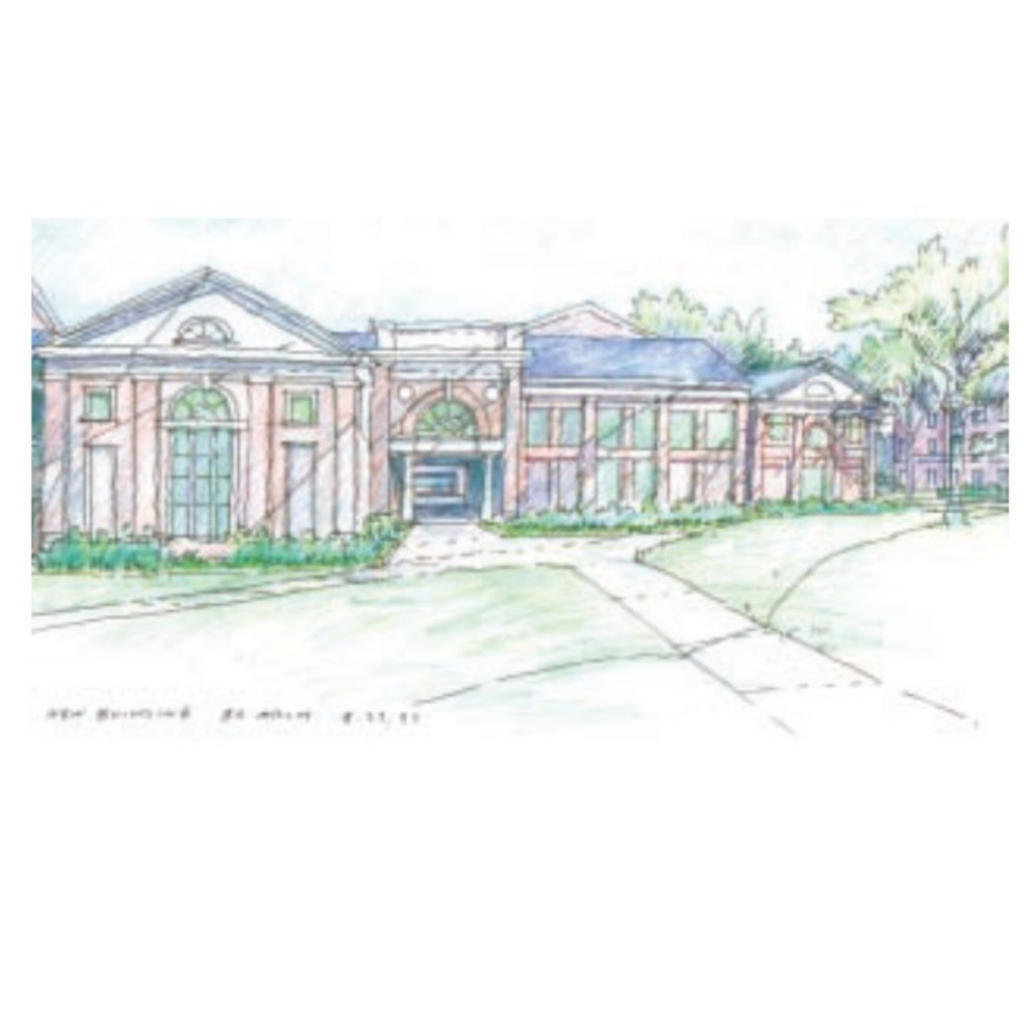 2001
McIntire kicks off building campaign
A 1999 building feasibility study initially demonstrated that the needs of students, faculty, and staff could be met by judicious space planning at the School's Monroe Hall location. A $2 million gift from McIntire alumni Shelby Bonnie (McIntire 1986), John Griffin (McIntire 1985), and Jeffrey C. Walker (McIntire 1977) kicked off the ambitious building initiative.
"Kickoff for Expansion at Monroe Hall Site; $2 Million Gift Kicks off Campaign," from McIntire Exchange, spring 2001
Spring signals the first signs of an ambitious building initiative for the McIntire School of Commerce. Three McIntire alumni—Shelby Bonnie (McIntire '86), John Griffin (McIntire '85), and Jeffrey Walker (McIntire '77)—have each initially contributed a third of the necessary $2 million needed to begin the planning and design process.
"Each of them used this gift as an initial commitment," said Dean Carl Zeithaml. "They intend to support the building further when we get to the construction phase. We are now in the process of retaining the architects, and we will begin the actual design of the building."
Preliminary plans exist for a new building to the west of Monroe Hall, as well as an expansion and renovation of Monroe Hall. Drawings were done as part of a 1999 feasibility study done to demonstrate that the School's future needs could be met by expanding at the current location.
"It will take some creativity in design to get everything we need here," Zeithaml said, "but it is most important that we remain connected to Central Grounds, the Rotunda, the Lawn, and to the other schools located here."
Zeithaml will officially announce the start of the building campaign in April 2001 to coincide with meetings of both the McIntire Advisory and Foundation boards. Many alumni will return to Grounds for those meetings as well as for the Center for Growth Enterprises and the University of Virginia Center for Real Estate symposium and Foxfield festivities.
"Building a first-rate physical plant also represents an opportunity to raise a significant endowment that will support the School for many years," said Zeithaml. "We hope that the combination of public and private support will build the building. Through naming opportunities and the excitement the building campaign generates, I think we can grow the endowment significantly and put the School on a much more solid financial footing."
Pictured: Preliminary sketches from Bushman Dreyfus Architects PLC
View In Timeline