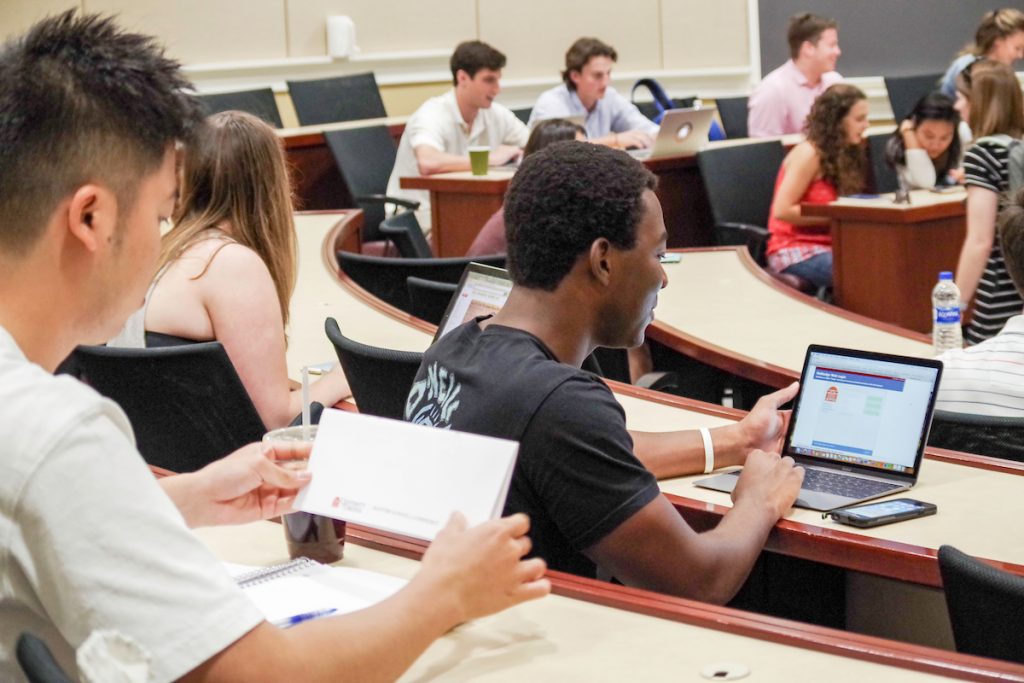 1999
Integrated Core Experience, a revolutionary model for McIntire's third-year undergraduate program, introduced
In the spring of 1999, the School received a competitive $450,000 grant from the GE Fund to underwrite the development and introduction of a revolutionary new model for the third-year undergraduate program known as the Integrated Core Experience. Dean Carl Zeithaml, Associate Dean Mike Atchison, and the McIntire faculty spent much of the year planning the hallmark program that is legendary for developing third-year students' technical, analytical, strategic-thinking, and behavioral skills—all while providing real-world experience.
"Conversation: Dean Carl Zeithaml and Associate Dean for the Undergraduate Program Mike Atchison discuss the multidisciplinary ICE approach that is transforming the core curriculum of the McIntire School," from McIntire.now magazine, spring 2000
What is ICE and how does it work?
Zeithaml: ICE is a revolutionary model for our third-year undergraduate program that integrates the core functional topics usually included in a business curriculum to focus on real business problems and projects. Students will learn, integrate, and apply analytical, strategic, and behavioral skills.
In the fall of 1999, we introduced ICE in two of the eight third-year sections. I was fortunate to team-teach with eight other faculty members in the first, intense month-long session, "Strategy and Systems."
I've been teaching for 25 years, and I can say without hesitation that it was one of the best teaching experiences of my life. The content I covered in this portion of ICE was very similar to some things I've done with MBA students and executives over the years. Our students handled the material just as well—if not better.
Atchison: I'm part of the faculty team-teaching the "Market and Financial Analysis I" session. Altogether, ICE consists of six month-long sessions. Over two semesters, the sessions will comprehensively cover all third-year course material. The big change is in the delivery of that content.
Zeithaml: Students and recent graduates understand that you need to be prepared to work in a world where change affects you on a regular basis. You can't compartmentalize problems the way you once did. You will confront business problems, not just a marketing problem or a finance problem. That's exactly what we're doing in ICE.
Please discuss the match between ICE and the GE Fund.
Atchison: We were well into the redesign of the third-year curriculum last spring when the GE Fund asked us to submit a proposal for its new initiative, Learning Excellence. When we read the request, the objectives described almost word for word what we were planning. It seemed like a perfect fit. The objective of Learning Excellence is to enhance the effectiveness of faculty as they teach in multidisciplinary teams, helping students use new technologies and learning methods. That sounds like ICE.
Zeithaml: When we wrote our proposal, GE's response was a valuable sounding board for some of our ideas. The fact that GE endorsed ICE enthusiastically was an encouraging short-term stamp of approval on our thinking. GE is one of the truly preeminent companies in the world, and we are honored to have this company's support and approval.
ICE represents a transformational curriculum change. GE provided us with the resources that allowed us to invest in our faculty and in new materials. We got the necessary support to do it correctly and to do it much more quickly.
What have been the benefits of ICE so far?
Atchison: The team-teaching approach has enhanced the group experiences that we require of students. They see us working as a team, adding to what each other is presenting, arguing points, just helping each other. It makes for a much more informal classroom situation. I think that this approach encourages a high level of student participation.
Zeithaml: Faculty team members are learning from one another as they teach. I taught with Ryan Nelson, MIS Professor and Director of the Center for the Management of Information Technology, and I learned so much about MIS, organizational processes, information technology, and the great impact of technology and process thinking on business. We worked together to combine these perspectives and knowledge with my strategy material, enriching the students' learning experience and the quality and impact of our teaching.
Other faculty members report they're learning from one another, too. Team-teaching is going to be good for the students, for the faculty, and for our development of intellectual capital. It's an important part of the new curriculum.
Atchison: Another benefit of ICE is that it has eliminated the rigid constraints of the compartmentalized curriculum. For example, we wanted to move the strategy course from the fourth-year to the third-year curriculum, but there wasn't room for another three-credit-hour course. ICE's flexible format allowed us to integrate the course in the first session, making it the foundation for subsequent material.
Zeithaml: We've also integrated business communication into each session, rather than having a stand-alone course. During the first session, students researched CNET, a worldwide leader in Web technology news and information. They corresponded by e-mail with Shelby Bonnie (McIntire '86), CNET Co-Founder and COO. Lynn Hamilton, who teaches business communication, evaluated the student messages and gave the students feedback. Shelby then participated in a videoconference with the two ICE sections, asking questions; answering questions; and discussing the Internet revolution, entrepreneurship, and career issues. Students integrated a company analysis with a valuable lesson in effective communication, and they were exposed to a very successful, entrepreneurial McIntire grad through a new communication technology.
What is the next step for ICE?
Atchison: ICE received a unanimous vote from faculty to continue for at least two years and to expand it to all eight third-year sections. Almost all of the faculty will participate next year. Our ICE learning from this year will be applied to next year's program. New faculty will be actively involved developing effective team-teaching skills.
Zeithaml: Faculty members now have to look at themselves as a team, working together to design and deliver a much more coherent curriculum. We're no longer offering a series of classes that may fit together in some vague way. Now, it really does need to fit together.
We've already seen that it can work. During the "Strategy and Systems" session, Professors Ellen Whitener, Bill Wilkerson, Lynn Hamilton, Mike, and I were all in the classroom on some days. Our individual contributions had to work as a whole. It's one important way curriculum design will evolve.
We're starting to realize that curriculum design, redesign, and development are a constant process. We have to continue to innovate and to take advantage of the tools and technologies that are available to have a first-class curriculum.
CNET's Shelby Bonnie participated in ICE this year. How will corporate involvement fit in the ICE curriculum next year?
Zeithaml: We will have direct involvement of four to eight corporate sponsors, which will give our students access to the most current business issues and practices. As students develop a business plan—a comprehensive, year-long project—corporate sponsors will provide them with information and input. Students will get feedback about their ideas from the corporate sponsors.
Obviously, the benefit goes both ways. It's a great opportunity for the companies to get to know the students and have a great deal of visibility. Students will benefit tremendously from developing a tangible business plan. They'll have the experience of integrating and innovating in an exciting industry.
How are students responding to ICE so far?
Zeithaml: Students brought their parents to a special ICE meeting during Parents' Weekend. It was packed. We had to bring in more chairs. Students were excited about what they were learning. Parents were very enthusiastic about a great ICE experience.
Of course, the measure of ICE success is not just student satisfaction. We'll be evaluating the curriculum and the teaching at multiple points with students, recruiters, faculty, and alumni. The Curry School of Education is working with us on focus group interviews with students. We will also give students exams that are given under other curriculum structures and compare the results.
Atchison: When I present the ICE concept and execution to business professionals, academics, and people in other parts of the University, I get a very enthusiastic response. I've had more fun working on this curriculum over the past two years than anything in the 19 years that I've been at McIntire.
Speaking of ICE...
Carol Sawdye (McIntire '85) Partner, PricewaterhouseCoopers
"ICE is a much more challenging approach for students and one that will ultimately be more rewarding. It will better prepare students for their future careers. ICE teaches all of the skills that are essential to PricewaterhouseCoopers."
Stephen Tucker Program Manager, Higher Education, GE Fund
"One of the aspects of ICE we felt was a good fit with our Learning Excellence program was its emphasis on a multidisciplinary approach and how it affects the student, how the student's learning will improve as a result."
Michael D. Bills (A&S '78) Former COO, Tiger Management • McIntire Faculty, Spring 2000 • McIntire School of Commerce Advisory Board
"Without sacrificing the depth or breadth of the McIntire School's core curriculum, we're delivering to students in less time and with greater effectiveness the outstanding education for which the School has always been known."
Jonathan M. Bishop McIntire Student, Third-Year
"As a student in the ICE program, I believe it to be a tremendous success.
The format allows students to synthesize their core business skills to gain a better understanding of the environmental and internal factors affecting commerce."
Anne Ashley Roehrenbeck McIntire Student, Third-Year
"The ICE experience takes traditional classroom learning to a real-world level. We have realized that the areas of strategy, systems, management, marketing, international business, quantitative analysis, finance, and accounting cannot exist as separate entities. ICE is, then, a more effective and an efficient approach to learning."
View In Timeline