Stop #1: Fourth Floor Lobby
Welcome to McIntire! Throughout this tour, I am going to give an overview of Rouss & Robertson Halls and point out the popular locations, while sharing some of the student experience highlights. McIntire is an upper-division school, meaning that students spend their first two years at UVA, usually in the College of Arts & Sciences, and then apply to McIntire for their third and fourth years. The advantage to this model is that students get lots of exposure to different liberal arts courses and acquire a breadth of experiences before they actually arrive, so each student can add a unique perspective in the classroom. In the second semester of their third year, students can declare concentrations and tracks (areas of specialty catered toward your career), and you really home in on these classes fourth year.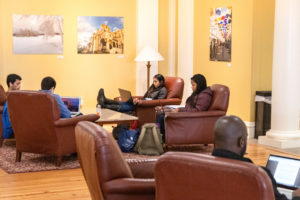 Stop #2: Commerce Career Services
This is Commerce Career Services. A very important question for both students and parents is "What happens after McIntire?" CCS advisers are here to help with that, and offer walk-in hours, appointments, resume reviews, industry-specific programs, webinars, mock interviews, and career prep workshops. The summer before third year, I was fortunate enough to go on a CCS-sponsored tip, the McIntire Finance Trek, during which we got to visit 12 different New York banks ranging from bulge brackets to small boutiques, and tour offices, network with UVA alumni, and attend lunches. I had the best time exploring the city, made a lot of friends, and actually got my job on this trip through a UVA connection.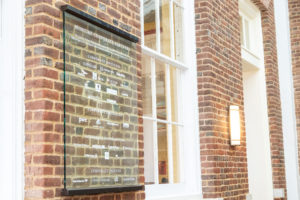 Stop #3: Third Floor Labs and Study-Abroad Wall
Study-Abroad Wall: The study-abroad wall depicts all the incredible locations you can travel to as a Commerce student. Students can study abroad for a semester or during shorter-term trips over spring break, January term, or May term. Over January break, I did the IT Practicum in Argentina, where we worked in consulting teams with local wineries to solve business problems and recommend changes to the owners. Throughout the engagement, our 30-person class also explored beautiful Mendoza, zip-lining over rivers, hiking the Andes, visiting spas, and sampling lots of traditional Argentinian food.
Labs: McIntire has four computer labs available to students. There are also many dual-screen labs with multiple chairs, which are a testament to the many group projects we work on here. You will often see students gathered around these screens late at night, working on Excel and PowerPoint to complete deliverables for their classes. These computers also have Tableau, Visio, and Zoom, and we even have four Bloomberg terminals so that students can monitor and analyze real-time financial market data.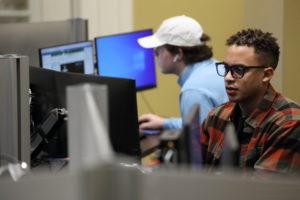 Stop #4: Faculty Offices
Faculty offices line the second and third floors. With the small class sizes here, faculty can get to get to know their students. McIntire promotes an open-door policy, whereby students are able to stop by whenever a professor is in their office to ask academic-related questions or also get professional advice, as many faculty members have extensive professional industry experience. Even during our Integrated Core Experience projects, our professors would stay late, providing us with project guidance and sometimes even caffeine, demonstrating their commitment to student success.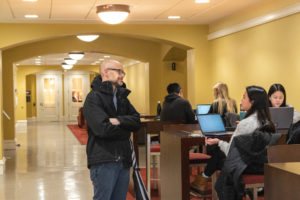 Stop #5: Classroom
Here is a typical ICE classroom. ICE, which stands for Integrated Core Experience, is a key tenet of the McIntire experience. It is intended to give students an in-depth look at the seven major functional areas of business: finance, information technology, management, organizational behavior, marketing, communication, and quantitative analysis. The idea behind this model is that any business leader needs to be well-versed across all business functions to succeed. Rather than offering independent core courses, the faculty engages students in a coherent, integrated series of sessions focusing on business theory and practice and works with real corporate sponsors to simulate workplace experience. ICE blocks of 40-45 students learn by working in smaller teams of five, as well as with a team of seven faculty members and corporate leaders, to solve real-world business problems.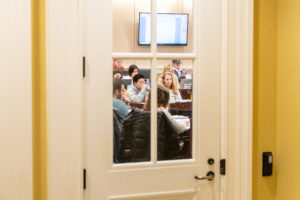 My corporate sponsor was CarMax, and over the course of the semester, our team worked to develop recommendations for the company's omnichannel to improve customer experience. The project culminates with a presentation to actual executives, during which you and your team pitch your idea. It was amazing to see all the creative work teams developed in a mere three months.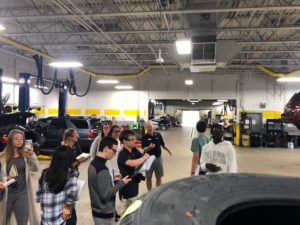 Stop #6: Student Services and Graduate Lounge
Each student is assigned a program adviser based upon your block. They are here to help with graduation requirements, choosing your concentration, and connecting students with resources. They also put on a number of activities throughout the year to facilitate community, like Lunar New Year, the Kickball Tournament, and Late Night Breakfast. My personal favorite is Late Night Breakfast, which takes place during finals when students are working hard to finish the semester strong and the faculty come together and put on an elaborate breakfast buffet with pancakes, eggs, and bacon late at night. It is always great to chat with your classmates while your professors flip pancakes and definitely is further motivation to keep studying.
Stop #7: Study Rooms
These are the infamous McIntire group study rooms. During your third year, you will spend what feels like an eternity in these building models, brainstorming, and writing all over the whiteboards. Throughout your time here, you will work in many groups, as McIntire recognizes that even in the most technical professions, it is very important to be able to work with people. McIntire students excel in this respect after graduation. Group study rooms are also equipped with essential technology. For example, in our third year, we did a Zoom conference call where we took on executive roles of Eli Lilly and projected it back to one of the larger classrooms, where our professors and classmates asked us questions about one of the company's recent acquisitions. It was really fun to simulate this real-world situation and practice our Q&A skills in a lower-stakes environment.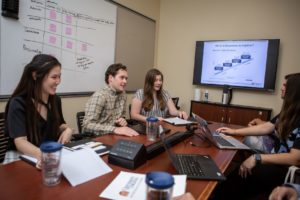 Stop #8: Student Organizations Board
There are 20 business-related student organizations that help form communities around various business industries. Most of these organizations are open to all UVA students, but only 43% of Commerce students are involved in one, so it is by no means essential in order to gain admission. However, you will find that many students here are ambitious and heavily involved around Grounds. Originally, I was pre-med, but it was actually a Commerce organization, Smart Woman Securities, that led me to the Commerce School, and I am so happy to be a part of this community today.
There are many paths to business and to McIntire. Although I wouldn't say mine was necessarily straightforward, I know upon graduation I will really miss RRH and the many memories I have made here. You will make lifetime friends, be able to travel to beautiful international locations, gain an impressive professional skill set, encounter countless student and faculty mentors, and learn both personal and professional lessons that you will carry with you for a long time.