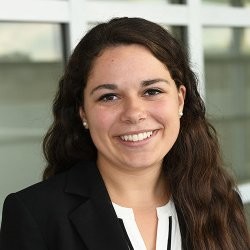 M.S. in Accounting 2020, Financial Reporting & Assurance Track
Undergrad: B.S. in Accounting 2019, Syracuse University
In what areas do you see the greatest professional development among you and your M.S. in Accounting classmates?
The greatest area of professional development among my classmates thus far has been communication. Working frequently in groups provides us with the opportunity to practice the necessary communication skills needed for our professional careers. The emphasis placed on working effectively with our classmates is something I did not experience in my undergraduate program, and I think this will give me a leg up when I enter the workforce.
What are some of the electives you have taken thus far in the Program?
The first elective I chose to take was "Introduction to Cybersecurity." It was a very interesting class because it approached a technical topic from a business perspective. The class equipped us with the knowledge we need to be a productive board member of a company or C-suite-level executive. Knowledge of cybersecurity will be very valuable to my continued success.
Another elective I completed is "Financial Trading." In almost every class session, we had a distinguished McIntire alum talk to us about their career in a unique industry. These visits kept the class very engaging and also created a friendly environment in which we were encouraged to interact with the presenters. We also played a simulation trading game, which gave us real-world trading experience.
What is one aspect of the Program that you believe is vital for any potential applicant to know when going through the application process?
I believe it is vital for any potential applicant to know that the Program truly fosters a community. Our professors are dedicated to helping us and preparing us for successful careers, and every student is actively collaborating and engaging with one another. It's not just about passing exams and quizzes, but actually learning and understanding the material in a way that we can apply the knowledge when we enter the workforce. This Program teaches professionalism and constructive criticism, two important skills to have, in ways that I have never thought about before.
Outside of McIntire, what are your favorite things to do in Charlottesville and the surrounding area?
Outside of McIntire, I enjoy going to Carter Mountain with my friends to watch the sunset and eat apple cider donuts. The Sunset Series at Carter Mountain was a way to really get to know my classmates better outside of McIntire. I also enjoy going to the Downtown Mall, which has a ton of local shops and restaurants. Going to brunch and shopping with my friends have also been a great way to develop relationships without needing to talk about accounting and the job search. I think it is important to have these opportunities to really get to know people and find common interests outside of McIntire. This connection creates lasting relationships with classmates that can carry forward no matter where we land in the workforce.