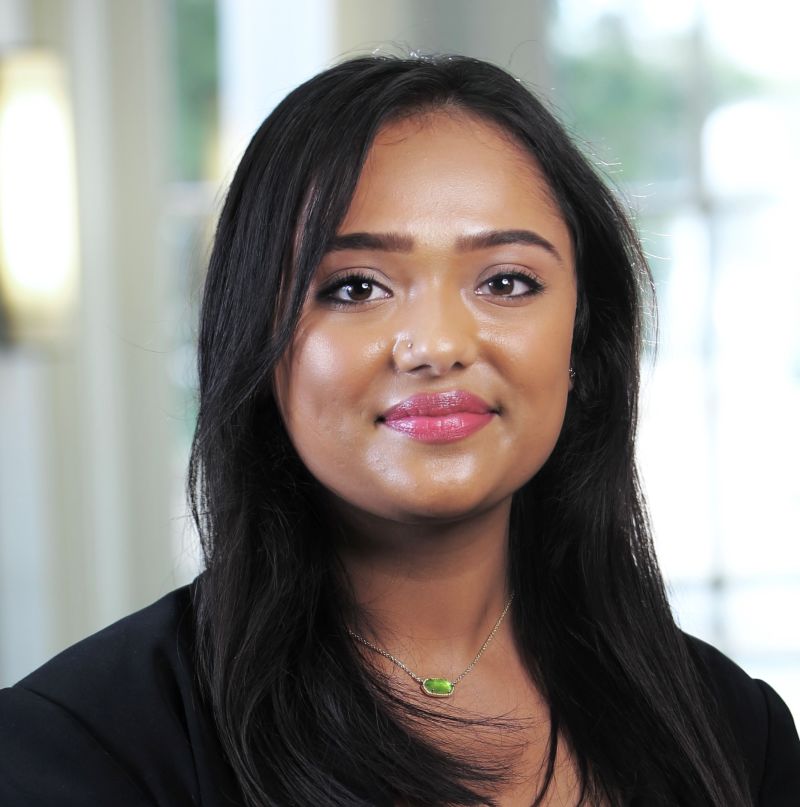 Contact Amy
What appealed to you about the M.S. in Commerce Program?
The opportunities for broadening my skills and knowledge, professional development, and networking offered through the program appealed to me.
What are you looking forward to or have you enjoyed most so far in the M.S. in Commerce Program?
I look forward to building my technical skills and working with my colleagues. So far, I have enjoyed meeting people and making friends.
What are your academic interests?
I am interested in problem-solving, critical/analytical thinking, programming, and technology-related courses. I plan to solidify my Python and SQL knowledge and learn other programming languages or concepts. I'm also interested in eventually becoming certified in critical tools like AWS Cloud.
What clubs and organizations were you involved with during undergrad?
During undergrad, I was involved in the Student Government Association, Madison Honors Leadership Council, Alternative Break Program, University Program Board, Student Ambassadors, and Honors Ambassadors.
What are your hobbies?
I like to travel, go to the gym, walk, cook, paint, watch new movies and shows, and spend time with my friends and family.
Name three places on your bucket list to travel to and why.
1. Italy: I have always wanted to try authentic pasta and pizza (two of my favorite foods). I took a class in Italian society and culture during undergrad, and I learned a lot about its history. I hope to experience Italy and learn more by visiting.
2. Greece: I have always been intrigued by Greek architecture. I really enjoy seeing pictures of the beautiful buildings and sceneries, and I hope to witness them in person one day.
3. London: I stopped by London during a layover when I was younger, but I never got a chance to explore. I hope to explore outside of the airport next time. It's one of those places I would always hear about and see in the movies, so I want to see what it's all about in reality.
What is your favorite restaurant, coffee shop, or place to visit in Charlottesville?
Pineapples Thai Kitchen, but I'm new to the area and hope to explore more places.
Track

Business Analytics

Undergraduate Degree

Political Science, Public Policy and Administration

Undergraduate Institution

James Madison University

Hometown

Centreville, VA

Related Links

Contact Amy