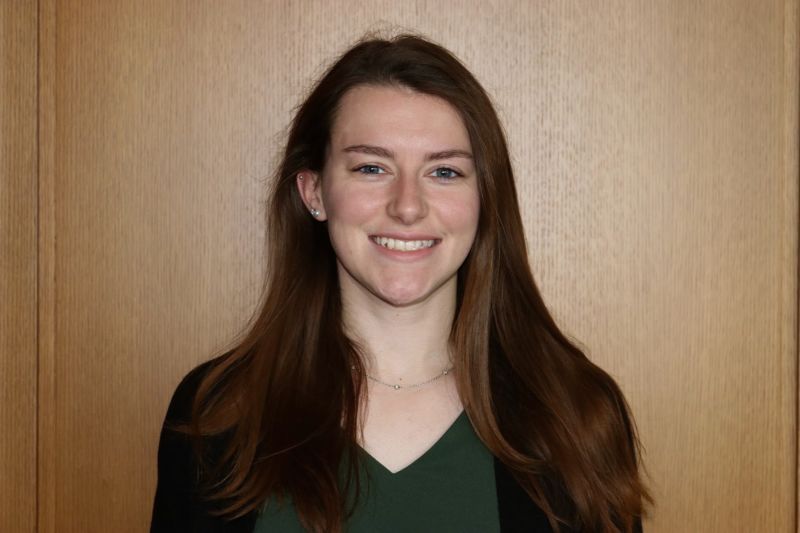 What led you to apply to the M.S. in Commerce Program (Biotechnology Track), and how did you envision it helping you to achieve your goals? What were your interests coming into McIntire, and how did the program support them?
I have always loved science and for most of my life was dead set on becoming a physician. Once I decided to explore other career paths during my gap year teaching, I realized there was an entire field focused on the intersection of science, technology, and business. After researching various master's programs, I found the M.S. in Commerce at UVA and discovered the new Biotech Track. I was thrilled to learn about potential career paths and explore the biotechnology industry in general.
Given your undergrad major, what have you found to be most challenging about studying business topics? What tactics and resources have you used to get the most from your business-related courses?
Most of my classes were exam-based, and I rarely worked in teams, except for certain labs. This is not the case for the M.S. in Commerce Program! It's definitely been interesting learning to work in teams with strict deadlines, but I have loved it so far! I have heavily relied on my classmates, many of whom have prior experience in business or technology settings. The professors at McIntire are also incredible and always ready to lend a helping hand or just chat about life in general.
In what ways has your background contributed to the educational experience for your peers—and how have their diverse perspectives informed what you're learning?
I have a unique combination of experience with my background in neuroscience, legal research, and education. I think lots of people are surprised by how many different fields I have explored, and I firmly believe my experiences allow me to bring new perspectives to the world of global commerce. Many of the cases we discussed in class related to my previous work experiences, and it was great to share with my classmates and professors. As a whole, my background is rooted in service for the common good, which really drew me to McIntire.
What project or assignment has been the most rewarding for you thus far and why?
For our final project in our Biotechnology Seminar, each student had to choose a disease indication and create an investor pitch about a new technology to explore. It was definitely a challenging assignment, but we had a solid foundation of key biotechnology concepts and several examples from guest speakers. It was interesting to make a pitch deck for potential shareholders in a startup company, and I definitely felt more confident in my ability to translate scientific principles into viable business opportunities!
What have been the most surprising aspects of your Biotech courses?
I really underestimated the size of the alumni and professional network at UVA. We have already had so many incredible guest speakers as part of our Biotech Seminar, with many offering professional guidance and support for students. Everyone has been so welcoming and ready to direct students in any way possible. Professor Hastings also has an amazing network through her own biotech nonprofit, which is fantastic for UVA and Charlottesville.
What do you enjoy most about being in Charlottesville? How has it enhanced your time at UVA and McIntire?
I love the tight-knit community and small town feel. I don't feel like there is a separation between UVA and Charlottesville; students and staff are well integrated into the community, and everyone genuinely cares about the city. The beautiful weather and the great food are also a bonus!
How do you envision your experience in the program helping you with your career plans upon graduation?
The network you find through McIntire and in the Biotechnology Track really can't be beat. I know that my connections and friendships made during the M.S. in Commerce Program will last for years and can provide extra support when needed. Along with a solid foundation in business, I can utilize my expanded network and life sciences background to tackle issues in global health and technology.
Undergraduate Degree

Neuroscience

Undergraduate Institution

University of Notre Dame

Hometown

Jacksonville, FL
Connect on LinkedIn