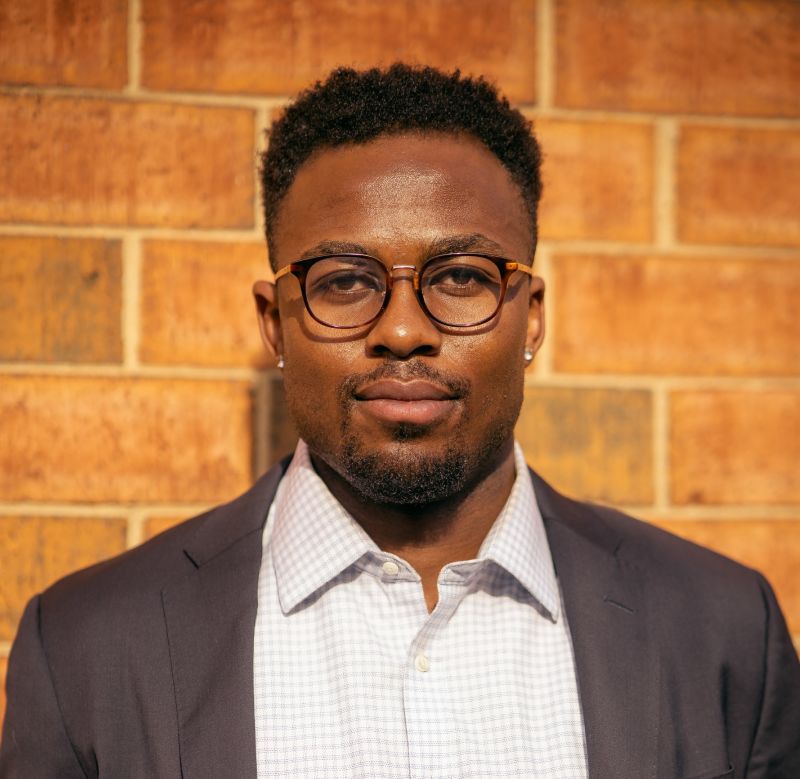 What led you to apply to the M.S. in Commerce Program (Biotechnology Track), and how did you envision it helping you to achieve your goals? What were your interests coming into McIntire, and how did the program support them?
Most of my undergraduate education was grounded in the analytical and technical skills afforded by a major in the sciences. As a student on the pre-med track, I was curious about human biology and its beautiful complexity, and saw a future in the sciences. However, the COVID-19 pandemic offered everyone, especially myself, an opportunity to sit back and reevaluate our lives, and in my case, what would be best for the future of my family, country, and the world. After much deliberation, I decided it would be best if I searched for career opportunities in business.
As I explored the world of finance, I began to have conversations with people about potential career options but was disheartened at the prospect of letting go of my love for the sciences. Thankfully, everything changed after one conversation with [Commerce School] Dean [Nicole Thorne] Jenkins. She informed me of the introduction of the Biotechnology Track in the M.S. in Commerce Program at McIntire. The program and School are already well renowned for their unique and applicable education, and the addition of such a relevant track was the icing on the cake for me. You could have knocked me over with a feather when I discovered that I could be at the cross-section of business and life sciences; not only would I be at the center of the cross-section, but I would be in a prestigious inaugural class that would teach me about both sides with a global context as well.
Entering the program, I was interested in Life Science Private Equity. The program has supported me by teaching me all—if not more—than I need to know for an entry-level job in finance using a case study framework and the application of both soft and hard skills. The Biotechnology classes are taught in a way that surveys the whole field and is taught by an accomplished professor aided by talented guest lecturers in various aspects of biotechnology, such as immunotherapy. The professors and Dean have been very supportive of my education by offering assistance outside of class and encouraging my learning and growth, such as allowing me to sit in on an extra Finance class to build upon my knowledge.
Given your undergrad major, what have you found to be most challenging about studying business topics? What tactics and resources have you used to get the most from your business-related courses?
The most challenging aspect of studying business has been understanding the financial world and its historical context. Given my background and interest in science, I had not paid much attention to the world of finance, however, the classes are structured in a way that provides a holistic understanding of business within the historical and global contexts of commerce. Working with classmates and having professors who are more than willing to help has enhanced my experience.
In what ways has your background contributed to the educational experience for your peers—and how have their diverse perspectives informed what you're learning?
First off, I have never been in a more diverse class or cohort—not only culturally, but also a diversity of thought, interest, and experience as well. I come from a country in which there is a massive inequity in wealth and health. As a result, I provide a different perspective on ideas surrounding capital investments and health disparities, a perspective rooted in a collectivist thought process. In classes like Strategy and Systems as well as Foundations of Global Commerce, it is remarkable how many differing opinions and thought processes there are in class, which serves to enhance the learning of everyone present and provide a global context to the material.
What project or assignment has been the most rewarding for you thus far and why?
1. Biotechnology Final Project: We were tasked with selecting a disease and a possible intervention. Once selected, we were to research a company offering a potential treatment indication. The research was geared towards presenting the chosen intervention to a board of investors in an attempt to persuade them to inject capital into the chosen company. The research drew upon all of the topics we had learned in the program, from Finance and Accounting to Strategy and Systems. It was great to bring all the knowledge together to create a project that would closely resemble the work I would carry out in the field of biotechnology investment banking or private equity.
2. Final Integrated Exam: The final exam required us to understand a chosen firm and provide a personalized analysis of it by answering the exam questions in the following subjects: Strategy & Systems, Strategic Cost Management, Financial Accounting, Marketing & Qualitative Analysis, and Organizational Behavior. The exam was done in pairs, which again reinforces the emphasis on collaboration in a work-like environment.
What have been the most surprising aspects of your Biotech courses?
The most surprising aspect of the Biotech course has been how far ahead it has placed me in understanding the work required by a first-year analyst in the life sciences financial space. We are given a somewhat in-depth understanding of all topics at the frontier of biotechnology, for example, immunotherapy, medical devices, rare diseases, vaccines, and more. I was not expecting to be able to consume advanced peer-reviewed articles detailing a novel intervention so quickly, and be able to apply a business context to it and explain it in a way that is digestible to most.
What do you enjoy most about being in Charlottesville? How has it enhanced your time at UVA and McIntire?
I enjoy Charlottesville because it is the epitome of a college town, with great food and endless opportunities to get outdoors, all while being surrounded by all my closest friends and learning and competing with them at a high level; there is not much more one could ask for. It has made my time at UVA memorable and enriched my education and sporting prowess.
How do you envision your experience in the program helping you with your career plans upon graduation?
I have garnered a substantial amount of knowledge and hard skills necessary for the career trajectory I wish to follow, but it is the soft skills and connections I made that I think will really set me up for a successful future.
Undergraduate Degree

Kinesiology

Undergraduate Institution

University of Virginia

Hometown

Charlottesville, VA
Connect on LinkedIn