Even with the chilly weather and social distancing regulations still in place, there are a variety of exciting activities to do in Charlottesville this winter. Whether you live in Charlottesville year-round or are looking for something to do before the school year starts up again, check out these opportunities to get out into the community, support local businesses, and have some fun while you're at it.
1. Check out local wineries.
The Charlottesville area is filled with dozens of wineries serving up awesome drinks and delicious snacks. As if that isn't enough, many local spots offer breathtaking views and expansive landscapes that are beautiful year-round, even in the cold of the winter.
Whether you're looking to have a socially distant meet-up with friends or want to check out some spots with your family, there are so many great places to try: Barboursville Vineyards, King Family Vineyards, Blenheim Vineyards, Gabriele Rausse Winery, and so many more. Another great thing about wineries is that they provide plenty of outdoor seating with heaters and fire pits, allowing you ample space to stay safe and warm.
2. Visit the Kluge-Ruhe Aboriginal Art Collection of the University of Virginia.
Located in a historic home on the eastern side of Charlottesville, you'll find the Kluge-Ruhe Art Collection, a museum dedicated to creating recognition of and appreciation for Indigenous Australian art and culture. Home to galleries, activity spaces, and several exhibitions, including paintings, sculptures, prints, and more, the museum provides an opportunity to immerse yourself in Australian art, culture, and history that you can't find anywhere else in the United States.
The museum is currently open and is taking many precautions to ensure the safety of its staff and guests. Visitors are welcome in groups of up to eight at a time, but they must make a reservation in advance. Once you make a reservation, you and your party will have a 30-minute block to search the museum completely by yourselves, free of charge. All employees and guests are required to wear face masks and upon entering, you and your party will receive a packet including directions and literature that may be helpful to you as you search the museum.
There are also several ways to interact with the museum and its staff virtually. Kluge-Ruhe offers a variety of online events like lectures, discussions, and artist talks, as well as virtual tours of exhibitions and an Aboriginal Art 101 guide, to help you learn about the Indigenous culture.
3. Take a hike.
It's no secret that Charlottesville is home to a variety of beautiful hiking and nature trails, providing a great opportunity to get outside. Located only a short drive from locales like Shenandoah National Park and Skyline Drive, there are a multitude of well-known hiking destinations, and you can't go wrong with any of them.
No matter where you go, you'll find wonderful views and get a little bit of a workout in too. With so many options, you can find a location that is the perfect difficulty level or terrain for you and your family or friends. And if you're an early bird, try catching the sunrise at Shenandoah National Park—you won't regret it!
4. Support local restaurants.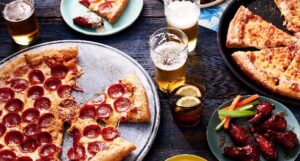 Charlottesville also boasts an incredible "foodie" scene, including a wide variety of cuisines and widely known restaurants and chefs. Whether you've got a well-developed palette or are a picky eater, there's something for everyone around town.
Luckily, you don't need to commit to an indoor dinner to enjoy the delicious food, with many restaurant locations offering pick-up and delivery options. Another great way to support the local businesses is to buy gift cards to give as gifts to friends, family, or colleagues. While there are way too many restaurants to list here, a quick Google search will get you down a delicious rabbit hole and on your way to something yummy!