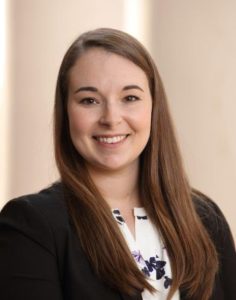 As Assistant Director for Career Development in McIntire's Commerce Career Services office, Katie Kinniburgh serves as the primary career services representative for M.S. in Global Commerce and M.S. in Accounting students, identifying and responding to their coaching and career programming needs to achieve student career success. We recently sat down with Katie to discuss what career support looks like for our M.S. in Global Commerce students.
What skills are students gaining from the M.S. in Global Commerce (MSGC) that employers are looking for?
Students walk away from the Program with a well-stocked professional toolkit. MSGC students gain crucial content knowledge and technical skills through their courses and global business thesis project. Beyond that, students also develop the transferable skills that are of particular interest to employers – skills like adaptability, teamwork, communication, and cross-cultural competency, just to name a few.
What's unique about the MSGC Program?
From a career outcomes perspective, something that's unique about the Program is the opportunity students have to learn and grow within such a professionally diverse cohort – each student comes to the Program with a distinct perspective, developed through their own past experiences and contributing to a unique vision for their future. Students have the opportunity to learn from one another, explore exciting career possibilities that they might not have considered previously, and leverage the MSGC global alumni network from the University of Virginia, Lingnan (University) College, and Esade Business School to help them get there.
Do students have access to career services from all three schools or just McIntire?
Absolutely. Students have access to McIntire, Esade, and Lingnan career services and resources for the entirety of the Program.
What industries do you see from graduates of the Program entering?
Students enter into a variety of industries after graduating from the Program. Consulting, management, retail and e-commerce, finance, and hospitality are just a sampling of the many industries our students have moved into at multinational organizations.
What are the most effective strategies for students seeking a position?
Network! I cannot overstate the importance of talking to people and establishing a professional presence in your intended field/industry. If the word "networking" intimidates you, you are not alone – my team and I are here to help you learn the ropes, build and maintain meaningful professional relationships, and maximize your candidacy for the opportunities you seek out.
What do McIntire's employer relationships look like?
Commerce Career Services maintains close relationships with a robust portfolio of the most sought-after employers. Our Employer Relations team identifies and develops recruitment relationships with key employers in the U.S. and internationally, and connects students to these employers through extensive recruiting programming.
What kind of programming and events do McIntire and UVA offer to MSGC students?
Students have access to a number of programming and events during their time at McIntire (and remotely as well, during their time in China and Spain!):
Employer-in-Residence and Alumni-in-Residence general networking, office hours, and mock interviews
Industry exploration and preparation programs (e.g., the annual Consulting Symposium and Careers in Marketing Forum)
Career fairs, both in-person and virtual; Commerce Career Day is our annual career fair drawing over 300 employers to Grounds
On-Grounds interviewing
Employer information sessions and networking nights
Mentor programs (e.g., a mentor matching program with MBA students at the Darden School of Business)
Information sessions and recruiting chats by MSGC alumni