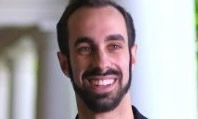 Alex Cohen (M.S. in Global Commerce 2017)
Undergrad: B.S. in Accounting 2016, Florida State University
Now: Accenture Interactive, Consultant (New York, NY)
What drew you to M.S. in Global Commerce Program?
I graduated with a bachelor's degree in accounting, and at that time, I didn't feel that I wanted to pursue an accounting career. However, I knew that I've always wanted to explore and get out of my comfort zone in a business setting.
What are you up to now?
I work for a group within Accenture called Bloom. We go to a large corporations and come up with new ways to create innovative business models for the company. Really, it's trying to help the incumbents protect themselves from startups coming into the industry and disrupting them.
For example, we'll look at a large Fortune 500 company and leverage their assets, as well as explore new ways for them to make money. Take, for example, Coca-Cola or Pepsi. They have a huge supply chain distribution in the U.S. and globally. Think of all the trucks they use for shipping, and let's say the average truck is utilizing only 70% of its capacity. That means there's 30% that could be used. There's an opportunity to create a partnership with USPS or Amazon, or we explore if there is a smaller company that needs to ship their product. It's about being able to find ways to utilize that extra 30% capacity to create a whole new revenue stream for companies like Coca-Cola that they never knew existed.
How did the M.S. in Global Commerce prepare you for your role at Bloom?
I truly think that if it wasn't for the M.S. in Global Commerce Program, I wouldn't be where I am today. I've been able to stand out as a candidate in interviews because of my unique experience. Employers are genuinely interested in me because my experiences in the Program stand out. My interviews are more conversational because hiring managers ask questions about the Program and my travels, and it all directly relates to the role because I'm able to talk about working with people from different backgrounds in an international context. I don't fit the average profile but rather, I come off as a differentiator for the company.
How would you describe the career support during your time in the Program?
Amazing. I mostly utilized Commerce Career Services who really went above and beyond. It's hard to describe how hard they work to support students, but here's my story as an example:
Kurt Salmon came to UVA during a career fair that McIntire holds in the fall, and I ended up applying for their Atlanta office. However, they had some issue with their application system and ended up canceling anyone who had applied to the Atlanta office. Thus, I didn't get an offer for an interview. However, my career adviser put in extra effort and reached out to a recruiter at Kurt Salmon directly on my behalf. She said, "You definitely need to interview this guy. He's got great potential." I did get an interview after all, and although the opportunity didn't work out, I was so impressed that my career adviser went above and beyond to advocate for me.
What did you enjoy most about studying in each location?
This speaks more to the Program as a whole, but the people were the best part about each location. Sixty to seventy percent of students were not from the U.S., and I really enjoyed that. My roommate was from Serbia, and getting to know him, his culture, and his experiences was very eye opening. He's one of my closest friends to this day and actually ended up moving to New York, where we're now roommates!
In Barcelona, there were many soccer fields where we'd hold pick-up games. I remember taking a step back and looking around me, realizing there were people from 18 different countries playing together from all over the world. It was just a blast.
If you could give one piece of advice for someone considering the Program, what would that be?
Just do it, and get comfortable being uncomfortable. You're living not only in a different part of the U.S., but also two other countries where English isn't the first or even second language. You're living with students who come from all over the world and from different backgrounds. Where else are you going to experience something like that? Set yourself up to stand out.