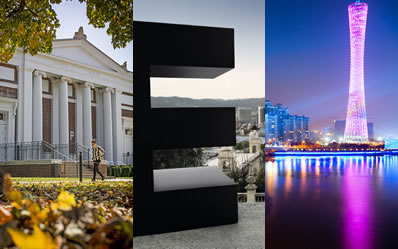 As U.S. universities retool their courses and programs to meet demand, McIntire's innovative M.S. in Global Commerce leads the pack in preparing students to be effective participants in the interconnected international economy.
Debuting in 2016, the immersive pre-experience graduate program brings learners to Grounds; Guangzhou, China; and Barcelona, Spain. The members of the select, diverse cohort earn an M.S. in Global Commerce from UVA, an M.S. in Global Strategic Management from Esade Business School at the Ramon Llull University, and a certificate in International Business from Lingnan (University) College at Sun Yat-sen University.
Ahead of the growing trend for globally focused curricula, the intensive 10-month, three-continent program emphasizes collaboration and developing global business competencies through economic, social, geopolitical, and cultural factors. The U.S. News & World Report article features Caroline Wimbleton (M.S. in Global Commerce '18) as an example of the program's benefits; Wimbleton credits the experience with facilitating her entry into a marketing management position with Allianz Partners in Madrid.
Denise Egan, McIntire's Assistant Dean for Career Services, notes that graduates of the inaugural class have found positions across the world, securing jobs with Amazon, Google, Marriott International, Rolls-Royce, Tencent, Volvo, GSK, and Vodafone.