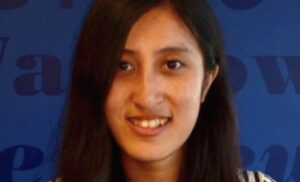 As someone interested in experiencing the world and connecting with people from different cultures, Wen-Chi "Gigi" Su smartly surmised that UVA's Global 3 was a master's program practically tailor-made for her.
In the years leading up to applying to the program, Su followed her passion for global business, earning a B.S. in International Business at National Chengchi University in her native Taiwan. She then followed her undergraduate studies with internships at KPMG Advisory, DBS Bank, and other firms. But when she learned about the opportunity to gain a true global perspective with a diverse set of classmates on three continents through Global 3, she saw it as a tangible route to reaching her professional and personal goals.
Su says that her time in the program had a profound effect on her understanding of both business and people, noting that having a global mindset and understanding different cultures shaped her views.
"Knowledge of the global business environment and an openness to diversity are very important nowadays as key soft skills but often neglected in some business settings," she says. "Business knowledge and strategic thinking can be taught and cultivated over time, but studying across three continents is a unique experience."
The 2018 Global 3 graduate adds that the innovative program strongly emphasizes cross-cultural teamwork throughout the coursework. "It's not as simple as just putting students of different nationalities together, nor as easy as taking students to different continents to study and have fun," she says, referencing the program's immersive global studies that take place at UVA, Esade Business School in Barcelona, Spain, and Lingnan (University) College at Sun Yat-sen University in Guangzhou, China.
Rather, she notes, much of the coursework serves to purposefully educate students to learn how to effectively to interact with people from different backgrounds: "Cultural events to experience diversity in casual situations and many challenging group assignments compel classmates to bridge disparate backgrounds through teamwork. Ultimately, I believe most of us are more than thankful that we could practice doing real 'global business' during the program and prepare ourselves to enter the global business environment. At the same time, it was both challenging and fun!"
Professional Applications
Some of the real-world learning in the Global 3 program came in the form of team assignments, business cases, and, specific to McIntire, intensive sessions mastering tools and applications such as Tableau and Google AdWords, Su says. But in her current role as a Senior Client Solutions Associate with knowledge expert network consultant company GLG, she finds that her Global 3 education dovetails with the responsibilities of her role.
"We position ourselves as an industry knowledge marketplace with some overlap in consulting and research providers, leveraging our own network of subject matter industry experts to solve our clients' research questions. And since our clients come from everywhere, what they're looking into can also be found anywhere in the global markets—meaning that we can be working with industry experts from around the world," Su explains. "The business itself is quite global, and my role is Client Solutions, servicing my own book of accounts, which are mainly hedge funds, a few long-only funds, and Hong Kong-based private equity."
She believes that Global 3 helped prepare her for her role at the 2,000+-person multinational company by developing her familiarity with tackling issues with cross-cultural teams and communicating effectively, as her position requires Su to understand her clients and their project needs, interacting daily and exchanging pertinent information with them as well as experts in different parts of the world.
"Being a good team player isn't enough: Communicating accurately and wisely is the key to keeping projects moving forward. Nearly everything is about communication," she says, admitting that it's also what she enjoys and finds most exciting about the job, "because human beings can be unpredictable and complicated—as opposed to machines or data! And as we work with experts in a wide range of industries from around the world, I've never been bored since I'm learning and working with different people every day on new subjects."
Su also says that the graduate program equipped her with the skills to learn quickly and consider issues with a logical method. "At GLG, projects can focus on any industry with any size scope, depending on the interests of my clients, and timelines can sometimes be tight—and with multiple competitors working on the same project. So being able to learn fast and taking a logical approach in order to crack a project's objective and research new knowledge are very important in my work." 
Crucial Connections
Su notes that the Global 3 program made it easy to quickly make friends from around the world, thanks to the diverse backgrounds of her classmates.
"Sharing the unique experiences of the intense dual-master's [plus certificate] program together connected us as friends. Many of us keep in touch with people from the program, and we still meet in different parts of the world during longer holidays," she says, pointing out that, because of the program's three schools of study, graduates have the advantage of connecting with a global network triple the size of most other graduate programs.
She also commends Global 3's career events and school services offered at each of the three schools, which helped her to develop both her professional and personal networks.
"During the program, many of us were busy going into career service offices to learn about opportunities, take practice interviews, and network with alums of each school. Of course, while you might eventually end up doing one job based in a single country, it doesn't mean that your role will always be limited to just one single market; as the world is getting more connected than ever before, we might all find ourselves facing global business topics and cross-cultural markets as we assume senior job roles or as businesses expand," Su says.
Perhaps one of the most important pieces of advice she says would give to anyone considering applying to the Global 3 program is to remain broadminded and open to new situations and people.
"The program itself is very dynamic and fast-paced—and there might be many challenges beyond coursework and business knowledge," she says. "You need to have a growth mindset to embrace the diversity and differences you might not have experienced before."
Su insists that having that attitude has served her well in the program and beyond: "Now that I have lived and studied in different parts of the world and had a taste of the different institutions and their regions, it's easy to discover common ground with new people I connect with, whether it's travel, cultural, living, or school experiences. Global 3 not only broadened my horizons but also broadened my potential to network with different people!"