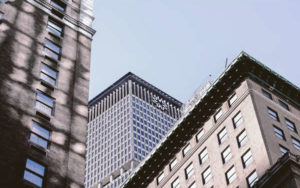 VUREC, the Virginia Undergraduate Real Estate Club, is on its way to becoming McIntire-affiliated.
At the Feb. 8, 2019, President's Council meeting, 22 Commerce-related student organization presidents voted to grant VUREC a provisional affiliation with McIntire. With that decision, VUREC stands to officially become the 23rd McIntire-affiliated student organization when, in one year's time, club members present VUREC's metrics to the council at the start of the spring 2020 semester.
VUREC is designed to offer an open forum for dialogue between UVA faculty and student members from across the University about the real estate profession; the impact of development; and related fields such as architecture, finance, and urban planning. And though VUREC intends to remain open to all UVA students regardless of their major or knowledge of the subject, VUREC officers hope the official connection to the Commerce School will help to elevate the club and extend its abilities to offer programming.
"While VUREC aims to be a platform for all UVA students interested in real estate, we think that it is a fantastic opportunity to be affiliated with McIntire because we can collaborate more closely with McIntire students, professors, and alumni to build a community of business students interested in the subject," says club president and and Accounting concentrator Katie Winner (McIntire '20). "The McIntire affiliation will allow us to more seamlessly integrate a business perspective into our real estate platform at UVA."
The new relationship with between the student group and the Commerce School has the potential to enhance VUREC's platform for thought leadership, networking, and professional development, Winner says. The club also intends to use the affiliation to forge a tighter bond with faculty and students in McIntire's Real Estate Track.
In addition to its plans for working with the McIntire community, VUREC will continue to invite local professionals in real estate development, finance, and urbanism to speak to club members about their subject of expertise. VUREC will host its next event at Rouss & Robertson Halls April 11, 2019, when it welcomes Harry Klaff, Managing Director of Jones Lang LaSalle and Immediate Past Chair of the Northern Virginia Chamber of Commerce, to speak to club members.