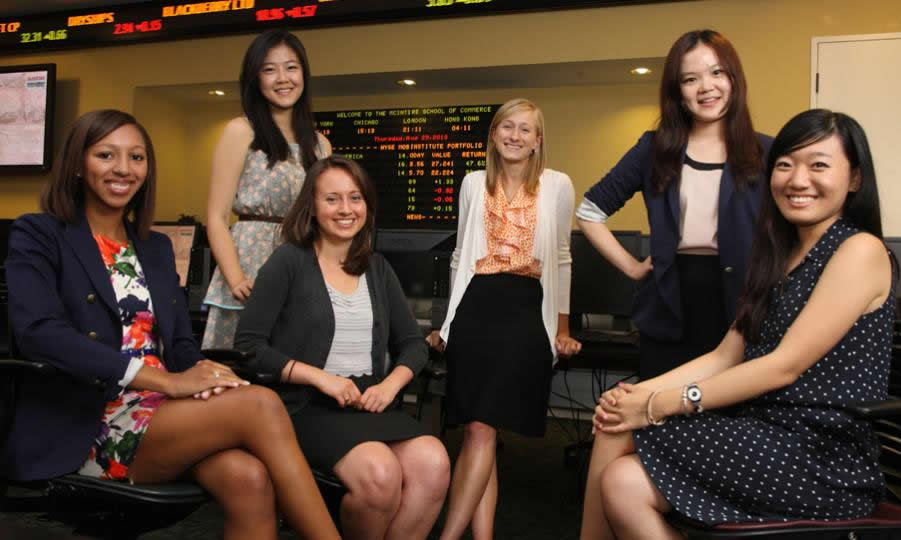 A recent article by College Magazine named UVA in its list of "Top 10 Schools for Female Entrepreneurs Who Want to Change the World" and touted the McIntire School specifically for its support of female business students. The online publication ranked UVA ninth in its list of American universities that create encouraging experiences for aspiring women entrepreneurs, singling out McIntire for its wide-ranging and effective inclusion initiatives.
College Magazine, published by university students across the country, identified McIntire for recognizing the needs of the evolving business landscape, as well as for taking a proactive approach to attracting and encouraging a diverse student population. Notable initiatives include the Women's Business Forum, which discusses gender issues and challenges in work and family relationships, and affinity organizations that represent several groups, including students of color and members of the LGBTQ+ community. McIntire's new and expanding Office of Diversity, Equity, and Inclusion conducts ongoing programming that creates an inclusive environment that empowers all community members to value each other and fully engage—both in and out of the classroom.
Beyond its commitment to the success of its women and minority students, McIntire offers budding entrepreneurs many avenues to pursue their aspirations, including interdisciplinary entrepreneurship tracks, specialized courses, and a comprehensive pan-University undergraduate minor. These programs actively prepare students for future positions as founders, investors, technologists, and executives in the new venture community. McIntire's Galant Center for Innovation and Entrepreneurship offers students further learning opportunities by sponsoring guest lecturers, organizing visits to start-ups across the country, and hosting the annual Galant Challenge—a showcase that connects inventive projects from the UVA community with capital.
McIntire's unique blend of entrepreneurship and inclusion throughout the educational experience has given way to a long list of eager entrepreneurs from all backgrounds who are actively creating companies and products that are changing lives and bettering business.
See the full list of schools at College Magazine.