Atlanta, GA, native Nick Jackson says that his parents were, first and foremost, always focused on his academics. As such, the inside linebacker for UVA football has taken that priority to heart.
He's smartly kept his mind fixed on the challenges of the tasks at hand: McIntire's Integrated Core and the 2021 season. But it's all part of a longer strategy Jackson has for himself.
"My commitment to UVA was also based off of the Commerce School and the opportunities that it would bring me for life after football," he says. "I applied because I wanted to build these connections and learn in a competitive school that will push me from all angles."
One area of McIntire that holds particular interest for him is Marketing. Studying the subject offers another connection to his family, as his father, Doug, graduated from the College of Arts & Sciences with an English degree in 1987.
"He now owns his own marketing agency; I want to learn more about what he does."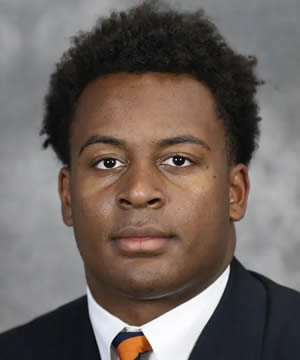 A Competitive Schedule
Jackson readily admits that balancing football and his Comm School workload will take an increased amount of attention. The time he's spent preparing for and competing in games stands to make a positive impact on how he plans to successfully navigate his courses at McIntire, as he's learned that staying ahead is a key to reaching his goals.
"Once I get behind, it is honestly way too hard to catch up and still be able to perform on Saturdays," he says. "When I am studying for coursework, I kind of just think of it as a football game: The exams and projects are game day, and the homework is like practice. With that approach, it gets me to compete against myself to learn more and more about the concepts that I need to apply in my studies."
The rigors of McIntire's immersive third-year program are well documented, so for Jackson, it requires nothing less than strict discipline with his time. During the fall, his sport demands three hours every morning for meetings and practice, followed by weightlifting and studying film with his teammates in the evenings.
"Football takes around 20 hours a week, not including travel time during game weeks, and probably four to five hours a day," Jackson estimates.
Professional Goals in Two Fields
He has high expectations for himself and what he aims to achieve this fall, both in the classroom and on the football field.
He's shooting for his own personal best and to be recognized widely for it, playing to be the consensus best linebacker in the ACC and to "be in the conversation for best in the country."
Having started in all 10 of UVA's games last season, Jackson was acknowledged as the #2 linebacker in the ACC and #16 nationwide, with 10.5 tackles per game, as well as ranked second in the ACC and sixth in the nation, with 105 tackles. But he notes that it will take continued growth in multiple areas to be considered the top player in his position.
"I have to keep progressing and building off of the foundations of the past two years. There is so much more for me to improve on and get better at, and just working with the coaches every single day to improve is my biggest focus to maximize my potential."
Jackson's hope for the future—directly following his two years at McIntire—is to go into the NFL to forge a successful football career, but he's already thinking beyond that, entering the business world and following in his father's footsteps with a professional life in marketing.
As a player and a student, he says that missing his closest relatives back home has been the most difficult experience he's faced through all of his recent experiences.
"At times, with school and football being so time consuming in my life, I don't get to talk to my family as much as I would like to. It has taught me to cherish the moments that I do have with them," he says.
And as he gears up for what has the potential to be a breakout season for Jackson, he remains guided on his academic and athletic efforts by a well-grounded philosophy that has kept him on an upward trajectory: "Live in the moment, and maximize each day. You have to stay where your feet are."