This Centennial Year, we honor our past, present, and future. This article was originally published Nov. 1, 2019. Sabina Ewing is Global CIO, Vice President Business & Technology Services at Abbott.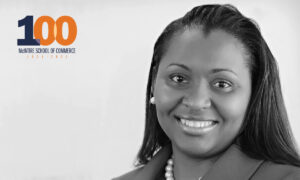 Sabina Ewing can trace her career in tech leadership back to when she was a fourth-year Commerce student performing her first IT consulting job for the UVA Bookstore as part of her McIntire coursework. And from the earliest part of her professional life managing client engagement at Arthur Andersen's Business Consulting practice to her current position as Vice President at Pfizer in Shanghai, Ewing credits McIntire and its faculty for acting as a vital impetus for her success.
"From that very first assignment until today, as the technology leader for Pfizer's Upjohn division, I sincerely appreciate the quality preparation that went into establishing the foundation of my capabilities and skills. I often say that I had the raw materials when I entered McIntire, but the Comm School was the sandpaper that really shaped me into being polished for a high-quality career of impact in technology," she says.
Recalling Professor Michael Atchison and his efforts to provide a pathway for African American students to become acquainted with McIntire and its professors during a Comm Connection summer program, Ewing says the opportunities that he presented to her were key to her acceptance into the Commerce School—and are central to why she felt compelled to give to the School's Centennial Fund for Faculty Excellence.
A cornerstone of McIntire's Inspire the Next Century Campaign, the Centennial Fund provides support for the School's passionate faculty in perpetuity, strategically pooling Ewing's gift with other similar contributions of $100,000 or more made to the $100 million endowment. In addition to creating named professorships and fellowships, the fund will offer critical and flexible annual resources that compound as it grows, ultimately supplying permanent support for Commerce faculty recruitment, retention, and research.
"UVA exposed me to possibilities beyond my initial dreams, and paramount to my success was the catalyst role that McIntire played in setting me on this career path," says Ewing. "I am supporting the fund because of the investment my brilliant professors made in me—Bob Webb, Raymond Haas, Mike Atchison, Larry Pettit, George Overstreet, and countless others. Now I'm paying the dividends through this commitment to help ensure that future generations of students have continued access to the best faculty and resources."
The Centennial Fund for Faculty Excellence will not only safeguard McIntire's ability to attract and retain gifted business educators who foster tight-knit connections with students, but also empower faculty to develop and expand a host of enterprises, including its renowned transformational global courses, enlightening industry career treks, timely curriculum innovation, and groundbreaking, collaborative research with scholars across the world through the School's six Centers of Excellence.
"McIntire builds leaders. Student self-governance sets you on a path to lead in all facets of your life," she says. "We bring a strong sense of confidence, integrity, problem solving, creativity, independent thinking, teamwork, and an unwavering commitment to excellence. Those are core to my values and how I deliver for Pfizer every day."