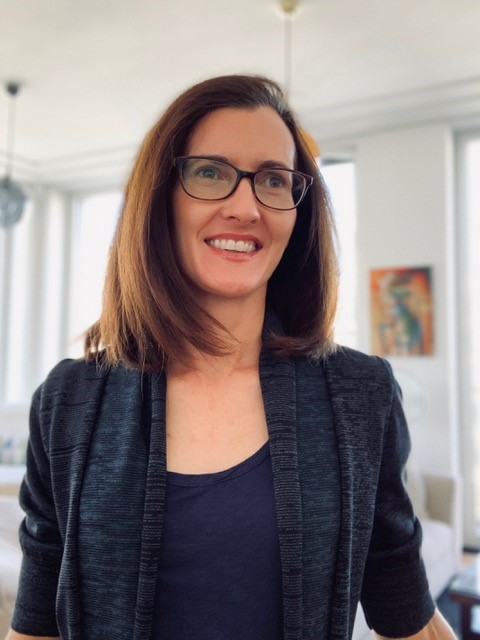 Virginia Taborda's career began in jet engine sales, but now she's focused on making a difference through renewable energy.
Why the change? She followed her time at the Commerce School as a participant in Rolls-Royce's inaugural U.S.-based leadership development program, taking part in the initiative hosted by the former McIntire corporate partner for a year before staying on with the firm in various roles for another five.
Her skills then took her to positions in the Washington, D.C., area; New York City; Derby, U.K.; and Montreal, Canada. All told, she had spent roughly another five years serving as an executive overseeing various aspects of sales, strategy, business development, operations, maintenance, and purchases in the aircraft industry. But it was a career break in São Paulo, Brazil, after the birth of her first son in 2013, that prompted Taborda to take a different direction in her professional life.
"I had the opportunity to work with various organizations to help improve livelihoods," she says, noting that experiences with São Paulo's extreme poverty and pollution moved her to make a career pivot. "I needed to be working on something that would have a positive impact on the world, changing it for the better. This urge and my affinity for big technology products led me to renewable energy. But I also saw the potential to have a great career in renewables, because it is the future!"
A Second Life
Taborda relocated to the Berlin area in Germany, where for three and a half years she served as Director of B2B for Solarkiosk AG, a developer of solar tech for rural populations in developing countries. Then in August 2019, she joined betteries, a company whose mobile and modular system of power runs on upcycled, used electric vehicle (EV) batteries.
Focused on the upcoming wave surplus of obsolete batteries deriving from wider adoption of EVs, betteries believes that repurposing EV batteries will provide affordable renewable energy that can help combat some sustainability challenges.
"The batteries that become 'obsolete' in EVs still have an average capacity of 70% remaining, but they are removed from the EV because they can no longer achieve the range promised by the manufacturer," Taborda explains. "They can still be used for many other applications, like off-grid power and backup power, and even to power three-wheeled vehicles like auto rickshaws."
Potential applications range beyond EVs, which uniquely positions the company with its economical and ecological tech. "It enables betteries to offer energy storage solutions at half the cost of using new batteries, making this technology accessible in every market in both developed and developing economies. We hope that by providing lower-cost storage solutions, we can help accelerate the transition to renewable energy," she says.
Passion for the Mission
As Head of Business, Taborda guides betteries with commercial direction in many different areas. She says that, having been in customer-facing roles for her entire career, it is developing relationships that deliver value for all parties involved that she enjoys most about her work.
"I am a salesperson by nature, so I also love the thrill of chasing and closing a deal," she admits. "I also really enjoy working with a team and learning from my coworkers. It is actually really ironic that I have spent 18 years working for hardware technology companies, as I have never even taken a physics course: I learned on the job from my coworkers, who were kind enough to teach me."
Recalling roundtable discussions during class and brainstorming on intensive projects well into the night, Taborda says the synergies of working in a group turned out to be the aspect of her McIntire education that has stayed with her and what she enjoyed most about the Commerce School.
"It is really important to be able to exchange ideas in a safe environment and have your own opinions challenged," she says. "Very often the best results can be achieved after collaboration. I have taken this approach into my own leadership style, encouraging discussion amongst the team before decisions are taken or strategies are formed. This enables the entire team to feel part of the result, which strengthens the team's ability to achieve what is needed to drive business forward."
The shared responsibilities that often arise from working in a startup environment often let team members try on other hats. The results from taking on varied responsibilities offer many interesting possibilities to those involved in growing an entrepreneurial venture and advancing its goals. Taborda says the hands-on atmosphere is a plus, though one that comes with its own set of demands.
"The amazing thing about working for startups is that every day is different—and what you may need to accomplish every day can be different. This makes it very exciting, but also very challenging! You have to be very flexible to work in a startup: One minute you may be making coffee for a potential customer, and in the next hour, you are signing a big contract with them," she says.
Being part of a fledgling company also requires a true passion for its mission and a connection with colleagues, Taborda says, noting that it was extremely important that she herself gelled with the leadership style and character of the founders and shareholders of betteries.
While the company faces many challenges, its most pressing concerns funding, "which is likely the case for many startups," she admits. She says that the economic impact of COVID-19 has made the process more complex, as she has led initiatives to secure grant and award-based funding, but equity investment by strategic investors is key for future growth.
And as betteries is committed to helping markets in developing economies, investors can be hard to find, as she points out that impact is a key driver for results in those locations.
A Solid Foundation and a Bright Future
Beyond the innovations at betteries, Taborda says that there are many examples of impressive tech underway in sustainable energy, including peer-to-peer energy-trading platforms, energy-positive cities that generate more renewable energy than they consume, and new battery technology. But she believes that the greatest opportunities will involve the use of tech to change human behavior.
"For some time, I have been thinking about an 'eco-currency'—a way to ascribe value to sustainable behavior. We need a way to reward success in sustainability for individuals and maybe even more importantly, for companies. If we can find a method to accurately measure impact, provide visibility, and report it—giving it the same weight as financial results—then we have achieved the greatest opportunity in sustainability."
Concerning corporate behavior governing gender issues and her own experience in her industry, we asked her how it is supporting women and what it could be doing better. Taborda believes that over the last 20 years, the number of women at all levels in tech has increased, but she notes that there's more to be done.
"What could be improved is the presence of women on the boards of companies—be it in advisory or supervisory roles. Having a diverse perspective at the very top level can be invaluable to companies, especially in their foundation and for impact-focused businesses whose end users and customers are mostly women," she says.