One headline-grabbing aspect of the accounting profession—uncovering fraud and foul play within organizations—not only makes for interesting news, it can also make for an extremely engaging and exciting learning experience.
On Feb. 8, 2023, PwC brought a hands-on fraud detection experience to McIntire that joined together 80 students, several Comm School faculty, and guest PwC alumni representatives at Rouss & Robertson Halls for the forensic accounting event.
The hourlong simulation included a sampling of different accounting and expense fraud situations, as well as cartel, bribery corruption, and ghost vendor fraud. Examining electronic emails, phone calls, data sets, and testimonials, participants were prompted to identify suspicious activities and map them to specific fraud schemes to earn points throughout the event. In an effort to feel as realistic as possible, attendees received new tips and testimonials as the investigation progressed.
Accounting Professor Eric Negangard says that the simulation event quickly became intense, characterized by a high-stakes environment punctuated by frequent celebratory shouts as teams earned points for connecting pieces of evidence about suspected nefarious activity. "Before we knew it, we had a fierce competition between teams as everyone rushed to discover the culprits of the crimes and increase their score," he says.
Comm School Course Connections
Negangard, who encouraged his M.S. in Accounting students to participate, says the event offered a great avenue for them to get a hands-on feel for forensic accounting while re-enforcing many aspects of the program's coursework.
"The PwC experience was right on target, not only for the many things we learn in my Accounting Analytics class but also the M.S. in Accounting Program in general. In my class, we spent the first half of the semester talking about the numerous types of fraud schemes that companies construct and the types of data analysis that helps to prevent, detect, and correct said schemes," he says, noting that PwC's simulated fraud experience put many of these schemes into action and challenged attendees to identify and assimilate the evidence. "I was super impressed at how good many of the students have gotten at recognizing fraud, developing hypotheses as to who might be involved and how the fraud may have been perpetrated, and uncovering evidence that either proves or disproves their hypotheses," Negangard says.
Three members of the PwC Investigations & Forensics practice team, Charlotte Clark (McIntire '18), Thomas Sumner (McIntire '19) and Marina Bombo, who introduced the session by sharing their experience with investigations, provided a brief overview of the experience that teamed three or four students together—and also teamed up four McIntire Accounting faculty: Professors Dorothy Kelly, Craig Lefanowicz, Roger Martin, and Andrea Roberts.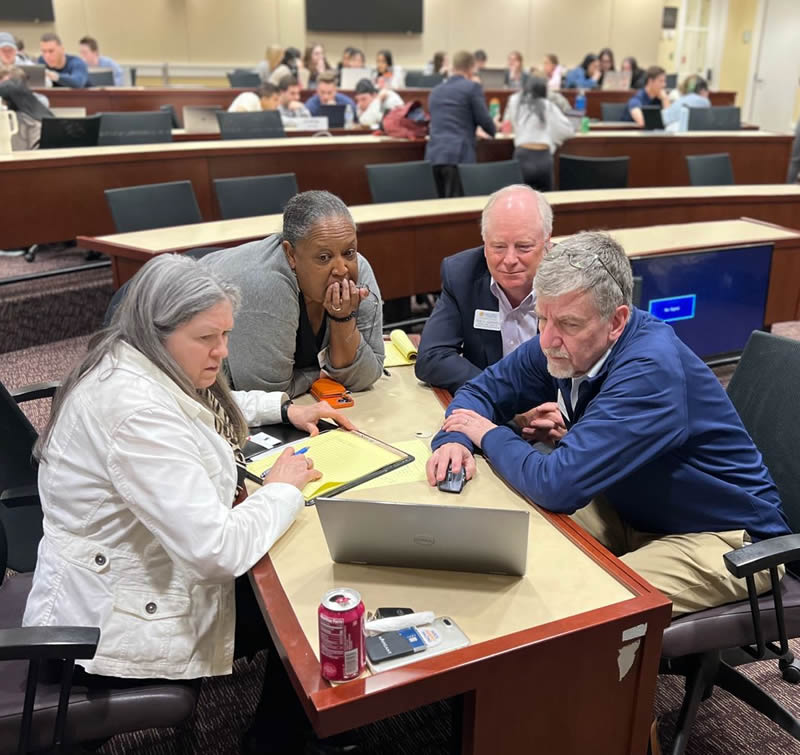 "When we first heard there was a faculty team joining, we started getting a little nervous for the students," Clark says, "especially because these professors taught some of our PwC facilitators, so we knew how knowledgeable they were."
She and her PwC colleagues were excited to see how well the students ultimately performed in a session that proved to be particularly engaging for those involved; Clark insists that the immersive, absorbing response is the result of the experience feeling a lot like a real investigation.
"There are hundreds of pieces of evidence in the hands-on fraud detection experience, and participants have to find the most critical evidence that supports the allegations," she explains. "It can be hard at first, but nothing beats the thrill of finding your first piece of key evidence and watching your score increase!"
Clark notes that much like the PwC experience connects back to Negangard's coursework for current Accounting students, it also incorporates lessons from her own McIntire education and the skills she learned in the Comm School—particularly the teamwork aspect of the session.
"Students spend a lot of their time at McIntire working in teams; this prepares students well for both the real world and a simulation like this," she explains, noting that teams tend to perform better when they leverage each other's strengths and communicate as they analyze the evidence presented.
A Winning Experience for All
In the end, the winning team was composed of Class of 2023 M.S. in Accounting students Grant Hughes, Thomas McConvey, Jake Temares, and Andrew Yancey, who successfully uncovered the most fraudulent activities of all participating groups in the allotted time.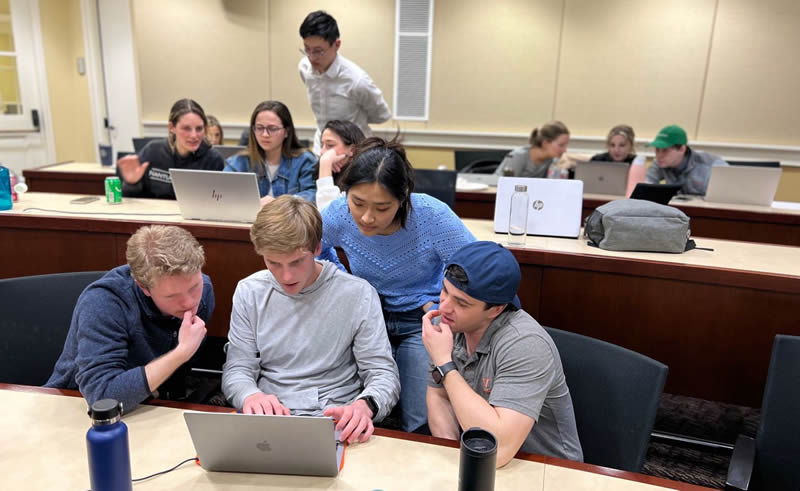 Hughes says that the experience was reminiscent of several of the case studies he studied in Negangard's Fraud and Analytics class, adding that he enjoyed the competitive nature of the event and the opportunity to investigate a foreign-based oil and gas company.
Yancey echoed Hughes' comments, saying that while it reinforced his experience in Negangard's course, it also connects to what he learned in Advanced Auditing and Data Analytics with Professor Ann Backof last semester.
For Hughes, the most challenging aspect of the experience came from linking the evidence his team discovered to the correct fraud scheme, "and at the end, we had to identify the key players associated within each fraud scheme we found."
Yancey believes that the team's greatest difficulty came from getting acquainted with the technology platform. But that issue was overcome in time for the teams: "Having an open mind and analyzing the information given to us both efficiently and effectively paved the way for a victorious learning outcome," he says. "It was very satisfying."
Negangard was equally pleased and grateful to the sponsors: "Everyone involved had a blast and learned a lot about fraud investigations via a very hands-on and life-like simulation. I'd like to thank PwC for bringing such a great event to McIntire!"