After 31 groundbreaking years at the Commerce School, Management Professor Brad Brown has announced his retirement.
Brown's contributions to both McIntire and UVA are extensive. He is behind significant initiatives in global education program development, and his dedication has benefited a large number of students whom he has helped to experience the world in meaningful and personal ways.
Brown was instrumental in creating both McIntire's study-abroad programs and UVA's International Residential College (IRC), where he served as its first Principal from 2001 to 2013. He has held positions as adviser or board member for an impressively long list of committees focused on sustainability, student life, ethics, business, global health, and more. He has also been recognized for his efforts, having received a University Seminar Teaching Award and the Women's Center Distinguished Service Award, and through induction into the Raven Society, among others.
From decades at McIntire, as a Visiting Professor in Finland and a Lecturer in Denmark, running a summer course in Vietnam, and taking part in a semester at sea, Brown has made a wide-ranging and irreplaceable impact, elevating the student experience for so many who have studied with him.
UVA colleague Dudley Doane, Director of International Studies, Summer & Special Academic Programs, says Brown's commitment has been invaluable to the University.
"Brad leaves large shoes to be filled," Doane says. "In terms of global education, he encouraged other faculty to develop programs and encouraged students to build a study-abroad experience into their education. He worked hard to develop curriculum that was relevant and appropriate for the locations to which he traveled with students. He and his wife, Carol, created a home for several hundred students in the IRC. They opened their home to them, and took groups of students abroad in the spring semester. We wouldn't be where we are at UVA or at the McIntire School, with regard to global education and mobility, if he hadn't done the work that he did."
In addition to the important changes he brought to Grounds, Brown will also undoubtedly be remembered for the many qualities his colleagues say have made him so beloved by students over the years—his humble attitude, openness, integrity, sense of humor, straightforward demeanor, and extremely generous nature.
A Guiding Voice
Brown first came to UVA upon completing his Ph.D. in Business Policy and International Business from the University of Washington in 1989. But it was in 1992, as a University Teaching Fellow, that he recalls first hearing about "active learning," an educational philosophy that encourages an interactive approach with the learning process—as opposed to a more traditional model wherein students passively receive information.
"I decided it fit my own style to be more conversational than being an expert dispensing wisdom," Brown says. "This proved to be pretty effective all over the world. Over the years, I committed to trying to teach empathetic analysis more than technical analysis."
That philosophy has informed his teaching profoundly. His main goal as an educator has been to help his students lead "an examined life," likening his role to helping train citizens—a process defined by guiding people to come to conclusions on their own. He says the results of those efforts often flourish during study-abroad courses.
"I decide what we will see, and I try to set up conversations for students to process what is going on by what I call 'reflecting forward.' How will what we are experiencing now change the way you understand people and act in the future?"
McIntire's Assistant Director of Global Programs Angie Turner has seen the effectiveness of his approach in action. Having traveled with Brown on multiple occasions, establishing and visiting with partner schools, she also served as a travel coordinator on a short-term Global Commerce Immersion (GCI) course.
Turner's history working with Brown dates back to 1999, when she met him during her first week on the job and he asked if she could help him promote semester-abroad opportunities to students.
"I was the Student Services Coordinator working with student event planning at the time and happy to help with anything," she recalls. "Our first semester, we recruited Comm students to participate in a semester abroad at just one partner university, Danish Institute for Study Abroad (DIS) Program, in Copenhagen. We recruited 26 students. Today, we have over 17 partner universities for semester abroad, along with 10 to 12 short-term global immersion courses per year at the undergraduate level. Brad truly started all of that, and I was lucky enough to be there to help him."
Experiential Learning Worldwide
Brown cites a DIS business class he participated in during a short study tour in 1994 as a seminal moment of his learning experiences.
"We visited not only world-class businesses, but also farms and battle sites, and had other cultural experiences, including folk dancing and eating traditional Scandinavian dishes. Two years later, I started a class at McIntire, 'Business, Politics, and Culture in the European Union,' featuring lectures in Bath, England, and tours of the EU Parliament and other offices in Brussels. We also toured historical sites in the UK, Belgium, and France."
He believes business is not conducted in a vacuum, and learning is much more powerful when it's coupled with experiences that provide necessary insights into the different cultures conducting commerce.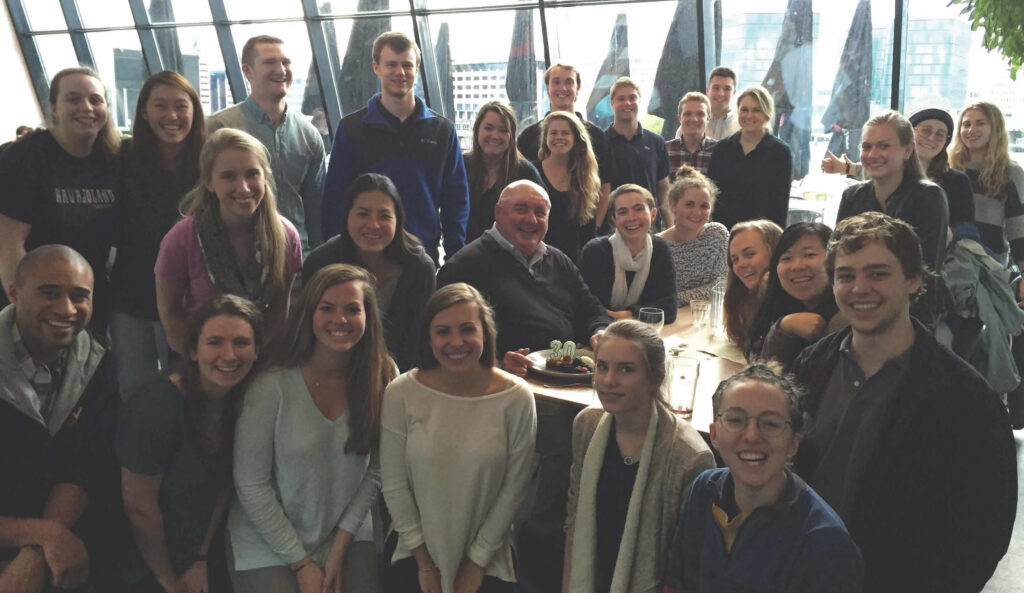 After eight years, Brown shifted gears. He convinced McIntire Professor Bill Wilkerson to lead the EU course, and freely acknowledges what he considers his successor's better-suited training for the role, contentedly remarking on Wilkerson's success with the course since agreeing to guide the European educational experience Brown established.
Brown then turned his attention to Latin America, began bringing UVA students to Bluefields, Nicaragua, to collaborate with professors and students from Bluefields Indian & Caribbean University (BICU) on questions of development. Though students focused on topics ranging from poverty and microfinance to subsistence farming and healthcare in rural settings, Brown says that the interactions were equally as enlightening for him.
"I learned a lot myself by seeing things firsthand, and I learned the importance of returning to the same community year after year. We made friends and were invited to people's homes for group dinners. A few years ago, I turned that program over to Emma Mitchell, my teaching assistant years ago who is now a professor at UVA's School of Nursing."
His next study-abroad course came after Gowher Rizvi, then UVA's Vice Provost for International Programs, introduced him to Nobel laureate Muhammad Yunus and Founder of international development organization BRAC, Sir Fazle Hasan Abed. The meeting led to BRAC hosting UVA classes in Bangladesh, where Brown brought students to visit village microfinance groups, health clinics, small factories, and workshops, and with Yunus at the headquarters of Grameen Bank.
It was successful for some time, but ultimately, student welfare had to be considered above all else.
"After a few years, I decided that there was too much unrest in the countryside and reluctantly gave up this powerful learning experience," he says.
Hands-On Commitment
Eventually, Brown returned to leading a study-abroad course in Copenhagen ("Where it all began for me," he says), launching "Sustainability," which focuses on topics such as green power, transportation, architecture, and eco-farming. He says he's most proud of his May-term Denmark course, which is supported by some of the DIS lectures and punctuated by excursions to wind turbines and recycling plants, architect-led bike tours, as well as a good deal of hiking.
He says that since McIntire Professor Kerrie Carfagno started joining him on the course a few years ago to co-teach, it has been providing a compelling learning experience for students.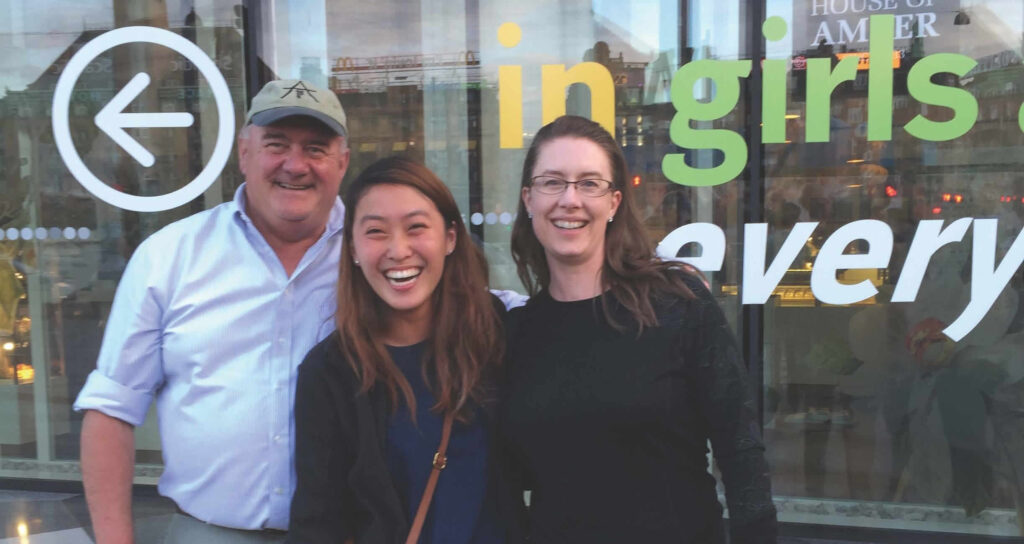 Carfagno believes that Brown's deep understanding of material allows students to understand the true complexity of issues, taking into account aspects that range from the commercial to the political, cultural, and beyond.
Yet if there's one trait that makes him a unique educator, Carfagno says, it's his relentless commitment to involve his students.
"One of my favorite memories, at least of our travels, is something that shows his dedication," she recalls. "Because it's an environmental course, we walk and bike almost everywhere. And one day he said, 'I'm really tired. I'm going to bed a little bit early." And so the next morning, he's got this huge smile on his face, and he says, 'Good news! I'm not too old to be traveling. It turns out I have the flu!' The night before, he thought that maybe after all of those years, travel wasn't for him anymore. But then he took his temperature, and it was 102, and he actually had the flu. To see the pure joy on his face that he realized we were going to be able to continue doing these trips for years just kind of exemplifies Brad. Rather than being miserable that he had the flu, he went straight to the fact that this was an indicator that he could keep teaching."
Incredibly, less than two days later, outside of a youth hostel on Samsø island in Denmark, Carfagno found Brown running up a gravel road behind an adult student on a bicycle, teaching her how to ride.
"In the classroom, he has these amazing lectures, and then he creates these interactive experiences," Carfagno says. "And he's so thoughtful about how he constructs both his classroom courses as well as his international courses, but he's also going to do what it takes to make sure that every single student is included. And here he was teaching her how to ride a bike. There's got to be 20 to 30 students in this world now who know how to ride a bike because of Brad Brown, which isn't curriculum and isn't his goal, but it's just kind of that add-on he's willing to provide."
Brown's hands-on approach has been with him throughout his time at UVA. He recalls that as he and Carol strove to create a community in the IRC, he regularly hosted students for impromptu cookouts, breakfasts during exam weeks, and small, casual weekly dinners with invited faculty guests.
"Over the years, I taught about a dozen international students to drive and helped them get their driver's licenses," he says, mentioning that many still correspond and visit.
Positive Influences Recognized
Brown freely admits that he has enjoyed support and inspiration from his University peers, which includes College of Arts & Sciences Professor Emeritus Gordon Stewart; recently retired Chief Student Affairs Officer Pat Lampkin; Professor Emeritus, University Professor and John Allen Hollingsworth Professor of Ethics, and Professor of Religious Studies James Childress; and Darden Professor Ed Freeman. He says he has also long relied on International Studies Office Director Doane for his wisdom, calling him one of the best managers at the University.
At McIntire, he credits close friend and frequent collaborator retired Accounting Professor Susan Perry Williams, with whom he co-taught a University seminar course. He says he's been fortunate for the leadership of the Management Area, particularly the direction provided by Professor Emeritus Tom Bateman and Professor Adelaide Wilcox King.
"Over the years, Dean Carl Zeithaml has supported my often maverick ways and excursions into the IRC and in allowing me to develop my favorite course, 'Managing Sustainable Development,' which reaches not only Commerce undergrads, but has a cross-listing for Accounting graduate students; it is also approved for many majors and minors across the University, including Engineering, Global Development, Global Sustainability, and the Batten School."
Brown also acknowledges Carfagno for her friendship and important contributions over the last six years. "I have learned so much from her, and she has made my life so much better at the end of my career," he says.
Legacy of Tenacity
Brown believes that most legacies are forgotten, and insists that one of his lasting accomplishments has gone unnoticed: his 1993 proposal to change curriculum to include a two-year foreign language requirement at McIntire, "bringing the Commerce School into line with the requirements of the College of Arts & Sciences and signaling that we believe students should make at least a minimal effort to be citizens of the world."
So while he strengthened McIntire's global positioning, he does hope that his students remember some of the lessons he's taught them. As would seem to be typical of his modesty, he says he often feels like his lessons could be "boiled down to a bunch of bumper stickers." Examples of the kind of maxims he says he repeated often include "The importance of becoming indigenous," "If you want to change the world, start somewhere, do the do-able, and persist," and "Life is a self-fulfilling prophecy, and people usually treat you the way you expect them to, so expect the best from people, and you will usually get it."
Despite Brown's self-effacing view of his teaching, Turner describes her time working with him as nothing short of transformative.
"I'm simply grateful for the life-changing experience I have had from working with him. I've learned so much from him about the world, how business is done all over the world, but my favorite lesson is what he always tells students: Be flexible. He even hands out a fun gift to all students in his study-abroad programs, Gumby [the green clay character]. To this day, 21 years later, I still have that Gumby figure he gave me the first week I met him, when we were going to do our best to recruit students to study abroad for a semester. Global Programs has changed tremendously since then, and being flexible was the best advice I ever received."
Another useful piece of advice that Carfagno credits Brown with is the idea of "no complaining, just observations."
She notes that his simple rule has the power to change the tone of any situation in a funny but effective way.
"Someone would say, 'I'm observing it's a little bit chillier than I thought it would be.' And someone else would say, 'I'm observing that, too.' And somehow, that's so much better than 'I'm cold. I didn't pack a jacket.' It's an observation, not a complaint. That's a great takeaway, and he tells that to every class."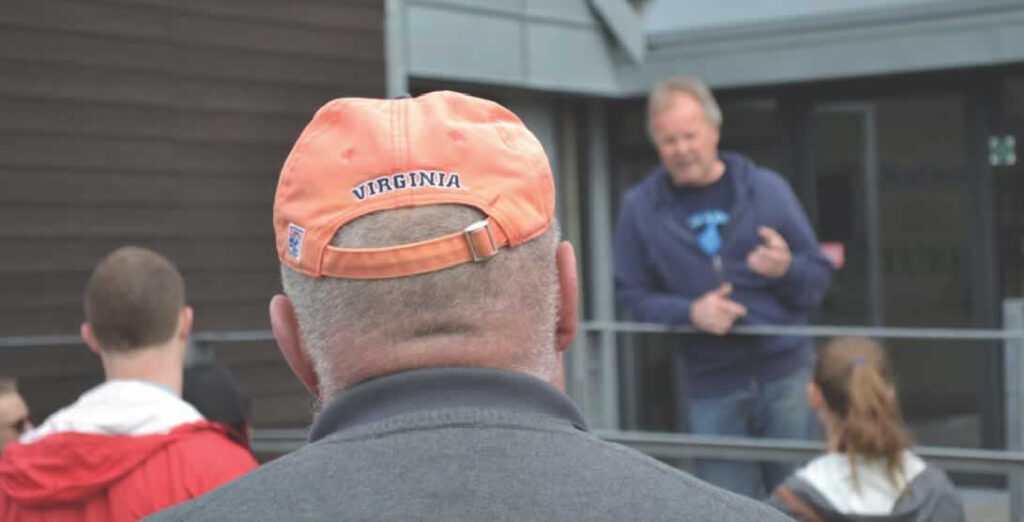 While Brown is officially retired as of May 23, 2020, he's still working on a project with a former student analyzing data to demonstrate the efficacy of more careful cleanliness procedures in the ICU of one of Rwanda's hospitals for UVA's Center for Global Health. And as he waits out the pandemic tending to his garden at home in Crozet, he hopes he will be able to return to traveling one day soon.
"I might tinker around in study abroad with Kerrie Carfagno in Denmark, or maybe I'll set up something new somewhere else," he says. "During my recent Semester at Sea voyage, I was very impressed with Ecuador, so maybe something involving sustainability there."
Brown will be missed on Grounds, but perhaps in the near future, University students will still experience a part of the world with his guiding wit and wisdom.