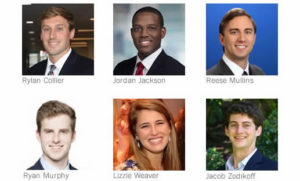 The annual Careers in Finance Conference, presented by McIntire's Center for Investors and Financial Markets in cooperation with Commerce Career Services, helps to clarify and detail the many employment possibilities for students interested in the field. Guest expert speakers from a diverse array of institutions across the financial industry include executives and McIntire alumni professionals representing some of the Commerce School's most highly valued corporate partners: companies who continue to play a vital role in the support of student engagement opportunities, curriculum development, and faculty research.
The most recent edition of the conference, held Nov. 15 and 16, 2018, in Rouss & Robertson Halls, featured a panel of young UVA alumni who gave their "Perspectives from the Workplace." During the session, the participants provided the audience of second-year students with insights and advice that spoke directly to the many challenges and opportunities found in the finance field.
Beyond giving advice about potential pathways to different careers—and what might help students find a rewarding position that fits their interests—alumni stressed the significance of being an effective communicator in any finance area. Speakers throughout the Conference credited McIntire's expert preparation of students and noted that those who thrive in finance jobs can thank their mastery of the so-called "soft skills" and knowing how to work well with their coworkers.
We recently spoke with the six young alumni panelists of about the most unexpected aspects of their jobs, reflected on a pertinent moment from the session, and asked about the advice they share with those interested in following in their footsteps.
What part of your job is most surprising to you? Anything that you never expected during your time as a student?
Rylan Collier (McIntire '18), Restructuring Investment Banking Analyst, Guggenheim Partners: "The most surprising thing about my job is that no two days are the same. When I left McIntire, I thought I had an idea of what a career in finance would entail (modeling, creating deliverables, etc.). That still rings true, but the reality is that I face new challenges every day—something I think makes the work incredibly rewarding."
Lizzie Weaver (McIntire '15), Associate, Bank of America Merrill Lynch: "It was surprising to me to see deals that I work on get mentioned in The Wall Street Journal and trades that I make move the market. As a student, it's hard to imagine participating in the news that you read about."
Jacob Zodikoff (McIntire '17, A&S '17), Analyst, Alpine Investors: "There is a lot of selling involved in any successful business. Selling is not being 'sales-y,' but it is building relationships and showing competency. I expected hard skills to be the key determinant of success in pretty much any starting role within finance, but being able to sell and the soft skills are just as important in my role."
Ryan Murphy (McIntire '16), Associate, Centerbridge Partners: "I wouldn't say this was particularly surprising, but I think a common misconception among students is the role of technical skills versus soft skills in perceived and actual job performance. Ninety percent of the questions I get from students regarding interviews or job requirements center on technical skills—financial modeling, accounting, etc. While these skills are important, and McIntire does a great job teaching the foundation, many of these abilities are developed and honed on the job. You must 'check the box' with these skills coming in, but they likely won't distinguish you.
"What I have found to be a differentiator among recent graduates is the soft skills, particularly public speaking. Each year, thousands of college students graduate with the ability to construct a financial model. However, only a small subset will have developed the ability to thoughtfully distill the findings and articulately communicate the ramifications to their teams. It doesn't matter how impressive the analysis is if the results can't be communicated effectively. The best communicators will set themselves apart."
What was the most interesting point discussed or question asked at your panel?
Jordan Jackson (A&S '15), Market Analyst, J.P. Morgan Asset Management: "'How do you craft your story in an interview?' At first, it sounded fairly intuitive—just say what's on your resume, right? But I think it actually gets to something deeper.
"While it's important for a resume to speak to your educational background, experiences, and skills, in most cases it only talks about you at a very high level. Let the interviewer get to know a bit about you as a person, what you're passionate about, what you do for fun, etc. Therefore, talking to your story in an interview is a lot like going through a cover letter about yourself. Your resume provides a good skeleton, but the cover letter can provide substance to make your resume even more impactful. For example, your major may indicate that you're are interested in economic policy, but why? In an interview, you can craft a personal story explaining what drew you to that major and why you're pursuing it as a profession."
Zodikoff: "'How do I figure out what is the right path for me?' Students should talk to people who have done it (e.g., older friends) or people who are intimately familiar with multiple paths (e.g., professors). They'll give students the inside scoop and help them find the right fit."
Murphy: "One student brought up the role of stress on the job. I thought this was a novel perspective. Careers in finance can be demanding. Investment banking, with its tight deadlines, sales trading, with its fast-paced trading activity, and hedge fund investing, where your work is marked to market each and every day, all have prominent, yet unique stressors.
"Students should think about the types of stress they enjoy or are adept at handling. This will help them to narrow down the wide array of opportunities and home in on a path that meshes with their personality."
What is the most valuable piece of advice you give to current finance students?
Reese Mullins (A&S '14, M.S. in Commerce '15), Assistant Vice President, Citi: "Do your research on the roles offered within finance, and don't be afraid to reach out to alumni to learn more about a particular function—most professionals in the industry are very willing to speak with you about their role and their firm and appreciate students who are proactive."
Collier: "Seek out people you relate to and who take an interest in your career and development. Beginning a career in finance is all about learning, and the best way to do that is by working with bright people who allow you to assume as much responsibility as you can handle."
Jackson: "Think about what you don't like, and go from there. A great job usually consists of 80% stuff you like and 20% of stuff you don't. If you can minimize the 20% early on, you'll be much happier with your career.
"By reviewing things you don't like, you can probably cut out 50% of potential job searches. Are there classes you don't really enjoy? Group block assignments not your cup of tea? These things can help you determine which jobs might be the best fit for you.
Ask yourself:
'Would I rather talk to clients on a daily basis, or do I find comfort in an Excel spreadsheet?'
'Do I want to start out getting a big picture, or do I want to go into something niche that I'm really interested in?'
'Do I like managing my own assets or the assets in my investment club? Would I enjoy a job managing money?'
'Do I prefer a smaller firm with potentially more responsibility early on, or a bigger firm with a bit more stability where I can gradually grow into my own?'
'Do I see myself working in another country?'"
Murphy: "Think about the 'why' behind what you're doing. There is a lot of pressure to be the first to know what you want to do, to get an internship, and to get a big brand name on the resume. Don't blindly jump in. There's no need: McIntire students have a tremendous amount of leverage in the job market, especially in the finance arena. When you're 21 years old, the risk is not in passing up on the first six-figure banking offer that comes your way; it's in failing to pursue the full spectrum of opportunities.
"So rather than simply following the herd, think about what it is that actually attracts you to the job you're seeking. Think about where you want to be in 5, 10, 20 years. Will the job lead you to where you want to go, and once there, will it have helped you develop the skills needed to be successful?
"All McIntire students have the intellect and resources to succeed in the field. But it is those who have a well-thought-out sense of purpose who will truly flourish. They will be more driven, more curious, and more engaged than the rest, which will carry them far."