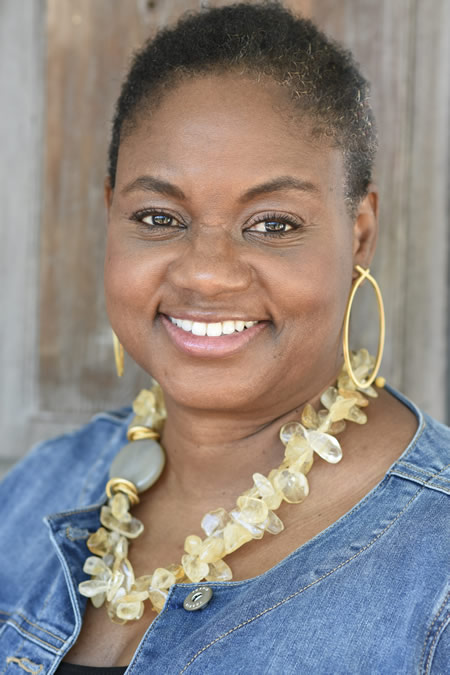 When Tyeshia McIntyre-Bray was looking for a program designed to cultivate the kind of skills that she could immediately apply in her work, she turned to McIntire's M.S. in the Management of IT Program. After she completed the one-year graduate program, the positive results were irrefutable. But she never could have imagined when she enrolled that the M.S. in MIT would also help her to make instant strides in her career and forge connections that would quickly lead to a new position in a new industry.
For more than three years, McIntyre-Bray served as Director in the Office of Patent Automation at the U.S. Patent and Trademark Office. As a few of her now-former colleagues had relayed to her that they learned a great deal in M.S. in MIT and really enjoyed the experience, she was motivated to discover more.
"I wasn't interested in a three-year MBA program or anything like that. As a full-time employee and a mom of two boys with a husband that's active-duty military, I needed to find a good fit," McIntyre-Bray says. A 15-year Air Force veteran herself, she transitioned into IT-related positions in civil service, working as a Program Manager in Homeland Security before her time at the Patent and Trademark Office. Driven to expand her knowledge base, McIntyre-Bray found that pursuing the Commerce School's program occurred at precisely the right moment, enabling her to reach her career goals, while quite suddenly leading to an unexpected professional opportunity.
Teaming with Real-World Relevance
"I wanted to better understand how today's emerging technologies can be applied at an enterprise level. My team was working on data reform for the Patent Office, and anytime we talked enterprise data or big data, I was just absolutely lost," she admits. Fortuitously, the M.S. in MIT Program exposed her to the subject early on, and right away she was able to use what she learned on the job. "It was good to be able to have conversations with the players in my organization and use the right terminology, even if it was just at a meeting; the curriculum gave me a different perspective about how to plan and manage."
She notes that as her office was starting to consider employing more artificial intelligence (AI) at an enterprise level as a large component of its strategy, she was empowered with a better sense about what that technology meant in practical application as a result of the program.
In addition to the program offering insightful knowledge about strategically adopting emerging tech in business, McIntyre-Bray also found M.S. in MIT's extensive teamwork to be one of its strengths, as collaborating with other participants on projects was advantageous in many ways.
"I learned as much from my cohort members as from our professors because the diversity of experiences and thought was exciting and prevalent. I was exposed to so many perspectives inside of the classroom when we worked together, and the conversations were just filled with such good information," she says, stressing the benefits of getting to know her team members while understanding how they were applying the technologies being examined within their own unique working environments.
Surprising Outcomes
As many past participants in the M.S. in MIT have said, the amount of work can be intimidating at first glance, and understandably, McIntyre-Bray wondered how all of the coursework was going to get done in the allotted timeframe. But successfully completing the program didn't surprise her nearly as much as the efficiency of the aforementioned team-based approach.
"I was fortunate that in all four modules I worked with great team members; that synergy got us through. I was surprised that I could work so well with four different groups. We were playing on the strengths that we had," she says. "Because I'm not a technologist—despite having been in technology for a long time—I'm not an engineer or a software developer. Yet a lot of the feedback I received from my classmates was about how much they valued my perspective on strategy and my questions about goals. I would actually laugh and tell them, 'You don't want to hear my war stories.' But they did, and what I had to offer was well-received, especially since I haven't been this technical in decades."
Another unexpected result came as a result of the M.S. in MIT's Executive on Grounds Day, when each student in the program partners with a successful executive to pitch an innovative digital transformation idea. McIntyre-Bray presented her idea to Stephanie Mango, President of CGI Federal. She found Mango to be engaging, transparent, and approachable about the subject at hand, and upon receiving feedback from her, decided to ask if she'd be willing to have a frank conversation about how she might successfully pivot into private industry.
After discussing the challenges she might face in attempting to make that type of career transition and obtaining the appropriate clearances, she and Mango made plans to discuss the issue further.
"After we spoke, she offered to have a coffee with me, and honestly, it was all about mentoring: It's because she is a UVA alum and part of the M.S. in MIT Program. In that conversation, I related to Stephanie that, at this stage in my career, I want to be in an environment where I'm coveted for providing value," she says.
Wheels were in motion, and McIntyre-Bray would be ready.
"I had met with Kathryn Smith from Commerce Career Services very early on—at least three times prior," she recalls, referencing one of their emails about coaching sessions that prompted her to seek out their assistance. "I told her that I didn't know what I wanted, but she asked me some very pointed questions, took a look at my resume, and gave me feedback. Everything happened so fast that I hadn't even updated my resume," she admits.
Shortly thereafter, she spoke to the recruiter from CGI Federal, and as of August 2021, she has found a new executive position as a Director of Consulting Services with one of the largest IT and business consulting services firms in the world.
"Because the resources were there as part of the M.S. in MIT Program—as well as the advice of my colleagues who were in the cohort—I was prepared for the interview and to ask the right questions," she says. "As a result of the program, I realized I have skills that can be applied effectively outside of federal civil service. M.S. in MIT is very intentional in exposing students to the broader professional opportunities for executive IT leaders across industries, and as a result of this exposure, I landed a position at CGI Federal. It worked out."