It has long been understood that education has the power to transform. Or as Nelson Mandela said, "Education is the most powerful weapon which you can use to change the world." Yet even still, access to educational content often remains problematic for many sub-Saharan African children who suffer from poor literacy skills. According to UNESCO, illiteracy is a growing burden that has only increased in the region's adults in recent years, with more than 144 million people unable to read and write.
Zikki Munyao (A&S '08, M.S. in MIT '13) is inspired to stem the problem early by helping African schoolchildren succeed. Having co-launched technology and consulting nonprofit Juza Africa with friend Brian Ombagi in 2019, Munyao has already provided primary students with material that will last: flexible, scalable, and reusable digital content. Through Juza Africa's library and learning software, Kenyan and Ethiopian students are taking advantage of the material on tablets and computers while their teachers are receiving ongoing monitoring and support, including reading tests and comprehension assessments.
It's quite a range of services. Yet Charlottesville resident and Nairobi, Kenya, native Munyao will be the first to admit that he has had some help. In addition to relying on the aid of volunteers conducting installations at schools in Africa, he's been able to call on the expertise, insight, and assistance of the McIntire community to elevate the effort. Graduate students in the School's M.S. in MIT Program and current undergraduates have brought their vision and intelligence to Juza Africa's crucial and honorable mission.
Epiphany on Education
Late in 2018, Munyao met with Ombagi at a Nairobi restaurant, where his friend described the digital publishing platform he and another friend created, and their desire to bring the tech to primary schools. Munyao was fascinated.
"The conversation was so interesting that it went into the later part of the evening," he recalls. "We knew that this was our calling and had our a-ha moment: to empower young children to get out of poverty through the power of literacy."
Over the following month, Ombagi informed him about the deficiencies in primary school materials across Kenya despite initiatives by its government to procure and distribute electronic equipment; the majority of it sat unused in classrooms across the country due to a lack of proper planning for distribution of learning materials.
The duo decided to ready their nascent technology platform to focus on primary schools and the younger student populations they served.
A few months later, in March 2019, they completed their first installation at a primary school.
Joining Forces
While the nonprofit continued to plan for future deployments, Munyao's friend and former colleague Andrew McElfresh (A&S '00, M.S. in MIT '20) also took an interest in the idea behind the nonprofit, deciding to get involved in a consultative role.
That June 2019, McElfresh traveled to Kenya for Munyao's wedding, where he met Ombagi and other Juza Africa team members, learning more about their early successes.
Though he was further energized about the project after his visit, McElfresh, Implementation Manager at the American Society of Clinical Oncology (ASCO), admits that his participation with the nonprofit necessarily waned when he returned to Virginia to begin his M.S. in MIT classes. Yet, perhaps unexpectedly, he soon realized there was an opportunity to leverage his involvement with Juza Africa for an important component of the McIntire graduate program: a group project retrospective.
"I mentioned it to Zikki, and we discussed it," McElfresh says. "At the very beginning, we were truly hesitant because we didn't know if there was going to be enough history to do an effective retrospective for the project. We thought it through and realized there was plenty to learn from it."
Classmate Barry Allen (A&S '72, M.S. in MIT '20) recalls when McElfresh suggested that his team consider Juza Africa for the assignment analyzing an IT project.
"When Andrew told us that Juza completed 15 installations in 2019—five more than originally projected, with what could best be described as a minuscule budget—all of us thought that this was an organization that had something unusual going for it," he says. "We just felt it would be worthwhile to examine Juza in more detail from both a school perspective and a nonprofit perspective."
McIntire Professors Ryan Nelson and Ryan Wright were equally supportive of the idea to work with an alumnus of the program.
Munyao, too, was thrilled with the collaboration: "UVA has always been near and dear to me! I've done both my undergraduate and graduate studies at UVA and am very proud of the achievements."
Challenges and Recommendations
McElfresh says that difficulties conducting the retrospective became obvious quickly. To begin with, team members were spread between Charlottesville and Kenya—and the eight-hour time difference presented issues, as scheduling videoconferences or phone calls were often at inconvenient times for the Kenyan team.
"We also had to do most of the interviewing over the holiday season, so there was the balance of not being too disruptive while trying to capture all of the information we needed," he says.
McElfresh adds that sometimes unreliable connections rendered the conversations unintelligible, which were exacerbated by difficulties in becoming accustomed to different English dialects.
Allen notes that other problems derived from lapses in record keeping. "Juza had very little in the way of documents that we could review. As a result, it was only by using a standard set of questions, and conducting detailed interviews with seven Juza team members and one adviser, that we were fully able to understand all the moving parts of the installation process and how Juza operated."
He says that studying the nonprofit's financial picture was problematic at first, since early figures went unrecorded, leaving the McIntire group to make assumptions about its final five months of expenditures. The team rightly estimated that cost efficiency was increasing with time, as Juza Africa's members became more experienced completing their work at each school.
"Our interviews revealed a dedicated team of people who conducted the installations, but who were frustrated by the process," Allen says. "There was no workflow, no transparency in how the schools were selected for the Juza Digital Library, and a lack of any systematic communications process."
As a result, McElfresh says the M.S. in MIT group's recommendations centered largely on process, communication, and transparency among the team members.
"We coupled a solution using communication platform Slack and workflow management tool Trello to drive and improve collaboration. But the real problem was the coordination of the people. While there were occasional technical problems, mostly in the early stages, they weren't insurmountable," McElfresh says.
The biggest frustration occurred during installation, McElfresh notes. "To quote from our retrospective, 'Every installation is a scramble.' And it didn't have to be," he insists. "There was so much eagerness and excitement to do an installation that every time a school said yes, Juza would agree to do it, and it was like herding cats: There was no checklist to make sure that all the necessary equipment was there."
Ultimately, the graduate students impressed upon the African team that properly completed installations—and the long-term success of the nonprofit—were contingent upon having a well-communicated plan. By tracking and sharing those plans through the available technology, it would stand to better retain volunteers and confirm their availability for future installations.
A Real-World Case
Allen says that the theoretical retrospective process taught in the M.S. in MIT coursework provided a worthwhile introduction to the analytical tools necessary for critically appraising Juza Africa's efforts, but the practical application in a real-world setting was the differentiator.
"It's one thing to hear about 'classic mistakes' or a 'root cause analysis' of a problem, but it is much more meaningful to take those, and other concepts, and apply them to a startup organization that set out to change the world—and seemed to be doing it one school at a time," Allen says. "When Juza wholeheartedly adopted and implemented our team's recommendations, and immediately reported how much impact the new tools and procedures were having, we realized that we were enhancing the chances that Juza could have long-term success. In our small way, we were helping Juza to achieve its mission of improving primary school education in Kenya and, eventually, beyond, to the rest of Africa."
Indeed, McIntire graduate students' recommendations coincided with many concepts that Munyao had acted upon himself in direct response to his experience in the M.S. in MIT Program.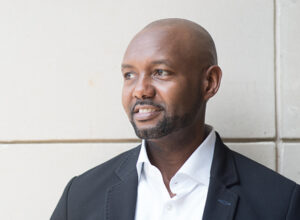 "Our software build and infrastructure exist on the Google cloud to allow for easy installations and scalability, which relates to the program's Enterprise Architecture module," Munyao explains. "We manage projects and mitigate risk using planning techniques taught in the Project and Product Management module. Juza Africa performs network server and router setup at schools to connect the students' tablets to our digital library; this process allows us to have access to the use of our application and associated data analytics and corresponds to the Digital Transformation module. Lastly, Juza works with UVA student partners such as the Virginia Consulting Group (VCG) and Student Entrepreneurs for Economic Development (SEED) to develop strategies for growing our business, as taught in the M.S. in MIT's Strategic Management module."
VCG Co-Director of Development and SEED President Karen Lin (McIntire '22) recalls enacting those growth strategies during the fall of 2019, when she led the student organizations as a project leader.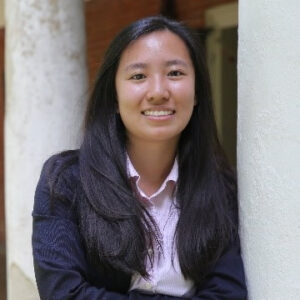 Inspired by Juza Africa's mission to create an impact in Kenya, Lin says it aligned with her own to create a lasting positive social impact in her community. Lin, along with a team of four peer undergraduate analysts she supervised, created a database of grants and other sources of funding for the African nonprofit, launched a crowdfunding campaign, and provided research and resources on fundraising techniques.
"Working closely with my project team and the Juza Africa team and learning more about the reasons for the shockingly low literacy rates in developing nations like Kenya were definitely an experience that left a lasting impact on me," Lin says. "During our first meeting, Zikki Munyao welcomed my team with open arms and emphasized how we were not only members of the VCG team, but also the Juza team."
Big Plans to Advance
Allen says that he was impressed by the fortitude of the Juza team and their level of productivity, especially given their circumstances.
"We met very unassuming people who, through sheer determination, dedication, and belief in Juza's mission, were able to accomplish pretty amazing things," he says, adding that Juza estimates that more than 15,000 students and more than 300 teachers have been directly impacted by the installation of the digital library in the first 15 schools. "When we spoke with the Juza team, I think there was a certain amount of awe about how much they had accomplished in such a short period of time and with so few resources."
Looking forward, Munyao says they hope to continue those accomplishments by increasing the number of participating schools. They hope to install their digital library at no less than 150 primary schools in the coming years, ultimately enabling more than 80,000 students to access the texts.
"Long term, we see our organization being the trusted content vendor for different African governments," Munyao says. "Kenya alone has over 23,000 public primary schools educating over 7 million children. By working with the help of the government, we can reach many of these schools."
Other plans include offering high school students materials to help them graduate, prepare for college, or enter the workforce with the necessary skills.
"We also see our platform as one that can improve the lives of others through learning content, and addressing several of the United Nations Sustainable Development Goals, including quality education, gender equality, decent work and economic growth, and climate action," he says. "As an education platform, Juza can do lot of great things by empowering others through content."
While COVID-19 concerns have closed all schools in Kenya and created a challenge for Juza Africa to meet its original goals, Munyao says that they are shifting gears to offer access however and wherever possible to public schools.
"How we pivot will determine how many schools we'll install in by the end of year, but it is also dependent on government support in approving the curriculum and method of delivery, which may include government-issued tablets that we've been utilizing."
As the organization builds relationships with different sub-Saharan ministries of education, it remains focused on partnering with foundations across the world and increasing engagement through social networks to get the word out.
"We'd like for people to know who we are and what we're doing, and welcome them to help us along the journey."