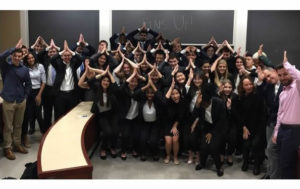 Before they begin their first semester at the Commerce School, third-year McIntire students have already heard plenty of stories about the Integrated Core Experience, or ICE, as it's known around Rouss & Robertson Halls.
They know that McIntire's hallmark program requires them to be ready for long nights hunkered down with their groups to solve complex problems. It's understood that their focus and time management skills will be tested—along with their ability to analyze, strategize, communicate, and organize at a professional level. But they also recognize that dedicating months to creating convincing presentations for actual corporate executives isn't something that students from other business schools have the opportunity to do. For all of the many exacting challenges students expect to face throughout the process each fall, ICE—now in its 20th successful year readying Commerce students for the intricacies of business—remains a wholly rewarding and unmatched learning experience.
This past fall semester, Blocks 5 and 6 students engaged in the inimitable hands-on program drew additional inspiration directly from the School's newest ICE sponsor, Margaritaville Holdings.
The result of serving as consultants for the hospitality and lifestyle brand management company?
Yes, the students sharpened their skills across multiple crucial business areas, including the additional wrinkle of managing unpredictable group dynamics. No less impressive, the insights they provided to Margaritaville in their final presentations stretched beyond the theoretical to have influenced the company's future plans in Charlottesville.
"When Margaritaville met McIntire in the fall for our first ICE experience, we learned as much if not more from the students as we hope they learned from us," CEO John Cohlan says. "Our project sought strategic advice and analysis from the students about positioning and launching our boutique/select service hotel brand, Compass, and conceptualizing a future student housing brand. Feedback from the students was so intelligent, insightful, instructive and authentic, that we decided to pursue a hotel location in Charlottesville. We also had lots of fun!"
And as incredible as it might seem that the students' efforts may have resulted in persuading the company to expand into the local market, perhaps most unexpected of all was that third-years and corporate executives alike repeatedly characterized the rigorous experience like Cohlan did: fun.
Brand Awareness
Before the project began in earnest, Emily Coppa (McIntire '20) had stayed at one of Margaritaville's resorts and was eager to work on a project for a company whose values and "beachy vibes" she had already enjoyed firsthand. Elizabeth Trull (McIntire '20) was equally enthusiastic, having grown up listening to songs by the company's famous musician founder, Jimmy Buffett.
Kara Braith (McIntire '20) was heartened for the demanding months-long commitment ahead of her by the fact that the company was as new to ICE as she was. "I was excited because I knew that Margaritaville had never been a sponsor before, so Blocks 5 and 6 could present novel ideas that we felt could have a real and tangible impact," she says, adding, "Margaritaville also seemed like a really fun company."
"I thought the ICE program would be a great opportunity," says CEO Cohlan, explaining the firm's rationale for involvement and the framework for the project. "So [in the fall 2018] semester we were part of the program. We're in the hotel business—the active living business for people 55 and older, but we're not in the off-campus housing business. And we were approached to explore that. We wanted to understand better whether that was a good idea or not. So we created a question as to whether we should build a select service hotel here in Charlottesville, do off-campus student housing, or do a combination of the two."
Initial meetings with the company representatives had a positive effect that rubbed off on the students. "The executives seemed to really enjoy what they were talking about—which was contagious," says Trull. "Margaritaville became our brand, too, which made working on the project more fun. We felt a personal connection to the brand and were invested in its success."
Digging in Together
As the students began to brainstorm and delve into their research of the company, the comprehensive nature and high expectations of ICE became clear very quickly.
"Although I knew the project would be a lot of work, I was surprised at the scale. We had to have a complete understanding of Margaritaville and two different lodging industries," says Braith. "I was also surprised by the lack of specificities in the question: We had a lot of discretion about the direction we wanted to go in and the types of research we did."
Students were tasked with providing Margaritaville with three interrelated recommendations—for a hotel, student housing, or a mixed-use facility—based on projected financial returns over 10 years and the expected impact on brand equity, complete with full discussions of advantages and risks associated with all three directions. They were also required to characterize the prototypical markets for each and create a brand name for the student housing concept.
Meeting all the criteria required extended periods of collaboration, and functioning as a group factored heavily into the goal of producing a report comprising strategic and market analyses, an overview and implications of a financial model, and actionable recommendations based on their findings.
"Each and every team offered valuable insights," says McIntire Management Professor David Lehman, who teaches "Organizational Behavior" in the ICE program. "However, it was those teams whose members worked exceptionally well together that were able to translate those insights into the most compelling recommendations for the company."
Paige Wood (McIntire '20) found adapting to a group schedule challenging, "especially when most students are used to working individually." Coppa agreed, saying that when members were unavailable to meet, it rarely prohibited collaboration. Instead, team members would often double up with other commitments, working in real time on documents shared online.
"Getting in sync was critical to managing the entire ICE project," says Victor Layne (McIntire '20), describing how his group was able to get the best from everyone involved. "We promoted honest communication and constant feedback, which allowed us to quickly iterate on ideas and understand each other's strengths and weaknesses. Working on a team that has good dynamics, complementary skills, and clear communication is exhilarating—and it allowed us to focus on reaching the best ideas possible. You can accomplish so much more when you bring people together."
Braith found the greatest challenge in giving up control, accepting that other group members' approaches were equally as viable as her own, despite sometimes running counter to the method she might choose for herself. "All of us had to compromise at some point, even if we disagreed with the group decision," she says. But, she notes, the flipside of the collaborative effort offered a huge payoff: "Nothing bonds a group of people quite as well—or as fast—as spending hours together working towards a common goal."
Wise Words
As ICE places some serious demands on the third-years, Block 5 and 6 students smartly looked to faculty (McIntire Professors Michael Atchison, Jeff Boichuk, Kerrie Carfagno, Cynthia Fraser, Adelaide Wilcox King, David Lehman, and Saonee Sarker) for steady guidance throughout the semester. But as the project replicates the often nebulous lack of tidy answers and pat conclusions in the real world of business, professors are quick to push students to further investigate their ideas and test the validity of their proposals on their own.
Indeed, Coppa says that her professors were supportive, but never handed over easy answers. At points, different faculty members offered contradictory opinions or advice, says Braith, which compelled students to be resolute in their convictions. Demanding students discover their own way seemed to bring out the best from the groups.
"Many times professors helped by simply asking questions," Layne says. "When our team's ideas were challenged, we were able to reach stronger ideas and more clearly articulate the key points of our project."
Throughout ICE, students also profited from speaking with Cohlan, along with a team of Margaritaville executives, managers, and support personnel.
Of all of the many pieces of useful advice suggested by the corporate team, the importance of storytelling really resonated with students.
"One of the biggest takeaways from the Margaritaville project was the value of a story," says Layne. "The best presentations were able to integrate data and analysis into stories that were engaging and relatable."
Wood believes that Cohlan himself demonstrated the worth of storytelling by telling many of his own during visits to the Commerce School. "It made him more personable and approachable. It also kept his presentations interesting and extremely memorable," she says, noting that her group's final presentation incorporated his technique to great success.
While the interactions with the company representatives were a great help to the third-years, who appreciated the professional guidance and input, Cohlan insists the time on Grounds spent interacting with students in an academic environment also provides unique benefits to the executives.
"This isn't something you typically get to do—come into an academic environment and be exposed to everyone of this generation. I really like the fact that it adds a slightly different dimension to some of our executives who were able to participate," says Cohlan. "And it's why we chose a question that was directly relevant to this group as consumers—not just thinkers and students—because they obviously are the people who live in off-campus housing. Maybe think of it as a focus group on steroids, because you got to hear really thoughtful people who were thinking about it as a business, but also have the ability to talk to you as consumers. How could we redefine an experience of off-campus housing? I think it's actually ripe for redefinition. That was wonderful."
The Meaningful Results of a Well-Spent Semester
While some student groups suggested in their presentation that Margaritaville try reaching a younger clientele by creating student housing, others insisted that a venture into Charlottesville's boutique hotel market would prove prudent and lucrative.
Those ICE presentations, the culmination of months of intense research and analysis, resulted in astute recommendations to the company that made real-world impact.
"I spent many long hours in McIntire researching Margaritaville, planning our report, valuing the company, and practicing our presentation," says Coppa. "I heard that this project takes the entire semester to complete, but I underestimated that statement. The reward, however, was invaluable. I learned so much about analyzing a company financially and strategically from several different perspectives, as well as how to best propose a recommendation after careful research."
Braith says she now feels ready to attack any huge undertaking she might face, while understanding how to effectively get the best out of herself and anyone with whom she collaborates. "I learned how to handle a project with a seemingly insurmountable scale. Working on the ICE project was a lesson in time management, prioritization, and delegation."
For Trull, the 20 minutes spent sharing her team's findings and taking questions about their recommendations proved the most enjoyable moment of ICE. "I loved interacting with the executives and presenting our ideas. It made the entire semester of hard work worth it when we could finally show our plan to Margaritaville, our professors, and the class."