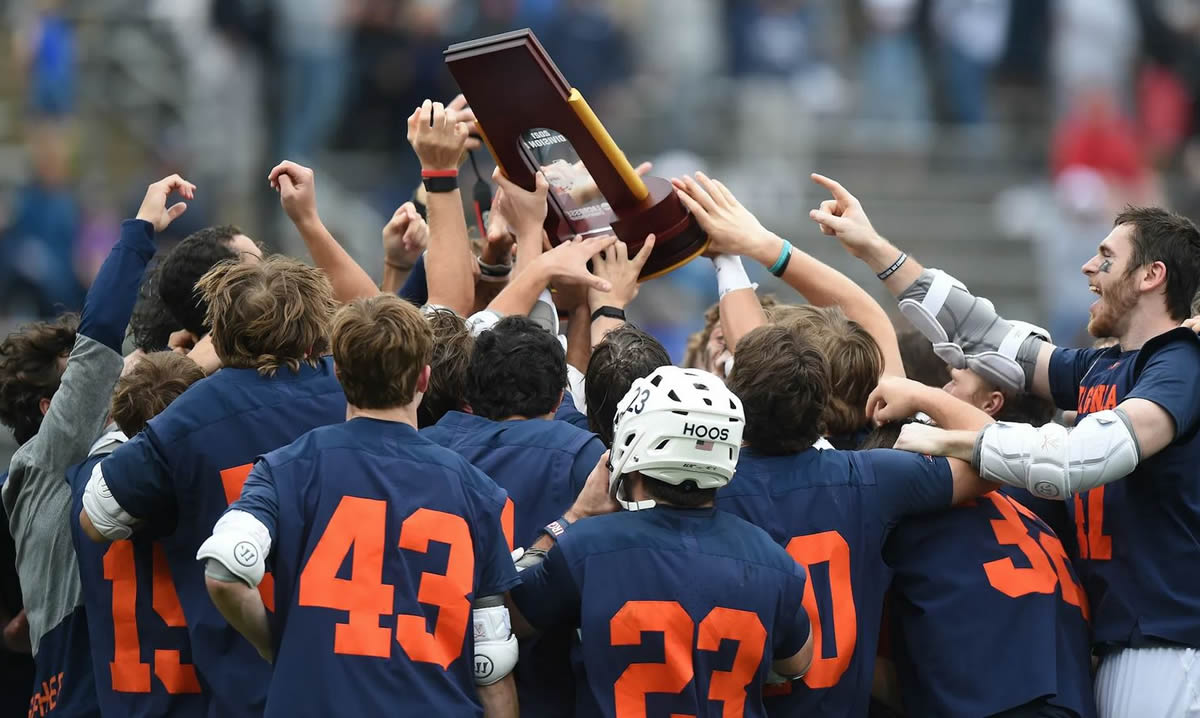 By Jeff White
Over Memorial Day weekend, the University of Virginia Men's Lacrosse team won the national championship—its second in a row and seventh NCAA title overall (with others in 1972, 1999, 2003, 2006, 2011, and 2019).
The 17-16 win pit the #4 seeded Cavaliers against #3 Maryland at Rentschler Field in East Hartford, CT, where they earned a hard-fought win. Seven players of the championship 50-man team are Commerce School products, including Kyle Kology (McIntire '21), Jack Peele (McIntire '21), Ryan Pride (McIntire '21), Jack Simmons (McIntire '22), Paul Rodriguez (McIntire '22), Charlie Bertrand (M.S. in Commerce '21), and all-tournament team game goal scorer Jared Conners (M.S. in Commerce '21).
"We've been tested like this all season," said Conners, the nation's premier long-stick midfielder. "We've had our ups and downs. We've had losses. We've had teams go on runs like that. We knew it was going to be a dogfight. We knew Maryland wasn't just going to roll over, especially after that 2019 game, when we had that comeback," he said, referencing the NCAA quarterfinals game from two years ago, when Virginia erased a five-goal deficit in the second half, eventually overtaking the Terps in overtime.
"At the end of the day," Conners said, "it just came down to our chemistry and being able to look at each other and knowing that we could rely on each other and we were going to leave it all out there and give everything that we had."
The title game win is somewhat bittersweet for Conners, as it also represents the final moments of his college lacrosse career and playing for Coach Lars Tiffany.
"This is one of the greatest feelings ever," he said. "It's definitely the reason you come back for [a fifth year], and talking to [fellow grad student] Dox [Aitken] after the game, there's nowhere else we'd rather be. It's been an incredible experience. It's been an awesome ride. I love my team, and there's no one else I'd rather do it with. We've got a brotherhood like nothing else, and if you came in our locker room and spent a couple hours there, you would understand what I'm talking about."
After earning his bachelor's degree in 2020, Conners was accepted into UVA's M.S. in Commerce Program for this academic year. The opportunity was one he couldn't pass up, but Conners said Monday that lacrosse played a major role in his decision, too. He wanted to help the Hoos win back-to-back NCAA titles for the first time, and he reached that goal Monday.
"Being able to come back and be surrounded by the group of guys that we have is something that you dream about," Conners said. "It's been a crazy ride, and I'm so glad I made the decision to come back, for sure."
"These six student-athletes are driven to succeed at the highest levels on and off the field. That's just in their DNA," says Commerce Professor Rob Patterson. Having taught five of the six players representing McIntire, Patterson says that they never shied away from rigor in the classroom. "They're part of a national championship team on the lacrosse field, but each of them also sought out nationally ranked academic programs. That says a lot about their character and shows they don't settle for mediocrity. It's that drive and determination to challenge themselves in multiple facets of their lives that I find inspirational. They truly exemplify the McIntire spirit."
Additional content by Corey Mittenberg. Read more about UVA Lacrosse's seventh national championship at VirginiaSports.com here and here.