Schedules are packed. Everyone is beyond busy. Yet a glaring need still exists for many students who are curious about topics that fall just outside the scope of their areas of study or don't quite fit into the syllabus of their more traditional classes.
The solution? McIntire's new Side Hustle courses. These asynchronous, on-demand classes have made it easy for any UVA student to find the time for gaining valuable, actionable knowledge in what is proving to be a popular and growing number of specific entrepreneurial areas.
Supported by a $150,000 grant awarded from the Jefferson Trust Board of Trustees in February 2022, the program was successfully piloted this past summer with two Side Hustle courses: Commerce School Professor Chip Ransler's How to Find and Engage Important People Online and UVA Associate Athletics Director for Governance & Regulatory Affairs Jason Baum's What Is NIL (Name, Image, and Likeness): History, Laws, and Making Money.
These "masterclasses in contemporary business topics," as they've been described, aim to prepare learners with entrepreneurial ambitions to develop an array of skills and profitable businesses. The brevity and engaging material that the half-credit Side Hustle courses provide run under 10 hours in length, and like any streaming binge-worthy TV series, they are designed to be absorbed either in pieces—when time permits—or in full.
"This is a really exciting new opportunity for students to take compelling content from world-class professors," says Ransler, also the Academic Director of the program. "Essentially, after someone signs up during the usual course enrollment period, they can take these courses anytime they want during the next semester. It's premium content that's very relevant to what they're doing in life."
"Many people are interested in side hustles, furthering their careers, and getting ideas for startups for whatever passion they have," he adds, noting that the courses are perfect for self-starters who are willing to dedicate "just a little bit" of time outside of their schedules to broaden their understanding of topics they are interested in—and at whatever hours are most convenient to them.
"You might be on a plane from Los Angeles to Charlottesville, and between the time in the air and sitting at the airport, you've taken a whole course," explains Ransler. "Most people do not want to sit in a single class for six or eight hours, but these classes are different. We tried to create content that's very watchable, super-informative, and [able to be completed] in a pretty short amount of time."
Ransler says that deciding how to present each concept in the brief format came with its own set of challenges, but ultimately, the bite-size module class construction freed him to approach the material in ways that he couldn't do in a traditional in-person semesterlong course. "I'm able to intimately show students how to use tools—literally how I would accomplish something with examples from my own life. These classes feature tactical, up-to-date, real-life techniques that people can use immediately after, and even while taking the courses."
Expert Approaches
In going through the exercise of conceptualizing how to present the material for How to Find and Engage Important People Online, Ransler incorporated new teaching methods. He believes the process has also made him a stronger instructor in his semesterlong courses.
Resources that made a difference include the experiences of others who directly informed the subject at hand.
"There are so many instances of budding entrepreneurs who very innocently reached out to VIPs with intelligent, personalized, targeted communications and set their career or their company on a completely different tangent than they ever would have thought possible. People they thought would never even talk to them, which led to investments, referrals, or entering a new network."
To show some real-world examples in action, he brought in entrepreneurial alumni Chat Razdan (McIntire '05) of healthcare fashion company Care+Wear and Jacob Peters (McIntire '17) of both software startup Commsor and tech community named launch house, who shared how they approached accomplished, famous people with partnership ideas that ultimately created huge opportunities for them.
The McIntire graduates' experiences dovetailed with expected outcomes of Ransler's course: for students to learn about their passions, identify their skills, understand how to navigate the online world to strategize their communication and effectively use their time to position themselves to connect with experts, and much more.
In some ways, Ransler says it's the difference between people who get what they want and people who don't. "Many times, it's literally just the power of asking."
Rules of the Game
Baum's Side Hustle course focuses on the historic, legal, and economic concerns behind student-athletes' name, image, and likeness (NIL). Since June 2021, when the NCAA adopted an interim policy permitting all student-athletes to receive financial compensation for their NIL, provided the opportunity isn't pay-for-play or an inducement, the issue has understandably become a hot topic.
Yet that widespread curiosity has proven to be shared by UVA's fans and athletes alike. Baum believes that the majority of students enrolled in the course are actually not student-athletes, "which is great. I really appreciate it because the subject matter can be useful for any type of student," he says. "It just becomes more fun when the underlying subject is college athletics."
In creating the micro-course, Baum says he was reminded that the landscape of college athletics is constantly changing and that college athletics has a huge draw, as many people are passionate about it. And in preparing the material, he notes that teaching the course forced him to delve deeper into the nuances of NIL opportunities. The result is that he has come to have an even greater appreciation for the process by which student-athletes may obtain, negotiate, and benefit from agreements being presented to them.
Students taking Baum's Side Hustle class are benefiting from quickly learning about the right of publicity, NIL laws and policies, and their complexities. They're also being introduced to intellectual property concepts such as trademarks, licensing, co-branding, and group licensing and examining the role of contracts; negotiating; independent contractors; and operating within different state laws, institutional policies, among other ideas.
Baum says that the course also stresses the idea that there is a great deal more to NIL than simply making money. "There is history behind the laws that were created. There are many hours that go into obtaining and negotiating these opportunities. Actual work is being performed, and not everyone has these opportunities," he insists. "At bottom, there is more to NIL than what you hear commentators discuss during a broadcast."
Low Stress, High Reward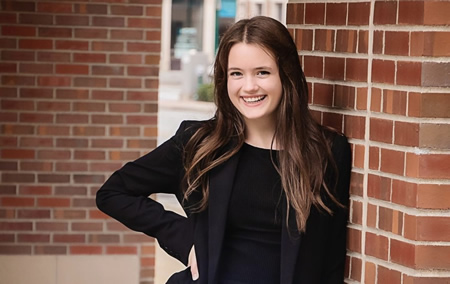 First-year student Elizabeth Taylor (UVA '26) is currently undecided on her major, but the Avon, IN, native who is leaning toward Political Science, Business, or Media Studies says she's always thought a career in entrepreneurship might be in her future. For a student exploring all options, the How to Find and Engage Important People Side Hustle course felt like a fitting and low-stress introduction to the subject.
"Networking and starting a business seemed daunting. Instead of taking a full-semester course, the micro-course was perfect to help me determine whether this would be a viable career path," Taylor says. In addition to the networking skills she picked up, she says that everyone—regardless of major or professional goals—should take it. "Everyone should be comfortable using LinkedIn, cold-emailing, and developing their own personal brand."
The on-demand, bite-size modules available also were advantageous for her. She enjoyed learning at her own pace, which she says came at free moments between classes, doing laundry, or having coffee. But despite the flexibility, Taylor says that learning wasn't a passive experience.
"I enjoyed how interactive it was. Nothing in the course was busywork," she says, pointing out how much she learned about the planning that goes into effective networking and emailing.
The lessons were immediately applicable to her life. "Prior to this course, cold-emailing and reaching out to executives seemed intimidating, even for messaging my current boss. The class took stress away from these areas and also helped with techniques to present myself to employers. I've also continued to use the spreadsheets from the class because of how helpful they are to organize my network."
More Hustle
Ransler says that because of the success of the of Side Hustle pilot program, more of the credit/no-credit micro-courses are scheduled to arrive in the coming months. The next crop of classes will have subjects expected to demystify topics such as entrepreneurial ideation, money management, and strategic social networking.
While many faculty and administrators at McIntire are enthusiastic about contributing their expertise to possible future micro-courses and the unique skills that they offer to students, alumni have also been willing to partner with faculty, voicing their support for the stackable program.
"A student could be on Grounds all summer, and take six of these courses and get three credits," Ransler says. "There are some real benefits to the logistics of taking them, but the content is definitely right for people who are ambitious and want to learn from instructors who present the material in a very well-articulated way."