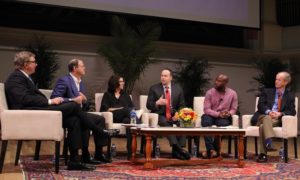 The idea of going public may lure businesses for the potential access to capital, increased name recognition, and ability to easily buy and sell company shares, but privately owned companies still account for 99% of American businesses and remain the dominant force driving the economy. Although publicly owned companies may command news headlines, private firms are responsible for 68% of private sector employment and more than half of all non-residential physical investment.
The opportunities and challenges facing private companies, and the investors who buy these companies, served as the topic of conversation at the McIntire School of Commerce's 2018 Fall Forum on Oct. 12. Presented by McIntire and its Galant Center for Innovation and Entrepreneurship and Center for Investors and Financial Markets, the School welcomed the community to Old Cabell Hall for "Private Firms—Engines of Growth."
Featuring a keynote address from Hiter Harris of global middle-market M&A advisory firm Harris Williams, the event highlighted the experiences of alumni panelists who operate and own private companies from across a range of industries, offering in-depth discussions on pressing issues including strategy, management, and capital raising.
Sending the Right Message
After brief opening remarks and an introduction from McIntire Dean Carl Zeithaml, Harris took to the stage. Describing how the span of his career has afforded him "a front row seat to the complete transformation of the industry," he quickly illustrated the explosive growth in private equity investing—that is, investments applied to acquire private companies—using integrated real-time polling via text message.
Harris put the first question to the audience and encouraged everyone to take out their phones: "When I started in 1987, there were 48 private equity groups with a fund. Take a guess how many there are today." Projected behind Harris, responses in the area of 300 to 500 popped up in a word cloud on the screen. Harris briefly waited before breaking the quiet anticipation: "The answer is almost 7,200." Surprised gasps filled Old Cabell Hall.
Harris added that 633 different private equity funds are now worth $1 billion or more—a growing number due to current trends in fundraising. He then spoke about the growth in asset classes under the private equity umbrella, including venture capital, real estate, and private debt funds, detailing the significance of substantial amounts of "dry powder," available capital reserves that the private equity world can draw upon to continue investing. "This is our raw material for how we see the market," he said. "This ensures that the market is growing and is going to stay vibrant."
Harris admitted that, while private equity has its negative aspects, including research showing that private equity takeovers can result in net job losses, most of the losses reflect competitive industry adjustments, with private equity-backed companies creating substantial new jobs over the long run. Meanwhile, even as private companies are subject to the same ups and downs as public companies that affect the overall economy, Harris noted that "private equity is still doing what it's built to do: Beat the public market returns."
Taking It up with the Management
The first panel, moderated by Galant Center Director Eric Martin, discussed the payoffs and difficulties inherent in private firm management. The contrasts among panelists' experiences in management approaches, ownership structures, leadership philosophies, and governance strategies made for an interesting exploration of the subjects.
Merritt Lane (McIntire '83), President and CEO of family-owned transportation firm Canal Barge Company Inc., weighed the positive and negative aspects of maintaining a private company, and explained how his business opts for governance practices that may resemble those of publicly held firms, boosting accountability, structure, and a high standard of performance.
Richard Wood (McIntire '61), retired CEO and current Chairman of the Board of family-owned convenience store chain Wawa, pointed out—in a light-hearted moment with the help of a four-foot fold-out family tree—how that connection informs company strategy: "The people on this chart want to know that they have a business that they can be proud of."
Private Concerns and Benefits
The conversation turned to formal governance, with a future focus for real estate company Elm Street Development. Karen McJunkin (McIntire '84), a 30-year Regional Partner, remarked that, with retirement looming for members, formalizing the operations is becoming a priority. Touting benefits, Bryan Myers (McIntire '09), COO for exercise studio chain Solidcore, recounted how a healthy infusion of venture capital allowed the company to lean into new growth strategies that benefit from its investors' expertise.
Another organization buoyed by an inflow of private equity, cloud-computing firm Rackspace, was taken private by Apollo Global Management, which purchased the San Antonio-based company in 2016. Rackspace COO David Meredith (M.S. in MIT '03) discussed the strong corporate motivation to promote growth and provide Apollo with a return on its investment.
Different Approaches to Creating Value
Senior Advisor at TA Associates and moderator Richard Tadler (McIntire '78) kicked off the second panel of investors by posing a question about what constitutes private equity for investment firms of various sizes.
For John Connaughton (McIntire '87), Co-Managing Partner of one of the largest firms in the field, Bain Capital, private equity amounts to value addition and driving opportunity by offering premium returns for investors. Erin Russell (McIntire '96), former Principal at Vestar Capital Partners, said in order to bring value to its companies, her middle-market firm had to adapt to the operating partner model, a growing engagement in proactive outreach, and a sudden switch to begin participating in auctions.
Tadler then inquired how smaller firms add value to companies they target for investment. Partner and Founder of Eagle Merchant Partners E. Stockton Croft (McIntire '91) indicated that his firm looks for companies showing a solid business model inside growing industries with a customer base that extends beyond the owner to protect against an owner's potential exit.
Will Dowden (McIntire '07), Managing Partner of KLH Capital, added that his firm seeks out companies going through a change in their ownership or management team. Growing value is achieved by backing active management teams to buy out passive owners, or working with aging founders who need to develop a team that can assist with creating a sophisticated capital infrastructure and a succession plan.
What Now?
As many experts believe the current market represents the peak of private equity, Tadler asked how the panelists felt about investing at this crucial time. Croft believes that there is still value worthy of consideration and that his company's long-term investments will weather whatever comes next, including a potential recession.
In closing, Connaughton stressed the importance of cultivating an uncommon perspective to move from good investments to great ones. He proffered that a contrarian point of view, bolstered by knowledge and curiosity, may allow for a unique investment that reaches beyond the confines of conventional wisdom.