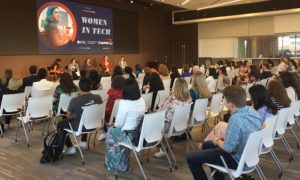 Advancing discussion of issues ranging from emerging technology and diversity to career advice, the McIntire School and Capital One's "Women in Tech" group co-hosted a panel and networking event featuring UVA alumnae who recounted their own journeys into technology-related positions.
Moderated by McIntire Senior Associate Dean and Rolls-Royce Commonwealth Commerce Professor Saonee Sarker, the panel welcomed Susan Gerock (M.S. in MIT '04), Vice President, IT and Chief Information Officer at Washington REIT; Alyssa Guo (McIntire '08), Director of Business Analytics at Afiniti; Rebecca Heironimus (Engineering '99, Darden '04), Managing Vice President of Enterprise Digital Products and Data Connections at Capital One; and Stephanie Mango (McIntire '94, M.S. in MIS '95), Senior Vice President at CGI.
The May 21 event, held in the Maplewood Room of Capital One's McLean, VA, location, delved into the many challenges of staying current on emerging and horizon technologies. In light of technology's ubiquitous presence, one panelist shared her simple advice that one needs to know enough to be dangerous and get comfortable asking questions when something is unfamiliar—chances are others in the room have similar questions. It's also important for people working on the technical side to explain ideas simply so that everyone can understand them.
Diversity efforts were another hot topic, with panelists explaining that the process of convincing more women to pursue tech-related roles has to start with earlier engagement. One speaker insisted that a greater initiative must be made to instill in young women the belief that they can be successful in tech, pointing out that afterschool programs, such as those that teach coding, need to be designed in a way that appeals to more young girls. Others said that while many women are becoming more involved in technology, there is still a need for more women in leadership roles. The panelists referred to research on the confidence gap between men and women and encouraged the audience to pursue new roles and opportunities even if they don't meet all of the qualifications in order to continue to advance, grow, and progress in their career.
Building on the topic of career opportunities, the panelists touched on the importance of mentorship. Several agreed that successfully finding a mentor often begins by simply reaching out to someone working in an area of interest. One panelist encouraged the audience to enter conversations with mentors with an understanding of what you want, so that you can articulate it and leverage mentors for advice and support. The challenges of receiving criticism and how to handle it were explored, with the panelists stressing that crucial ground rules for growth include assuming positive intent and being honest and transparent.
When the discussion opened up to audience questions, the conversation turned to a discussion on work-life balance. The panelists agreed that everyone has to find their own approach and shared their own tactics for how they create space in their calendar for interests outside of work.
Special thanks to current Capital One employees and McIntire alumnae for their support organizing this event: Kate Downey (McIntire '11, M.S. in MIT '18), Alex Lopez (A&S '15, M.S. in Commerce '16), and Jamie Specter (M.S. in MIT '16).