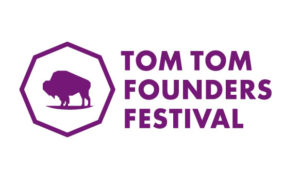 The eighth annual Tom Tom Founders Festival returns to downtown Charlottesville and features the Tom Tom Summit event April 8-14. Combining six conferences throughout the week, the Summit offers deep dives into youth and civic innovation; renewable energy; creative and entrepreneurial ecosystems; and applied machine learning, with cutting-edge ideas from the innovators and visionaries making it happen.
The Galant Center for Innovation and Entrepreneurship at the McIntire School of Commerce is proud to be a major supporter of Tom Tom, and we hope you'll join us there!
Secure your badges or tickets early to register for your preferred sessions. Take 50% off Summit badges using the code UVA-GALANT-50-OFF.
Enjoy the keynotes, classes, and music, art, and food sessions featuring McIntire alumni and other innovators around town.
Notable McIntire alumni at the Tom Tom Founders Festival include:
Andy McClure (McIntire '01), Owner, The Virginian Restaurant Group, "Hoos in the Kitchen"
Tuesday, April 9, 3:45–5:15 p.m.
Sandy Reisky (McIntire '88), Chairman, Apex Clean Energy, "Why Schools Need to Go Solar"
Wednesday, April 10, 9–9:45 a.m.
Josh Anton (McIntire '14), CEO, X-Mode, "Four Big Ideas in the Ecosystem: Entrepreneurial Flash Talks"
Friday, April 12, 10:45–11:45 a.m.
Chad Rogers (McIntire '97), CEO, TypeZero/Dexcom, "The Future of Healthcare Innovation: The Intersection of Life Science, Data, and Technology"
Friday, April 12, 1:15–2 p.m.
Not sure about what else to do at the festival? Here's a short list of some of the 250+ events to check out:
Watch students pitch their tech, leadership, and innovation ideas at the American Evolution Innovators Cup competition. (Select teams from the competition, regardless of their university affiliation, may be invited to compete two weeks later in April at McIntire's eighth annual Galant Challenge. As one of UVA's premier startup events, the Galant Challenge connects select UVA-affiliated seed- and early-stage ventures with potential investors.)
Attend the Entrepreneurial Ecosystems Conference.
Roam around the Belmont neighborhood to hear free sunset front porch concerts.
Share a meal with industry leaders in entrepreneurship, data, marketing, innovation, and more, at a networking lunch or networking happy hour.
See the full Tom Tom Founders Festival schedule here.