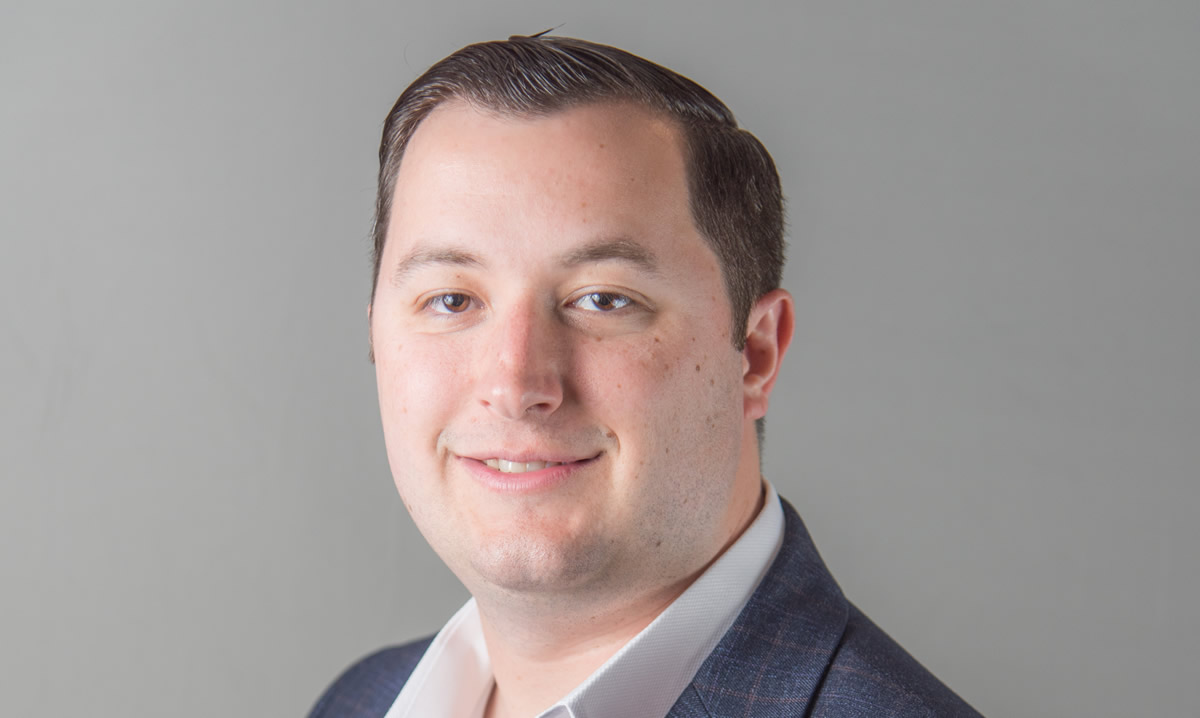 When Matt Entsminger, a Sales Performance Intelligence (SPI) Specialist at Delta Air Lines, graduated from the College of William & Mary with a B.S. in Chemistry, he knew that he was destined for something different than his classmates.
Many of his peers were headed for scientific graduate programs, but he was interested in a globally oriented career, an attraction solidified by his study-abroad experience in Prague and reinforced by International Relations classes. It was a problem, but a short-lived one. He soon discovered a way to make the jump from dealing in chemicals to focusing on transcontinental markets.
"Around this time, I happened to attend a recruitment session for the M.S. in Commerce Program," Entsminger recalls. "The program's clear focus around pivoting non-business undergrad degrees into a global business environment instantly resonated with me."
Where it ultimately led him was to Delta, where he's been for more than six years—in various capacities and at various locations, including New York, Paris, and now, Atlanta. His current position as an SPI Specialist has Entsminger working to improve sales performance processes, data acquisition, communication, and more for the airline. It seems to suit him extremely well. And as travel ramps back up as the pandemic recedes, his responsibilities and the global connections to the world that his job afford him only stand to improve.
Prepared to Fly
Entsminger says that his time in the M.S. in Commerce Program was significant in helping him prepare for working with Delta. He chalks it up to what he calls the "McIntire mindset." That equates to reinforcing an analytical approach, rigorous decision making, and strong "soft skills" in interpersonal communication that are crucial to conducting business successfully.
"Coming from a chemistry background, I wasn't a stranger to data, but McIntire's ability to help me step back and look at problems from multiple angles gave me the ability to adapt to problems as they arose," he says, pointing to the effectiveness of team-based projects in the program that continue to support his current role. "The reality is that most educational experiences are focused on individual work and tests, but the business world is driven by collaboration. McIntire really pushed me out of my comfort zone into unfamiliar territory, which has been a crucial factor in my success at Delta."
Another influential factor in his Comm School experience occurred off Grounds, when he traveled to East Asia as part of the M.S. in Commerce's Global Immersion Experience (GIE). Though he already determined that he hoped to work abroad during his career when he came to McIntire, he specifically chose the GIE's East Asia track to further enhance his skill set beyond what he cultivated studying and traveling in Europe.
"Looking back, the East Asia track ended up being the perfect choice for me because the three largest Asian markets that Delta flies to are Japan, Korea, and China," he says, noting that during his time in Delta's New York office, he applied his GIE experience to improve the company's global contract negotiation processes with the local teams in Asia. He says those interactions demonstrated to management his quick adaptability in international environments—a crucial skill that he credits with being selected for a position in the Paris office.
"In short, a push to experience the unknown in East Asia helped me land my dream job on the other side of the world in Paris," he says. "Not all paths are linear." 
Challenges Cultural and Viral
For Entsminger, the most challenging aspect of his work is also the most enjoyable.
"It centers around the unique position of the airline industry to create antitrust-immune joint ventures," he says. That part of his job, which allows Delta to partner with other international airlines as if they operated as part of the same company for certain travel routes, has him collaborating with people from other companies and other countries.
He says it's an opportunity that he enjoys immensely, despite the challenges presented.
"At times, it can be difficult to balance the different cultures and priorities of so many different organizations and regions, but it's always a fun puzzle to solve and forces you to embrace that 'McIntire mindset' of always trying to look at every situation from multiple angles to see how your decisions can benefit not just Delta, but our joint venture partners as well," Entsminger says.
More difficult has been the negative impact of coronavirus on both his industry and his position.
"The pandemic had a significant impact on my life and work with Delta, as I was stationed abroad when the outbreak began," he explains. "I typically traveled multiple times a week within Europe for work, so I saw firsthand how quickly the border closures began happening and experienced the uncertainty this created for even the most seasoned travelers."
He notes one thorny moment while giving a presentation to Delta customers in Tel Aviv, when a local colleague at Air France scrambled to help him return to Paris; he caught the last flight back to France before Israel closed its borders with Europe.
"After the initial flurry of activity around the outbreak, it was like hitting a brick wall, as borders closed within Europe and almost all international flights were canceled overnight. It was incredibly difficult to watch as our industry essentially ground to a halt, with very little we could do to positively improve the situation," he says.
The situation, which has slowly been improving over the last few months, resulted in his repatriation and leaving a position he truly enjoyed in Paris.
Entsminger says he sees the crisis "emphasizing financial stability as a driver of choice and permanently cementing the importance of health and cleanliness in the travel industry," noting how bankruptcies stranded customers across the globe, with the pandemic exacerbating the threat with increased financial strain.
"As we exit the pandemic, I believe more people will want to book directly with companies that they believe are stable financially to reduce their risk exposure. Health and cleanliness are also here to stay within the travel industry, as these factors will become permanently associated with comfort and quality," he says, explaining that Delta benchmarked its own cleaning standards by measuring itself against the medical industry, creating a Global Cleanliness department and hiring a Chief Health Officer from the Mayo Clinic.
A Route Worth Taking
Entsminger calls the M.S. in Commerce "an amazing crash course in business," saying that anyone would be hard pressed to find another graduate program capable of imparting such a high quality and quantity of business knowledge into the condensed 10-month timeframe.
He says that McIntire's business education was further elevated by its firsthand international experience and excellent job-search preparation he received.
"One of the things I remember most, and that people disliked, was having to practice doing digital interviews, but looking back, even small experiences like that exercise had a large impact on my ability to confidently represent myself both in person and online," Entsminger says.
"The M.S. in Commerce Program met my expectations by fulfilling its core promise to take the best aspects of my undergraduate degree and combine it with the best aspects of a business degree. That's made me an incredibly versatile asset—anywhere in the world."