This Centennial Year, we honor our past, present, and future. This article was originally published July 10, 2019. Niketas Koussis is an Incoming CIO Advisory Intern at KPMG.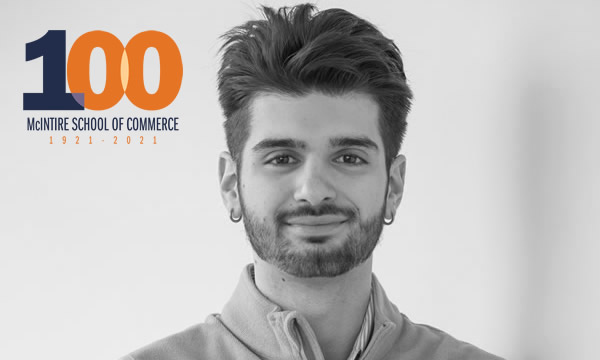 Rising third-year Niketas Koussis is ready to continue his success story right where it left off—with startling academic achievement and an insatiable hunger for real-world business experience.
The Northern Virginia Community College (NOVA) transfer student is no stranger to hard work and the positive results it yields. His accomplishments both in and out of the classroom resulted in accolades and leadership roles. He earned a scholarship as one of the 20-member 2019 All-USA Academic Team, chosen from a pool of 2,000; carried a near-perfect GPA; served as President of NOVA's business club, Phi Beta Lambda chapter and Vice President of service for Phi Theta Kappa; and earned awards from his last school for Student Life Services and SEAL for his contributions in service, engagement, academics, and leadership.
No less impressive, during the same two-year period as his studies at NOVA, he worked full time managing a seven-person team at Best Buy as a salesperson, earning recognition with the company for selling over $1 million in revenue in one fiscal year, and ranking as the second highest-selling employee in the NOVA/MD/DC market and the 11th highest overall.
Adding to Koussis's inspiring story are his tenacity and ability to thrive despite humble beginnings. Though as a youngster he and his family dealt with extremely difficult living situations, which included a period of homelessness, he always remained focused on his studies throughout the years of hardship that made his pre-college life markedly challenging.
We spoke with Koussis about the many experiences that have led him to Grounds and what he envisions for himself at McIntire.
You had a 19-credit load per semester at NOVA while leading both PTK National Honor Society and Phi Beta Lambda at the school—and simultaneously working full time. How did you manage it?
During my first semester at NOVA, I came in working full time, but I was not involved with student life yet. That first semester, I developed efficient time management and studying skills, allowing me to balance both of my responsibilities. Later, when I became involved with student life, I applied the same skills and then adjusted my schedule further. Do not get me wrong—it was quite tough at times, and I had many all-night study sessions. My days off from work were spent at school. There were times when I did not have a single day off from both work and school for three straight months. One factor that helped immensely was having a responsible and effective team of officers. However, at the end of the day, it was about having an end goal—the goal of being accepted into UVA. Whenever I would get off a nine-hour shift and simply wanted to sleep instead of studying the rest of the night, I would remind myself of where I could be in a couple years' time.
Piggybacking on that, what elements of your background or education do you think helped you excel in sales? How did your success as a salesperson impact your academic career while at NOVA?
Two main elements of my background have helped me excel in sales, the first one being that I grew up economically disadvantaged. Having to work harder than most, I became extremely competitive. Second, I attribute my success in sales to my personality: I love talking to people. Sales is all about relationships; you can have all the product knowledge in the world, but the most important factor is building a trustworthy relationship with your clients. My success as a salesperson and a leader at work led me to taking on the role of president for Phi Beta Lambda. The club focused on professional development for business students; we held multiple career fairs and professional seminars.
How do you imagine that your work experience may inform how you approach your education at McIntire?
Through working full time the past two years while attending school, I have gained certain insights that I plan to carry with me to Charlottesville. For example, I always aim to be the hardest working person in the room. This methodology has paid dividends again and again for me. I also plan to make long-lasting relationships with my classmates and faculty.
During my last two years at Best Buy, I have been in a leadership role, responsible for multiple departments and a team. I understand how team-oriented and collaborative McIntire is, and I hope to apply my past experiences of working in a team. Last, I will take advantage of every opportunity UVA has, whether that is studying abroad, becoming involved with student life, or attending a seminar on Grounds. I know I only have two years at UVA, and I want to learn all that I can during that time.
Why did you choose to transfer to UVA and apply to McIntire? What about the Commerce School appeals to you? What are you looking forward to learning?
When I arrived at NOVA, I knew I wanted to attend a top business program, and to go somewhere that would academically propel me to my full intellectual potential. I was not afforded that ability in high school. My mother and I were homeless for most of my middle school and high school years, so it was difficult for me to excel in school. When I started to research top programs, McIntire's ICE curriculum stood out to me because of its emphasis on real-world learning and career preparation. That—along with the freedom to design my own academic experience via concentrations and tracks—is the reason I chose UVA. I am most looking forward to learning finance; it has been an interest of mine since I started college.
How did you react when you found out you got into McIntire?
It was surreal. I could not believe it. As I mentioned before, I worked towards getting into McIntire for two years. Seeing my hard work pay off and my goal come to fruition was truly the most rewarding feeling. As soon as I read the acceptance letter, I called my family and close friends. It was my birthday weekend too, so it was a great present.
What about your long-term goals? What are you hoping to accomplish in the near future—and—if you have decided—long term?
For now, my short-term goal is to find an internship with a Fortune 500 company in the finance sector to gain real-world experience in my concentration. My long-term goal is to launch my own venture, a philanthropic organization dedicated to helping kids who grew up disadvantaged. I was able to overcome the adversity that my mother and I went through. Though there are many kids experiencing what I knew and worse, I want to help them reach their full potential and find their future by providing the ability to obtain a higher education.