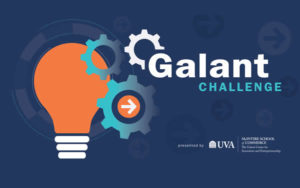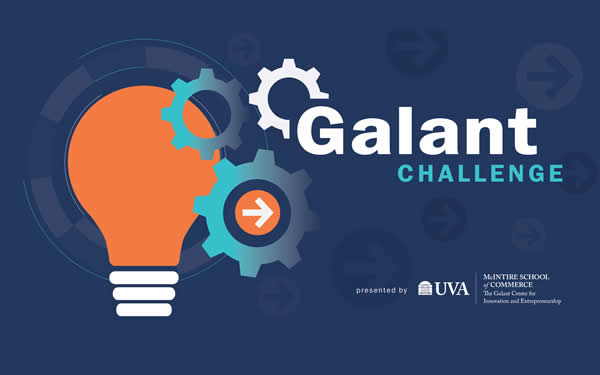 The McIntire School of Commerce's Galant Center for Innovation & Entrepreneurship hosts the seventh annual Galant Challenge April 25, 2019, once again welcoming entrepreneurs from the UVA community ready to give their best elevator pitches to a panel of showcase judges and investors.
Interested in pitching your idea? Click here to get the details on applying to this year's Challenge. The deadline is Tuesday, April 2, 2019.
Since launching in 2012, the Challenge remains one of UVA's premier startup events. Highlighting and strengthening the University's growing entrepreneurial ecosystem, the event connects UVA-affiliated seed- and early-stage startups with potential investors, and has successfully funded ventures with more than $2 million in capital in the past few years alone.
What does it take to have a business idea that's enticing to investors?
Participants who have secured funding through past Galant Challenges represent a diverse group that covers startups of all stripes. Some are medical companies like Chad Rogers' (McIntire '97) diabetes management platform TypeZero Technologies; Kevin Eisenfrats' (Engineering '15) Contraline, a biotech business creating a male contraceptive; and UVA Department of Biomedical Engineering faculty member Kimberly Kelly's targeted therapeutics drug company ZielBio.
There have been strong showings in tech, like real-time location platform X-Mode from Josh Anton (McIntire '14); philanthropic ventures like Gideon Taub's (Engineering '07) platform Pinkaloo; and PurPics, a platform connecting brands with Gen Z nano-influencers for fundraising causes, from Victor Layne (McIntire '20) and Aneesh Dhawan (A&S '21).
Other ideas extend into the restaurant and cafe space, with Alvaro Anspach (McIntire '15) and Alberto Namnum's (McIntire '13) health-forward, fast-casual restaurant group Roots Natural Kitchen and Robert Peck's (Engineering '09) specialty coffee roster and retailer Commonwealth Joe both securing funding.
In advance of the next thrilling edition of this "Shark Tank"-like event, we caught up with a few standout Challenge winners to see where they've since taken their ideas, to find out what they're looking forward to achieving with their startups, and to get their advice for putting together the kind of breakout presentations this year's competitors hope to prepare.
Let's start at the beginning. What aspects about your original business idea made it particularly enticing to the Galant Challenge judges?
Gideon Taub, Pinkaloo, funded 2018: I think it was a combination of the size of the market, our team, and traction. Specific to our business, some of the judges had extensive experience in the employee benefits space and so quickly understood the size of the opportunity. Having a great product already built and a few early clients likely helped, too.
Chad Rogers, TypeZero, funded 2016: We had already made substantial progress in our first-generation product to help patients with Type 1 diabetes. A product called inControl AP [artificial pancreas] had been tested in a number of large-scale clinical studies with the National Institutes of Health and had a substantial data set for our FDA submission. The company had already moved on to the product execution stage, which was helpful to de-risk the idea for the investors. In addition, we had already secured a number of commercial and clinical partnerships with potential licensees and other medical device manufacturers in the diabetes space, which gave substantial credence to our vision and product portfolio.
Josh Anton, X-Mode, funded 2017: The team. With only $500,000, we were able to take the revenue model and technology we built around college safety with Drunk Mode, and pivot into a successful location intelligence company within six months. Revenue growth: Within 90 days, we grew from $5,000 a month to almost $60,000 in monthly recurring revenue [MRR] between March and May of 2017. Platform growth: We hit our first 1 million daily active users within 90 days of the pivot from Drunk Mode to X-Mode. The ability to learn: We took what we learned, both positive and negative, from growing Drunk Mode to 2 million users and applied it to growing our B2B business exponentially.
Alvaro Anspach, Roots Natural Kitchen, funded 2014: Frankly, I think we got lucky. Paul Gannon (McIntire '79), one of the judges, was COO at The Baupost Group investment management firm for 30+ years. His experience had absolutely nothing to do with restaurants. I feel really fortunate that he liked us enough and took the opportunity to get to know us and to do due diligence on us. I wouldn't say we were attractive to the judges; I think we connected more with Paul and it led to a really valuable mentorship and advisership for us and the company.
How did being involved in the Challenge help you to further develop your company?
Chad Rogers: It is always helpful to present your ideas and have an opportunity to pitch to as many people and venues as possible, and the Galant Challenge was a great environment to have some judges and potential investors critique and give feedback to our plans. We were also able to get at least one additional investor in our fundraising round from the competition, which is always helpful during the capital fundraising process. Finally, having some additional publicity is beneficial in your fundraising process.
Josh Anton: The Galant Challenge allowed us to oversubscribe our bridge round and gave us the needed capital to grow from about $60,000 MRR in 2017 to approximately $500,000 MRR 18 months later. This also helped with closing our Series A financing. At the time, it was the third largest investment in X-Mode and a huge validation for us brand-wise. In the 12 months that followed, this investment allowed us to raise a lot more capital outside of Charlottesville.
Victor Layne, PurPics, funded 2018: Learning more about the angel investing process has been incredibly helpful. Investors and advisers who question our thinking and share their own knowledge are invaluable. With their help, we've been able to take some of the risk out of our startup and accelerate growth.
Gideon Taub, Pinkaloo: Three clear benefits. First off, any opportunity to pitch to really smart and accomplished businesspeople is highly valuable. Both the process of honing and refining the pitch and taking the feedback and questions to heart are huge. Second, the ongoing relationships we've developed continue to drive value for us. The relationship does not have to and shouldn't end when the event ends. Nurturing those relationships has been the biggest value. Lastly, the funding that we received was obviously really beneficial, too!
How are the issues that your company currently faces the same and/or different from those you were dealing with at the time you competed in the event?
Alvaro Anspach: They're probably just as hard—they're just broader in scope. You get better at certain things, but you have new challenges, so it always feels like the same level of difficulty. We started off with just an idea on paper. I'm proud that today we have five locations; we're opening up a sixth location at Penn State in June; and we've launched a new service, which includes delivery, catering, and coordinated delivery to offices. The challenges are different, but it still feels similar because there's a lot of work to do.
Chad Rogers: Things are quite different today than what they were in 2016. We were acquired by Dexcom Inc. in 2018, and so many of our concerns we had around distribution, fundraising, resources, et cetera have all now been eliminated. Our main focus today is on the rapid acceleration of our technology and expanding our core technology platform outside of Type 1 diabetes to Type 2 diabetes. We are now trying to take another big leap forward in our research in order to support the amazing products that we have access to now as part of Dexcom.
Gideon Taub: As an early-stage startup, it really is all about finding product-market fit. In April 2018, we'd just started working with our first employer customers who leverage our Modern Giving accounts as an employee engagement tool. In the time since, we have really homed in on our target customer: 100-500 employees with forward-thinking leadership and employees is our sweet spot. We've also had the chance to pilot with our first bank partners, who leverage our software to strengthen their relationships with their consumer banking customers. Finding product-market fit is a process, but we know a lot more now than we did nine months ago.
Josh Anton: At the time of the event, the issues we were facing had to do with uncertainty around the business model. We only had 90 days' worth of data, a lack of knowledge about the data industry, and essentially a two-person sales team. Tyler Wilson (supply side) and I (demand side) had to pretty much close a majority of our deals via cold emailing. And because we were a startup, many of our processes (human resources, shareholder services, sales processes, etc.) were in their infancy. The biggest challenge we faced was survival.
Presently, the challenges we face are what you would call "good problems." We're challenged with determining how to consistently grow our annual recurring revenue [ARR], MRR, and network by three to four times each year. Long term, we're faced with the challenges of privacy legislation and how it will affect X-Mode. Our internal challenge is figuring out how to double our 50+-person team in the next 18 months while retaining culture and opportunity for every employee.
Aneesh Dhawan, PurPics: We have significantly recognized the importance of our Gen Z consumer network and have made adjustments to prioritize this pillar for growth. While we are still incredibly focused on growing to more schools quickly and efficiently, we have a long-term goal of breaking past the U.S. college market and helping all Gen Z consumers everywhere raise funds for the causes they care about. Additionally, as we grew, we realized we had an incredible advantage in uncovering Gen Z trends on social media. We are now focusing on how we can help brands and Gen Z consumers better connect and understand each other through the power of social media.
What are you most looking forward to accomplishing with your business this year?
Chad Rogers: Our first artificial pancreas product will likely be reaching patients in 2019. It's both very exciting and very rewarding to see this technology finally reach the hands of patients. Our entire vision and plan were built around helping as many patients at possible with diabetes, and it will be gratifying to see this goal achieved.
Gideon Taub: 2019 will be a tremendous year for us. We are launching a partnership with ADP, via its ADP Marketplace, that allows any ADP Payroll customer to offer Modern Giving accounts to their employees, with the integration fully automated for the employer. We have also some really impactful bank partnerships launching that will be unlike anything the retail banking sector has ever seen.
Josh Anton: Building the foundation to scale. At 27 years old, I'm lucky to have the chance to lead this rapidly growing company. I believe we have the opportunity to change the rules in the location intelligence industry and give the consumer not only the ability to opt out, but also the means to see how their data are used for good.
I'm also excited about some of our pilot projects we're working on internally. Arbitraging the stock market with location data and using data to expedite the average person's commute are two of the major projects I'm looking forward to this year. I can't wait to see how we can leverage this massive amount of data.
Aneesh Dhawan: We plan on saturating our network of nano-influencers at 50 schools by the end of this year. This means we need to expand to new schools and go deeper into the schools we are already at. We also look forward to growing our team and expect to add several new members (both full-time and part-time). It is always exciting when people believe in our mission and want to come along for the ride!
What advice would you give to entrepreneurs attempting to follow in your winning footsteps at the next Challenge?
Josh Anton: Focus more on how you've validated revenue and achieved market fit and less on the "fluffy stuff" like vanity metrics, vision, et cetera. Those are important and will give your company the perception of success, but the reality is that a successful startup has built fundamentally great revenue and growth metrics with a validated vision of how to scale. Additional capital seems great on paper, but in actuality, the clock just started ticking, and you are now in a polygamous marriage with multiple investors and employees. Your job as an entrepreneur becomes minimizing divorces and doing right by all of the stakeholders. That being said, enjoy the ride, cherish the moments of triumph, and humble yourself in the moments of defeat. There is no other experience like entrepreneurship, and it will likely be the most eventful time of your life from beginning to end.
Gideon Taub: Enjoy the process. Startups are a marathon. Events like the Galant Challenge can be an inflection point, so make sure to fully prepare, but still try to enjoy the process and the event itself. Be open and receptive to any feedback you get. Appreciate the opportunity to access accomplished leaders like the judges; they have valuable feedback to offer and want to be helpful! And lastly, be confident in that you know your business better than anyone else. Tell your story and have fun.
Chad Rogers: I think with any new venture my main piece of advice is to never stop believing in your team and the mission. In order to take any new startup or idea from inception to any level of success, you will meet a tremendous number of obstacles and people telling you why you are wrong. You must find a way to both accept guidance and criticism without losing your focus and belief. It is a long, hard road, and you must be a bit crazy to do it, but the reward of having an amazing group of people tackle really hard ideas and create new solutions or products is more fun than anything else I can imagine.
Aneesh Dhawan: Before the Challenge, have as many mentors, advisers, and successful entrepreneurs as possible poke holes in your pitch. It is incredible how much better you will understand your own business after several smart people challenge your ideas and assumptions.
Victor Layne: Own what you don't know. Get the information you need. Stay focused and work hard.
Alvaro Anspach: More than any specific piece of advice—and I know this is going to sound cliché—love what you're doing. When you ask people to invest, you're asking people to believe in you. Sometimes it's underappreciated how challenging it is to give money, to invest it in someone, and to believe in that person—especially at such an early stage.