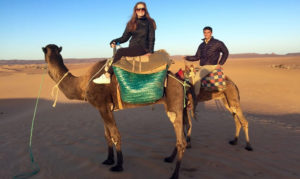 Each year, a once-in-a-lifetime opportunity is offered to a highly qualified McIntire graduate: the Lenox-Conyngham Scholarship.
The impressive award provides a graduating Commerce student with admission to a one-year master of philosophy program at the United Kingdom's University of Cambridge. Valued at over $85,000 USD, the scholarship allows a recent McIntire graduate to study abroad full time, choosing from over 40 different degree programs at Cambridge. Made possible by a generous contribution by the Anton E.B. Schefer Foundation, the award covers all associated academic fees and living expenses and includes a stipend for summer travel.
All successful scholars in the four years McIntire has offered this scholarship have been able to defer full-time positions with an employer until after their year of study. The rationale is the noble aim of giving deserving McIntire graduates "further exposure to the wisdom and learning of the liberal arts, while experiencing culture and life across the Atlantic," in order to become "true renaissance people."
It's quite a goal and one that's suitable for only top-notch Commerce students who also have excelled outside of the classroom to broaden their leadership experience and potential. So which McIntire students embody the exceptional level of commitment required of the Lenox-Conyngham Scholarship and qualify for such an esteemed honor?
It's expected that in addition to an outstanding academic performance and strong leadership abilities, applicants must be well-rounded, have an interest in globalization, and possess a firm understanding of the function of free enterprise within a democracy.
We asked last year's recipients and McIntire Class of 2017 graduates Raj Das and Corinne Thomas about their time at Cambridge, as they just completed their programs. That's right—both of them. Each proved to be such an impressive candidate that the Schefer Foundation made an exception by offering two full scholarships.
Eager to Explore
Perhaps unsurprisingly, both Das and Thomas credit their success at Cambridge to having an openness to new experiences and an innate intellectual curiosity. Each came seeking to learn from their peers and to deeply and actively engage with the community.
"It was my first time spending more than three uninterrupted weeks abroad," Das explains. "The diversity of backgrounds among the students and faculty amazed me. During my first weeks at Cambridge, I got to know people from nearly every continent. Much of my life has been spent in reasonably homogenous communities, and I relished this opportunity to talk to people who have had such starkly different experiences. It's cool to know that I will be staying in touch with people from all over the world, giving me an international network that wouldn't have been possible without studying there."
He also took advantage of the travel stipend, visiting Morocco and Taiwan, as well as different European countries during weekends.
Throughout the year, Thomas also used her stipend to see 12 nations and 20 cities. "I used the travel stipend to learn about the history and culture of new places by embarking on adventures with new friends," she says. "Among my favorite adventures included exploring the desert of Morocco, the lakes of Slovenia, and the city streets of Milan and Stockholm."
Beyond embarking on a truly global series of treks, Thomas also took the Lenox-Conyngham Scholarship ideal of becoming renaissance person to heart.
"I was the ladies' captain of the Wolfson College tennis club and served on the Wolfson May Ball Committee, planning the end-of-year black tie celebration for 1,000 guests," Thomas said. "During the Lent term, I served on the committee for the Cambridge Union Society, the oldest debating society in the world. I also produced two sold-out productions as a part of the Cambridge theater community. These experiences have enriched my life significantly, and I am so grateful for the opportunities created by this scholarship."
New Perspectives
Of course, her academics also helped give her a new perspective, thanks to her studies in a unique degree program: Thomas studied financial sociology as part of Cambridge's Modern Society and Global Transformations Master of Philosophy program.
"This path offered the freedom to structure my degree with courses from any department at the university," she explains. "I chose courses in the Departments of Sociology and History, and at the Judge Business School, developing a well-rounded perspective of financial markets. Ultimately, my focus was to explore the societal and structural shifts that occur with financial innovation, and I developed a case study for the growth of private credit. This particular area of finance is relatively unaddressed by academic literature, and I hope to have made a contribution."
Thomas adds that pursuing independent research about the growth of private credit markets and interviewing professionals also enhanced her understanding of the industry and expanded her professional network.
For his academics, Das was attracted to the Master of Philosophy in Economics, believing that the program would provide the best possible avenue for a future career in global development or as a policymaker. He also found the traditional locale of the world's second oldest English language university awe inspiring. "It's humbling to know that you're in the same place that produced founding fathers of economics such as Keynes, Marshall, and seemingly innumerable others," he says.
Yet studying for an additional year in such a diverse and stimulating environment had a profound impact on Das that went far beyond the books.
"It led me to focus on being more intentional in how I lead my life, which wasn't necessarily attributable to what I learned in class, but due to being in an environment with people pursuing master's degrees and Ph.D.s in every imaginable subject," he explains. "Seeing others' passion for their chosen fields was remarkable and infectious, and made me think of intellectual curiosity in a whole new light. I think it's easy to get caught up in the rush and excitement of finance and socializing in a new city without taking the opportunity to step back and think. Being surrounded by people who know they'll be in the same place for the long haul—and observing their excitement to do it because of the dedication to their subject—was a refreshing change of pace."
Future Success
Both scholarship winners are back on American soil: Thomas is living in New York and employed as an Analyst in the Financial Sponsors Group for investment banking company Credit Suisse; Das has returned to private equity firm Alpine Investors in San Francisco, where he interned during his third year at UVA.
Continuing the program this year is Ozair Ahmad (McIntire '18), whose Development Studies program at Cambridge will give him the chance to dive deeper into studies that connect to his coursework, heritage, and long-term plans, studying the economies of emerging markets, impact investing, and global monetary institutions.
In addition to Ahmad's full scholarship, the Schefer Foundation is also providing partial scholarships to Rotary recipient Tim Ford (McIntire '18) and Jason Carrier (McIntire '17).
Class of 2019 McIntire graduates interested in applying for the Lenox-Conyngham Scholarship, deferring employment with a company for one year, and enrolling in a one-year master of philosophy program during the 2019-2020 academic year are invited to attend the information session Friday, Sept. 14, at 1 p.m. in Rouss & Robertson Halls, Room 227, or to visit this website for more details.