Principal Consultant for a custom software solutions firm. Amateur Muay Thai fighter. Award-winning competitive baker. McIntire M.S. in Commerce 2010 graduate.
Taylor Bezerra is all of the above and—from what we can tell—still manages to find time to sleep, or, when awake, occasionally just order in pizza and sit on the couch like the rest of us.
But in addition to training at the gym for three hours almost every day of the week; testing her prowess in stunt training; diving with sharks; playing on local softball teams with her husband; and finding time to care for three dogs, a cat, and a good deal of fish, she's heavily invested in her workday hours and putting her McIntire degree to good use at Counterpoint Consulting. Perhaps expectedly, Bezerra says that even in her day job, she's got a hand in everything.
"I'm in an interesting role," she says. "I'm both managing and serving as a business analyst for a project, so I'm able to use the full range of my skill set, working directly with the client and with a large degree of autonomy in managing the team. My workdays are packed—between gathering new requirements, building wireframes, clarifying issues for the development team, managing the team's workload, and tracking our overall schedule and progress, I'm kept extremely busy!"
Given her highly active lifestyle, that level of involvement doesn't come as much of a surprise. But Bezerra says that Counterpoint's culture and environment help to keep her sane by offering continuous professional development opportunities and contributing to her enviable work-life balance—one that empowers her to lead teams at work and hone the skills she developed at the Comm School.
A Practical Foundation for a Fast Start
She credits McIntire's M.S. in Commerce Program for its practicality, first and foremost.
"From kindergarten throughout my undergraduate degree, I learned about math, science, history, language, all important subjects, but in the Comm School, I learned how to give a captivating presentation. I learned how to analyze a company's financials, how to put together a business process workflow, how to negotiate both business deals, and my own salary and benefits. I learned what to wear based on the situation, how to pitch myself as a candidate, and how to navigate the social culture of an office."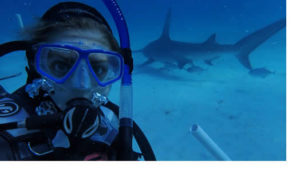 Bezerra notes that developing fluency in those areas and what she refers to as "the practical pieces of knowledge" prepared her for the working world, giving her a significant advantage over her fellow colleagues.
"I felt like I hit the ground running in my work projects," she recalls. "While the other new employees were still learning the ropes, I was honing my skills and put in management positions almost immediately. Even now, almost 10 years later, I still use so many of the tools given to me on a daily basis, from how to keep everyone engaged in meetings to keeping up with a project plan."
Leading from Behind the Scenes
Her philosophy about successful leadership comes down to enabling others.
"When I first started my career, I saw 'leading a team' as being the person with the answers, the one at the front of the project," Bezerra says. "Through my experience and professional development, I've found that the real leaders are the ones who aren't preoccupied with having power. They're the ones working behind the scenes to allow the rest of the team to reach their goals."
And as Bezerra builds on her own competencies and value at Counterpoint, she's committed to helping her teammates improve. One might be hard-pressed to imagine someone holding a 5-0 record in Thai boxing or awarded 2018 Best in Show for the Fairfax County Chocolate Challenge as the type to be found laboring quietly behind the curtain, but the more you speak with Comm School graduates, the more you learn that McIntire alumni are full of surprises.