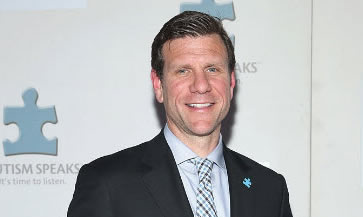 Few are as accomplished in their chosen vocation as Jeff Agoos. Legendary for his part in the 1989 championship UVA team and as a team captain who earned First-Team All-American honors twice, he is the sole four-time All American in University history.
Consider, too, that he achieved such rare feats playing NCAA Division I soccer while also balancing the responsibilities that came with the rigors of a McIntire education. Those many commitments provided Agoos with lifelong lessons that he still relies on to this day.
"Much of what you learn in sports can be applied to academics and to business in general," he says, citing the foundational principles of discipline, accountability, respect, patience, and resilience that served him as he strove to meet deadlines well in advance of their arrival, trained for many mid-week games, and learned to efficiently work with others—and their schedules. "Given the importance of group projects at McIntire, it was also crucial to develop interpersonal relationships and understand the dynamics of how a small cluster of people could work effectively," he recalls.
As a notable student-athlete pursuing his degree at the Commerce School, it turned out that he was only getting started in his long and stellar career in the game.
In the years that followed his moment walking the Lawn, he added to his accolades. He eventually had the honor of appearing on two U.S. World Cup teams, and the former defender played for five Major League Soccer Cup championship-winning sides—three with D.C. United, two with the San Jose Earthquakes.
Where could he possibly go from there?
After earning unprecedented, sustained success in one area of professional life, it's easy to imagine the difficulties inherent in pivoting into any other line of work. Yet Agoos found a way to keep succeeding. His choice led him to a behind-the-scenes role within his beloved sport.
Commanding a Career Change
As an MLS player, he wasn't exactly sure what he would do with his future off the pitch, but he certainly didn't have any inkling that he would eventually become Senior Vice President of Competition and Medical Administration for the league one day.
"I found it very hard to mentally plan what I wanted to do as I neared the end of my career," Agoos says, thinking back to how he believed there were three plans of action available to him: start coaching, identify a front office position, or leave sports to try something else.
"I knew that the simplest path would be to move into coaching, but I was really interested in how good organizations are built and wanted to see what the administrative side of sports had to offer," he says, admitting that he entertained the idea of divorcing himself completely from sports to see if he could thrive outside of it. But his passion for sports, and the game he excelled at as a player, convinced him to stay close to the life he had known, albeit in a much different capacity.
Agoos vividly remembers when he was nearing the end of his playing career in New York, when the team was taken to Harrison, NJ, to announce the new stadium site for what became Red Bull Arena. It was during that event that Commissioner Don Garber put the question directly to him.
"The Commissioner walked over to me and asked me what I was interested in after my playing days were over. With little thought, I just blurted out that I wanted to work at the league office. I had this vision of working with people like Don, Mark Abbott (President and Deputy Commissioner), and now Gary Stevenson (President and Deputy Commissioner) that made me really believe I could make our sport better, and give back to ensure that players had a place they could create a legacy," he says.
Agoos confesses that the transition from the field to the boardroom is challenging for any athlete to make. "In soccer, players make an impact on a game within the 90 minutes of the match, but in business, that impact takes much more time. Having the patience to build consensus, manage internal and external political issues, and communicating to key stakeholders are all areas that take time and experience to effectively manage."
While he says that those skills don't necessarily always come easily to athletes—and that they take time to learn—he notes that the transition was made less of an uphill climb with welcome support from his peers, supervisors, and, equally as importantly, his family.
Expanding Duties, Unexpected Issues
In late 2018, Abbott asked Agoos, who was overseeing Competition for the league, about taking on Operations and Medical Administration as well. He quickly agreed, citing the opportunity as a chance to broaden his understanding of the business while getting out of his comfort zone.
"What no one expected at that time was that, in a little more than a year, we would be propelled into the midst of a global pandemic, putting our medical department at the center of getting back to play," he says, explaining that while the league's medical department is a relatively small area in relation to the rest of the business, he feels "privileged to work with such dedicated people who care so much about player health and safety."
Indeed, as a result of the unexpected events of 2020, he says he came to realize the hard truths that most of us have come to understand concerning mitigation strategies against the virus, like physical distancing, wearing masks, and being exacting about personal hygiene.
Though that knowledge carried over into policy within MLS, Agoos says the league is proud that it went further, earlier.
"We were one of the first professional leagues to establish a protected bubble in 2020 to return to play and saw firsthand how simple player behavior made the difference between transmission and infection. Now that the vaccines have become more available, we understand how impactful the combination of strong science and strong player behavior can be in reducing risk," he says.
"This experience has broadened my understanding of how interrelated our common goals are and, importantly, how unifying sports can be for our country."
Leading a Global Business
But despite its ability to rally crowds, most would agree that soccer is hardly considered a particularly American sport. And as someone who has competed on the global stage multiple times himself, Agoos has applied those experiences with his business knowledge to help strengthen the reputation of North American soccer gameplay to worldwide audiences.
He points out that among all professional U.S. sports, soccer is the most international by far, claiming more than 265 million people (4% of the world's population) who are playing the sport. Those numbers translate to many avid followers.
"Our audiences are extremely diverse, incredibly broad, and highly intelligent. Their connection to their clubs is an emotive one in which they feel anguish when they lose and euphoria when they win. In some cases, fans have described soccer as a religion," he says.
And though soccer boasts a multibillion dollar market, it operates within in highly competitive U.S. and Canadian ones. Agoos says that while MLS is focused on capturing the attention of both general sports fans and soccer enthusiasts, its diversified approach has elevated the fan experience, reshaped the player model, and expanded the league's footprint.
"Above all, however, we have to deliver a premium on-field product that our fans enjoy watching," Agoos says. "Our mission is to create a league of choice in which we are judged by our on-field product, passion of our fans, relevance of our clubs in the local marketplace, and value of our enterprise."
To realize that mission, Agoos notes that his leadership must be inclusive of a diverse set of views from across a wide spectrum of its people.
"Not only does this mean that we need to engage different stakeholders like our Coaches and Chief Soccer Officers, but that there is diversity, equity, and inclusion within those groups. We are constantly trying to answer the question, 'What type of league do we want to be?'" He says that question guides MLS's vision to build one of the world's best leagues.
But he's the first to admit that in gunning for that target, no simple rules exist for successfully leading an organization to meet its goals. Yet one belief he adheres to concerns making decisions solely for the good of the league. It means that everyone will not agree with those choices at the onset. He sees the trade-off as his personal responsibility to guide those he works with through the most difficult of decisions, while including them so that they share in the mission and stay invested in the process.
McIntire Experiences Still Manifest
Agoos's McIntire education remains extremely important to the sports executive. Like other alumni, he's grateful for having shared in the Commerce School experience with people who have become his lifelong friends.
"The School is interwoven into all aspects of my life," he says, clarifying that McIntire gave him a solid foundation for understanding the world—and the many connections he's maintained across it. "Importantly, it reinforced how critical developing relationships are, not only in the global economy, but also in our personal lives. I was fortunate to have been able to have so many high-caliber professors that it would be hard to list them all. Obviously, I don't want to leave anyone out, but I am really happy to see Dean Jenkins lead such a talented faculty that continues to exhibit the high standards that make McIntire such a highly competitive and sought-after school."
As McIntire celebrates its Centennial, Agoos is rightfully impressed that the School has reached such a significant milestone, that while his two years at the School's previous home in Monroe Hall are a small portion of the 100 years, "the School remains a tribute to the world that its students create."
A favorite memory he shares concerns his last day as a McIntire student-athlete:
"I clearly recall finishing my last exam in the building, and, while I walked out one last time, I turned around to remember all of the people who made my journey so incredible. That journey continues to this day, and I feel that, with everything I do, I am able to build upon a strong foundation, and for that I will be forever indebted to the Commerce School."