A decadeslong wish satisfied. A surprise effort to meet a million-dollar milestone. A goal realized and a future safeguarded.
These are the results of a secret fundraising effort in the fall of 2021 that brought together alumni and friends to honor McIntire Professor Ryan Nelson and help establish an endowment for the Commerce School's Center for the Management of IT (CMIT).
Nelson launched the Center in 1991, with the aim of creating opportunities for business and higher education to collaborate on issues at the intersection of business and technology. Funding a $1 million endowment to support CMIT had been an ambition of his for three decades.
"The endowment allows CMIT to be financially self-sufficient and self-sustaining going forward. It will be used to fund faculty-led research projects and underwrite educational initiatives directed at thousands of participants around the world," he says.
The heartfelt and covert initiative brought together 66 alumni and industry donors, whose collective generosity surpassed the original $30,000 goal to honor both Nelson and CMIT's 30-year anniversary, ultimately reaching nearly $45,000 in contributions to elevate the Center's endowment past the $1 million mark.
Recognizing a Leader
For David Meredith (M.S. in MIT '03), CEO and Board Director of automation software platform Boomi, it was a personal imperative to support the endowment, as Center programming offers crucial insight into contemporary management challenges. "CMIT addresses the most important trends by collaborating with industry experts, ensuring that the educational programs remain relevant to major issues facing leaders and their organizations," he says. "It helps develop more well-rounded leaders who bring benefits back to their employers and customers to drive positive results."
He believes events like the Center's Knowledge Continuum offer a scaffolding for continued lifelong learning, which supports paths for career growth. "Every year, I make a point of looking at the topics at CMIT because it helps me keep up with the hot and emerging trends in technology," Meredith says.
Nelson's presence and input have also been an essential part of the Center's success with executives like Meredith. "In my professional life, I have implemented many important concepts that I learned from Professor Nelson over the years. I find his combination of expertise and passion for teaching to be personally inspiring. He truly cares for his students, UVA, and CMIT," he says. "Like many of his students, Ryan has become a friend to me over the years, and I am better for it."
As a former McIntire faculty member and current Professor at UVA's School of Data Science, Jason Williamson (M.S. in MIT '12) says that his relationship with both Nelson and the Center predates his time teaching at the University.
"I was his student. And Ryan was a fantastic mentor—as a professor and again later as a colleague. He is a champion not only of his students, but of McIntire," says Williamson. "He desires his students and co-workers to be successful and works to help that become reality. This trait can often be a rare commodity in a culture focused on self-promotion and individual achievement, and Ryan's gift of humble leadership makes it possible for CMIT to enrich the lives of many professionals. I'm fortunate to be able to call him a teacher, mentor, and friend."
Williamson, who also serves as Vice President of Oracle for Startups, was instrumental in procuring a $10,000 gift for CMIT's endowment; it's indicative of the company's philosophy about information technology research and knowledge sharing.
"Oracle is committed to technology allowing for the advancement of the human condition. It is central to the organization that I lead, Oracle for Startups (which includes student engagement, research, and venture), to play some small part in CMIT's mission, and it is something that we are happy to support. As a culture, and a subculture of technology professionals, we believe in collaborating, sharing, and enabling each other to prosper. CMIT has been doing that for years, and I know will be for many more years to come," says Williamson.
Stephanie Mango (McIntire '94, M.S. in MIS '95), President of CGI Federal, says that since the earliest points of her education, Nelson was a significant and positive influence on her. She says that he provided invaluable advice.
"I came to him to ask, 'What do I do?' I put my ladder up against the wrong wall, and I didn't figure it out until it was too late.' Professor Nelson was the first one to make me realize that you don't ever have to be stuck—just move your ladder; learn something new; pivot from where you are into something else. And most significantly, when you do that pivot, you will find that you can take a lot of what you learned with you," she recalls, noting that McIntire's Integrated Core curriculum and CMIT's programming are focused on "leveraging knowledge across disciplines," with the Center bringing that interdisciplinary focus to IT.
"I've had a jungle gym career. I've worked in all sorts of positions: IT help desk, requirements development, end user training, agile leader, product strategy, business architecture, marketing and sales, customer delivery. You name it, I've tried it. And with each role, I added to my toolbox and positioned myself well to lead my organization that performs this type of work for our clients," says Mango. "Giving back to McIntire is important to me because I believe in the education that McIntire provides, and I believe in Professor Nelson."
She is grateful for what the Center and the Commerce School provided to her and sees its ability to innovate and provide the benefits of those advancements to others.
"To keep our country and our world moving in the right direction, we need great leaders in business, in government, and in many industries. I'm looking to McIntire to help create them," Mango says.
Most Powerful Asset
Former McIntire faculty member and M.S. in MIT Program Director Barb Wixom (A&S '91) initially reached out to Center participants who were moved by the cause and provided the resources necessary to secure CMIT's future role as a nexus of IT thought leadership in perpetuity.
Having been a Principal Research Scientist at the MIT's Sloan School of Management Center for IS Research (CISR) after serving more than 15 years as a Commerce School faculty member, Wixom points out that the recognition honoring Nelson and his work with CMIT is warranted—and easily convinced her to get involved in the endowment campaign.
"In academia, there are people who give their entire careers and don't really care whether they are recognized or not. They are simply contributing because of their love for others and for the greater good. That is what I have seen in Ryan. For that reason, when I learned about an opportunity to shine a light on decades of kindness, of course I jumped in," she says.
For Nelson, being honored with the alumni-backed philanthropic effort was overwhelming.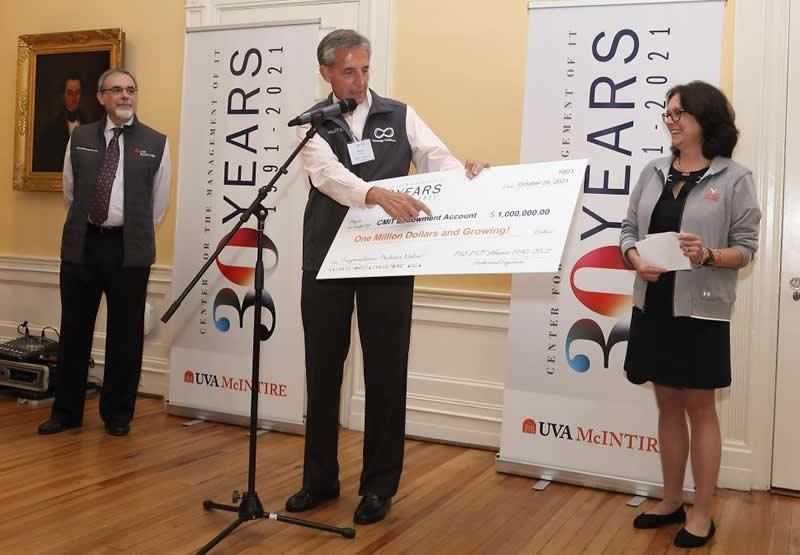 "I was absolutely floored by the outpouring of support by so many McIntire alumni and friends of CMIT," he says. "It was especially meaningful that the effort was led by UVA alumna Barb Haley Wixom, who I first met in 1990 during my recruiting trip to Grounds. The memory of Barb revealing a giant check at the 30th anniversary celebration will stick with me for the rest of my life!"
Though alumni support remains critical for the Center, Nelson explains that their involvement often equates to far more than dollars and cents.
"It is important to note that alumni support can take many forms: financial, guest lecturing, hiring students and fellow alumni, as well as participating in our many programs," he says. "There is no doubt that alumni support is our most powerful asset."