"Comm School taught me how to be resourceful," says Hannah Shatzen. She's the Senior Field Marketing Manager for Google Cloud, and with the release of Bodega Baby, she's a children's book author, too.
Resourcefulness is an important quality to have—especially for someone dealing with U.S. federal government customers at a tech company giant, as well as for a new author and one-woman marketing firm responsible for driving the success of her own "kid-lit" creation. In recounting the steps to where she is today, Shatzen's choices demonstrate a history of taking on challenges, following her intuition, and doing her homework.
Except for that one time in Promotions.
"I'll never forget on the first day, Professor Jack Lindgren yelled at me in front of the entire class because I simply didn't show up with our summer assignment," she says, recalling her sheepish response. Claiming ignorance, she was met with Lindgren's blustering warning that, with her egregious error, she had made his "list."  She and he would come to laugh it off, but that high expectation he had for his students impressed her greatly. Shatzen misses the late and widely beloved professor, as does most everyone who studied with him, and she insists his direct approach to learning stayed with her.
"Some people don't respond well to that kind of communication style, but to me, his tough love made me rise to the occasion and hold myself accountable for my decisions from that point on," she says.
As a Marketing and Management concentrator, she quickly concluded that her future career wouldn't be found in any role related to accounting or finance areas; despite her best efforts, they "never clicked." But how she'd take her love of advertising into her professional life remained a lingering question for her as a Comm School student, doubly so when she saw her peers regularly being flown to New York for interviews at investment banks.
Lindgren's course provided what she thought would be the area she would pursue professionally. Deeply moved by the experience of being part of the five-person Promotions class presentation team who delivered the winning pitch at the 2012 Districts level of the American Advertising Federation's National Student Advertising Competition in Charlotte, NC, Shatzen felt honored to deliver the team's message on behalf of her talented classmates. It was the first time she saw that the herculean team effort was appropriately recognized, being valued and rewarded by the judges.
"That memory of winning and celebrating with classmates who all shared a common goal was a feeling I will never forget," she says. "Chasing that feeling is what inspires me to work hard in my personal and professional life each day."
Yet as a Comm student, Shatzen, understandably, wasn't quite ready to take on the challenges of committing to any of the unpaid internships she saw being offered by advertising agencies, so—feelings aside—she sought out worthwhile opportunities where she could.
Coming to Terms and a Career Move
Faced with figuring out a practical way forward, it was a chance encounter that presented her with the first steps on a professional path.
"I was sitting in my sorority house one day when an alumna came to visit and casually mentioned that her employer was looking for a social media intern," she recalls. Immediately drawn to both the job responsibilities and its Washington, DC, location, she applied the next day.
"Within a week, I had interviewed and gotten the position. The only catch was that it was for a data management company called NetApp, and this specific role focused on public sector customers," Shatzen says.
At that moment, two critical questions came to mind.
"I had to literally Google what 'data management' and 'public sector' meant, which was ironic, considering 10 years later, I am working at Google in a public sector role," she says.
That introduction to the field was followed by a position at Amazon Web Services during their biggest growth period. In nearly four years spent working in their public sector business, Shatzen focused on supporting nonprofit customers and startups.
"It was hard work, challenging, and one of the best educations of my life," she says, noting that though her titles and roles have changed throughout her career, she's stayed in cloud marketing and continued to help public sector customers. "The evolution of my career has been pragmatic, building upon experience and climbing the corporate ladder, but I would never have thought this would be my career when I got to college. This life chose me, so to speak."
The Birth of a Baby Book Idea
Shatzen explains that public sector marketing as a whole requires a regimented approach that is atypical for marketers, with a great many rules and regulations she and her colleagues must navigate, knowing that their end users are government officials.
"It was only natural that after supporting public sector customers for over 10 years, I felt that I wasn't utilizing the full potential of my imagination and skill set, simply due to the guardrails of my industry. In 2021, I started daydreaming and writing down ideas for side hustles," she says.
That's where her dreams began to edge into her reality, with the idea of Bodega Baby. When her sisters mentioned in passing that they noticed a need for better children's stories, she began brainstorming.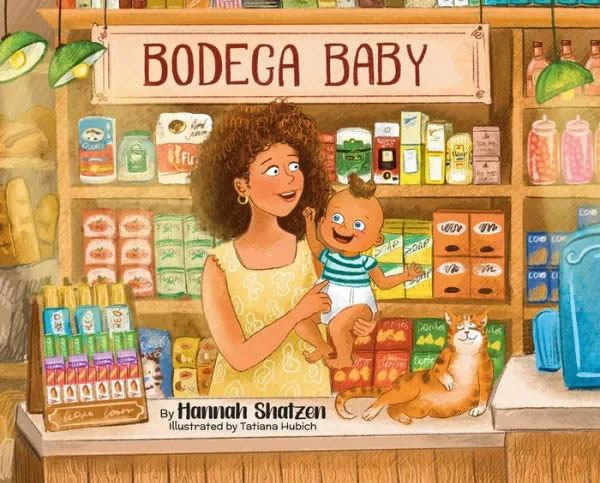 "I thought about the one thing that all New Yorkers can agree on, which is the bodega, the neighborhood nucleus that attracts their unwavering loyalty. I liked the idea of focusing the story on the men and women keeping the lights on whenever we need a quick bottle of water, a toasted bagel with schmear the morning after a big night out, or change for a $20. And then I wanted to 'kid-ify' it. So I thought of how to keep it cute and entertaining while showing the importance of hard work, perseverance, and community—and how those values can be passed down from generation to generation," Shatzen says.
She took to writing and sought out an illustrator. Eventually, with a healthy dose of research and networking, she launched her own company and produced her first self-published book: "I really enjoy the business side of the journey. And the culmination of this endeavor is truly an amalgamation of all my learnings at McIntire and thus far in the real world."
Getting to the finish line wasn't quite that simple. She'll be the first to admit that the entire self-publishing process is not for the faint of heart. Yet she revels in the fact that she was able to work towards a goal with "no one to answer to, no deadlines, no check-ins, no bounds!"
Bodega Baby took more than two years to complete—partially due to having a full-time job—but also because Shatzen points out that there was no external pressure to get it done. And beyond the actual writing of the book itself, she also had to deal with the complexities of launching a company.
"The most challenging pieces were determining mundane yet important aspects of my business," she says, listing concerns like shipping charges, tax-filing deadlines, logo trademarking, and determining profit margins. "The fear of something fun like a side hustle potentially getting you in trouble because you missed a step or did something wrong was enough to keep me up a few nights," she admits.
While the high-stakes litigious aspects of creating a company and launching a book were worrisome, there were some unexpected benefits of self-discovery: "It's asking for help, reaching out to an acquaintance for mentorship, and the feeling of immense gratitude for people and the favors they're willing to do for you along the way."
Writing Bodega Baby came from inspirational bursts that would jolt Shatzen to create at any and all times she felt moved.
"It was really important to never force it. If I wasn't feeling like working on Bodega Baby, I simply didn't. Another driving force was simply how much I enjoyed working on my book. It may sound cheesy, but when you're passionate about something, you work on it without even realizing it. And before you know, you have a final product in front of you," she says.
A Personal Attachment
Writing Bodega Baby connects to Shatzen's experiences, both familial and everything that comes with living in New York—and that includes its more trying aspects.
"My friends and I often joke that on your best day in New York, the city has a way of reminding you that you're not in control," she says. "Whatever comes our way, we're all out here making this concrete jungle a home. But in order to do that, we rely on comforts unique to this city, one of which is having your corner bodega that you can call your own. I've lived in four different neighborhoods in the decade I've been in New York, and I've had my bodega in each neighborhood."
Additionally, the book's setting of the bodega links to Shatzen's family and her Puerto Rican-born grandmother.
"If you read about New York in the early to mid-20th century, the bodega is associated with that first generation of entrepreneurs from Puerto Rico, who arrived in Manhattan after World War II. And I fell in love with the idea of hopeful, hard-working people coming to New York to pursue a dream," she says. Writing about her love of New York was coupled with a desire to honor "the hard-working men and women keeping the lights on at our loyal bodegas, complete with a nod to my Nanna and our Puerto Rican heritage," she says. "It ignited the meaning behind the project."
While Shatzen is enjoying interacting with the people who have ordered her book, she is continually surprised by the many old friends she's reconnected with because of her venture. She's also been energized by her recent efforts to place Bodega Baby on the shelves of a few local retail stores, and her plans to do some live readings at schools and bookstores this fall.
But she isn't stopping there.
Shatzen reveals that she's already working on the follow-up title: "I wrote this first book with the intent that it would be a series. So I intentionally left the final page of Bodega Baby a bit open ended, foreshadowing that many more adventures will come."