Collegiate student-athletes have been helping to unite people and stoke school pride across higher education institutions ever since 1852, when Harvard faced off against Yale in rowing. Following that early contest, the Intercollegiate Athletic Association of the United Sates was eventually created in 1906 to formalize the growing popularity of play, then four years afterward, changed its name to the one we recognize: the NCAA. For more than 110 years, student-athletes have devoted themselves on two fronts simultaneously: striving to succeed both in their sport of choice and in the classroom.
April 6 marked National Student-Athlete Day in the U.S. In recognition of the celebratory date created by the National Consortium for Athletics and Sports, we spoke with three student-athletes who represent the tenacity and resourcefulness of McIntire students engaged in UVA sports.
A Great Fit
McIntire Class of '23 student-athletes Brooke Alexander, Teddy Durfee, and Lacey McCormack all found their academic homes at the Comm School, remaining committed to their teammates at Rouss & Robertson Halls while competing in rowing (Alexander), squash (Durfee), and soccer (McCormack).
"I tried on a bunch of different majors as a first-year, from Biology to Foreign Affairs to Spanish. It wasn't until the summer between my first and second years that I decided to apply to McIntire," Alexander says. "I was excited for the opportunity to work closely with students who shared my drive and passion for business." She has been fulfilled by the School's focus on experiential learning and teamwork thus far, and supported by the close-knit interactions she's had with "world-class professors and a group of intelligent, accomplished, and motivated peers."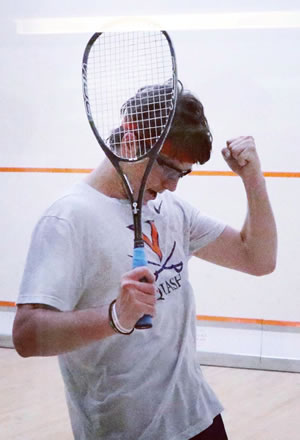 Because of the McIntire's well-known stellar reputation, Durfee was already familiar with the Comm School when he first applied to the University, but he hadn't considered majoring in Commerce until he explored the program's material and heard some glowing testimonials from his peers. "What led me to apply was how much I enjoyed the prerequisite coursework, as well as older teammates who spoke very highly of their experience in Comm. So far, the Integrated Core curriculum and classes that count toward my Finance and IT concentrations have been extremely relevant, providing specific content about what I want to do in the future," he says.
McCormack, who admits that she is habitually trying to discover ways to push herself academically, was intrigued by what McIntire offered: She felt it would provide a gratifying educational challenge. "For the past two semesters, I have really enjoyed working in teams to solve complex problems that real companies face using concepts from strategy, IT, marketing, communications, and finance," she says. "I feel like these types of projects have prepared me to navigate group dynamics and solve problems in my career." 
Beat the Clock
As they finish out their first year at the Comm School, each of the three student-athletes has found ample opportunities to apply what they've learned in their respective sports back at McIntire—and vice versa. 
McCormack believes that the lessons that have come with competing in soccer over the years have been partially responsible for her success in her Commerce coursework. "Effective teamwork is central to winning soccer games, just as it is central to performing well in group projects," she says, explaining that the group efforts require her to prioritize time management and open communication to stay on top of both areas in her life.
"At the beginning of each week, I review my soccer schedule and determine the best days and times to meet with my group and complete my individual assignments. I use Google Calendar and Stickies to keep track of all of my upcoming meetings and deadlines, sometimes even scheduling my day down to the hour. I'm proactive in getting my work done, so I can focus all of my attention to performing well on game day," McCormack says. 
Durfee shared the sentiment about precisely planning his days, saying that time management is a hot topic among nearly all student-athletes and Comm students alike. "Managing both schedules has definitely been a learning experience, but I've really enjoyed it. I think McIntire does a great job of making the workload mimic that of an actual work environment."
Alexander believes that rowing is not unlike many other sports, in that it demands exceptional communication and collaboration. "My experience as a student-athlete allows me to bring a different perspective of collaboration to group projects and class discussions. Conversely, my experience with group projects in an academic setting has helped me show up better for my teammates. I have loved seeing how my involvement in McIntire and my involvement with UVA Women's Rowing have complemented and informed each other this year."
As a Business Intern for local government contracting firm SHINE Systems, Alexander has been able to apply a good deal of what she's learning at McIntire in a real-world context. But with that additional commitment, she's had to set boundaries among all of her obligations in order to be more present when operating in each area.
"One of the hardest things about being a student-athlete at McIntire is that there are so many opportunities to take advantage of, and there aren't enough hours in the day to capitalize on all of them. I have had to be very thoughtful and intentional with my time," she says.
More Than Wins and Losses
In their classes, the three students agree that McIntire faculty have been insightful and influential.
Alexander insists that Professor Robert Parham's Intermediate Corporate Finance course has been fundamental in enhancing her understanding of the subject, thanks to his "first principles" approach. But in addition to citing his prowess as a lecturer, she says that his authenticity shines through. "He genuinely cares about his students' learning. I have learned more in this class about finance, life, and decision-making than any other class at UVA."
The Comm School's hallmark Integrated Core has made an indelible impression on Durfee, despite his earlier misgivings concerning some of the coursework. "I didn't think I'd enjoy the less quantitative classes, but Systems with Professor Ryan Nelson and Organizational Behavior with Professor Gary Ballinger have been two of my favorites. They both bring a very human element to business and keep class super-engaging," he says.
Professor Jeffery Lovelace has had the most positive impact on McCormack, who took his Leadership Across Disciplines class in the spring of her second year. "I found the material to be very relatable to my daily experiences on the varsity Women's Soccer team. I am also involved in a few leadership groups, including the Student-Athlete Advisory Committee, Ethical Leadership Academy, and my team's leadership committee, so I took many of the lessons I learned about leadership styles and techniques and applied them," she says, crediting Lovelace's course with guiding her to become a more self-aware leader. 
McCormack, who has battled injuries that resulted in two separate surgeries on her foot during her time as a UVA soccer player, says that the adversity has broadened her perspective and given her more confidence.
As such, she was motivated to launch UNCUT at UVA, co-founding the wholly student-driven online storytelling platform where University athletes share their stories on topics ranging from mental health issues to pursuing their passions. Managing UNCUT's social media has been a fitting avenue for McCormack's interest in using marketing and media to improve engagement with the platform's content.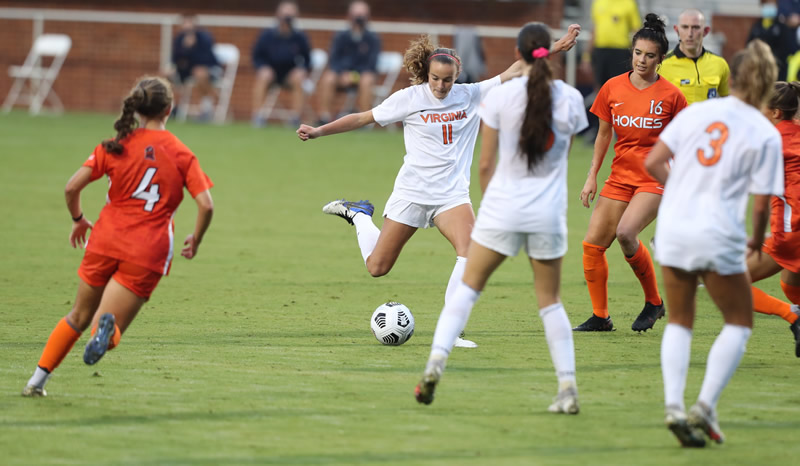 She's hoping that she'll be able to use the experience in her career, potentially assisting in crafting strategic marketing campaigns for a corporate employer. 
Durfee's professional plans will take him to Houlihan Lokey, where he'll serve as an Investment Banking Summer Analyst. "I plan on continuing in this field after graduating but don't have a clear-cut goal for my career in the long term. What's more important than the space I'm in is enjoying time with my co-workers. I want to feel like I'm making an impact on the world," he says. 
Alexander intends to continue training to compete in an under-23 rowing program this summer. "I would love to stay connected with the rowing community no matter where my career takes me," she says.
After she graduates, she expects to be working in the management consulting industry, with her sights set on ultimately transitioning into venture capital.
With the strength of her Comm School education ensuring that she's ready for eventual next step, the student-athlete appears as ready for what lies ahead as when she's rowing out on the Rivanna Reservoir. "My experience at McIntire has prepared me well for the challenges I will face in the professional world."