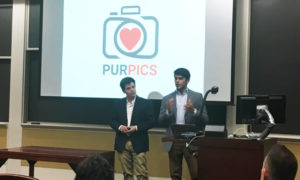 As UVA first-year students, Aneesh Dhawan and Victor Layne started a company out of their Page House dorm room that they hoped would make the world a better place.
Over two years later, they seem on track to doing it.
On June 4, their company, PurPics, announced the completion of a $750,000 investment led by Felton Group LLC, the family office of UVA McIntire School of Commerce alumnus Jaffray Woodriff, who in January made the largest private gift in UVA's history to establish a new School of Data Science.
"This funding brings us one step closer to achieving our long-term vision: empowering Gen Zers to raise money for the causes they care about, while helping brands understand and engage this next generation of consumers," Dhawan said.
The idea for PurPics—a web app that connects Instagram users with businesses to raise money for nonprofit organizations—came to Dhawan after a trip he made to Haiti as a high school student at Norfolk Academy.
Working with Haitian schoolchildren, Dhawan saw firsthand how a little aid could go far.
When he got back to Norfolk, he recruited friends to take part in an endeavor in which they created and shared Instagram photos pertaining to local businesses that, in turn, donated money for their organizations of choice.
For their part, the businesses were able to strengthen their brands through associations with good causes.
After Dhawan got to UVA in 2017, he teamed with Layne to take the idea to the next level. A few months later, they launched PurPics out of their dorm room.
Dhawan, currently on leave from UVA, and Layne, a rising fourth-year at the McIntire School, said PurPics drives 10 times higher social media engagements than traditional marketing tactics.
"We empower members of student organizations to create content promoting their favorite brands and share that content on social media," Dhawan said. "Every time our users get a 'like' on a picture that they post, they receive a 10-cent donation to a cause they care about. Our organizations are raising, on average, anywhere from $500 to $1,000, depending on the size of their campaign."
The brands on the platform are brands that have signed up for the PurPics partnership. PurPics makes money from brands paying a subscription fee for the use of their software.
For example, PurPics recently ran a campaign for Skinny Dipped Almonds, in which participating student organizations received some of the product and then, through PurPics, took photos with the products and posted them on Instagram.
With every post that was made, Skinny Dipped made a donation toward the causes the organizations were raising money for.
In the two-plus years since its founding, the company—which went through the Darden School of Business' i.Lab incubator—has helped raise more than $30,000 for student organizations' philanthropies across the country, including over $9,000 for UVA ones.
Today, PurPics is at more than 50 schools around the country, and is partnering with more than 30 brands, including CLIF BAR and Spin Scooters.
PurPics is designed to align with Generation Z consumers. As members of the demographic cohort, Dhawan and Layne said they have often experienced "information overload" and felt pressured to address global issues.
"We are more socially conscious than the generations before us, and a lot of it has to do with the world we're growing up in," Dhawan said. "My generation is growing up in a world where there is just an overwhelming amount of content. Five-and-a-half million pieces of content are posted on social media every minute. We're growing up in a world where, frankly, there's a lack of trust. The largest PR firm in the world, Edelman, reported a decline of nine points in trust in 2018, the highest ever measured in the history our country.
"The reason we started this company is that my generation is facing some pretty serious challenges in the future that we're not only going to have to deal with, but we're going to have to solve."
Last year, PurPics received angel funding via the Galant Challenge. Dhawan and Layne said having UVA mentors, investors, and advisers questioning their thinking and sharing their own knowledge has been invaluable.
"With their help," said Layne, "we've been able to take some of the risk out of our startup and accelerate growth."
The business showed such promise that Dhawan—whose younger brother, Adavya, is a rising second-year student at UVA—went on leave so that he could dedicate himself full time to it.
Based out of Austin, Texas, PurPics has 15 total full- and part-time employees and interns, many of whom have ties to UVA.
PurPics plans on using the new funding to expand its sales team, acquire more users, and improve its data analytics.
Eventually, Dhawan and Layne are hoping to expand the app to Facebook, Snapchat, and Twitter, in addition to Instagram.
Dhawan believes social entrepreneurship is the future.
"I think brands that have a mission tied to them and are socially conscious and sustainable are going to outperform brands that are not," he said, "because if you can align yourself with causes that your consumers care about, then you'll be a much more successful business or brand."
By Whitelaw Reid, University News Associate, Office of University Communications, wdr4d@virginia.edu, +1 434-924-7499. This story first appeared in UVA Today June 5, 2019.