This Centennial Year, we honor our past, present, and future. This article was originally published Jan. 25, 2021.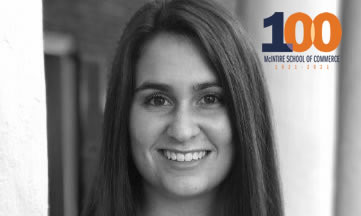 For 100 years, the McIntire School has been made stronger by the people who are committed to our ever-growing community of business learners and visionaries. Driven by a desire to use the power of commerce to effect positive change across the world, our alumni help to enact that transformation on Grounds and beyond by investing their time and care in current Commerce School students. In celebration of our Centennial, we recognize the work of our many dedicated mentors, who, year after year, share their knowledge and guidance with the passionate third-years, fourth-years, and graduate students who represent McIntire's future success.
"Many people can answer general questions about career paths, but true mentorship is about authenticity and empathy," Emily Coppa says.
She should know. She's had a wealth of transformative firsthand experiences in the practice.
During her time on Grounds, the KPMG Associate and Comm School alumna who was named to last year's Poets&Quants for Undergrads' Best & Brightest list served as Head McIntire Mentorship Chair, a mentor for the Women's Business Forum at McIntire student organization, and a peer adviser for the ULink program.
And while Coppa helped many by sharing her insights and investing in those she mentored, she readily admits that she herself relied on upperclassman, professors, and advisers for guidance as a UVA student as well. In particular, she credits Julia Hilkey, Assistant Director of Student Life, for exemplifying all the attributes of an impactful mentor: trustworthy, encouraging, and knowledgeable, and a great listener.
"While Julia started as my academic adviser, she quickly became one of my most influential mentors, teammate in running the McIntire Mentorship Program, and trusted confidant," she recalls. "She always had an answer to my questions, whether about the mentorship program, deciding which courses to take, how to best prepare for my career, or just life in general. I could not have run a successful mentorship program without her tremendous help and support."
Guiding Principles
As Head McIntire Mentorship Chair, Coppa says she quickly realized that the best mentors go beyond offering academic and career advice.
"They are available to their mentees when they need them most, encourage them to look at situations through a positive lens, and ensure that their mentees believe in themselves as much as they believe in their mentees. It is about noticing when someone needs help, following up with them, being a go-to resource, and truly caring about their lives. It encompasses celebrating their wins and being there for their losses, remembering details about their lives, and wishing them a good luck before a big exam or interview," she says.
Her own experiences as both a mentor and mentee continue to shape her mentoring style, which in past situations, meant that she was sure to carve out ample time to give those she served her full attention while encouraging them to follow their passions.
Student-to-Student Benefits
Working with a mentor as an undergraduate, Coppa believes that being a mentee when she came to the University provided a venue for her to ask questions—especially when mentored by older students who recently had similar experiences.
"Sometimes, undergraduates find it easier and more comfortable to ask questions to people closer in age to them, and mentorship gives them the opportunity. It provides undergraduates with a way to seek advice in navigating new situations, hear about their mentors' experiences to help provide clarity in making their own decisions, and have a support system of people cheering them on towards the finish line," she says, noting how thankful she is to those who have helped her and calling them influential to her success.
For student mentors who take on a mentee, she believes they stand to gain a great deal themselves from the insights they gain from others' lives. The relationship provides a reciprocal education that allows them to learn empathy and to celebrate differences.
"While mentorship enables people to meet others and make new friends, have fun, and partake in both informational and social events, it can also force people to step outside their comfort zone," she says, giving examples such as having difficult, yet necessary conversations.
She notes that a mentor can only improve in their role through feedback from those they serve, and that they should always strive to seek it.
In It for the Long Haul
And though she's started her career, she's still very much committed to mentorship. Coppa says that her employer, KPMG, welcomed her to her new position with mentors helping her to adapt, while also offering her the opportunity to continue her long history of mentoring others; she plans on serving as a Transitional Coach for the next round of associates and interns starting with the firm and joining its community service volunteer programs.
She also plans on staying involved with the Comm School as part of the McIntire Alumni Mentorship Program.
"Mentorship has been such an integral part of my life, and I look forward to becoming involved in the McIntire Alumni Mentorship Program. I strive to continuously utilize the lessons I have learned while being a mentor. It is a rewarding and worthwhile outlet, and it will continue to be one of my greatest passions and favorite breaks from my other commitments. I look forward to the mentorship relationships I will encounter and create throughout my life."