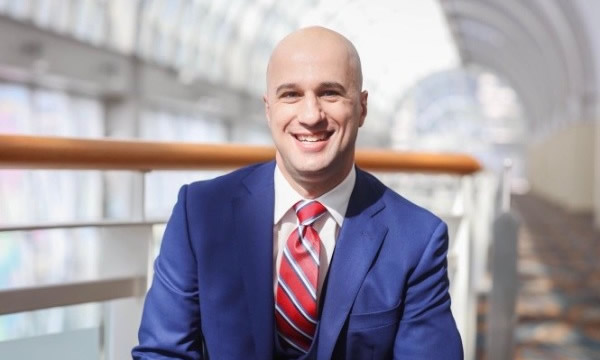 "I'll tell you a funny story," Elias Papasavvas says when asked about his McIntire experiences and why he chose its M.S. in Accounting Program.
Papasavvas has many interesting stories to share. In our brief conversation, he's selected some from throughout his life, aptly focusing on his time on Grounds and throughout a career that has led him to most recently launch Second Act Financial Services, a pioneering retail banking fintech venture focused on the banking needs of consumers 50 and older.
Yet his expertise in later-life financial strategy that he offers to an important yet improperly served population stems from his days as a dedicated grad student at the Comm School. It was at McIntire where his professors underscored to him the key role of interpersonal relationships in business and what it means to respect and inspire colleagues and customers alike.
Putting People First
Papasavvas was born and raised on the Mediterranean island Republic of Cyprus, where he became fluent in ancient, Byzantine, and modern Greek. Crediting the region with immersing him in the writings of the ancient philosophers, he says their lessons shaped his worldview. Revealing that his original undergraduate interests were in Classical Literature, Papasavvas says that the truth in those texts was confirmed through his McIntire education. They contain a point of view that he feels is unique to the Commerce School.
"When you read the philosophers, you understand that in order to make business thrive, you have to first connect on an emotional or personal level with another human being before any business starts. And honestly, I think that's what a lot of business schools miss," he says, explaining that the ideology behind McIntire's M.S. in Accounting Program is ultimately what led him to UVA.
He references another critical point on the subject from his time at McIntire, when his curiosity led him to pause from a mid-afternoon jog to follow a group of well-dressed students and faculty into the Rotunda. He discovered that the event was a speaking engagement for the CEO of a Fortune 500 company, and the young Papasavvas—who understandably wasn't dressed for the occasion—decided to quietly stand in the back of the room and listen.
"The CEO started by saying, 'I was asked to come speak to you today on what it takes to be successful in business.' And he said that he had a whole speech written out, but wasn't happy with it and tore it up. He continued, 'If there's one thing you remember from my speech today, and just one thing, it's to learn how to get along and inspire people. Because if you want to progress in business, progress in life, and progress in everything you do, you have to learn how to get along with people and how to inspire people to want to follow you. And if that's the only thing you remember from me being here today, then I consider my presence here a success.'"
Despite the inability to recall what the remainder of the speech was or the identity of the CEO, Papasavvas says those words from 1996 still ring true to him.
Interests at Heart
But getting back to that funny story.
One of his most beloved professors, Gib Akin, tried to get him to give up his grad work in accounting for a life in letters. By Papasavvas's recollection of what took place, it sounds like he may have brought Akin's advice on himself.
It started the summer before his Accounting classes began, when he took Akin's Organizational Behavior course.
"Each week, we covered a topic of human behavior. One of our projects toward the end of the semester was to pick a topic of interest to us from the 12 that we discussed, do deeper research on it, gain a deeper understanding of that particular human behavior, and write a paper on it," he explains. "And for the project, I wrote a 250-page book."
Papasavvas says he was fascinated by the topic of miscommunication and the idea that two human beings can observe the same event yet have completely different perspectives.
"Why do things get lost in translation? Because you're talking to someone who might have seen the sky as blue—and you didn't stop to understand that—before you delved into talking about the sky being black. Professor Akin's point was that you need to understand someone else's perspective before you can start communicating with them."
His book contained short stories about misunderstandings from his personal experiences, which had newly made sense to him after the class had taught him to see those experiences in a new way.
"I didn't think Professor Akin would read it," Papasavvas says flatly. "He read it in two days. And he took me out to dinner, tossed the book across the table, and said, 'I'm switching you out of the Accounting program into the Literature program.'"
Papasavvas was panicked. "I said, 'You can't do that. My parents are going to have a heart attack.'"
Akin persisted. "'You're not an accountant; you're a writer,' he said. 'You need to be writing.'"
Though flattered and heeding his professor's words, Papasavvas was not ready to switch gears. And he was positive that his parents were not going to take kindly to him abandoning plans to hone his accountancy skills. That was that.
He continued in his planned major, and insisted that it was lessons like those that made all of the difference. "What I liked about McIntire was that it wasn't just an accounting education: It was about humanity and business."
Fifteen years or so after completing the M.S. in Accounting Program, he recalls being embroiled in a tense, make-or-break meeting "with hundreds of millions of dollars at stake." There was a communication breakdown, and the negotiators were at their wits' end and nearly at each other's throats, he says. At that moment, Akin's words of wisdom came back to Papasavvas.
"I couldn't tell you exactly what it was, but I recall channeling my inner Akin with some Akin-speak, and it got everybody to immediately reset and start breathing. And from there, in the middle of a terrible crisis, we were able to get to a successful resolution, with everybody high-fiving at the end," he says, recalling how he raced home intending to relay to Akin what had just occurred and how his lesson had a phenomenal impact on the negotiation.
But after searching online for his contact info, he was shocked to discover Akin's obituary.
"I just started crying. And I went downstairs, and my wife asked me why, and I told her that Mr. Akin died. It just hit me. When you come to McIntire, you're taught by good people. What they teach you, you take with you. And then you want to go back and tell them that what they taught you really helped."
Practical Wisdom
In addition to Akin, Papasavvas says that Professors Bob Kemp and Larry Pettit stand out, though he clarifies that he wants all of his professors to know they have all had a great effect on his life.
"I can't even count the number of lessons Mr. Kemp beat into my head that I use every day," he says, pointing out the insights in financial analysis along with the invaluable preparation for his professional journey, including key interpersonal skills such as "how you talk to your CEO, how you talk with your manager, and how you talk with a partner at an investment bank."
He also mentions former McIntire staff member Cindy Persinger, who served as "Mr. Kemp's executive right hand." Papasavvas says she had "a special awareness" about how hard the students were working and was a source of compassion for overextended Comm students. "I would be remiss if I did not emphasize how the kindness, awareness, and support of the women and men who support the dean and the professors keep the place running well. And it is my hope that at McIntire today, the Cindy Persingers of the world are equally appreciated and recognized."
Regarding his time in Pettit's classes led him to recall the role of in-class guest speakers whom he credits with further strengthening the program.
He notes how one such speaker who came to speak to Pettit's class, Edward Crutchfield, then-CEO of First Union Bank, proffered advice he took to heart. After speaking, Crutchfield took a fair share of questions from the students, but was pressed for time and was attempting to wrap up the engagement. Young Papasavvas wouldn't let him off the hook quite that easily.
"I had one more question, so I put my hand up. I could see Mr. Pettit rolling his eyes and holding his breath because I had a reputation for being a talker. But I asked Mr. Crutchfield if he were to think back to the first week of training that he had when he was just getting started at First Union—where he spent his whole career—why did he become the CEO and not the guy who was sitting there next to him in the same training class?"
Crutchfield shook his head.
"He said, 'You want me to tell you my whole life story? I've got to go!' And then he said, 'I'll tell you what you should do as you're building a business.' He ended by mentioning integrity. 'You cannot be a good leader if you don't have integrity in how you run the business and in how you treat people. You're not going to motivate people without it.'"
Integrity and forging human connections supply the foundation for the work Papasavvas is doing with Second Act today.
Pivotal Choices
He may have Kemp to thank for the choices he made concerning the latter half of his career.
In an early position with Arthur Andersen, Papasavvas was exposed to the challenges faced by Mariott Senior Living, a client of the firm. "I began to see that older people need banking services delivered in a smoother way. So, I created a company called ElderLife Financial Services," he says, referencing his first foray as Founder and CEO. Providing bridge financing to seniors requiring time to sell their home as they moved into senior living communities, he ran the company from 2002 to 2012, working with upwards of 3,500 senior living communities before deciding he needed a change.
"When I left, I came down to Charlottesville, and I had lunch with Mr. Pettit and Mr. Kemp. I told them that I didn't know what I wanted to do with my life. I didn't know where to go from there. Mr. Kemp told me to take a break and go work a regular nine-to-five job for a few years. 'You'll know when you're ready to come back.'"
Papasavvas took that advice and worked for a family office at Artis Senior Living for nearly five years, managing the banking relationships for its senior housing communities.
"While I was doing that, I started making notes about experiences with senior housing operators, adult children who have an older parent, and the seniors whom adult children were serving. With no particular direction, I was just writing notes. After filling the seventh or eighth notebook and reviewing them, it just hit me that there needs to be a retail bank for the 50-plus demographic," he says.
He relates how Second Act is harnessing new avenues in fintech to serve retired, semiretired, and over-50 people by giving them better tailored access to banking products and services. He believes these groups are often overlooked by corporate banks that fail to recognize their unique financial situations.
"Banking is transactional; it doesn't exist without transactions. But what McIntire brought together came from the stories of Gib Akin, Bob Kemp, and Larry Pettit and the human connection that has to be established first and the human understanding that has to be established in order to initiate any transaction," he says.
Returning the Favor
If it hasn't been already been evident, Papasavvas remains extremely committed to the Commerce School and its future. In fact, he's already decided to gift half of his estate to McIntire.
"I went to McIntire on a full scholarship," he says, noting that a wealthy family sponsored him. "Halfway through the year, I went into Mr. Kemp's office, and I said I wanted to meet the family that wrote the check for my education. And Mr. Kemp asked why."
Replying that he wanted to thank the family who signed his check, Mr. Kemp told him to get out of his office before Papasavvas insisted that he really wanted to meet them to offer his gratitude.
"Mr. Kemp said, 'Well, they don't want to meet you. You know how you can thank them? By going out there, making something of yourself, contributing to society, and coming back here and doing what they did for you.'"
That conversation made an impression that stuck.
"I just feel a moral obligation to return the favor," he says.
With his devotion to the future success of the School also comes advice for those who have the advantage of learning there.
Paraphrasing boxing great Muhammad Ali, Papasavvas says, "The man who views the world at 50 the same as he did at 20 has wasted 30 years of his life."
"I'm 48," he adds. "When I graduated from McIntire, my professors would attest, I thought I was walking on water. But the real world operates with many different codes—not necessarily the McIntire or UVA honor code." Instinctively and instructively, he opts to explain further with a story.
He was starting his first company and on the hunt for capital. On the phone with an investor, he found himself on the verge of a deal.
"The investor said, 'I will give you half a million dollars for a percentage of your company.' It was some huge portion of my company," Papasavvas says. "And I told him that it wasn't a fair offer. And the investor started laughing. When I asked him why he was laughing, he said, 'Gosh, you're young. You just graduated. There's nothing fair about business. Get that in your head. You need capital; I have capital! Here's my offer. Get the word fair out of your head.'" Despite that rude awakening, Papasavvas says, he strives to be fair, thoughtful, and more considerate when speaking to potential business partners.
Another piece of advice he offers is about being willing to make mistakes.
"What made me successful was 10,000 mistakes—every one of which I learned from. I would say to today's McIntire students, be a little more humble when you graduate: Make mistakes and pivot. That will make you successful in addition to understanding how to relate to people. And if you want to be the CEO one day, learn to work from 6 a.m. to midnight."
"Lastly," Papasavvas says, "read the Iliad and the Odyssey. When you reach 40 and start to reflect, it will all make sense."