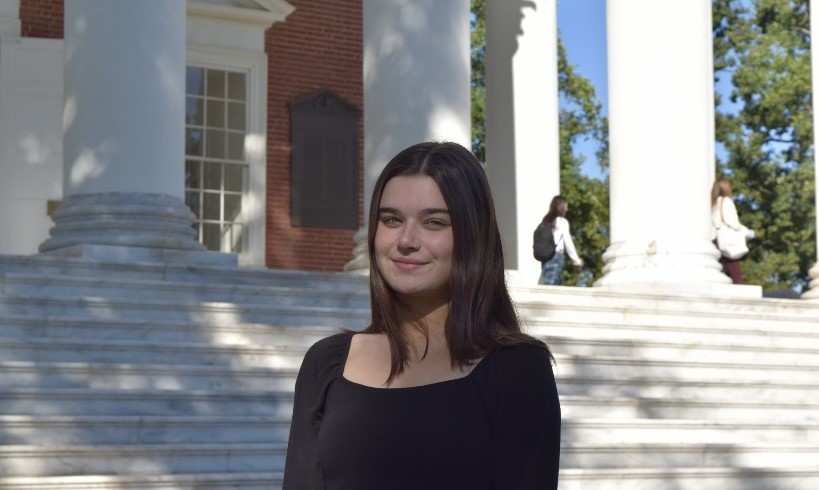 There's a truck rolling down the street. The driver is out cold. You and your team run up to the vehicle, reach in to put the truck in park, and see that the person behind the wheel isn't just unconscious—they aren't breathing and don't have a pulse. After being pulled out of the car, the driver is examined, and it's clear that they overdosed. Narcan is administered. In just five short minutes, the driver is back on their feet and talking to everyone, almost as if nothing had happened, and almost as if they hadn't nearly lost their life.
That's the kind of outsized impact on someone's fate Elliot Foley has experienced as a first responder.
Foley, who came to McIntire from Maplewood, NJ, brings a backstory markedly different from many of her peers. While a great number of Commerce students dedicate their time to volunteering, Foley was trained as an Emergency Medical Technician; as an EMT, she has been dedicating her free time to helping first responders at various points over the last four years in her home state.
She's part of the Springfield First Aid Squad, which is headquartered in a neighboring town. When Foley's on call for 12- or full 24-hour shifts, she is sent out whenever anyone calls 9-1-1 for an emergency in the Springfield area.
The Finance concentrator, who is also minoring in Spanish at the College Arts & Sciences, became involved because of an interest that grew from Biology class in high school. When she began, she thought she might be leaning toward a career in the medical field, but after her first few rides in the ambulance, she quickly moved on from that idea.
"As soon as I started, I realized I didn't really want to be a doctor," Foley says, explaining that despite coming to that conclusion early on, she still enjoyed the experience and helping those in need. "I kept going with it, even though I decided I wanted to do something with business."
The more she became accustomed to the work, she found that the role exposed her to different experiences and to important public policy matters—ones that she sought to study more on Grounds.
"I saw mental health issues in the community by riding with the ambulance, which prompted me to join a mental health club at UVA and to also take policy classes. Eventually, it led me to become interested in the business side and the financials of a nonprofit," she says. "I veered off the path of a medical career, but it's still related."
Communicator and Decision-Maker
As anyone would guess, being an EMT comes with its own set of challenges, and the heightened pressure of being an EMT in critical situations can really underline how essential it is to have excellent communication skills. In order to better assist patients in a crisis—and despite being a high schooler—Foley rapidly adapted, learning how to get on the same page with the people she worked with, most of whom were men in their 30s. She was charged with effectively sharing information with those outside of her team as well, such as the police and the fire department.
They were particularly important skills to have when she started. Foley couldn't drive the ambulance, due in part to the fact that she was still too young to have her driver's license. "I was alone in the back with the patient, and another person would be driving. I had to learn how to communicate with them really quickly," she recalls.
Foley says that perhaps one of the most trying and common challenges usually comes while interacting with those who require attention from the squad.
"I've had patients from the age of 10 to 100, and everybody communicates differently. When someone calls 9-1-1, it's one of the worst days of their life. So you're with someone, and you have to get them through one of the worst days of their life," she says.
Of course, other circumstances often arise to complicate already difficult matters. Foley has had her share of incidents trying to assist someone with mental health issues and in one instance, a patient who didn't have a green card or health insurance who refused any attempt to be taken to a hospital despite suffering a serious injury. "Calming someone down in that situation is really challenging. I was able to get my patient to go to the hospital and get the medical care that they needed. It's really rewarding when you're successful. It just makes it worth it," she says.
Another skill Foley honed in a hurry was learning to make decisions under intense pressure.
"Knowing that I have to sometimes make rapid-fire life-or-death choices in a small amount of time is definitely useful in areas that aren't actually life-or-death—like most business decisions."
Being exposed to those kinds of situations has minimized the pressures of academia and her possible career as she finishes her final year as an undergrad and prepares for life as a professional.
"It definitely keeps things in perspective. When I'm worried about an exam or if I have a stressful interview, just knowing that I can make decisions and think quickly under pressure is really valuable. I've had practice remaining calm."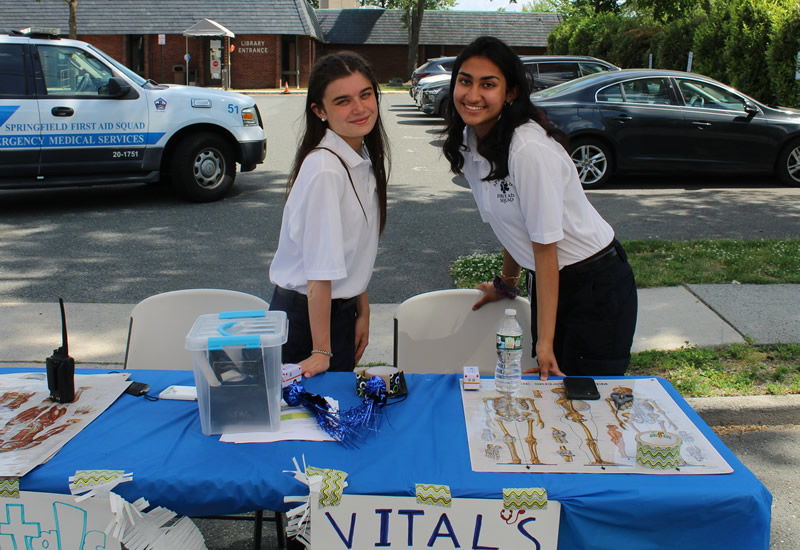 Experiences for Life
Regarding her UVA coursework, the direct applicability of her Spanish minor has proven useful time and time again.
"Knowing another language helps. I've had it happen a couple of times when knowing just even a little bit of Spanish really helped me communicate with patients," she says.
Perhaps surprisingly, her time as an EMT also piqued her interest in Commerce: "We have business meetings with the squad, and because it's a nonprofit and they need volunteers, seeing the financial aspects of what the First Aid Squad goes through motivated me to take a closer look at business [as a major] and to concentrate in Finance at McIntire."
These days, Foley has, understandably, not been able to respond to emergency calls as much as she used to. New Jersey and Virginia each have their own set of rules for EMT state certification, which has prevented Foley from riding in an ambulance while at UVA; her time spent serving as an EMT has been limited to summer and winter breaks back home. But even that's been a bit difficult due to an internship as a Private Equity Analyst at Peak Tide Partners. And in 2024, she'll join PwC as an Investigations and Forensics Consulting Intern. Yet she's still required to meet a minimum number of hours to keep her certification, and plans on doing so.
With First Responders Day observed on Oct. 28, Foley shared what people should know about EMTs and first responders.
"Anyone can join—even without medical training," Foley insists. "They'll take you as a volunteer, and eventually, you'll get trained," she says, pointing out the high need prevalent in many nonprofits, especially first aid squads and fire departments.
Foley says that the benefits of volunteering are manifold and applicable across career paths.
"Multiple people I've worked with are doing Pre-Med or are businesspeople who are going to school to study Finance or Economics—and they're still doing volunteering because it's interesting work and you're giving back to your community. It's really rewarding, and you gain a lot of skills," says Foley. "The experiences I've had as an EMT have honestly gotten me through so many business interviews. You use those experiences for the rest of your life."