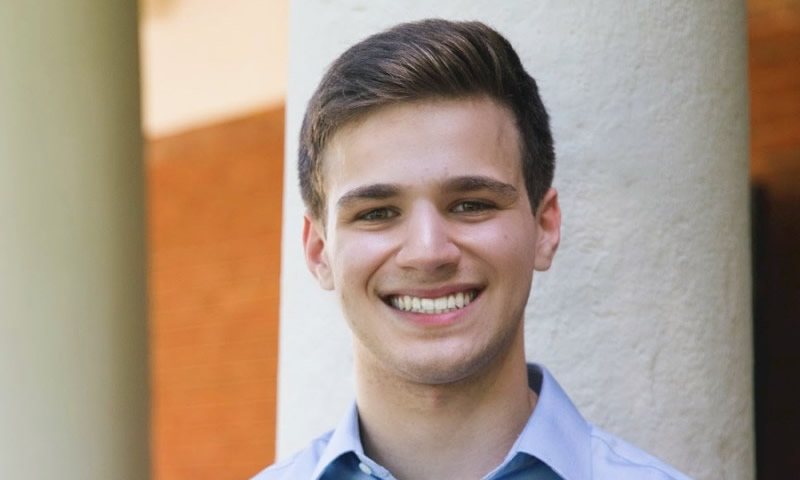 Andrew Hufford is the first of his family to study at UVA. It's a big family; he's one of eight kids—all who have names starting with "A."
A fun setup maybe, but there's actually no punchline to this would-be quirky tale—rather, it's an academic and career success story.
Coming from Rye, NY, the Information Technology and Management concentrator is also the first in his family to study business. It wasn't a given. 
"When I was applying to colleges, I had no idea what I wanted to do. I knew I liked talking to people and being a leader but had no real direction," admits Hufford, recalling how, during a visit to Grounds for UVA's Days on the Lawn, his perspective changed profoundly after attending the McIntire information session. "Four McIntire students talked about their experiences. The passion they had was clear; they all had gained so much from their experiences. As I listened, something clicked. I looked to my dad and said, 'I think this is it.'"
He then went full-on with his decision and took that Comm School spirit—and coursework—to heart, applying himself to the initiatives of many organizations, putting in the time to flex his business muscles at UVA before his third-year even began.
He joined Profit with Purpose as a first-year, an org educating students on impact investing while helping early-stage startups prepare for funding rounds. By his second year, he was on its executive board, and then served as President in 2020. After a semester in his second year providing strategic consulting services as an Analyst with the Virginia Consulting Group, Hufford became a Project Leader and then joined its executive board as the Director of Development, creating and leading training sessions for student members.
Once enrolled at the Comm School, he became a McIntire Mentor, working as the Consulting Lead, heading training sessions for his fellow students interested in consulting careers, preparing them for the ins and outs of the recruiting cycle.
In addition to taking on responsibilities for Fastpoke, doing outreach for the startup website building a platform geared toward professional recruiters, he held an internship last summer at Charlottesville-based healthcare consulting firm Tribunus Health (which Hufford points out was founded by a McIntire and Darden graduate).
Upon graduation, he'll head back to his native state, starting his career with ZS Associates in New York City as a Consultant.
Hufford says that the value of listening to a diversity of perspectives has been an important lesson he's learned at McIntire and one that has helped him find his way professionally.
"I was a very individualistic worker and solely trusted myself with most things. At McIntire, the value of teamwork and trusting others is instilled from day one. I have come to realize that regardless of the issue, asking others for their opinions can lead to a more well-rounded perspective and a better decision. Going into my career, I am going to carry this knowledge with me, trusting others to advise and assist me with any issue I may face."
In addition to his journey to the Comm School and his future plans, we also spoke with Hufford about his transformational experiences with McIntire faculty and courses. 
Which professor has made the greatest impact on you and why?
Professor Gary Ballinger has had a tremendous impact on me. He is one of the most passionate people I have ever met and would do anything for his students. He was my Integrated Core Experience professor, teaching Organizational Behavior, and his lessons were a big reason why I ended up becoming a Management concentrator. He gives sound advice, and has helped me with big decisions, such as what my concentration should be, where I should apply for jobs, and which offer I should accept. I am now in his Measure, Manage, Motivate class, and it is one of the most valuable classes I have taken. It is teaching me not only about broad management theories but also providing deep personal insights about how to maximize myself. I know I will keep in contact with Professor Ballinger after college and look forward to heeding his advice for years to come.
Beyond reaching the end of the pandemic and a return to normalcy, what are you looking forward to most?
I am most looking forward to traveling and getting to experience the world from different perspectives. In the winter break before COVID began, I was lucky enough to be accepted for the McIntire GCI to Argentina. In Argentina, around 30 McIntire and Engineering students and I were put into teams and paired with a winery for a consulting project. It was an incredible experience and really widened my eyes to the different business cultures present around the world. I cannot wait to have more experiences like this one and for McIntire to bring the trip back (hopefully next year) so future students can experience the same.