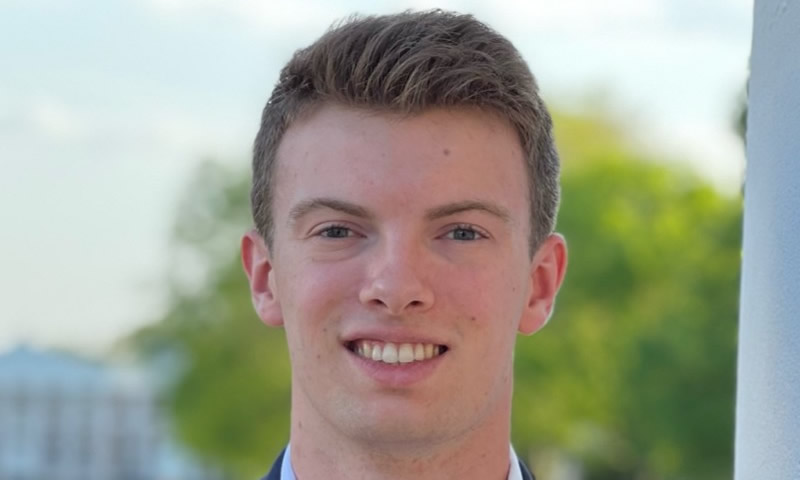 Concentrating in IT and double-majoring in Computer Science, Reston, VA's Ian Hansing has been a leader and invaluable teammate to his McIntire peers and fellow students across the University.
He's been President of the Virginia Case Club and served as Head Program Director of Youth Services at Madison House, where he began volunteering in his first semester at UVA by working at a children's museum in downtown Charlottesville. The placement led to more responsibilities with the community-focused center, which Hansing says he was prepared to take on, thanks to his experiences at the Comm School.
"McIntire taught me how to lead teams, work with various stakeholders, and apply organizational skills to projects—all of which contributed to my helping the common good at Madison House," says Hansing. "The plethora of group work in Comm gave me the skills to lead a team of peers and also know when to step back and let someone else lead."
He credits his Strategy and IT classes for teaching him the importance of considering the array of viewpoints and needs involved in making decisions. "It was very helpful in Madison House; there are so many groups, including volunteers, student leaders, full-time staff, community partners, and the community itself," says Hansing. He notes that his McIntire coursework also developed his technical skills to help him become a better communicator while directing initiatives at Madison House.
"I am incredibly grateful for the opportunity to use the skills I learned at McIntire to make a positive impact in the community and will continue to do so throughout my business career," he adds.
Though he already sees himself missing Grounds and the close relationships he forged with his Integrated Core Block while collaborating on presentations in his third year and celebrating before Comm Prom this semester, he's got plenty to be excited about in the coming months.
After hearing about the fantastic study-abroad experiences of his Comm peers, he will be visiting Europe for the first time this summer. The trip will be followed by a move to New York, where he will be serving as a Specialist Associate Consultant at Bain & Company. During his last days as a UVA undergrad, we captured Hansing's thoughts about other significant McIntire experiences he's had and the lessons that will support him as he begins his professional life.
What Comm School educational experience has made the greatest impact on you and why? What's been most challenging about it?
The most impactful experience I had at McIntire was going through Fall ICE in my third year. Although it was very challenging and required lots of late nights in the lab, what I learned across a diverse set of business areas was invaluable. Understanding how to evaluate a business; identify issues; and then develop a solution including financial evaluations, a marketing plan, and implementation strategies was a great experience to have as an undergrad and one that will definitely help me in my career. However, what made the experience even more memorable was working in a team of incredibly smart and dedicated individuals. I learned just as much from my team members as I did from our great professors, which I see as one of the most valuable strengths of McIntire. In addition, the semesterlong project taught me how to be a better leader, team member, and communicator—skills [for roles] that are hard to learn in the classroom but crucial for the business world.
As I mentioned before, I really enjoyed our Block 6 professors and was excited to continue engaging with their courses and as a TA in my fourth year. This semester, I took Professor Jeremy Marcel's Strategy Implementation course and found the discussion-style class very insightful. I appreciated the semesterlong case Professor Marcel wrote for us to dissect, the problems facing a business and adapting to changing circumstances as we mapped out their strategy. Hearing from guest speakers, such as the CEO of [solidcore], was also incredibly valuable to learn how strategic implementation is actually performed compared to our findings in class. COMM 4559 was offered for the first time this semester, and I would highly recommend it to anyone who wants to try their hand at implementing strategy. I also TA'ed for Professor Cynthia Fraser's ICE Quantitative Analysis course. I honed my Excel skills during her class and found it very fulfilling to pay that forward, assisting the third-years and also meeting a bunch of great individuals in the next McIntire class.
Overall, my peers and professors have challenged me to perform at my best and taught me valuable skills that I can apply to my future career. I would encourage all McIntire students to use their two years to foster worthwhile connections and open themselves to new opportunities.
What's one lesson you've learned at the Comm School that has helped you navigate your professional future or that you see yourself relying on most in your career?
One lesson that I learned at the Comm School, and that I view as crucial for undergraduates, is to understand that everything will work out. Throughout my time at UVA, there's always been something I thought would not work out, such as getting into McIntire, doing well in ICE, and getting an internship in consulting. Despite these worries, I came to realize from my own experience and working with other students as a career peer coach through Commerce Career Services that, while things might not go as planned, they have a way of working themselves out.
For example, after receiving numerous rejections during consulting recruiting, I ended up landing an internship in New York with a great consulting firm and met a lot of amazing people. For full-time recruiting, I had my sights set on Bain, but after a whole summer of networking, applying, and interviewing, it was looking like I wouldn't get the job in NYC. Then I was approached to be a Specialist AC in their new tech due diligence group for private equity clients in my dream city. After a couple more rounds of interviews, I got the consulting job I wanted at the intersection of tech and businesses that fit my skills perfectly and that I didn't even know I wanted initially. Going forward, my advice to others is that, by keeping an open mind, working hard, reflecting on failures, and saying yes to new opportunities, things will turn out just fine in the end.