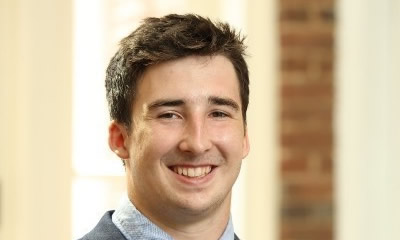 Virginia Beach, VA, native Grayson Glenn found his way by rolling up his sleeves in accounting and finance, but also by lending his talents to support the growth and success of others.
Serving as Head Teaching Assistant for the Introduction to Financial Accounting and Introduction to Managerial Accounting courses, as well as a Peer Academic Coach for Intermediate Accounting I, Glenn applied his developing Accounting and Finance concentration learnings to help his fellow Hoos in his chosen areas of expertise.
As a volunteer with Madison House's Creating Assets, Savings & Hope (CASH) program, which provides tax services to underprivileged members of the Charlottesville community, he says he's had firsthand experience using his Commerce education for the benefit of the common good. "In the future, I would like to use the business acumen learned through the McIntire curriculum to assist underprivileged members of the community who may be looking to start their own business," he says.
Early on, he knew that he saw his future in commerce, and what he quickly discovered at UVA confirmed that hunch.
"Going into college, I figured something related to business was the best path for me. After completing the Accounting prerequisites for McIntire, I knew the accounting and finance side of business was the path that interested me the most," says Glenn. "My two years at McIntire and internship in the field have only solidified my interest in business, and I could not be happier with the community that I joined."
Having completed an internship in investment banking for Piper Sandler's insurance coverage group in New York, NY, the summer before his fourth year, Glenn is now preparing for his first post-UVA position in an area closer to his hometown: Following graduation, he'll be relocating to Richmond, VA, to take on the role of Equity Research Associate for Guggenheim Partners' Media and Entertainment sector coverage group.
And as he readies for his move to Richmond, leaving the community he was so pleased to be a part of has proven bittersweet, but he feels the connection runs deep and will continue bringing him back to Grounds.
"The friendships that I have developed here will continue beyond graduation. I hope to be a resource for future McIntire students and a great ambassador for the McIntire community in the professional world," he says.
We asked Glenn a few questions about what he's learned, who has played a part in that learning, and what he takes with him as he embarks on the next steps in his professional journey.
What's one lesson you've learned at the Comm School that you see yourself relying on most in your career?
Working in teams has been instrumental to my development at McIntire and is a skill that will prove vital in the workplace. I have developed many great relationships at McIntire by working in various teams. Without McIntire, I likely would have never met these individuals. I consider many of these former team members great friends, which speaks to the collegial nature of the McIntire community. Responsibility in the workplace is always divided amongst teams, so the ability to develop personal connections with team members and work cooperatively is critical to the success of any business.
What Comm School courses, professors, or educational experiences do you consider essential to your experience at McIntire?
My favorite courses at McIntire have been Intermediate Accounting I, Federal Taxation, and Financial Statement Analysis, with Professors Katie McDermott, Susan Porter, and Adam Koch, respectively. Each of these courses challenged me intellectually and provided practical insight that has instant applicability in the workplace. These professors were a pleasure to listen to, and I have used plenty of the knowledge garnered from these classes in my prior internship and job interviews. Professor Porter's and Professor Koch's classes especially have taught me the importance of accounting in evaluating important business decisions and providing crucial information to investors and decision makers alike.
Another experience that has made a great impact on me during my time at McIntire is serving as a Teaching Assistant. It is one thing to have a great individual understanding of a certain subject, but this experience has taught me that relaying this understanding to others can be challenging. I have cultivated tremendous respect for our professors at McIntire, who have developed great expertise in the art of teaching. I loved helping younger students learn through this experience. There is no better feeling than seeing a concept finally click for a student you are helping. I have developed many great relationships through this experience, and I am hopeful that I will have more opportunities to teach in the future after graduation.