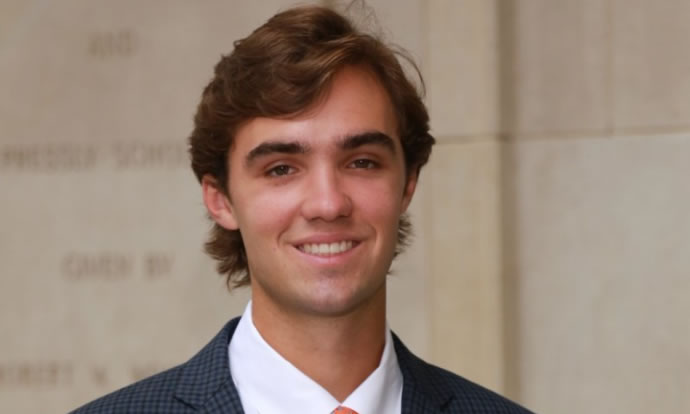 When Ward Croft arrived at UVA for his first semester, he came to Grounds without having made any firm decisions about which major he would pursue throughout the four years ahead of him.
Though he was well acquainted with McIntire, as his father, Stockton Croft (McIntire '91), and his sister Addie Croft (McIntire '20) were products of the Commerce School, he hadn't left Atlanta, GA, with the intention of simply following in his family members' footsteps.
"I considered other options within the College," Croft says, "but ultimately decided that McIntire was for me."
But that choice wasn't the result of fatherly words of wisdom or any tips from his sibling. Rather, it came from then-fourth-year Class of '20 Comm students Robby Dunn, Robert Larmore, Zoe Pottow, and Will Stroud, who provided him with invaluable advice that guided him during his entire UVA career.
He insists that the decision to apply to McIntire was the direct result of helpful conversations with the aforementioned students, along with other Comm School students and alumni. "McIntire can be intimidating from an outsider's perspective, but every student I connected with was more than willing to offer advice and sustain a continued relationship throughout my application, acceptance, and job search processes," he says.
In fact, that type of closeness and shared purpose was the aspect that most appealed to him: relishing the opportunity to be part of a driven team of professionally minded peers encouraged by outstanding professors. The Comm School presented an educational setting where his desire to push himself and learn from others was embodied by the experience of the Integrated Core during his third year at the University.
"While it was tough and sometimes frustrating, I will remember everyone in my block," the Finance and Accounting concentrator says. "We bonded over the tough projects and funny moments in class, which we will not ever forget."
While also completing a track in Real Estate and serving as Program Director for Madison House Tutoring, overseeing 17 student tutors at Zion Union Baptist Church, Croft took time to speak to us about his McIntire education and what lies ahead for him.
What Comm School professor has made the greatest impact on you?
Professor Felicia Marston has impacted me the most at McIntire. She taught me in Valuation and Restructuring in the fall and her Private Equity course this spring. These courses are capstones in the Finance concentration. While the material can be difficult, she ensures it is digestible for everyone. Often, she will look around the classroom and read facial expressions (through masks) to gauge if everyone is following along. She makes herself available for office hours for entire days before projects are due, only sparing 15 minutes for herself to quickly eat. She loves teaching corporate valuation, and her enthusiasm rubs off on the students.
What's one lesson that you've learned at the Comm School that has helped you navigate your professional future?
One of the most important traits that McIntire stresses is how to better work with and manage people. Prior to McIntire, every class had largely been the same format: You enter, sit in a chair, and listen to a professor for an hour. You then study the material on your own, take a test, and receive an individual grade.
Upon joining McIntire, you are assigned a group in your block, and they throw you into the fire. This format requires that students effectively communicate and trust one another, which is rarely required of peers in the classroom. You are forced to communicate, listen, and begin to understand everyone on your team. You learn how they work, when they work, what their strengths are, and what their weaknesses are. As a group, we learned a lot through failure, and these teaching moments will guide me as I move on to becoming a professional.
After you walk the Lawn, what are you looking forward to most?
I am looking forward to moving to New York and maintaining a connection to UVA. I will be living with a McIntire student and working closely with another. It is exciting to know that so many McIntire alumni are in New York and always willing to connect and share advice.