McIntire John A. Griffin Dean Emeritus Carl P. Zeithaml was instrumental in a great many changes at the Commerce School during his 23 years at the helm. Currently serving as a Management Professor, Zeithaml, whose term as Dean ended on June 30, 2020, drove wide-scale transformations in a range of areas that extended across curricula, degree programs, technological advancement, student-faculty interaction, unprecedented alumni involvement, faculty-industry partner research, a renewed global orientation, and even the very location of the School itself.
Focused on continual innovation and committed to ensuring that graduates were prepared to meet the complex and evolving needs of the business world, he developed an enthusiastic culture of engagement that helped to redefine McIntire at the University of Virginia while further elevating and solidifying its highly regarded reputation around the world.
A Revolutionary Curriculum
Zeithaml insists that when he arrived on Grounds on July 1, 1997, the foundation for many subsequent advancements were already in place, but it took vision, serious effort, and a bit of good timing for them to become part of the fabric of the Commerce School.
For example, the undergraduate curriculum already was offered in eight "blocks" or sections, and Professor Mike Atchison, then-Director of the undergraduate program, and a faculty committee were attempting to integrate and coordinate certain areas of subject matter among functional disciplines.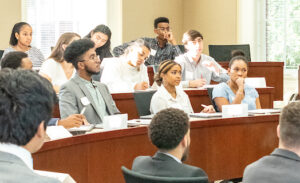 "I was always interested in building a curriculum that was much more integrated and collaborative across disciplines," Zeithaml says, which led to conversations about this goal with Atchison. "We really wanted to build an integrated curriculum, which was revolutionary at the time. Frankly, it's revolutionary still today."
He says that what happened next was serendipitous.
"The GE Foundation was very interested in influencing business school curricula because they saw a need for students to graduate with a much more integrated view of business—not just functional specialists, but integrated business thinkers." The Foundation announced a $450,000 grant competition to facilitate the creation of such a curriculum, and Atchison wrote the proposal in response. The McIntire School won the grant, and Zeithaml recalls, "I walked into the room after we won and said, 'Well, we got the money; now we actually have to do this!'" Plenty of work lay ahead.
Zeithaml and Atchison gathered a team of committed faculty to build on the block system, creating team-taught, cross-disciplinary modules consisting of 12 credit hours in the fall semester and nine credit hours in the spring semester. From this planning effort emerged the Integrated Core Experience, or ICE as it quickly became known.
In asking the faculty to engage in a new approach that involved delivering curriculum working on a faculty team, he believed it was crucial to be a part of the process himself as a professor and a leader, both practically and symbolically.
"I wanted to send a clear message that we should all be engaged with both students and constant curriculum innovation to achieve transformational outcomes," he says. Citing the accelerating rate of change and the increased complexities of doing business since the late 1990s, he added, "We had to identify a curriculum approach that was very flexible in meeting the rapidly evolving needs of business."

As an example, Zeithaml discusses the increased emphasis on analytics and its subsequent integration into ICE, so that all students are prepared to enter their concentrations with better developed analytical skills.
"Another significant change is that many of the jobs that our students are pursuing don't necessarily fit neatly into one of the traditional functional areas of business—accounting, finance, marketing, and the like—they really span the areas." He says that the introduction of interdisciplinary tracks connecting faculty from across the disciplines also helped to satisfy the demands for the sophisticated understanding that recruiters expect of Commerce students when they begin their professional lives. "Integration from day one is critical."
Grad Programs and Global Strides
In reflecting on the now firmly established global orientation of the School, Zeithaml draws parallels to the state of the curriculum when he arrived, noting Professors Larry Pettit, Mark White, Brad Brown, and others were already leading international trips, only those standalone experiences were not part of an organized strategic plan.
His first step was expanding on McIntire's study-abroad relationships with partner schools and encouraging the coverage of global topics throughout the curriculum through cases and examples. He also hired Professor Peter Maillet to teach International Finance, but Maillet's commitment and excitement for global topics soon led to his role as Associate Dean for Global Affairs. Maillet oversaw a faculty and staff task force to create a strategic plan to "much more thoughtfully and coherently globalize the School." Zeithaml credits Maillet with "developing a much more structured, thoughtful, and visionary approach to what we were trying to do."
Another transformational step for McIntire was the expansion of its graduate programs. Although the M.S. in Accounting and the M.S. in Management Information Systems (which would later become the M.S. in the Management of Information Technology, or M.S. in MIT) existed years before the start of Zeithaml's tenure as Dean, he says several forces led to the creation of new degree programs. Like many pivotal moments, it started by making a deal.
"We were able to negotiate a better deal with the University," he says, explaining how UVA's then-COO Leonard Sandridge and Provost Peter Low agreed to allow McIntire to charge market tuition. "That provided us with additional funding. It was very important for the School."
Faculty committees reassessed the M.S. in Accounting Program and instituted novel ideas that helped drastically increase enrollment from less than a dozen students to more than 50.
The M.S. in MIS Program was changed, too, dropping its full-time schedule and recast with an executive format. After meeting with alumni in Northern Virginia, Zeithaml pushed to launch a section convening in that region to engage Comm School graduates interested in continued learning opportunities through McIntire, but closer to home.
"That was really the University's first foray into taking a professionally oriented, executive-format program into Northern Virginia," he says, pointing to its ongoing success in the region.
At that point, Zeithaml and his faculty leadership began to think more broadly about what other kinds of graduate programs might work for McIntire. "I'm a Strategy Professor, so I look for market opportunities. It was very clear at the time that you had business schools offering very strong undergraduate programs, and then you had MBA programs," he says, indicating a gap in the market with a large number of underserved potential business students in their early 20s.
Beyond what the data said, he learned about student demand for other types of programs firsthand, right on the Lawn in Pavilion X, where he was living as the first McIntire Dean to take up residence in one of the Academical Village's historic spaces.
"Two of my kids were at the University, and two of my other kids were living in the Pavilion, so we got to be very good friends with the Lawn students—the vast majority of whom were not Commerce students. I would get into conversations with fourth-year students, and they were heading towards graduation, and they were a History major, an English major, a Biology major, whatever. And they would say, 'Gee, what do I do to get a job?' Our success with the other graduate programs and this clear gap in the market led us to think about building on the strengths that we had in the undergraduate program to offer a graduate program," he says.
Zeithaml and his team developed an interesting and unique curriculum designed specifically for non-Commerce students, offering them an intense one-year program that would prepare them for jobs very similar to the entry-level positions that McIntire undergraduates were securing.
The program, launched in 2008, built upon the School's undergraduate achievements while furthering McIntire's global view of business education. "We created the M.S. in Commerce Program, which also branded it as one of our programs at the School of Commerce, and we installed a fall semester curriculum that was very much like the integrated core curriculum that we had in the undergraduate program," he explains. In the spring semester, students had the opportunity to specialize in finance or marketing, with other specializations, such as business analytics, added subsequently.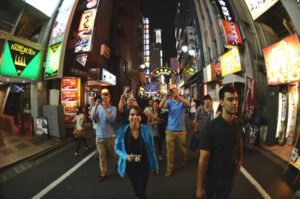 "One of the really differentiating factors for the M.S. in Commerce Program was the Global Immersion Experience, GIE, that served as the conclusion of the program, in which all the students spend a month with faculty and staff members traveling to different regions of the world. In recent years, we usually covered five or six different regions—China, Southeast Asia, Latin America, Europe, Australia, and New Zealand," he says, although the pandemic temporarily suspended global travel, replaced by coursework and speakers in Charlottesville.
He says that giving non-business students access to a world-class business education, including an opportunity to specialize combined with a truly global experience, proved to be very successful. It also brought students from other universities to UVA and expanded the McIntire School brand and image throughout the nation and the world. Although the success of the M.S. in Commerce Program led to other schools copying the model, McIntire remains the leader in this space because of great teaching, outstanding students, an evolving curriculum, and competitors' inability or unwillingness to imitate the global aspect of the program.
"I was always very happy about the strong global dimension to the program," he says, "because it was one of the things that really attracted a lot of good students. Students today want a global experience—study abroad or global immersion—and so putting together a program that included that as a required part of the curriculum was very attractive in the market. And right through the pandemic to today, our ability to attract outstanding students has continued even when many of the competing universities struggled with enrollments."
An Expanded Portfolio
The success of the M.S. in Commerce inspired Zeithaml to pursue other program initiatives, including the M.S. in Global Commerce and the M.S. in Business Analytics.
Prompted to launch something that would set the School apart and attract outstanding students, Zeithaml and Commerce faculty partnered with Esade Business School in Barcelona, Spain, and Lingnan (University) College at Sun Yat-sen University in Guangzhou, China, to create the Global 3 program (which includes McIntire's M.S. in Global Commerce). Aimed at business students who want an immersive experience in three different cultures, 20 students from each school compose a 60-student cohort, living, studying, working, and traveling together, spending half of the year on Grounds in Charlottesville, a quarter in China, and a quarter in Spain. In addition to earning the master's degree in Global Commerce from McIntire, students receive an M.S. in Global Strategic Management from Esade and a certificate in International Business from Lingnan. Zeithaml says the innovative program not only appeals to a different group of students, but it helps to further the School's global brand.
As big data and business analytics became trends in business, the School was interested in offering an analytics program as well. The result was the M.S. in Analytics, offered in Northern Virginia with a first-time partnership with the Darden School of Business.
"In each case, we try to identify, where is our market opportunity? What do students really want? What are our strengths? We had strengths in analytics. When we introduced the M.S. in Global Commerce Program, we suddenly had a cohort of faculty who had traveled all over the world and could really engage with that program and with those students," he says. "If somebody had told me 24 years ago we'd have an M.S. in Business Analytics, I would have asked—to start with—'What is business analytics?'"
Reinvigorating Research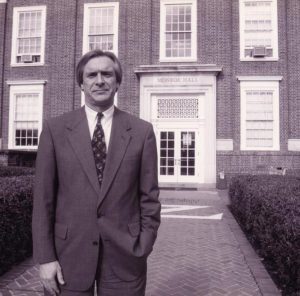 Upon arriving at McIntire in 1997, Zeithaml found that faculty were "absolutely committed" to students and the programs they were teaching. Although a number of faculty were engaged in research, he says that, as opposed to other institutions where he had worked, research was not the same priority at the Comm School. An enhanced research environment would play an important role in attracting faculty who wanted to "contribute new ideas that would not only affect practice, but would also affect the curriculum."
He decided to take a disciplined and orderly approach to support an emphasis on academic and applied research.
"I didn't want to lose all the good things that we had in terms of commitment to students and programs, but I really believed that a balance with a stronger research profile would raise up the entire School," he says, clarifying that some faculty were already working on quality research, but it was difficult for them. "We didn't have summer grant money for tenured faculty. We had not made some of the investments that were necessary to really play in a serious way in the research environment."
To rectify the situation, he insisted that the School make significant investments in focused research areas, while building a culture and set of processes to encourage Zeithaml's idea of a "balanced model." As an example, he cites the recruitment of Professors Trey Maxham, David Mick, and Rick Netemeyer in the Marketing Area, faculty who were willing and able to pursue a scholarly career while continuing to provide students with a top-notch education. They, in turn, attracted other strong scholars who now form an extremely strong academic area. The process was replicated in the IT Area, with then-Area Coordinator Professor Ryan Nelson recruiting more faculty who were prepared to take on research- and student-focused priorities. Zeithaml said the philosophy then spread to all of McIntire's academic areas.
"In the Marketing Area, our initial emphasis was broadly consumer behavior. Very soon, McIntire became known for doing high-quality consumer behavior research in marketing. In subsequent years we recognized a natural synergy between consumer behavior and marketing analytics, and many of our faculty emphasized an analytics approach to consumer behavior," he says, explaining that it led to recruiting more faculty across IT and Management whose research was strongly informed by analytics.
The synergy among faculty led to collaborations across the disciplines. He cites professors with similar interests such as Amanda Cowen in Management working with Nicole Montgomery in Marketing to publish research on important topics in corporate governance. This scholarly priority would drive research with colleagues both within McIntire and from other universities, and it translated into new courses at McIntire, even impacting modules within the core curricula across programs.
Ultimately, his goal of raising the Comm School's research profile resulted in a stronger faculty who defined the topic areas vital to their disciplines, which, in turn, informed curriculum development and enhanced the overall student learning experience.
Expansion, Advancements, Engagement
As Zeithaml and his colleagues pursued these teaching and research goals both globally and locally, he recognized the need to enlarge the School's footprint on Grounds. After 33 years in Monroe Hall, and earlier years spent occupying other locations, the Commerce School returned to one of its previous homes in a renovated version of the original 1898-constructed Rouss Hall, along with a new 132,000-square-foot extension in the connected Robertson Hall.
The move from Monroe to Rouss & Robertson Halls was necessary, due to a doubled student population and an inability to match the ambitions of McIntire. Zeithaml called the purposeful relocation to the Lawn in 2008 "a very significant event."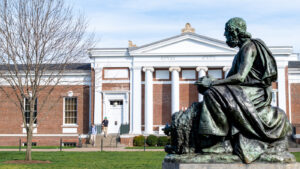 Beyond simply more space for classrooms and offices, the move was necessary to accommodate and to become a leader in the application of technology to all aspects of business education. "We had a computer lab when I arrived, but it was a very traditional and relatively small. But, we also had an underutilized library in the basement of Monroe Hall," Zeithaml says. "Thanks to the support of many of Julian Robertson's former and current employees and friends, we upgraded the space and created the Julian H. Robertson, Jr. Capital Markets Room. It addition to being a very functional space during our remaining time in Monroe Hall, it provided a vision for future tech innovations and an overall expansion of technological capabilities for McIntire's future."
In addition to contributing the lead gift to the Back to the Lawn Campaign that funded the new building project, John Griffin (McIntire '85) represents one of the many graduates of the School impacted by Rouss & Robertson Halls' second namesake, Tiger Management's Julian Robertson. The Founder and President of Blue Ridge Capital, Griffin is one of Robertson's former protégés and would become further involved in the School when he agreed to share his expertise with students as a Visiting Scholar on Zeithaml's request.
"For many years, we had alumni come back into our classrooms and contribute as traditional guest speakers, where they would teach a class or lead a case discussion," he explains. "But early in my time at McIntire, I saw the opportunity to bring some of our alumni back to potentially teach a full course. And it actually started a conversation I had with John Griffin and [Professor] George Overstreet."
In the discussion, Griffin mentioned that he was teaching a class at Columbia University in New York. "We immediately asked, 'Well, can you do that for us?' And he said, 'I can't come down to Charlottesville twice a week, or [even] once a week.'" But around this time, McIntire began introducing distance teaching technology, and Griffin agreed to give it a try.
"Students would be sitting in Charlottesville, and he'd be in his office in New York. And it proved to be very, very successful. He had a small, high-quality class, and it was terrific. The class not only involved John; he would bring in many of his colleagues and his contemporaries in the New York finance industry as guest lecturers," Zeithaml recalls. "And he would not only talk about finance topics or hedge fund topics, but he'd also talk about leadership and life and lots of other things. It presented both a professional and personal role model for our students that was outstanding."
Griffin's successful course, The Analyst's Edge, became the first of other classes led by other alumni interested in working with students. Zeithaml remembers John Kirtley (McIntire '85) splitting time between Florida and New York, stopping in Charlottesville once a week to teach his own course for three hours. Greg Ledford (McIntire '79) commuted from Washington each week and taught the innovative Private Equity class with several faculty members for many years. This class distinguishes McIntire among undergraduate business programs. "And then Chris Shumway (McIntire '88) became interested in [teaching] as well and has done a fabulous job," he says of Shumway's Global Macro Investing course.
He also mentions Don King (McIntire '62) and Jim Todd (McIntire '60, Darden '64), who each separately collaborated with Overstreet to team-teach courses in real estate.
"They were able to bring real-world experience to the classroom. It was very valuable, and George, obviously, was terrific in terms of his understanding of real estate and real estate finance. But they were able to then work together to write cases, and to bring in other speakers."
Subsequently, other alumni and friends taught classes, including Max Gottschalk (McIntire '95), who focused on business, finance, and what Zeithaml calls "big global issues" in his Social Impact Investing course. "Max beamed in from London to teach his class," he explains, drawing connections to both the global and tech themes that Zeithaml has seen progress over the years.
"They prepared our students to really hit the ground running," he says, explaining that offering alumni-led courses to fourth-year students in the spring semester has provided a helpful transition to their jobs after the Comm School, and served as a "bridge between the academic and the professional."
A Lasting Legacy
As the Commerce School celebrates its Centennial, many of its accomplishments over more than two decades can be attributed to Zeithaml's vision and tenacity and to the extraordinary efforts of the team assembled during this time.
During five terms leading McIntire, he relentlessly pursued ideas to advance what the Commerce School could provide for its students. His tenure illustrates a commitment to the philosophy that all business is global, which led to increased access for a more diverse and growing number of international students as well as the founding of the School's Office of Diversity, Equity, and Inclusion.
Zeithaml proved to be a diligent fundraiser for increasing and improving program experiences, attracting top-notch faculty, creating connections between McIntire and corporate partners through its research centers, and much more. His efforts set the stage for early gifts in the Inspire the Next Century campaign, helping to drive early commitments toward the construction of Shumway Hall, the School's latest expansion project slated to open its doors within the next five years.
A truly inspirational figure, Zeithaml was recognized for his many accomplishments at the University in June of 2021, when he received the Thomas Jefferson Award for Service, the highest honor bestowed upon distinguished members of the UVA community.
Even with that recognition added to an already impressive career, Zeithaml hasn't yet moved on from McIntire—only his current responsibilities and title have changed.
"I'm still a Professor of Management," he says, "and I hope to have the opportunity to contribute to the School, our students, and my colleagues for years into the future."