Bonnie Hill has had a truly illustrious career. So much so that serving as the Dean of the McIntire School of Commerce was one of many impactful leadership positions that she held over the course of a life punctuated by significant professional experiences in education, management, and government positions at both the state and federal levels.
Hill began her career as an Assistant Dean of Students and Lecturer at Mills College in Oakland, CA, where she earned her bachelor's in Psychology (she would also earn her master's in Educational Psychology at California State University, Hayward and her doctorate in Higher Education, Administration, and Policy Analysis at the University of California, Berkeley). She then became the first Executive Director with the Oakland-based Marcus Foster Education Institute, before serving as Vice President and General Manager of Kaiser Center Inc. and President of the Merritt Park Corporation.
By the mid-1980s, she took on the first of three appointments under two U.S. presidents. Hill worked in the administration of President Ronald Reagan as Vice Chair of the Postal Rate Commission and Assistant Secretary at the U.S. Department of Education. Referred to as the "Privacy Czar," she advocated for consumer privacy and accuracy in credit reporting under President George H. W. Bush, serving as Special Adviser for Consumer Affairs and Director of the U.S. Office of Consumer Affairs. She also led the U.S. Delegation to the 26-nation Organization on Economic Cooperation & Development on Consumer Policy, a committee setting policies and procedures for education, trade, and environmental protection issues.
Leaving her federal government employment to oversee hands-on environmental education nonprofit Earth Conservation Corps in Washington, D.C., as its President and CEO in 1990-1991, Hill then returned to governmental work, this time at the state level, relocating back to California, where she served in the cabinet of Gov. Peter Wilson as Secretary for State and Consumer Services.
With such a varied and esteemed background, how was it that she found herself at the helm of the Commerce School? It certainly wasn't what she was expecting as her next step.
A Surprising Invitation
It was in 1992 when Hill received a phone call about interviewing for the Dean position at UVA's McIntire School. She quickly discovered that she fit the bill as the type of nontraditional candidate for which the hiring committee was searching.
"I was absolutely nontraditional," she insists. "I had not been a professor, had not published, and hadn't really taught. I thought they were joking. I did have a doctorate in education, so I guess that counted."
But it was no prank: There was strong interest in having Hill (who went by Bonnie Guiton until she married Walter Hill, Jr. in 1993) lead the Commerce School following William Shenkir's 15-year tenure.
As her daughter had attended UVA, Hill was somewhat familiar with the University, based mostly on her child's positive experience. But she still had reservations.
"I thought, surely, they were not interested in having an African American female Dean of the Commerce School. I asked the question, 'Have they seen a picture of me?' This was a phone call. And the search firm on the other end said, 'Well, no. Should they?'"
When Hill replied in the affirmative, she faxed a photo of herself. She was then invited to come to Grounds the following weekend for an interview, which she accepted.
In addition to the interviews with faculty members and alumni that she took part in at the University, Hill recalls the active role that alumni had beyond that initial weekend. She met with three McIntire graduates in New York who played "a significant role in whether or not the School would really take a chance with me." Those who spoke with her seemed more interested in the fact that she worked for two Republican presidents in three different assignments than her other credentials, and Hill believes that her demographics, her experiences in the Reagan and Bush administrations, as well as her party affiliation at the time were responsible for convincing them she was right for the role.
"I remember one of them said, 'You're female. You're African American. And you're a Republican. That's a slam dunk," Hill notes, clarifying that politically she considers herself a more moderate independent these days.
Her many career accomplishments, highly regarded skills, and charismatic attributes won over all parties involved. She found that the affinity was mutual.
"I fell in love with the institution and the people I met," she says. "The rest is history."
Early Challenges
Hill's McIntire deanship kicked off at the Comm School with a pressing challenge that required her immediate input. As it had turned out, a female assistant professor who was up for tenure had recently been denied by McIntire's senior faculty and was determined to fight the outcome—positioning Hill squarely at the center of the debate.
"And that was before my plane landed," she says.
As such, Hill's first major decision as Dean required her to decide to either defend the ruling by senior faculty or determine if the tenure denial judgment should be overturned. After reviewing the candidate's credentials, associated materials, as well as those of the tenured full professors, she recommended that the faculty member in question should indeed become a full professor.
She was supported in her finding by both the University president and provost at that time, yet the whole episode made for an interesting start to her own tenure as McIntire Dean.
"Needless to say, I didn't come in very popular, having that on my plate as the first thing I had to deal with. But I remember fondly all the professors who were there at the time and how we sat and talked about what it meant for me and what it meant for them—for me to have sort of ruled against one of their decisions," she says.
She singles out Professor Whit Broome for his efforts, leaping in to support her by becoming the Assistant Dean for Faculty Affairs and being "instrumental in helping us to bridge the gap."
Hill also credits Professor Bob Trent, who she affectionately called "The Curmudgeon," for his honest insights and objective opinions. "I could depend on him to tell the truth, no matter what. And to tell me the truth no matter what. And sometimes, he'd tell me I screwed up."
Together with the help of key faculty members, Hill and her team set goals for the School to advance, grow its reputation, and plot its vision for McIntire to continue to be one of the best undergraduate business schools in the country.
"I thought that was achievable, given where they already were," she explains, as they were hopeful that they could drive more UVA students to apply to the Commerce School.
"We wanted our graduating class to be top flight. And they were," she says. "Our students didn't lack for jobs or job opportunities."
Success Strategies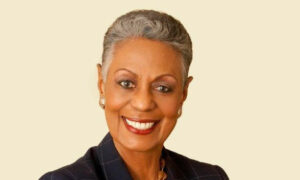 At 80 years of age, Hill has cultivated the perspective and self-awareness to detail two aspects about herself that she says aided her when she was leading the Commerce School.
The first characteristic is her self-esteem. She credits her grandmother with instilling it in her with a reminder that "God made us all equal." That philosophy has followed her throughout her life.
The second concerns a willingness to ask for assistance. "The faculty and administrators at the McIntire School really helped me when I didn't know exactly what I was doing. I reached out to them, and they were very helpful. I would say that it took a village for me to be a relatively good Dean—and that village stepped up to the plate," Hill says. "I didn't destroy the School. I can say that. I didn't leave it any worse off than I found it."
But she credits the faculty with being an important part of her success. "I inherited them, for the most part. And I was able to be there when a few more came, but it was an awesome faculty. They cared about the students. They cared about them individually, not just as students but [about] their personal lives," she says.
Ultimately, students have provided the most pride for her, as she has followed them in their careers, seeing the "tremendous accomplishments in their lives based on the education they got from McIntire." She recalls several who decided to pursue an MBA, but discovered that the Commerce School had already prepared them in ways that the MBA couldn't and summarily left the programs where they were enrolled. "I'm really proud of the education that McIntire gave so many young people and the fact that McIntire educated them to a point where they could get the positions that they wanted without having to get an MBA—probably a number of them."
Hill ranks her time at the Commerce School highly among the varied positions she's held, citing the experiences that she enjoyed with students, faculty, and administration alike. "It was an awesome experience for me. It was different. Let me put it that way, because you can't compare government and nonprofit with academic and for-profit. But I would say the McIntire School sits right at the top of my favorite experiences."
And though Hill served as the first Black academic Dean at both the University and McIntire, she maintains that she never thought of herself that way. "I was just Dean of the Commerce School. During those times, I wasn't referred to—at least to my face—as an African American, female Dean of the Commerce School. I was just Dean of the Commerce School. And I was treated like [it]."
Commerce as Altruism
As McIntire looks forward to its second century, Hill believes that it's the perfect time to focus on the benefits of business education as embodied by current Dean Nicole Thorne Jenkins' concept of Commerce for the Common Good.
"Dean Jenkins has hit on it," she says. "There's been so much pushback on commerce and the fact that if you do well in business, that you're not sensitive to the needs of other people—and that could not be further from the truth."
Hill recalls a time when she was at Mills College when a group of students talked about how they were motivated to help others and the advice she gave to them: "I said, 'Since you're here, if you want to help people, the best thing you can do is graduate, build your own businesses or nonprofits, or go to work for an organization or business, learn from them, and develop your own resources so that you can give back wherever or however you choose.'"
She points out that her own struggle for financial stability has informed her view: "I've been poor and homeless, and it's hard to help others when you are just trying to survive. I learned that you either must have a great deal of passion and know people who have influence, or you need to have resources. So, you can be poor and have passion, and that's OK; use that. And if you don't have influence or influential friends, then it really helps to have resources," Hill asserts.
"Commerce is a way of developing resources to be able to help others by reaching out. I think that it's going to be very important for young people to understand that businesspeople are not their enemies and that there is a value to connecting business with nonprofits and bringing the resources into life going forward. We have a friend who is a multibillionaire, and he is the most compassionate person we know. He has built a hospital to help the underserved and provided full classes of disadvantaged youth with four-year college scholarships. He practices what my husband and I call compassionate capitalism.
"If McIntire students recognize that being successful is a way to give back for all that they have been given, they can help others, help change the world, and leave a legacy for all of those who will follow," she says.
Hill believes that McIntire students will continue to be successful and undertake opportunities that provide them with the resources to better society. "The program that Dean Jenkins is setting forward for the future will help—not just the students themselves, but everyone they touch."