This Centennial Year, we honor our past, present, and future. This article was originally published Sept. 24, 2018. Joshua Pritchett is now Manager, Strategy Management Office at UPS.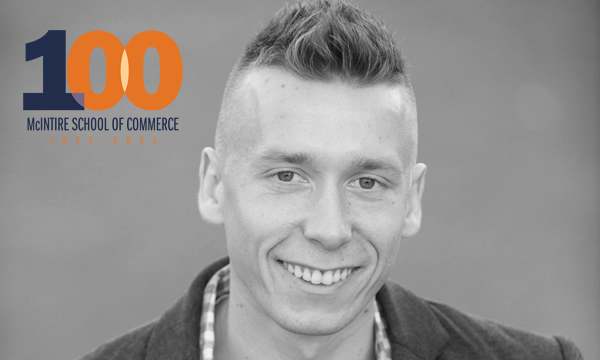 Fourth-year Joshua Pritchett has had a unique journey to get to McIntire.
As a guest on "Megyn Kelly TODAY" last May, Pritchett explained how UVA Russian Literature Professor Andrew Kaufman was instrumental in helping influence his understanding of the world and ultimately positioning him for a better future. Kaufman's class served as an integral part of a larger story concerning Pritchett's transformation, an inspirational series of experiences that resulted in his own personal redemption.
Originally hailing from Richmond, VA, Pritchett resolved to shed the difficulties of his past as a troubled teen and to better himself through education. He first attended John Tyler Community College, where he earned his A.S. in Business Administration before transferring to McIntire last year. But despite the challenging admissions requirements, Pritchett was determined. He believes he was drawn to study at the Commerce School in the interest of his mission: to start a church that helps people find hope. In the same way that Pritchett benefited from getting a second chance, he remains driven by a desire to give others access to a new life.
"You may ask, 'Why go to a business school for that?' but the reason is that a church is an organization, just like any other business," Pritchett explains. "There are several parallels and shared skills I hoped to gain by getting a great business education, and I decided to go to the best business school in my home state of Virginia that I could find—and that was McIntire."
We caught up with the Finance concentrator and spoke with him about his McIntire experience thus far, his summer internship, and how the Commerce School continues to increase his possibilities for the future.
What were some of the biggest challenges you faced when you started McIntire?
Since I began at UVA and McIntire at the same time, I was often in settings where I knew almost nothing about what was being discussed or how to do what was required of me. I had to embrace that uncertainty while still moving forward.
For example, this past summer, I put into practice the skills I've been learning at McIntire at investment firm ARK Invest in New York. We were engaging in conversations around daily investment decisions pertaining to the firm's actively managed billion-dollar portfolios. So it became real to me very quick, especially since I was expected to contribute. That process solidified so much for me and helped me identify what was important.
I also ended up helping out other interns. One younger intern in particular would ask me to explain events in the markets to him nearly every day. I'm a big believer in the idea that one of the best ways to learn something is by having to teach it. I enjoy helping people learn as well, so it was very rewarding.
What interests you most about your coursework?
Since arriving on Grounds, I've become particularly interested in finance. I can even envision a career path that may better support the development and funding of my dream down the road.
My research interests currently mirror the work I did this summer. We focused on all things related to disruptive innovation: robotics, autonomous/self-driving vehicles, electric vehicles, emerging-tech companies, DNA technologies, and AI. Specifically, my work focused on discovering auto industry insights, for example, identifying gross margins on vehicles such as the Tesla Model 3 to better understand their potential to capture and/or disrupt the traditional auto market.
Interning at ARK was a fascinating experience. I even invited McIntire Professor Robert Parham to speak with our analyst team and Director of Research during a meeting on blockchain technologies at our New York office. I want to continue learning more about those technologies while leveraging the great network of professors we have at UVA.
Beyond your long-term dream, have you made any decisions about what you'll do in the short term after McIntire?
Not quite yet, but through my summer internship I certainly gained exposure to some fascinating options. I believe I'm going to enjoy what I end up doing very much, and I'm incredibly blessed to have the opportunity that McIntire is creating for me. I have a few questions to answer for myself before I set forward on the next path, but I'm confident I'll be in the right place and equipped with a great education along the way.